Experience the Okanagan by Bike Tour

Okanagan Valley, British Columbia, Canada

4 nights

from $1,899 Per Person
---
or talk to Vacayou travel concierge
On this five-day all-inclusive Okanagan biking tour hosted by Into The Wild, you will ride through some of the most spectacular landscapes British Columbia has to offer—including the Great Trail and Kettle Valley Rail Trail. The fun filled, action packed bike tour takes you off the beaten path and allows you to reconnect with nature. From the temperate rainforests on the coast to the fertile vineyards of the Okanagan Valley, this multi-day cycling tour has been carefully crafted to ensure guests get a true taste of British Columbia's richness.
Basics
Start & Finish: Vancouver
Group Size: Minimum 2
Age: 3+
Tour Length: 5 days
Tour Provider: Into The Wild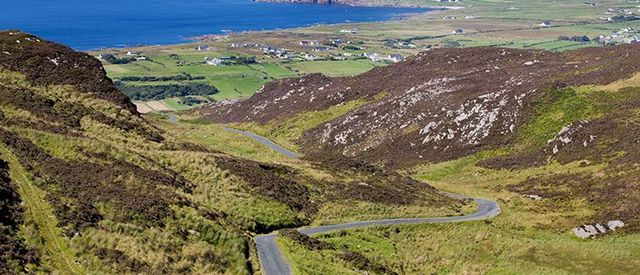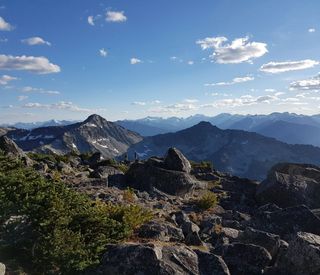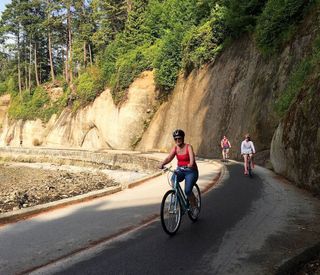 Experience
Join the team at Into The Wild for an incredible five-day all-inclusive biking adventure along the Great Trail and Kettle Valley Rail Trail—a converted railway to trail way that traverses some of Canada's warmest climates through spectacular mountain and valley scenery.
Break for an "al fresco" lunch at Pitt Lake, home to Widgeon Valley Natural Wildlife Reserve, a nesting area for marsh birds
Make your way to one of the most famous bike rides in Myra Canyon
Descend into the Naramata Bench where you will ride through award-winning vineyards and sample some of the local wine
Soothe tired muscles with a soak in the warm restorative waters of Harrison Hot Springs
Take in the spectacular scenery and wildlife of Okanagan Valley
Itinerary
Guests will be picked up from downtown Vancouver and we will make our way to one of North Vancouver's hidden gems, Lynn Canyon Park. Here we begin our adventure with a breathtaking hike through the temperate rainforest, crossing a 150-foot-high suspension bridge that allows spectacular panoramic views over Lynn Creek and the park. In the rainforest we will learn interesting facts about the flora and fauna of this unique environment and all about the First Nations people who lived here for thousands of years.
Following the hike, we take the short drive out to Pitt Meadows in the Fraser Valley and begin the biking portion of the day. Here we will follow the Great Trail (Formerly called the Trans Canada Trail) through colorful farmland and meandering rivers against the backdrop of the magnificent mountains of Golden Ears and Garibaldi Provincial Park. When we reach Pitt Lake, the largest fresh water tidal lake in North America, we break for an "al fresco" lunch. Pitt Lake is also home to Widgeon Valley Natural Wildlife Reserve, a nesting area for marsh birds. From Pitt Meadows, we'll make our way to Harrison Hot Springs Resort for our first nights' accommodation. At the resort guests can enjoy a soak in the warm restorative waters of the natural hot springs to help soothe their bodies after the days' activities. 
What to expect:
38km/23mi cycle
5km/3mi hike
Following a light and healthy breakfast we will make our journey onward over the top of the magnificent Coquihalla Pass. In Brookmere, we will begin our days bike riding along the historic Kettle Valley Rail Trail. The original Kettle Valley Railway opened in 1915. Now, the decommissioned tracks are home to an extensive recreational trail that provides almost 650 km (400 mi) of connected pathways from Hope to Castlegar. The scenery is quite unique along the trail, while the coast can be shrouded in fog and rain, the interior is often warm and dry. Ponderosa pines and grass grow under the blazing sun and blue sky. 
This section of the KVR cycling trail follows the same routes of the fur traders, miners and prospectors who passed through these lands in search of wealth over a century ago. However, for thousands of years previously, this territory belonged to the Nlaka Pamux and Okanagan First Nation's Peoples. As we continue along, we will pass through the towns of Tulameen and Coalmont on our way to Princeton. This section is one of the most scenic along the KVR with fewer travelers than other routes in the Central Okanagan – often we are the only cyclists here! This remote wilderness offers a great opportunity to get away from it all and enjoy the beauty of the land.  Highlights along the trail include Red Ocre and Peterson Bluffs, the spectacular sandstone formations of hoodoos and stone pillars, the Tulameen River, and Otter Lake.
Following the cycle, (if time allows) we can relax at Bromley Rock on the beach or enjoy a cool and refreshing swim in the Similkameen River after the days' riding. Our accommodation for tonight will be in the Princeton area. Here we will enjoy dinner together on a stunning patio and chat about the day's adventures.
What to expect:
On our third morning we'll enjoy breakfast at the hotel again and make our journey onward towards the Okanagan Valley, the fruit basket of British Columbia. This fertile region is renowned worldwide for its spectacular vineyards and huge varieties of locally grown produce.
The first portion of today's bike ride will be along the breathtaking International Hike and Bike Trail just north of Osoyoos. The trail follows the Okanagan River through some truly spectacular scenery. It passes through carefully cultured vineyards, fertile farmland, and many oxbows and ponds where you can observe ducks, herons, eagles, and painted turtles in their home environment. After we pass through the town of Oliver, we will jump in the van for a short 5-minute drive up the steep hill to Covert Farm Family Estate, a 4th generation 650-acre organic farm, vineyard, and winery.
The grounds are a hidden gem in the Okanagan, here guests can choose from several activities; one can sit back, relax and enjoy the beautiful scenery, wander around the property and pick the local organic produce or partake in a group wine tasting. We will also enjoy a fresh and healthy lunch on the farm and rest for a while in the warm summer's sun, before hitting the road again on our trusty bikes.
Following lunch, we will cycle along the scenic Willowbrook Road, passing through White Lakes Grasslands Protected area on route to Penticton. The rolling hills offer a great opportunity to view wildlife so keep your eyes on the road for rattlesnake, bear, deer or one of the fifteen species of bird found in this area. Along the way we will stop off for a refreshing ice cream cone at the famous Tickleberry's in Okanagan Falls, before we rejoin the Kettle Valley Rail Trail. We will bike along the water's edge of Skaha Lake, all the way into Penticton to our accommodation that evening. At the hotel guests can appreciate some free time and relax on their own schedule or take a trip into town to visit one of the great local eateries.
What to exepct:
After breakfast, we make our way to Myra-Bellevue Provincial Park for a day of spectacular scenery in this historic region of British Columbia. Myra Canyon is home to one of the most famous bike rides in North America. Here the Kettle Valley Rail Trail runs along a steep-walled canyon in the shape of a horseshoe as it weaves its way down the mountain. Along the way we cycle over eighteen magnificent trestle bridges & two tunnels on our journey towards Penticton. This section of the KVR is often referred to as "McCulloch's Wonder" in homage to the great engineer Andrew McCulloch who designed and constructed the Kettle Valley Railway in the early 1900's. This corridor is one of the most dynamic routes in Canada, with impressive scenery and striking views over the Okanagan Valley. At Ruth Station we will leave the day trippers behind (most people only cycle the 12km section to here) and cycle along the Kettle Valley Trail deep into the wilderness.
Along the way we will stop for lunch at Chute Lake Resort on the grounds of the old station house, where one might feel as though they have stepped back in time. The restaurant and bar are a living museum with interesting antiques and artifacts displayed throughout. After lunch we will jump back on the bikes and descend over 3000 feet into the picturesque town of Naramata. As we pedal along, we are treated to some magnificent vistas over Lake Okanagan as the KVR trail runs parallel to the valley for our bike ride downhill. At Little Tunnel we will take a short rest and savor the spectacular sight for a while. As we descend into the Naramata Bench we will ride through beautiful wineries and colorful fruit farms. The Naramata bench has some of the best wineries in the Okanagan, so inevitably we must stop and sample some of the local treasures on offer. This short section of the KVR is one of our favorite bike rides in British Columbia, it is biking heaven all the way into Penticton. At the hotel guests can unwind before we freshen up for an excursion into town for a meal together. Tonight, we will celebrate our final evening together with some good food and company!
What to expect:
Well they say all good things must come to an end….but not without one last magical bike ride! On our final morning, we will have a nice relaxed start to the day without a tight schedule to keep us on track. Today's cycle will be a treat for weary legs, as we will ride along the quiet country roads of White Lake and Willowbrook Roads. The bike tour will be a pleasant ride, with a gradual decline of nearly 1500 feet over the course of the day for some smooth sailing! 
These roads are some of the finest cycling routes in the Okanagan and the subtle beauty of the landscape is completely unique in this part of the world. Less than 20km down the road is an area know as Nk'Mip Canyon, coined locally as Canada's "pocket desert." The bike route passes through an area that is rich in First Nation's history, including eight archaeological sites, rock shelters and pictographs, as well as remnants of early European exploration including remnants of the Fur Brigade Trail.
As we pass through the dry, arid landscape around White Lake Grasslands, we will make our way into the heart of wine country, to an area known locally as the "Golden Mile". Our cycling route meanders through lush vineyards and colorful orchards where you might feel as though you have been transported to the South of France. It is a stark contrast to where we began our cycle earlier that day. We will finish our bike ride at the lavish Tinhorn Creek winery and enjoy our final meal together on the spectacular grounds, toasting to an incredible five days in BC. Following our meal, we will begin our journey back to Vancouver and conclude our trip where our cycling adventure began.
What to expect:
Offers
4-Night Biking Tour in British Columbia
Package price displayed is per person based on double occupancy. Single guests, extra rooms or upgrades may increase the price. Some days may be higher due to seasonality. 
Package Includes:
4 nights accommodation
All meals
Transportation
Bikes & helmet rental
Professional tour guide & driver
Scheduled activities
*Tours include a light & healthy lunch, water and refreshments.
From
To
Package
Price
Book

From:

July 03 2023

To:

September 22 2023

Package:

4 nights

Price:

$1,899 Per Person

Book Now
FAQ
Travel insurance: We strongly recommend that participants have travel insurance before they go on a tour 

Airfare or other transportation to British Columbia
Alcoholic beverages
Gratuity
You don't need to be very fit to enjoy a tour with Into The Wild. All tours are paced according to the individuals on each tour. A nice leisurely pace sets the tone while you pedal along and enjoy the beauty and serenity of the countryside.
As the old saying goes "You never forget how to ride a bike." Riders of all abilities and levels can enjoy a tour with Into The Wild. Please read the tour description to gain insight into what you can expect on any given tour.
In general, individuals should have some level of fitness and the ability to ride a bicycle in order to enjoy the tour in a safe and enjoyable manner.
You would be surprised how far you can cycle on an excellent condition, fully tuned hybrid bicycle.
Loose-fitting, comfortable clothes or sportswear, appropriate closed-toe footwear
Sunscreen, sunglasses and a hat for protection from the sun
Padded cycling shorts are not a requirement but can be brought along if you own a pair in order to save your backside
Day backpack
Camera
Cash
Extra water
Snack
Into The Wild is a family-friendly tour company and they have bicycles to suit all ages, including Trail A Bikes. However please note, if you have young children or a child that is inexperienced and may not be able to complete the tour, Into The Wild encourages parents to book private family tours or use the Trail A Bikes system that connects a child's bike to the seat post of a parent. They usually do not allow children younger than three years of age to use the Trail A Bike system because of the potential problems that may arise. At the time of booking, please indicate the age of the children attending so they can arrange a bicycle to fit.
Terms
Tour provided and operated by Into the Wild Cycling Tours. There is no minimum number required to book a tour, however on the rare occasion that there are less than two participants on any given tour, arrangements will be made to arrange an alternative tour date if possible. This is an extremely rare scenario. If no compromise can be reached, a full refund will be given. 
Deposit
A 20% deposit is required at time of booking. The remaining balance is due 30 days before the trip.