The Executive Performance Retreat

Bali, Indonesia

3 nights

from $437 Per Night

Based on rate for one guest
---
or talk to Vacayou travel concierge
With the unique and peaceful location along the flowing Ayung River, the Fivelements boutique retreat is designed to focus, unwind and get away from the daily rush of city life.
Imagine starting every day of your stay with daily morning yoga intended to strengthen your 'grit' and resilience. Partake in intentional relaxation, sound bath, breathwork and TRE sessions. Experience a Balinese Agni Hotra Fire Ceremony, half-day culinary training and a sunrise hike to promote teamwork and unity. The Executive Performance Retreat offers attendees an experience and the tools to drive better focus, resilience and awareness to enhance performance both in and out of the boardroom.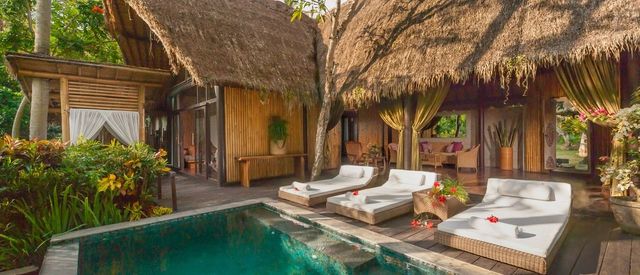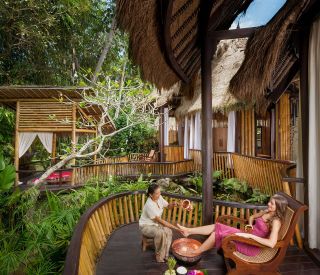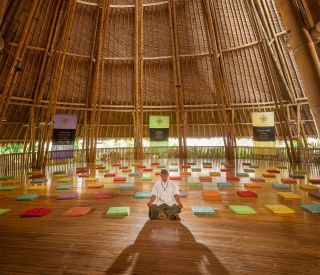 Experience
A healing retreat for regeneration, replenishment and alignment. Fivelements Retreat embraces holistic Balinese-inspired therapies administered by traditional Balinese healers using ancient wisdom passed down through direct lineage.
The team offers expertise in retreats and hospitality while respecting the core values of Fivelements Retreat and embracing local traditions in Bali 
Bali's most awarded wellness destination deeply rooted in the island's ancient traditions, nurturing harmony among spirit, human and nature
High impact wellness strategies, destinations, products and services to support individuals, couples and organizations through life transitions and transformation
Personalized private wellness retreats lead you on a healing journey through the mystic culture of Bali
Inspiring plant-based menu designed to give optimal nutrition and high energy for health, beauty and longevity
Fivelements Beauty Sanctuary leads the way back to nature by capturing the healing powers of plants and preserving village remedies
Offers
3-Night The Executive Performance Retreat
from
$437
Per Night

Based on rate for one guest
The price displayed is per night for double occupancy. A solo traveler (single occupancy), more people, extra room(s) or upgrades could increase the price.
Package Includes:
3-nights accommodation in a River View or Hillside Garden Pool Suite
Gourmet healing cuisine meals and canape breaks
A specially curated morning Yoga session to strengthen 'grit' and resilience
The Mount Batur sunrise hike to promote teamwork and unity
2 relaxation sessions to increase focus and awareness
Sound Bath Mindfulness session
1 Pranayama – Breathwork session
2 Tension &Trauma Release (TRE) sessions
Balinese Agni Hotra Fire Ceremony
Half-day Culinary training
Complimentary access to the gym
Airport Transfers
The above-suggested activities can be tailor-made based on needs and requirements in order to accommodate your objectives and team. Fivelements is also delighted to offer customized Spouse or partner packages.
FAQ
Guided and inspired by traditional Balinese Philosophies, we aim to share their inclusive, universal way of life, which nurtures harmony with spirit, the environment and one another.
Tri Hita Karana — Living in harmony with God, among humans and with nature.
Tri Kaya Parisudha — Living in alignment with clean mind, clean speech and clean action
Panca Mahabhuta — the Five Elements is a Hindu concept, which explains how internal (buana alit or microcosm) and external (buanaagung, macrocosm) forces work together and are united with the Universe.
Akasa — Ether – the idea of connectedness and spaciousness.  In the body, Ether represents all the cavities and empty spaces of the body. In the mind, it represents our consciousness.
Bayu — Air – the idea of motion. In the body, Air represents all movement of nerves, breath and limbs. In the mind, it is the power behind our thoughts.
Teja — Fire – the idea of light, heat and transformation. In the body, Fire represents all digestion and transformation. In the mind, it represents perception and intelligence.
Apah — Water – the concept of flow and fluidity. In the body, Water represents all the liquids of the body. In the mind, it represents loving and compassionate thoughts and emotions.
Pertiwi  — Earth – the concept of solidity. In the body, Earth represents our physical body. In the mind, it represents stability.
Sathya: Truth
Dharma: Right Conduct
Prema: Love
Shanti: Peace
Ahimsa: Non-Violence
K'shma: Forgiveness
Fivelements is an integrated wellness lifestyle company whose authentic destinations offer an opportunity for inspiration, awareness and progress in the 21st century. Its focus is on designing high impact wellness strategies, destinations, products and services aimed at supporting individuals, couples and organisations through enduring life transitions and transformation. Motivated by a vision for a better, happier and healthier world, our guests and partners have come to be known as "the change-makers of today and tomorrow."
Terms
Fivelements Retreat Bali (PT Fivelements, Indonesia) is a healing retreat destination offering services in Balinese Healing, Living Foods, and Sacred Arts and accommodations with the intention to help facilitate and inspire positive health and personal growth. They believe each individual is responsible for their own health and vitality. Fivelements' services may indirectly help improve physical or emotional conditions.
If you need special care or assistance in getting around the property, Fivelements requires that you bring someone with you to help meet your special needs.
They are not a drug or alcohol detoxification medical center. Fivelements is not a 24-hour medical crisis center; they are not equipped to handle urgent medical care needs.
It is understood that in cases of extreme emergency, the guest authorizes Fivelements management to take any steps that it sees fit to safeguard the guest's welfare.
If any of the Fivelements staff determines that a guest is in need of urgent medical care while staying at Fivelements, Puri Ahimsa, the guest is required to pay any or all ambulance and hospital fees.
Fivelements requires that all retreat guests complete and sign a Fivelements Pre-Arrival Health Intake form and other guests complete and sign a Fivelements Consultation and Waiver Form, and disclose any significant health issues prior to coming to Fivelements, Puri Ahimsa or any other Fivelements-related activities on/off the property.
Guests on or within 21 days of psychiatric medication, those underweight, pregnant, or with disease conditions may not be able to attend Fivelements retreats.
If significant health issues are not disclosed prior to arrival, Fivelements, Puri Ahimsa reserves the right to ask a guest to leave without a refund.
Fivelements does not guarantee any "results" on treatments undertaken under the care of Fivelements on/off the property.
Guests agree to undertake and assume all responsibilities for any undesirable consequences, which could arise as a result of services experienced on/off the property.
Taxes and service fees included in quoted rates. Retreat will be charged in Indonesian Rupiah. Prices quoted in USD are an estimation and actual price will be different based on normal exchange rate fluctuations.
Deposit and Cancellations:
Your booking is guaranteed by a 50% deposit via bank transfer and is non-refundable. Balance of the remaining 50% is due 30 days prior to arrival and is non-refundable. All prices are subject to change at any time upon management discretion. Other conditions may apply.
Special Conditions:
As a healing destination retreat, Fivelements Retreat Bali maintains a peaceful atmosphere integrated with nature. To this regard, Fivelements supports a smoke-free & alcohol-free environment. They kindly request that usage of all electronic devices be limited to guest rooms only.
Check-in is from 2:00 p.m. and check-out is by 12:00 p.m.