Sold Out
Angsana Corfu Resort & Spa
Serenity & Flow: Escape to Corfu Wellness Package

We're sorry, but this package is not currently available. Please see the Angsana Corfu Resort & Spa page for other package offers.
or talk to Vacayou travel concierge
How many times can you say: WOW? Angsana, originally a flower, rare and beautiful, vitalizes and benefits the human body. And so, much fitting with the name, this wellness escape takes place in a setting - just as rare and beautiful as the flower itself. The Escape to Corfu Wellness package is for those who seek to feel more serene and alive. The Angsana Resort and Serenity go hand in hand, and brings you some of the most valuable treasures. With carefully chosen body treatments and activities throughout the resort and spa, even the most stressed individual is blessed with peace once here. 
This wellness package can only be found on Vacayou and includes a luxury accommodation for two with stunning views, a spa credit you can use on your favorite treatments, a daily breakfast, unlimited fitness and yoga classes on deck and a body massage of your own choice. The excitement continues by adding access to a private beach, an infinity pool overlooking the blue sea and the tall hills - and so much more. 
And so, right at the edge of the sea, your body and mind get to relax and be taken care of, while blossoming with vitality and embracing serenity.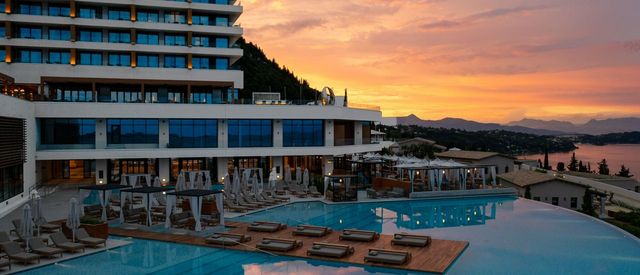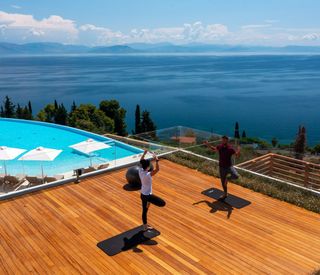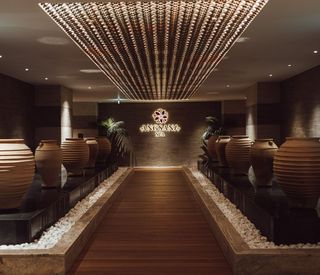 Experience
Imagine a never-ending love story that just gets better and better each day. Every day that you spend at the Angsana Corfu Resort & Spa, it just gets better and better and the feelings of joy and bliss increase, minute by minute, day by day. With its award-winning luxury spa, you get to immerse yourself in wellness that awakens the best version of you - the serene, happy, relaxed version - filled with energy and life.
Some of the best experiences of this special Vacayou "Escape to Corfu" wellness package are:
An exceptional variety of spa treatments at the Angsana Spa, such as the "Rainmist Experience", the "Worry Free Treatment", a traditional "Javanese massage and the "Silk Road" body wraps.




Lots of opportunities to satisfy your curiosity with new experiences. How about a sailing boat tour to "the Eden of islets" and the two Ionian gems - Paxoi and Antipaxoi? Or maybe the "Just the two of us" fitness session or a cooking class, followed by special dining time while admiring the sea?

Access to 3 signature restaurants, 7 bars and outdoor terraces. You can satisfy your taste buds with famous gastronomical Greek cuisine with local Corfiot delicacies and international favorites, as well as food by the Michelin-star chef Ettore Botrini. Or try the exquisite Asian cuisine, have drinks at the terrace bar or enjoy a tailored destination dining experience with your partner.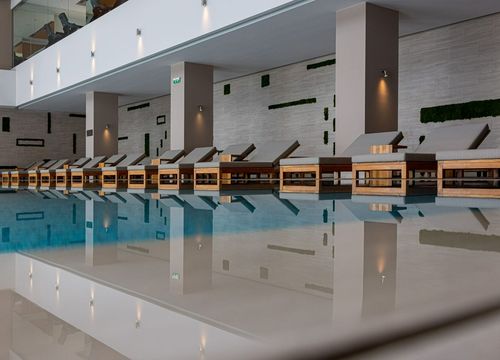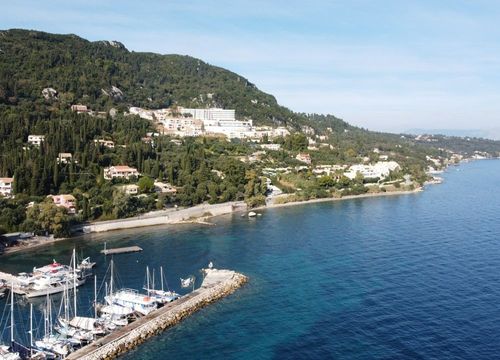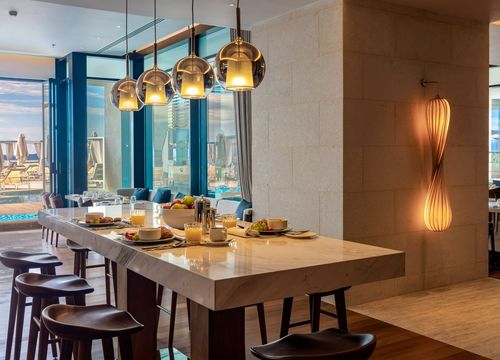 Accommodations
The resort features a collection of 159 contemporary guest rooms, suites and 37 luxury villa homes built to evoke the feeling of an authentic and private Corfu home with outdoor pavilions, terracotta rooftops and private pools. The guest rooms offer contemporary, spacious and elegant interiors inspired by Corfu's sophisticated island lifestyle blended with a touch of Asia. The Achilleion Hill View Grand Room offers a large king-size bed or two twins that define the sleeping area and is complemented by modern lounge furnishings allowing extra comfort. This unique Angsana ambiance creates the perfect space for melting away stress, rejuvenating and enjoying fun moments. Mobility-accessible rooms are available in this category, as well as inter-connecting rooms for families. The Ionian Seaview Grand Room is equipped with stylish futon king-sized beds complemented by modern wooden furnishings and creative deco details. The private furnished outdoor balcony is a place to dream embossed by the beauty of sea views and the stunning Corfu mountainous countryside, presenting the perfect spot for summer living, away from it all.
Features & Amenities
Marble bathroom with power shower
Luxury toiletries
Seating area
Wi-Fi
Furnished balcony or veranda
Oceanview or countryside mountain view
Air conditioning
FAQ
Angsana Corfu Resort & Spa welcomes families with both little ones and older kids. However, the "Escape to Corfu" wellness package is mainly created for adults. 
Yes, all of the three packages we have available at the Angsana Resort & Spa include a room with either an Achilleion Hill view or Ionian Sea view.
Daily American Buffé breakfast is included during your entire stay. Lunch and dinner are available for an additional cost. 
Children are not allowed at the spa unless they are having a treatment, accompanied by an adult.
Terms
General terms
Deposit
A payment of 25% deposit of the total amount is required 14 days prior to arrival at the Angsana Corfu Resort & Spa. The remaining 75% of the total amount is to be paid a minimum of 48 hours prior to arrival. 
Cancelation policy:
Free cancelation FOR ALL PERIODS (06/15 - 12/31) up to 3 days prior to arrival with a full refund. If canceled 2 days or less prior to arrival, you will be charged 100% of the total stay which is not refundable. 
Angsana Spa 
Cancelation Policy
A 24-hour cancelation notice is required to help us re-schedule your appointment, subject to space availability. Any cancelation with less than 4 hours' notice will result in a 50% cancelation fee. A full fee will be charged for a "no-show". 
Refund Policy
Treatment packages are non-refundable. Unused portion of the packages are non-transferable or non-exchangeable for another time.
VAT
Corfy Spa treatment menu prices include 24% VAT
Disclaimer
The spa treatments, services and/or facilities received or utilized at Angsana Spa are intended for general purposes only and are not intended to be a substitute for professional medical treatment for any condition, medical or otherwise, that Guests may have. Guests will fully indemnify and hold harmless Angsana Spa, its holding company(ies), affiliates, subsidiaries, representatives, agents, staff and suppliers, from and against all liabilities, claims, expenses, damages and losses, including legal fees (on an indemnity basis), arising out of or in connection with the spa treatments, services and/or facilities.
For the consideration of others, we request that visitors keep noise to a minimum. Children are not allowed at the spa unless they are having treatment, accompanied by an adult.