Sold Out
9-Day Journey to Discover Maya Temples of Transformation
Yucatán, Mexico

8 nights
---
or talk to Vacayou travel concierge
Soul-searchers, seekers, enlightened ones—those who look up at the stars with wonder and intrigue—behold the pull of this spiritual journey into Mexico's distant past. What makes this experience so unique is how two esteemed guides take you on a tour through ancient times where the teachings of the past come to life. Receive great spiritual gifts and feel your energetic vibrations raise and radiate as best-selling author and world-leading researcher, Freddy Silva and Maya master teacher, Miguel Angel Vergara guide you from temple to temple, deciphering sacred symbols and invoking your curiosity of the cosmos. Deepen your connection with yourself and the rest of the world on this unforgettable Sacred Earth Journey.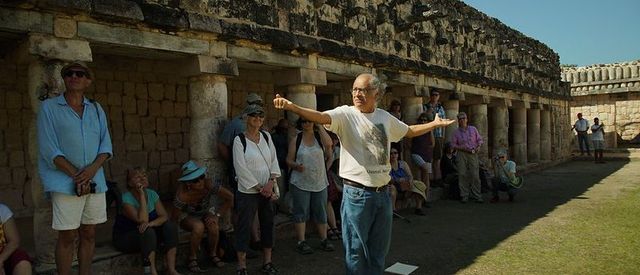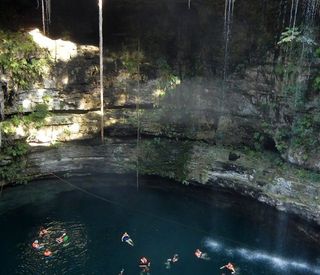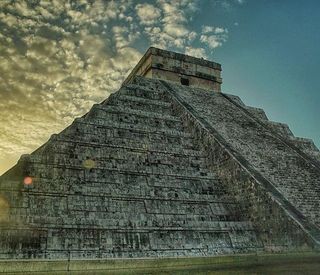 Experience
Join Sacred Earth Journeys on a spiritual journey to connect with the transformative energies that ancient civilizations discovered long ago. With the extensive knowledge of your leaders, this tour of some of the most sacred sites in Mexico is a meaningful experience that will change and inspire you.
Travel with best-selling author & one of the world's leading researchers of sacred sites, Freddy Silva 
Rituals and meditations with Maya master teacher Miguel Angel Vergara
Visits to transformational, lesser-known Maya sites in Mexico's Yucatán peninsula including the legendary portal with Egypt
Engage in daily discussions, contemplations and life-changing conversations
Special ceremony at an underground lake inside a sacred cave
Enough free time for full absorption of teachings and experiences
Itinerary
Thursday, November 4th
Arrive in Merida and transfer to hotel. Free day and dinner at will as people arrive throughout the day. 
(Overnight El Conquistador, Mérida or similar.)
Friday, November 5th
After introductions from your tour leaders, and breakfast, you'll check out of Mérida and drive an hour to a sacred Mayan cave to conduct the opening ceremony.
Adjacent is the quiet site of Oxkintok, once a major ceremonial center, to see among other things, a curious building with an interior labyrinth of tunnels once used for the highest level of initiation known as living resurrection. According to legend, this is also a portal connecting with Egypt through the sacred geometry and mathematics used in the Maya calendars. Oxkintok translates as Where Three Suns Continuously Burn. It is connected to Sirius, Orion and the Pleiades. 
Your time in Oxkintok will be followed by a short drive to the beautiful Hacienda Uxmal which will be your home for the next two nights. Breakfast and lunch are included.
(Overnight Hacienda Uxmal or similar.)
Saturday, November 6th
Just a short walk from the Hacienda stands Uxmal, one of the jewels of Yucatán. Freddy and Miguel will offer explanations around the site. According to legend, Uxmal was "a cosmic city that descended from the fourth dimension to amaze the eyes of humankind." This is a fabulous temple city boasting several pyramids and sacred plazas with highly decorated façades. We'll enjoy a full day of exceptional walking around a site that is lightly visited. This City of Kindness of Mother Moon carries strong sacred feminine energy, where women were educated to be priestesses and served in the temples, teaching the next generation to access the Sacred Knowledge. The people of Uxmal developed a great sense of intuitive skills, gaining a high level of spirituality in their lives. Beauty, poetry, dance and the other arts were developed here. 

Lunch is onsite, after which you can experience the site at will. Breakfast and lunch are included today. Dinner is on your own. And there's an outdoor swimming pool to enjoy.
(Overnight Hacienda Uxmal or similar.)
Sunday, November 7th
An hour's drive takes you to Labnah, a handsome ceremonial center with its fascinating arched entrance, and an air of the Far East, because there is a strong Cambodian feel to the architecture. Labnah is connected with the Wisdom Walls of Mother IxCheel. Here the Maya teachers carved great symbols in the temple walls in red cinnabar. The entrance arch is a portal in itself, connecting to other dimensions. There's also an opportunity to walk one of the many zak-be — spirit roads reflecting the path of the Milky Way. These white serpent roads once connected all sites throughout the region in ruler-straight lines.

The group then drives to Kabah, with its imposing palace featuring over 200 images of the rain god Chac. Kabah is the Strong Hands of God, where the Creator transforms your life and destiny, because you were made with Its powerful hands. As the Maya teachers said, "If you believe, you can create, and if you can create, you can manifest."

Following lunch, you'll transfer to your hotel near the majestic Chichen Itza. Breakfast and lunch are included today. 
(Overnight Hotel Villas Arqueologicas or similar.)
Monday, November 8th
This morning, you'll be driven to the beautiful temple of Ek Balam, with its pyramid and initiation chamber. This is the City of the White Temple of Wisdom, SAK-XOK-NAH. The great Jaguar Prophets from the stars designed the city of Ek Balam (Star Jaguar) to teach the Mystery of the Hidden Knowledge in the universe.  Climbing the Great Palace, you will see the seven Jaguar Maya Teachers from the Stars and receive a unique spiritual teaching from each one of them.

The group will stop in Valladolid for lunch at a beautiful restaurant on the picturesque main plaza. There will be time for a stroll around the square and maybe a little shopping before returning to The Villas. Breakfast and lunch are included today.
(Overnight The Villas Arqueologicas or similar)
Tuesday, November 9th
Sacred Earth Journeys has arranged a 6 am sunrise entrance to Chichen Itza when the site is quiet and empty and the energy is strong. Chichen Itza is the cosmic university where one connects with the science, art, philosophy and spirituality of the Maya. This ancient school attracted students, initiates and teachers from all over the Maya world. They graduated as AH-KUKUULKANS, masters of great knowledge and balance of spirit, science, knowledge and intuition. Today, the Seven Golden Doors wait for you to open the Sacred Wisdom of the Feathered Serpent with the Light of the Sun.

Walk back for breakfast, then you'll return to tour the site alone for the rest of the day. Lunch is at will; the hotel is right next to the site, so you come and go as you please. Breakfast and dinner are included today.
(Overnight Hotel Villas Arqueologicas or similar.)
Wednesday, November 10th
A short drive then takes you to the sacred cave Balamka'anche' for a special ceremony beside an underground lake and the Tree of Knowledge, made from the slow-dripping of limestone over millennia, connecting all three levels of reality. Protected by Aluxes (Maya Earth spirits), its name means Throne of the Jaguar – Serpent. The energy from the sky was grounded here. In ancient times, initiates came here to overcome their fear and test their resolve.
Following lunch, we return to Chichen Itza, where Miguel Angel and Freddy will discuss multiple aspects of the temples and you will see why you were attracted to certain buildings the day before.

Return to Merida and a free evening to sample the restaurants and shops of this Spanish Colonial city. Breakfast and lunch are included today. Dinner is on your own.
(Overnight El Conquistador, Mérida, or similar.)
Thursday, November 11th
First breakfast, then you'll travel to the beautiful cenote Santa Cruz for our closing circle to give thanks to the spiritual guides and gifts you have received throughout the journey. Cenotes are natural wells, sacred to the Maya, with water containing powerful energies from ancient times. Following the ceremony, you can swim and relax in the purifying water before heading out to Mayapan to bid farewell to the Maya Masters of Light who have been guiding you throughout this journey.

Mayapan means the Sacred Shield of the Maya, once the center of the Maya world, allied with the Masters from Chichen Itza and Uxmal. Legend states how Lord KuKuulKaan arrived here one day to live for a long period of time. He taught the Maya about the structure of the Universe, the stars, sun, moon and planets. He taught them about the sacred calendar and raised many of them to the level of Halach Uiniks, men and women with an extraordinary level of being, balanced in science and spirituality. KuKuulKaan then left them in peace and returned to the sky.

Freddy and Miguel Angel will walk through this amazing site talking about the treasures found here. Freddy will also teach how to attract and move earth energy currents. There will be time to explore on your own before heading out for a special farewell lunch.

You'll then return to Merida for your last night here. Dinner is on your own and you will have time for any last-minute shopping and to prepare for your flight home tomorrow. Breakfast and lunch are included today.
(Overnight El Conquistador, Mérida, or similar.)
Friday, November 12th
There are no events or meals scheduled since many participants leave at dawn. You will be transferred to the Mérida airport for your flight home.
FAQ
Airfare to Mérida and return from Mérida
Cancellation & medical insurance (ask us for a quote)
Meals and drinks not specified
Cost to obtain valid passport
Any items of a personal nature such as laundry, drinks and telephone calls
Any item that is not specifically detailed on our website
Freddy Silva is one of the world's leading researchers of ancient civilizations, sacred sites and their interaction with consciousness. He is the best-selling author of The Divine Blueprint.
He is a leading researcher of ancient civilizations, restricted history, sacred sites and their interaction with consciousness. He has six books published in six languages.
Described by one CEO as "perhaps the best metaphysical speaker in the world right now," for two decades he has been an international keynote speaker and he makes regular appearances on Gaia TV, The History Channel, BBC and international radio shows such as Coast To Coast. 

He is also a documentary filmmaker, art photographer and he leads sold-out tours to sacred sites in Mexico, Guatemala, Egypt, Peru and Bolivia with Sacred Earth Journeys.
Miguel Angel Vergara Calleros studied for 17 years with Mayan elder, Don Vincente Martin, who was a wisdom keeper, professional teacher and artist. Miguel Angel is also a master in his own right, known as Master Nazul and he teaches seminars in Mexico and abroad on Mayan shamanism, astronomy, philosophy, calendar, glyphs & symbols, medicine, cosmovision, traditions and prayers, ceremonies and healing.
Miguel Angel shows us how to connect with the masters of light who are still at the sacred sites waiting to teach and guide us now, as in ancient times. He conducts tours to these Mayan sites so that people can experience firsthand the powerful activating energies of those areas. His knowledge and experience make the journey come alive as you begin to understand how the messages were imprinted, what the glyphs mean, what uses the buildings had and how ceremonies were conducted.

Miguel Angel has been studying, teaching, and living the Maya wisdom for over 30 years. He teaches in a heart-centered style that connects rapidly and profoundly with his audience. Those who experience him realize they are in the presence of a master and are being given an extraordinary gift.

He enjoys collaborating with other teachers and is always interested in learning more. He is a joy to work with and is generous with both his knowledge and his time.

Miguel Angel Vergara is the author of several books on the Maya including two on Chichen Itza, one on the Maya Goddesses and the role of women in the ancient Maya culture and a recent book entitled The Sacred Knowledge of the Maya.
Travel with like-minded people and forge lifelong friendships
Escape from daily stresses, restore balance and rejuvenate the body, mind and spirit
Learn about ancient cultures and traditions and explore their beautiful temples and pyramids
Travel safely with the comfort of a small group and an experienced, passionate tour leader
Enjoy daily discussions, contemplations and life-changing conversations
Develop more understanding and compassion for yourself and others
Enjoy an itinerary that is extensively researched and infused with personal contacts and resources
Connect with ancient spiritual energies and power places at carefully chosen sacred sites
Strengthen your connection to the rest of the world and deepen your knowledge of other traditions
Terms
Tour operated by Sacred Earth Journeys. Sacred Earth Journeys is a registered & licensed Travel Agent in British Columbia (B.C. Reg 28465). All participants on our trips are covered by the terms of the British Columbia Travel Agents Act.
Deposit
A deposit of $500 per person is required if booking more than 70 days before your departure date. Payment is due immediately in full within 70 days of departure. If you pay a deposit, the remainder is due 70 days before you depart. If the balance is not paid in full by the due date, we will regard the booking as canceled. Payments made less than 30 days before departure must be made with a certified cheque, money order, or credit card. All payments are non-refundable and we strongly suggest you purchase Cancellation Insurance to protect your investment.
Minimum Number of People
The advertised cost for each tour is based on an established minimum level of participation. Should the group for any tour fall below this number, each traveler may be assessed a surcharge dependent upon the number of persons traveling (usually between USD $100 and USD $300 per person). Sacred Earth Journeys will make every effort to keep the surcharge as small as possible. If assessed a surcharge, you will be notified of the amount at least two weeks before the departure date. Payment is due upon notification. Instead, in the event that there are not the minimum number of participants,  Sacred Earth Journeys reserves the right to either add a 10% small group surcharge or cancel the tour. In either case, you will be notified as soon as possible. In the event of a tour cancellation, you will receive a full refund or you may transfer to another trip.
Single Supplement
A single supplement is available for an additional cost ($980 USD per person for Greece; $850 per person for Mexico). The single supplement is for those who would like to secure a private room throughout the tour, at the indicated additional price. If you are not traveling with anyone you know and would like to share a room, please indicate your preference for a roommate above. We will be happy to work to find you a suitable roommate.
Insurance
We strongly recommend purchasing Travel Insurance (Cancellation and Medical Insurance) to protect against cancellation fees and additional travel expenses that may incur before, after, or during the trip. All payments are non-refundable and we strongly suggest you purchase Cancellation Insurance to protect your investment.
Tour Costs
Tour costs and what they include are listed on the itinerary for each tour. Unless indicated otherwise on the tour itinerary, the tour fee includes accommodations in double occupancy, meals as indicated (any foods or beverages not included in the program and purchased by you will be at additional cost. Tour price includes only foods and beverages that are provided to the entire group), all transportation during the tour, sightseeing as specified in the itinerary, entrance fees for parks and other areas, and services of a tour leader. The tour operator reserves the right to substitute hotels of similar category. Tour costs are based on group rates and no refunds will be given for unutilized services. Items not included in costs: visa and passport charges, departure taxes, gratuities (some tours require gratuities be pre-paid), extra meals not included in the itinerary, items of a personal nature (i.e. laundry, drinks, telephone calls, personal clothing), emergency evacuation, personal travel insurance, any item that is not specified as being included.
Passport
A valid passport must be held by each passenger traveling internationally. Some countries require that your passport is valid for 6 months from your return date. Visas are required for entry into some countries. Please check with your local Embassy or Consulate of the country being visited, to learn about Visa requirements for your Nationality. Obtaining Visas is at the passenger's own expense.