Sold Out
Palmaïa, The House of AïA
Disconnect to Reconnect Yoga Retreat

We're sorry, but this package is not currently available. Please see the Palmaïa, The House of AïA page for other package offers.
or talk to Vacayou travel concierge
Imagine a mystical place where ancient roots and sacred rituals interact. A paradise of eco-nuances and intangible delights cocooned between a lush jungle and the glistening Caribbean sea. This is Palmaïa, The House of AïA—an all-inclusive holistic and sustainable wellness resort on the gorgeous beaches of Playa del Carmen, Mexico.
And this is where you are invited to reawaken your senses and get closer to nature. Through yoga, face the human condition more holistically and empower your ability to make healthy changes and function better in everyday life. During this retreat, you will learn yoga techniques, improve the functionality of your body and posture, and reconnect with ancestral wisdom that sustains our personal processes and cycles. You will also be able to add-on cultural excursions including an ancestral cave tour and a private swim session in a cenote.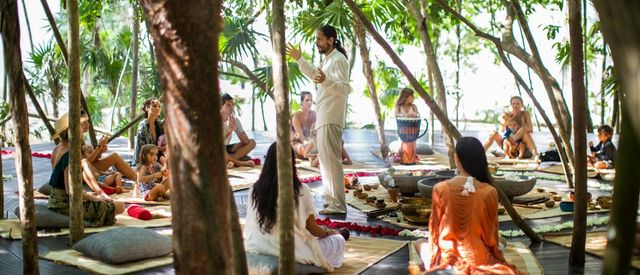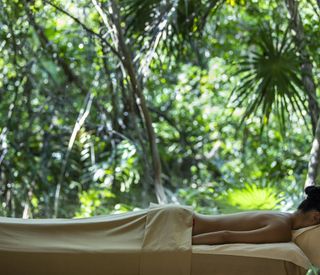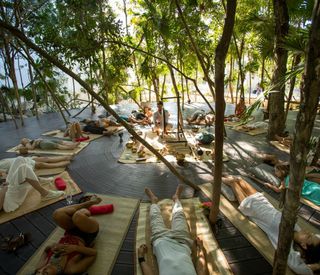 Experience
This retreat is designed for beginners and experts alike interested in their well-being who need to get out of their daily routine to reconnect with nature and their better selves.
Stay in oceanfront suites—some with swim-out access to the infinity pools, others with sweeping views of the sea and a few nestled among the ocean-side mangroves.
Enjoy high-end amenities without sacrificing environmentally friendly practices.
Dine on some of the best cuisine in the region including options for plant-based and non-vegan eaters.
Learn tools that help reduce stress and anxiety.
Strengthen your immune systems to better cope with everyday challenges.
Encourage balance between the physical, mental and spiritual bodies
Palmaïa, The House of AïA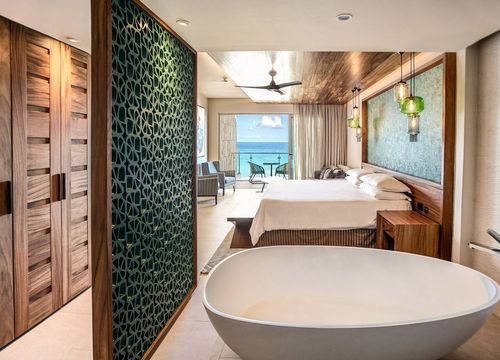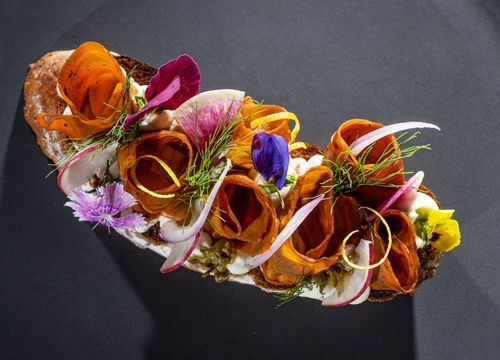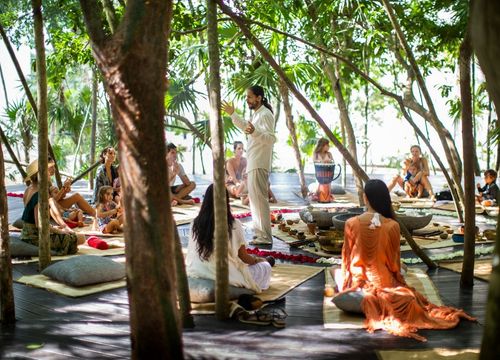 Accommodations
Palmaïa offers guests oceanfront suites in seven categories, each with its own private terrace for sweeping views of the Caribbean Sea. The layouts include a variety of luxurious suites—family-style with bunk-beds, open floor plan, swim-out access to infinity pools, views of the ocean-side jungle—all designed without sacrificing environmentally-friendly practices. Each guest is assigned a Nomadic Guide to attend to their needs throughout the stay. And, for children, Palmaïa operates a holistic activities program run by certified educators.
Features & Amenities
Palmaïa is a gifting community so guests can enjoy unrestricted access without the hassle of exchanging currency. 
Architects of Life personal growth program
Rituals of Sound live presentations
Rites of Passage ceremonies
Waldorf-inspired activities for children
Private beach and pools with service
Valet parking
Fiber optic Wi-Fi
Gym & fitness center
Bike share service
Health trail
Butler and concierge service
Kayak and snorkel equipment
Chill-out lounge
Personal Growth
Guests have access to more than ten personal growth practices and classes from the Architects of Life program, including:
Yoga
Meditation
Sound healing
Tai Chi
Transpersonal astrology
Chi kung
Gong bath
Cacao ceremony
Drums connection
Terms
DEPOSIT POLICY
One night deposit at time of booking. Full Payment will be required 7 days before departure. As a general rule and unless expressly agreed otherwise, rooms may be used from 3 pm on the day of arrival and must be vacated before 12 pm on the day of departure.
CANCELLATION POLICY
Full refund if cancelled 24 hours prior to arrival. No shows will be charged 100% of the stay.