Sold Out
Cycling Tour Through Southern Italy

Puglia, Italy

6 nights
---
or talk to Vacayou travel concierge
Some places are simply perfect to discover on foot or by bike, like this tour through Puglia along the Adriatic Sea and Ionian Sea. For those who like an active vacation and are drawn to water and nature AND want to experience one of Europe's most beautiful coastlines, this 7-day cycling tour is a treat. Tradition, food, wine and daily movement bring you a longed-for break from routine. Travel along the country roads of Itria Valley and immerse yourself in the food & wine tradition of Southern Italy with its charming villages, alleyways and nature reserves. The itinerary is amazing!
About Yuniqly
Yuniqly is committed to bringing travel, adventure and physical exercise together. Focusing on sustainable travel, they bring together fitness enthusiasts who like to travel and discover hidden places in the most beautiful parts of the world. Even if you're just starting out on your fitness journey, this is a fun way to get into a healthier lifestyle. With professional sports leaders and guides that will customize your trip, you can be sure to get the most out of an active vacation.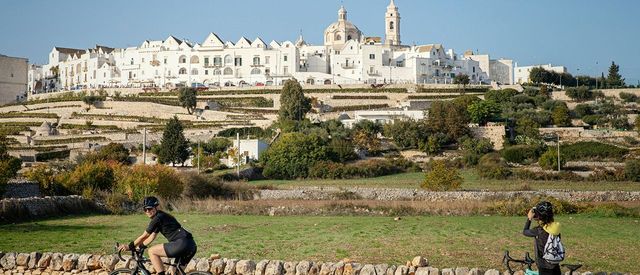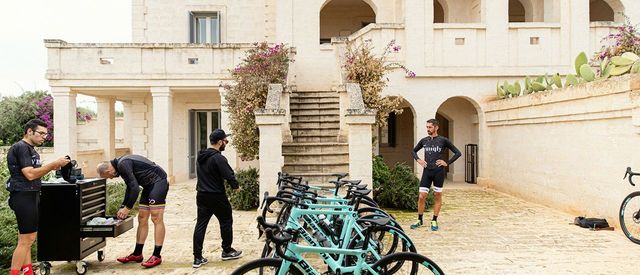 Experience
The Puglia region is known for its coastlines, charming villages and traditional food. For those who want to travel sustainably and be active on vacation, this is a getaway you will highly appreciate. Italy is loved by people all over the world, and for good reason. It's time to join them and discover why!
Explore Southern Italy by bike along the dramatic Adriatic and Ionian coastlines
Discover authentic Italian villages
Enjoy the experience of staying in a Masseria
Indulge in traditional food & wine 
Explore two beautiful national parks 
Travel sustainably
Itinerary
Welcome to this adventure in Southern Italy! Today, as you arrive, your Yuniqly bike leader will greet you at the reception of Masseria and go over the training program. It will be an occasion to get to know other travelers and to customize your activity sessions.
Today after breakfast, you will ride along the coastline until you reach Torre Canne—a city famous for its lighthouse and its pier. After a short break to breathe the sea air, you will take the route leading you to the village of Speziale. This is a mandatory stop to taste delicious panzerotti, one of the local street foods of the region.
Once you've enjoyed some authentic Italian food, you'll travel along a back road that will take you through a stretch of hundreds of centuries-old olive groves, farmhouses and small villages. Finally, you will reach your destination where a masseur will be waiting for you to give you a restorative massgae. Be ready to sink into a profound state of relaxation as end your first day of adventure. 
Today after breakfast, you will board the Yuniqly van and travel to Torre Guaceto where you'll discover and explore this natural coastal and marine reserve by bike. You'll continue with a walk along the protected seashore area, and go through the dense Mediterranean shrub land which is a precious custodian of biodiversity. This is an opportunity to enjoy the protected area from an active and sustainable point of view. Finally, in the shade of the olive trees, you'll enjoy a picnic and taste a selection of local culinary delicacies.
This morning, you'll jump into the van to Taranto, traveling to the Wine Resort's garden vineyard, sheltered on a hill that dominates the gulf. In the afternoon the staff of Masseria will offer you the sweet taste of the organic wines produced from the grapes of the vineyards that surround the Masseria. You'll also enjoy cured meats and local cheese. This is an occasion to familiarize yourself with the land that hosts you.
After breakfast, you will travel along low-traffic roads to reach the Reserve of the Pianelle wood. Here you will stop and enjoy a picnic where you'll taste the Apulian focaccia and regain your energy while enjoying the Gulf of Taranto on the horizon. Afterward, it is time to return to the base on a downhill road.
Today you will spend the day discovering. A route will lead you along the rows of vineyards designed by the famous Spanish landscape artist Fernando Caruncho. You will head toward the bottom of the hill and explore one of the most evocative ravines of the terroir. Today is all about experiencing the beautiful and quiet Amastuola and its vineyards. 
Today it's time to say goodbye to your tour companions and the Yuniqly family. After breakfast, the resort's staff will be at your disposal for the checkout procedure. Discovering coastal Italy by bike is surely something you will remember. And maybe you're already looking forward to seeing more of this beautiful country. Wherever your next journey takes you, Italy is a place no one truly forgets. Until next time!
FAQ
This is a year-round tour that you can book anytime you like. 
The closest airport is Bari Karol Wojtyła Airport or Brindisi Airport. Transfers can be arranged by Yuniqly's Mercedes Vito Tourer van with 9 seats.
Terms
Deposit Policy
There is a 50% deposit to be paid if outside of 29 days.
Cancelation Policy
For cancelations between 29 to 15 days prior to arrival, there is a fee of 50% of the total amount. 
For cancelations between 14 to 8 days prior to arrival, there is a fee of 75% of the total amount. 
For cancelations made 7 days or less prior to arrival, you have to pay 100% of the total amount.