Sold Out
8-Day Cycling Tour in Greece

Athens, Greece

7 nights
---
or talk to Vacayou travel concierge
Begin your journey in the buzzing city of Athens. Take in the sights and immerse yourself in the rich history this land has to offer. Making your way across the Aegean Sea on a scenic ferry ride transports you to a more mellow pace in paradise on the island of Poros. With the wind at your back and the warm Mediterranean sun lighting up your face, you'll cycle from treasure to treasure while tasting local flavors, marveling over diverse landscapes and touring the ruins of the ancient world. There is so much to see in just the right amount of time on your 8-day cycling adventure with Exodus Travels.
The Basics
Start and Finish: Athens, Greece
Minimum Age: 16
Group Size: Minimum 6, Maximum 16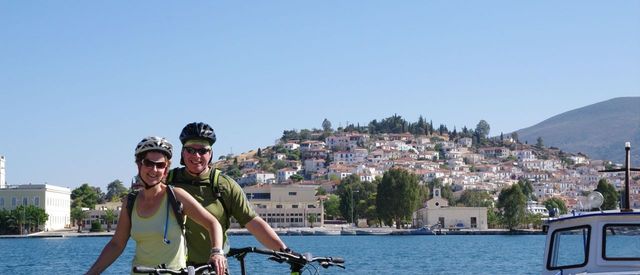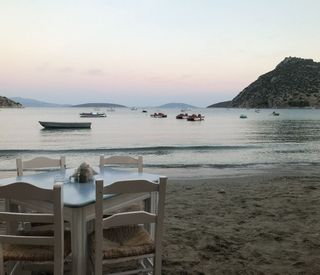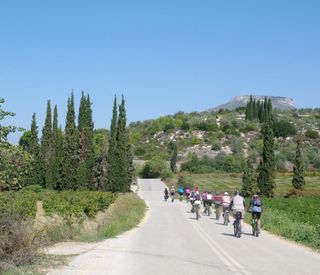 Experience
With over 45 years of exploration under their belt, Exodus Travels takes you on an unforgettable guided tour through the Greek countryside, the capital city of Athens and picturesque islands in between.
Accommodations for 7 nights
Cycle along idyllic coastlines 
Visit historic sights of ancient Greece
Discover Athens and its archaeological treasures
5 days cycling with partial vehicle support (limited seats)
95% tarmac, 5% dirt roads
E-bikes available on request
Itinerary
After meeting with our leader, there will be time to walk around Exarhia, the lively area of downtown Athens. Spend the night in a comfortable hotel.
In the morning, you will explore some of the main sights in Athens by bike and cycle down one of the major bike lanes of Athens, before your final descent to Piraeus Harbor through a busy road. Here, you catch the ferry across the Argosaronic Gulf to Poros Island (approximately 2.5hrs). In Poros, you'll cycle around town and ascend to the temple of Poseidon where you'll enjoy amazing views of the island. The group will then head down to one of the many beautiful bays where you can enjoy a refreshing swim.
Please note that the ferry timetable is modified frequently at very short notice. On occasion, groups may have to take an early ferry.

Meals included: Breakfast
Distance covered: 32 km / 20 miles
In the morning, after a walking tour of the town of Poros, you'll take a boat to the Peloponnese mainland. Cycling through olive groves and quiet hamlets, you'll start your ascent along one of the most dramatic coastlines in Greece, boasting breathtaking views of the Aegean Sea. Your tour takes you through Ancient Trizina, the birthplace of Theseus, the mythical hero that slayed the Minotaur. Here the group can have a short break and take in the magnificent scenery.

The views throughout today's ride are fantastic and are a reward for the number of short steep ascents along the way, which eventually lead to a 5km long descent to the ancient town of Epidaurus. Palia Epidaurus (or 'Old Epidaurus'), to give it its full name, is built around a natural harbor and is your base for the night.
Meals included: Breakfast
Distance covered: 42 km / 26 miles
After a short uphill ride of approximately 10km, there is an optional visit to the ancient site of Epidaurus (you can relax at the shaded gardens or cafeterias outside the site, while the group finishes their visit). Epidaurus is a UNESCO World Heritage Site and is famous for its amphitheater that was built in honor of Asklepius, the God of Medicine and son of Apollo and Coronis. The huge theatre, renowned for its size, symmetry and acoustics held up to 15,000 spectators in its peak. From Epidaurus, you'll head inland and ride along quiet, undulating mountain roads and descend to the seaside town of Tolo.
Meals included: Breakfast
Distance covered: 50 km / 31 miles
Leaving Tolo, you'll make your way to Nafplio, one of the most beautiful and picturesque cities in Greece and the capital of Modern Greece in the early 1800s. Situated on the hillsides at the northern end of the Argolic Gulf, the town contains numerous neoclassical buildings as well as the Palamidi Castle. Riding to the heart of the Peloponnese, you leave the coast behind and make your way to the world-famous site of Mycenae. The imposing Lion Gate, dating back to 1350-1200 BC awaits. Outside the walls, you'll see many of the wonders Mycenae is known for: the vault-shaped tombs of Lions, Aegisthus and Clytemnestra, and the Treasury of Atreus. An optional visit to the site is highly recommended.
Meals included: Breakfast
Distance covered: 47 km / 29 miles
A challenging start to today's ride sees the group climbing a road through vineyards to the Ancient Nemea; here we visit the archaeological site and ancient stadium before a long descent to Nemea. The town is nowadays famous for its exceptional wine and the group will get the opportunity to visit one of the wineries, see the process and taste (a little!) before continuing on quiet country roads to Corinth and then on to Loutraki, where you'll spend the night.
Meals included: Breakfast
Distance covered: 63 km / 39 miles
From Loutraki, you'll take the bus to Athens city and a metro to Plaka, the picturesque historic downtown. Here we enjoy a guided tour of Acropolis before a walking tour of the city center. Your route around the city takes you at a relaxed pace to some of the must-see sites:
Monastiraki Square
The Ancient Library
The Roman Forum
Tower of the Winds
The Temple of Olympian Zeus
Hadrian's Arch
The Ancient Panathenaic Stadium
The Greek Parliament
The National Gardens
The monumental 19th century buildings of the oldest Greek University
Enjoy a free evening to sample some more delicious Greek food.

Meals included: Breakfast
After breakfast the trip ends in Athens.
Meals included: Breakfast
FAQ
Airfare
Visas, vaccinations and any government-mandated COVID tests
Travel insurance
Single accommodation (available on request)
The pace will be moderate at 13-16km/8-10miles an hour at low altitude. Daily distances are listed in the itinerary. There are five days of cycling during this eight-day trip which will cover 234 km/145 mi.
There are five days of cycling with an average distance of 47km/29mi per day. There will be partial vehicle support with limited seats. There are no transfers to or from hotels on this trip, all the rides are designed to be door-to-door. Road conditions are usually good, but in places, the tarmac will be pot-holed and the conditions not quite as good. The aim is to use quiet roads where possible, but sometimes you'll need to pass busy sections in order to reach the quiet roads on the other side. On Day 2, you will be cycling through Athens, where traffic can be intense but the leader will keep the group together and pre-warn of any areas they know to be busy.
All breakfasts are included. Breakfasts are generally buffet-style Greek breakfast with bread/toast, butter, jam, fresh juice, milk, local yogurt, honey and coffee or tea. They have not included any evening meals in the price of the trip to allow you more freedom over where and what you eat. There are some fantastic restaurants along the route and your guide will be able to recommend his favorite places based on your personal tastes and budget. Greek food has strong influences from Italy and Turkey, so expect lots of vegetables, olive oil, bread and meats like lamb, chicken and pork.
Transfers to and from the airport will be by private vehicle (normally minibus). All the rides are designed to be door-to-door, however, you'll take boats on certain days. On Day 2, you'll take a ferry to cross over to Poros Island. Please note that the ferry timetable is modified frequently at very short notice. On occasion, you may have to take an early ferry in which case, exploring Athens will be done at the end of the trip (on the last day before the flight). On Day 7, the group usually takes a bus from Loutraki to Athens. Whilst cycling, the vehicle will carry your baggage and be on hand with assistance or if you choose to 'sit out' a section of the ride (limited seats available).
The Peloponnese is blessed with a pleasant Mediterranean climate. Clear blue skies, sunshine and warm temperatures can be enjoyed for most of the year as the winters are quite short. During the summer (July and August) the temperatures can go up to around 105 degrees. May: pleasant daytime temperatures 60-85 nighttime 45-55 with a chance of some rain; spring flowers can be seen. June, September and October: daytime temperatures 65-90, night time 55-65; very dry, but a chance of showers in October.
Normal daily clothes
Cycling helmet (compulsory on this tour)
Padded cycling shorts and gloves
Breathable top or cycling jersey
Sunglasses/eye protection
Stiff-soled shoes suitable for cycling
Waterproofs and long cycling trousers
For earlier departure dates you may need some warmer layers
Sunscreen
Water bottle
Swimwear
Tips are not included nor are they mandatory. However, if you receive great service please tip a total of approximately €30 per person in total on this itinerary to be broken down as follows:
€20 for the leader
€10 for the driver
Terms
Tour operated by Exodus Travels Limited. The prices listed include taxes.
Single Supplement
Where a single supplement is available, paying for a single will only guarantee a room for single use. It does not necessarily mean a twin or double room will be provided for sole occupancy. Please note that a member of the group may be allocated a single room by default if the make-up of the group means there isn't anyone for them to share with. Paying the supplement in advance is the only way to guarantee a single room. Single supplements cannot be refunded retrospectively. Single supplement from $560.50.
Activity
In booking this trip you should be confident in your ability to participate in all activities described within. If you have any doubt about your suitability you should call Vacayou and ask to speak to a concierge.
Full joining instructions will be provided after booking including local emergency numbers and details of how to reach the start point, which will be sent to you approximately 2 to 3 weeks prior to departure. If you do not receive these at least a week before departure or require them earlier please contact our office or your travel agent.
This trip includes time by a lake, river or sea, where there may be opportunities to swim. Swimming results in more tourists deaths than any other activity. All customers should always seek local advice before deciding whether to swim and are requested to treat the sea with extreme caution if they choose to enter the water. Details on how to keep yourself safe while swimming are shown here. 
Deposit
Deposit at the time of booking at least 10% per person of your selected travel arrangements (minimum $300 per person or equivalent)
We will then invoice you for the remainder of the cost due before you travel, which you must pay not later than 70 day
Cancellation
Cancellation due to COVID-19 with Proof: Refundable minus certain fees that cannot be refunded like Park Passes etc.
More than 42 days out: No cancellation fee. Deposit can be transferred to a new booking departing within 2 years of date of travel of original booking. Any remaining balance will be refunded. This excludes all non-refundable costs as set out in clause 4 above (for example international and domestic flights and local services).
Between 41 and 21 days (inclusive): No cancellation fee. Balance and deposit can be transferred to a new booking departing within 2 years of date of travel of original booking. This excludes all non-refundable costs as further explained in clause 4 above (for example international and domestic flights and local services).
Between 20 and 15 days (inclusive): 80% of the holiday cost.
Non-refundable within 14 days or less (or failure to join the holiday)