Sold Out
Cycle Utah's Bryce Canyon & Zion National Park

Combine cycling and stunning rugged landscapes with laidback Southwestern life and you'll get some of the best that Southern Utah has to offer. With great weather and scenery, the cycling here is second to none!
Ride winding roads through iconic Bryce Canyon and Zion National Parks, past red rock canyons, sandstone cliffs and through sprawling forests or escape the crowds and enjoy the endless vistas of the Grand Staircase-Escalante National Monument and Snow Canyon State Park.
Off the bike, you'll find some of the country's best hiking as well as fascinating history, friendly locals and authentic cuisine. Take in the best of it all with a cycling adventure at a pace everyone can enjoy.
The Basics
Start and Finish: Saint George, Utah
Minimum Age: 15
Group Size: Minimum 1, Maximum 16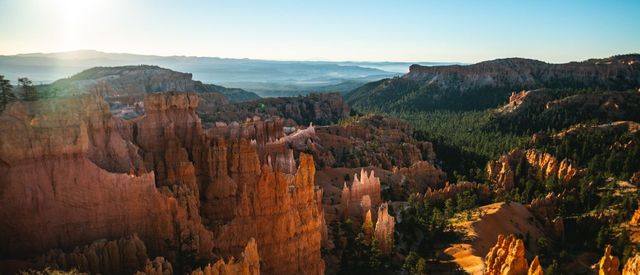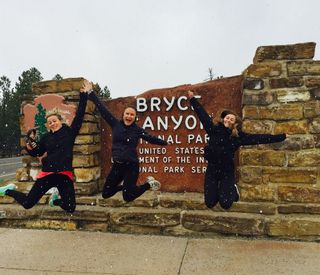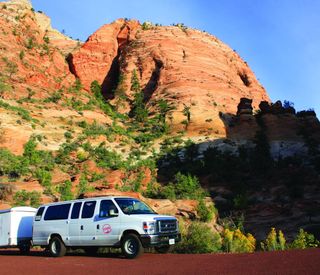 Experience
Discover the needle-like hoodoo pinnacles of Bryce Canyon National Park and the sheer red sandstone canyons of Zion National Park.
Cycle through Snow Canyon State Park viewing ancient lava flows and petrified sand dunes.
Challenge yourself to inspiring climbs and freewheeling descents past millions of years of geologic history in the multihued rock layers of the Colorado Plateau.
Enjoy the best of Southwestern culture, cuisine and history in the same lands Butch Cassidy once called home.
Swap biking for hiking in the canyons and peaks of Zion National Park, with a chance to hike one of the iconic hiking trails.
Itinerary
Welcome to Saint George, the gateway to some of Utah's finest parks and cycling trails. If you arrive early you might like to try one of the local hiking trails like the Red Reef Trail or just enjoy a relaxing morning exploring the local area. Your trip begins with a 3:00 p.m. with a welcome meeting with your guide and fellow travellers.
Afterward, enjoy a warm-up ride around Saint George taking in iconic sites such as the beautiful architecture of the 1877 St. George Temple in town before venturing into the stunning Red Cliffs National Conservation Area and back. At only 23kms (14 miles) it's a short ride but one that will give you a good taste of the amazing scenery that Utah has to offer.
After the ride, you're free to freshen up and head out to the vibrant downtown to enjoy dinner at one of the many restaurants.
Please note there are no meals included on this day.
Special Information
Today's riding distance is approximately 23 kms/14 miles, uphill for the first 4 miles then most downhill, with 250 m/820 ft of overall elevation gain.
Optional Activities
Brigham Young Winter Home Tour - Free
St George Mormon Temple - Free
Red Reef Trail Hike - Free
After breakfast transfer by vehicle (approximately 1.5 hours) to Cedar Breaks National Monument. Learn about the stunning half-mile-deep amphitheater of red rock, sitting at an altitude of over 10,000 feet, before getting onto the bikes for a long but enjoyable day in the saddle. Start by enjoying relaxed 30 miles! descent through the conifer and aspen trees of the sprawling Dixie National Forest.
After lunch, the road flattens out as you make your way east. Get a taste of what is to come as you ride the Canyon bike path, gently climbing through the Ponderosa pines and red sandstone hoodoos of Red Canyon – once a hideout of the notorious Butch Cassidy – before dropping down into the small town of Tropic, gateway to the stunning Bryce Canyon National Park.
You have two nights here so feel free to unpack and relax.
Included Activities: Dixie National Forest and Cedar Breaks National Monument
Breakfast is included
Special Information
Today's riding distance is approximately 100kms/65 miles, downhill for the first 30 miles then a long but gentle uphill to Bryce, with 610 m/2000 ft of overall elevation gain.
Today is a long ride, but a classic, as you spend the entire day riding Scenic Byway 12, also known as 'A Journey Through Time'. The day starts with a gentle downhill to the edge of the multihued Kodachrome Basin State Park then a long climb up towards Powell Point Vista and the towering Canaan Peak – the views certainly make the climb worthwhile and the support vehicle is always on hand if you need it.
After a well-earned rest begin the freewheeling 20-mile descent all the way to the town of Escalante, before one last climb up to the Head of the Rocks Overlook for expansive views of the colorful slick rocks. From here it's all downhill back into Escalante where you'll board the vehicle and transfer (approx. 45 minutes) back to Tropic. Enjoy a hearty meal and drink in town tonight – you've earned it!
Included Activities: Head of the Rocks Overlook and Grand Staircase-Escalante National Monument
Breakfast is included
Special Information
Today's riding distance is approximately 95kms/59 miles, downhill for the first 10kms/6 miles then a long 23km/14 mile uphill section immediately followed by a 30km/19 mile downhill, with 870m/2850 ft of overall elevation gain.
Today you ride through not one, but two iconic US National Parks. After a quick vehicle shuttle begins your first ride, slowly climbing up through the surreal canyons and needle-like orange hoodoos of Bryce Canyon National Parks all the way to the end of the road at the famous Rainbow Point. Here you can enjoy the expansive panoramic vista of pink cliffs contrasted with the green bristlecone pines - the oldest living individual organisms on Earth.
After taking in the view (and numerous photos) board the vehicle and shuttle (approx. 1.5 hrs) to Mt Carmel Junction for lunch. After lunch jump back on the bikes and follow the road as it shadows Pine Creek all the way into the iconic Zion Canyon National Park. See the famous towering monoliths like The East Temple and Bridge Mountain looming above, touches of greenery contrasting the red sandstone and the fast-flowing Virgin River tumbling downwards all the way downhill to the end of the ride at Springdale. From here pack up the bikes and jump into the vehicle for the short transfer (approx. 25 mins) to your lodging in the hot spring town of La Verkin.
Included Activities: Bryce Canyon National Park Cycling and Zion National Park Cycling
Breakfast is included
Special Information
Today's morning ride distance is approximately 33kms/20 miles, mostly gently uphill with 675m/2200 ft of overall elevation gain.
The afternoon ride is approximaely 39kms/24 miles, with one climb/descent, with 400m/1310 ft of overall elevation gain.
This morning you'll drive back to Springdale then enjoy an epic ride up the virtually car-free Floor of the Valley Road beneath the towering red rock cliffs of Zion Canyon. This is Utah's canyonlands at their finest as you cycle up steep-sided cliffs and past the megaliths such as the Mountain of the Sun, Mount Majestic, and The Great White Throne. Be sure to stop off at the scenic Court of the Patriarchs Viewpoint along the way – for a good rest and even better view.
Once you reach the end of the paved road it's time to park the bike, swap your riding shoes for hiking boots and enjoy one of many hikes the park offers. Hiking in Zion is a once-in-a-lifetime experience and the vistas here are some of the best in this vast park. Later, descend the same road then shuttle (approx. 45 minutes) back to St George.
Included Activities: Zion National Park Walks and Cycling
Breakfast is included
Special Information
Today's riding distance is approximately 30kms/19 miles, with one uphill/descent, with 400m/1310ft of overall elevation gain.
Your last ride follows a familiar start as you start by retracing your tire tracks from Day 1 then turn north, climbing upwards on an early morning cycle through the lesser-visited Snow Canyon State Park. The terrain here is a vast contrast to the last few days, yet equally compelling, as vertiginous cliffs give way to petrified sand dunes, ancient lava flows, and red Navajo sandstone. Savor the final long descent back down into Saint George with ample time to freshen up before it is time to say goodbye to your riding companions as the trip comes to an end.
Included Activities: Snow Canyon State Park Cycling
Breakfast is included
Special Information
Today's riding distance is approximately 39kms/24 miles, with one uphill/descent, with 630m/2070ft of overall elevation gain.
The trip finishes at 11:00 a.m. today.
FAQ
Airfare
Airport transfers, taxes and excess baggage charges
Bicycle helmet (Bike helmets are compulsory on this trip. You will be unable to hire bike helmets locally so please bring your own from home)
Travel insurance (mandatory and must be taken out at the time of booking)
Optional activities and all personal expenses
There are regular rest breaks each day, however, it is important to note that you will be riding over multiple and consecutive days in a climate and terrain that may be unfamiliar. While it can be tempting to start out riding as hard and fast as you can (Intrepid gets it!) they recommend taking it easy on the first few days while your body gets used to the rides and the climate.
As a general rule, the more preparation you can do for this type of trip, the more you will enjoy it. Prepare for the trip by doing aerobic type exercises before traveling - jogging or swimming are some options, though cycling is best. If possible take some extended day rides before traveling, or spend time on exercise bikes in the gym. The more your muscles (and bottom) are prepared for the riding on this trip the more you will be able to enjoy the wonderful countryside and people you meet while riding. Note that enthusiasm for bike riding and adventure is essential!
It is also important that you are both confident and competent in riding a bicycle, both solo and in a group environment.
Cycling Distances: 
The information listed in the itinerary is a guide to the approximate distances and terrain cycled each day. However, this may vary depending on the physical capabilities of the group, and changes to local conditions. For safety reasons Intrepid only cycles during daylight hours, so there may be some early morning starts. You will take regular rest breaks throughout cycling days.
The terrain of southern Utah is naturally hilly, and on occasions rises to more than 10,000ft in elevation. Most climbs are long but gradual and easily completed by people of average fitness (and of course followed by equally long and fun downhills!). Cycling distances vary from 14 to 65 miles but are always done at a manageable pace with ample rest stops. Weather can sometimes be a factor, with the heat sometimes making things feel a bit harder than they usually would be. Intrepid will start earlier or later in extreme weather, and you are always welcome to use the support vehicle should you wish to.
Bicycle hire is included in your trip price. Please advise your height at the time of booking so Intrepid can organize a suitable sized bike. Bike helmets are compulsory on this trip. Bike helmets cannot be provided locally so please ensure you bring your own bike helmet from home.
Intrepid will not require a negative COVID-19 test before joining a trip unless it is a requirement of entry for the country. If you are unwell prior to traveling, please stay at home and contact them to make alternative arrangements. At the group meeting, you will be asked to complete a self-screening health form and report any COVID-19 symptoms as well as any close contact with someone who has suspected or confirmed COVID-19. If you are displaying any symptoms or have any health concerns at this time, Intrepid will follow the advice of local health authorities to determine whether medical assistance, isolation or further action is required. Intrepid asks all travelers to continue to monitor their health throughout their travels and report any relevant symptoms to their tour leader.
While Intrepid is confident in the quality and suitability of the bikes they include, they do recognize that sometimes you just need the comfort of your own bike to enjoy the ride. If you are thinking of bringing your own bike on this tour please advise at the time of booking and take note of the below information. If you do choose to bring your own bike please note that Intrepid will not be carrying a spare bike for you.
Suitable Type of Bike
Although the surfaces of the roads Intrepid travels on is generally good there are occasionally gravel or potholed sections of road/track. As such, they recommend a 'mountain' or 'hybrid' style bike with plenty of gear selections for easy cruising. Please note that Intrepid usually cannot accept tandem bikes on their tours as often they are too large for their transport. In some destinations, they are able to make an exception. Please ask your booking agent.
Before the Trip
Intrepid recommends that you have a full service of your bike performed by a trained mechanic, to help minimize any issues you may have during the trip itself. Please also ensure that you have specific and adequate cover for loss, damage or theft for your bike under your travel, home contents or a specialist insurance policy.
During the Trip
Your bike will be transported in the same way as Intrepid's included bikes, usually in the bike support vehicle or on the bike trailer. While they endeavor to take the best care they can, you should recognize that transported bikes do get the occasional bump or scratch along the way. The same applies when Intrepid takes other forms of transport, such as a train, where they are unable to pack the bikes ourselves. Your bike will also be secured in the same way as our included bikes. Please note this can occasionally be outside (where the bikes are locked together).
While Intrepid mechanics can usually assist with minor repairs, you are responsible for the safety and upkeep of your own bicycle. This includes conducting regular safety checks of your bike during the trip and cleaning your bike. In addition, any parts that require replacing are your responsibility. Most destinations have access to only limited spares along the way, and access to bike shops can be days apart. Therefore, please ensure you bring any spare parts that you may require (especially specialist parts).
In order to reach your destination, it is necessary for you to travel via various modes of transportation, including planes and trains. Please be aware that any extra costs involved with transporting personal bikes are your responsibility. This includes (but is not limited to) additional transport costs and customs/import fees. 
Your preferred airline should have no problem carrying your bike, but many will charge an extra fee. Contact them before departing to discuss their arrangements for transporting bikes.
A well-padded bike box obtainable from a bike shop is usually the best method of plane transportation. Intrepid recommends that you accompany your bicycle on the flight. Unaccompanied bicycles have been known to spend some extra days in the hands of customs authorities.
Please also note that many taxis are not large enough to transport a bike box/bag so you may be delayed waiting for a suitably sized vehicle.
Due to the large distances involved on this trip - and to best ensure your comfort - Intrepid uses their support vehicle often to transport them between cycling legs. There are also some long climbs on this trip - you are always free to use the support vehicle, especially in very hot or cold conditions, if you feel uncomfortable.
In Saint George, the summers are hot and mostly clear, and it is dry year-round. The hot season lasts for 3.5 months, from June 2 to mid-September, with an average daily high temperature above 92°F. In Utah, the temperatures vary depending on the elevation. July and August can be hot at the lower elevations, May and Oct can be chilly at the higher elevations. Intrepid will change the time of day for starting/ending rides depending on the weather.
To allow flexibility in showing your appreciation, gratuities are not included. If you're happy with the service you receive, providing a tip - though not compulsory - is appropriate. While it may not be customary to you, it's of great significance to the people who will take care of you during your travels, inspires excellent service, and is an entrenched feature of the tourism industry across many destinations. Please note Intrepid recommends that any tips are given directly to the intended recipient by a member of your group, rather than collected and passed on by the group leader.
Hold on to your smaller notes and coins to make tipping easier. The following amounts are per person suggestions based on local considerations and feedback from past travelers:
Local Guides:
Throughout your trip, you may at times have a local guide. Intrepid suggests $3-5 per passenger per day.
Drivers:
You may have a range of drivers on your trip. Some may be with you for a short journey while others may be with you for several days. Intrepid suggests $3-6 per day for drivers.
Your Tour Leader:
You may also consider tipping your tour leader for outstanding service throughout your trip. The amount is entirely a personal preference, however as a guideline $2-4 per person, per day can be used. Of course, you are free to tip more or less as you see fit, depending on your perception of service quality and the length of your trip. Remember, a tip is not compulsory and should only be given when you receive excellent service.
While travelling with Intrepid, you'll experience the vast array of wonderful food available in the world. Your group leader will be able to suggest restaurants to try during your trip. To give you the maximum flexibility in deciding where, what and with whom to eat, generally not all meals are included in the trip price. This also gives you more budgeting flexibility. As a rule, the groups tend to eat together to enable you to taste a larger variety of dishes and enjoy each other's company. There's no obligation to do this though.
Your group leader will endeavour to cater for specific dietary requirements where possible, and vegetarianism and gluten intolerance will be catered for in most instances. There may be some meals and activities that are fixed in advance and therefore cannot be modified to suit dietary requirements. These instances will be indicated in the "trip notes" itinerary. Please notify your group leader of any dietary requirements in your group meeting at the start of the trip.
For those suffering from particular food allergies, your group leader will endeavour to disclose to their fullest knowledge the main ingredients in dishes being consumed. It is, however, your personal responsibility to ensure that you do not ingest any foods to which you are allergic.
All Intrepid cycling group trips are accompanied by one of their cycling leaders. The aim of the group leader is to take the hassle out of your travels and to help you have the best trip possible. Intrepid endeavors to provide the services of an experienced leader however, due to the seasonality of travel, rare situations may arise where your leader is new to a particular region or training other group leaders.
The cycling leaders are all passionate cyclists, as you'd expect, but they also go through some pretty rigorous cycle-trip-specific training. Each one has undergone on-road training and supervision and knows how to do safety checks, basic repairs and emergency first-aid. And at the end of the day they're still regular Intrepid leaders, which means they will provide information on the places you are traveling through, offer suggestions for things to do and see, recommend great local eating venues and introduce you to their local friends. While not being guides in the traditional sense you can expect them to have a broad general knowledge of the places visited on the trip, including historical, cultural, religious and social aspects. Intrepid aims to support local guides who have specialized knowledge of the regions we visit. If you were interested in delving deeper into the local culture at a specific site or location then your leader can recommend a local guide service in most of the main destinations of your trip.
On this trip, you will be accompanied by two local leaders - one to cycle with you, and one to drive the support vehicle. As an extra safety precaution, the cycling leader will provide you with the daily routes through RideWithGPS smartphone app and supply a phone holding strap to connect your phone to the handlebars.
Packing for a cycling tour isn't that different from any other adventure. But if you want to be comfortable and warm, here are a few bike-specific tips.
Helmet. These are compulsory, but if you don't have your own you can sometimes purchase an approved and well-fitted one at the start of the trip (Intrepid leaders can assist you with this). There are some destinations where you are unable to purchase or hire appropriate helmets locally so you will need to bring your own.
Padded bike shorts
Quick-dry jerseys. You can definitely get away with a few cotton t-shirts but having a few light and breathable jerseys will make your cycling a lot more comfortable, especially in warmer/humid climates.
Quick-dry socks
Cycling gloves are not essential but recommended as padded cycle gloves will make your riding more comfortable and can help protect you in case of a fall.
Rain gear. Pack a light poncho in case the weather turns when you're out on the road
Light breathable waterproof/windproof gear are especially useful for those early mornings or downhill sections when the wind-chill becomes a factor.
Water bottle. Intrepid doesn't provide bottles but all their bikes have one bottle holder fitted (and a second one can be fitted if required). Please bring a cycling-specific water bottle as other types will fall out of the holders. A Camelbak will make drinking on-the-go easier.
Well fitted sports sunglasses help protect against dust, insects and (of course) the sun
Day pack. Intrepid's support vehicle will carry your main bag, but a day pack for snacks and clothes is a good idea.
Suncream. Please bring a high protection factor (e.g. SPF 50) sunscreen as long days in the saddle can really expose you to the sun
Shoes. Normal sports shoes can be worn on all of Intrepid's trips however you may want to consider a flat shoe with a relatively stiff sole as it makes pedalling a lot more efficient. Regular cyclists are welcome to bring their own cycling-specific shoes however Intrepid recommends "mountain bike" style shoes that have a grip on the sole rather than road bike' shoes as you will still be walking around while on the rides (cafe/photo/toilet stops, etc.). For safety reasons, they require that you wear shoes that completely cover the toes while riding.
Saddles – are saddles are standard, unisex models –less experienced cyclists may choose to bring your own gel seat cover for added comfort. Regular cyclists are welcome to bring your own saddle – Intrepid leader will assist in fitting it to your bike
Pedals – all bikes come with flat pedals. Regular cyclists are welcome to bring their own pedals – Intrepid leaders will assist in fitting them to your bike
As space in Intrepid's support vehicle/transport can be limited they request that you bring only a small luggage bag with you rather than larger bags or suitcases. As space in the support vehicle is very limited Intrepid requests that travelers bring only a small bag, no more than 20kgs with them.
Terms
This trip is provided by Intrepid Travel. Minimum age requirement is 15 years old. A minimum of one person total must book this trip for it to happen. A maximum of 16 people re allowed on the trip in total. A single supplement may be available on this trip, please ask for more information.
Deposit:
Lock in your trip with a deposit and then pay the rest in installments whenever you like, with no interest or fees. Just make sure you've paid in full by 21 days before your trip is scheduled to depart. If you cancel your trip up to 21 days before departure, you can transfer your deposit to another available trip or hold your deposit on file indefinitely.
Insurance:
Travel insurance is compulsory on all Intrepid trips for those travelling internationally. They require that at a minimum you are covered for medical expenses including emergency repatriation. If you are travelling within your home country or region please confirm before travel that you are entitled to access the public medical system easily should an accident occur. Intrepid strongly recommends all travellers have a policy that also covers personal liability, cancellation, curtailment and loss of luggage or personal effects. For international trips, you will not be permitted to join the group until evidence of travel insurance and the insurance company's 24-hour emergency contact number has been sighted by your leader. If you have credit card insurance your group leader will require details of the participating insurer/underwriter, the level of coverage, policy number, and emergency contact number rather than the bank's name and your credit card details. Please contact your bank for these details prior to arriving in-country.
Authority on Tour:
Trips are run by a group leader. The decision of the group leader is final on all matters likely to affect the safety or well-being of any traveller or staff member participating in the trip. If you fail to comply with a decision made by a group leader or interfere with the well-being or mobility of the group, the group leader may direct you to leave the trip immediately, with no right of refund. Intrepid may also elect not to carry you on any future trips booked. You must at all times comply with the laws, customs, foreign exchange and drug regulations of all countries visited
Health:
All travellers need to be in good physical health in order to participate fully on this trip. When selecting your trip please make sure you have read through the itinerary carefully and assess your ability to manage and enjoy Intrepid's style of travel. Please note that if in the opinion of the group leader or local guide any traveller is unable to complete the itinerary without undue risk to themselves and/or the rest of the group, Intrepid reserves the right to exclude them from all or part of a trip without refund. You should consult your doctor for up-to-date medical travel information or for any necessary vaccinations before departure. Intrepid recommends that you carry a first aid kit as well as any personal medical requirements as they may not easily be obtained while travelling.
Any form of violence (verbal or physical) or sexual harassment, either between customers or involving our leaders, partners or local people, will not be tolerated. Use or possession of illegal drugs will not be tolerated. If you choose to consume alcohol while travelling, drink responsibly and abide by the local laws regarding alcohol consumption.