Sold Out
Camp the Canadian Rockies

Canada's Rocky Mountains

14 nights
---
or talk to Vacayou travel concierge
Explore Canada's Rocky Mountains on a 15-day tour powered by Intrepid. Walk the streets of Vancouver, hike the trails of Jasper and Banff, meander along the river in Yoho National Park and soak up the superb alpine scenery.
Spot native moose and bears and unleash your inner daredevil with a range of potential escapades–mountain biking or river rafting, anyone? With a mixture of included activities and optional extras, you get to decide just how active or relaxed you want this adventure to be. Jump in feet first and immerse yourself in the beauty of Canada in this immersive outdoor experience.
The Basics
Start and Finish: Vancouver, Canada
Minimum Age: 15
Group Size: Minimum 1, Maximum 13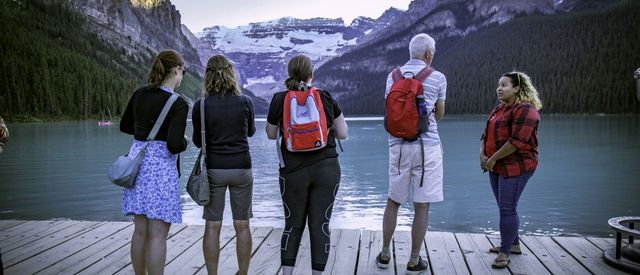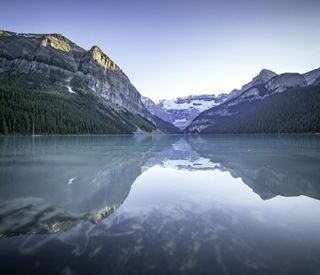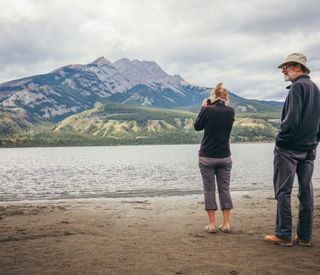 Experience
Lakes, mountains, glaciers: the Rockies feature an array of striking landscapes that are remarkable no matter what time of year you visit. This tour gets you to the heart of the best destinations in the Canadian Rockies with a wilderness-loving local as your guide.
Get wild in Jasper National Park, where it's possible to spot moose, elk, deer, bears and coyotes among the sea of evergreen pine and spruce trees.
Take an included canoeing adventure and camp overnight on the remote shore of Clearwater Lake, where you can fall asleep under a blanket of stars.
Enjoy plenty of free time to explore Canada's premier outdoor adventure hub, Whistler, at your own pace.
Hike rugged trails or munch on 'beaver tails'–the choice is yours.
Itinerary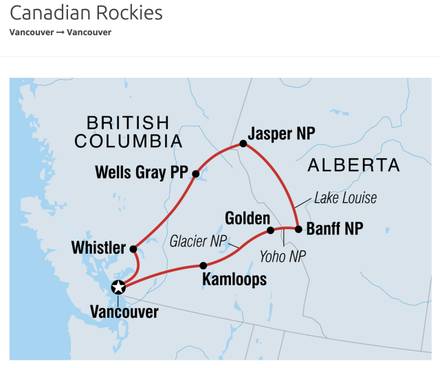 Welcome to Vancouver, Canada. Your adventure begins with a welcome meeting at 6 pm at the hotel, where you can introduce yourself to your fellow travelers and tour leader. If you arrive early in Vancouver, why not take a walk around the Victorian buildings in the historic Gastown neighborhood or wander through the behemoth urban forest that is Stanley Park. And if you're captivated by Vancouver and worried you won't have enough time to see what the city has to offer–remember you'll be back to bookend your journey.
 Accommodation
Meals
There are no meals included on this day.
Today, leave Vancouver behind and travel to the outdoor mecca that is Whistler. Drive along the Sea to Sky Highway, widely considered one of the most scenic routes in the world, with a stop at Squamish along the way. If time permits, it may be possible to take a short hike to the massive granite monolith known as The Chief before continuing to Whistler. While there are no included activities planned for your time in Whistler, there are plenty of optional activities to take part in during your stay. Hiking, mountain biking, zip-lining and kayaking are just some of what's in store. Talk to your tour guide about how to book and partake. You'll have time today, upon arrival, to get your bearings before you settle into the campground for the night.
Accommodation
Camping with facilities (1 night)
Meals
There are no meals included on this day.
Rise and shine for a free day in this outdoor adventure hub. Zip-lining tours are an amazing way of getting an aerial view over Fitzsimmons Creek and, if you're lucky, seeing some bears along the way. Remember that all activities in Whistler are optional and some may come at an additional cost. During the warmer months, hiking is a great (and inexpensive) way to get the lay of the land, just keep in mind that the rugged terrain can make for challenging trails. There are also some great cycle networks in Whistler, so you have the option of renting a bike and riding to one of the nearby lakes. Don't forget to spend some time exploring Whistler Village, a charming pedestrian-only town with plenty of bars, cafés and restaurants.
Accommodation
Camping (with facilities) (1 night)
Optional Activities
Whistler - PEAK2PEAK Gondola ($50 USD)
Whistler - Standard Mountain Bike Rental for full day ($70 USD)
Whistler - Zip Trek Tour for 1.5 hrs ($100 USD)
Whistler - Regular Bike Rental for half-day ($30 USD)
Meals
There are no meals included on this day.
Make sure you've got a book, a podcast or some sparkling conversation ready as you settle in for a long drive to Wells Gray Provincial Park (approximately 6–7 hours). You'll arrive in time to set up camp for the evening on a rustic cowboy ranch. Enjoy a cold beverage in an authentic saloon and then relax with dinner by the campfire. Complete the classic North American campsite by crafting s'mores (marshmallow, chocolate and graham crackers) and sharing stories over the crackle of the flames.
Accommodation
Camping with facilities (1 night)
Included Activities
Wells Gray Provincial Park
Meals
There are no meals included on this day.
This morning you'll travel deeper into Wells Gray Provincial Park, disembarking at Clearwater Lake. Pack your camping equipment into a canoe and cruise into the water. On a sunny day, the name of the lake is particularly apt, and if you work up a thirst while paddling you can drink the pristine water around you, no filter necessary. After some instruction from the canoeing guides, paddle about 2.5–4 hours to a secluded beach campsite. Set up camp for the night and spend some time swimming or exploring before cooking dinner. The campsite tonight is a little more basic than others on the trip. It has tables, fire-pits and tent sites, but only pit toilets and no showers. But the stunning location more than makes up for the rustic facilities.
Accommodation
Camping with basic facilities (1 night)
Included activities
Overnight canoe trip
Meals
There are no meals included on this day.
Special Information
No canoeing experience is needed as the guides are also instructors and will help you to perfect the Canadian technique, but you will need a basic level of fitness in order to enjoy the journey.
Wake up lakeside and choose whether to set out on a short, unguided hike from the campsite or enjoy a relaxing breakfast on the lakefront. Pack up your gear and hit the water again, beach-bound for another picnic lunch. Back at the starting point, help unload and store the canoes and then drive to the ranch, checking out some amazing waterfalls along the way.
Accommodation
Camping with facilities (1 night)
Meals
There are no meals included on this day.
Hit the road bound for Jasper National Park, a journey that should take around 5.5 hours. Along the way, you'll see views of Mt. Robson, the highest peak in the Canadian Rockies. You'll arrive in the afternoon, giving you time to head out on an optional walk. Try and catch a glimpse of the area's wildlife such as moose, elk, deer, bears and coyotes. If you're lucky enough to spot one or more of these beasts in their natural habitat, remember to keep your distance of at least 100 meters (330 feet) from predators (bears, coyotes) and 30 meters (100 feet) from all other animals. One optional activity that may be of interest if you arrive with a few hours of daylight to spare is the Jasper SkyTram. This tramway ascends to 2300 meters (7545 feet) above sea level to a great vantage point in the Rocky Mountains with breathtaking views.
Accommodation
Camping with facilities (1 night)
Included Activities
Jasper National Park - Entrance Fee
Optional Activities
Jasper - SkyTram ($40 USD)
Meals
There are no meals included on this day
Today you'll get to experience the beauty of Maligne Lake. Make sure you've got a charged phone or camera ready to capture shots of the jagged mountains and bright green pine forests that surround these glacial waters. Take a hike around the area and then choose whether you'd like to pay for an optional cruise around the lake, including a visit to Spirit Island. This tiny 'tied' island is one of the most photographed spots in the Canadian Rockies for a reason, so if you can afford it, the optional cruise is worthwhile.
Accommodation
Camping with facilities (1 night)
Included Activities
Optional Activities
Jasper - Bike rental ($24 USD)
Jasper - Cruise on Maligne Lake ($63 USD)
Meals
There are no meals included on this day
Take a scenic morning drive through mountain scenery on the famous Icefields Parkway, which connects Jasper and Banff National Parks (approximately 4 hours). There will be numerous opportunities to stop at viewpoints and waterfalls along the way. This includes visits to the ice fields of Athabasca Glacier, where you can choose to either admire from a distance or explore on an optional guided tour. On arrival at your campground in Banff, get your bearings with a brief walk. You'll be spending the next three nights here, so settle in and start planning what to do in your free time.
Accommodation
Camping with facilities (1 night)
Included Activities
Optional Activities
Icefields Parkway - Athabasca Glacier tour ($89 USD)
Meals
There are no meals included on this day
Over the next two days, you'll visit pristine Lake Louise and stunning Moraine Lake with hiking opportunities at both locations. Banff is Canada's oldest national park, with valleys and mountain chains formed between 55 and 80 million years ago. You'll also have ample free time to explore Banff and take part in optional activities. As always, your leader is there to help, so pick their brain for advice on which (if any) you wish to participate in. Options include a gondola ride up Sulphur Mountain, a dip in the natural hot springs, or exploring the hoodoos and falls of Bow Valley by foot. There are many trails of different lengths, allowing you to hike for as long (or short) as you wish.
Accommodation
Camping with facilities (2 nights)
Included Activities
Lake Louise visit
Moraine Lake visit
Optional Activities
Banff - Cable Car up Sulphur Mountain ($40 USD)
Banff - Hot springs ($7 USD)
Banff - Canoe Hire ($40 USD)
Banff National Park - Helicopter flight for 25 mins ($220 USD)
Banff - Cruiser bike hire for full day ($30 USD)
Banff - Mountain bike hire for full day ($35 USD)
Banff - Horse Riding for 1 hour ($48 USD)
Meals
There are no meals included on this day
Today drive for around two and a half hours to a place so beautiful its name comes from a Cree word that means awe and wonder–Yoho National Park. On arrival, take a walk down the Kicking Horse River and visit Takakkaw Falls (the second-highest falls in Canada at 384 meters or 1260 feet). If time permits, you'll also visit Emerald Lake, which (perhaps unsurprisingly) is an arresting shade of cyan. Your two nights in Yoho National Park give you ample time to explore the terrain and take part in optional activities. Thrillseekers might want to give whitewater rafting a go. Half- and full-day options are available for rafting, giving you the chance to get wet and wild on class III to class IV+ rapids. For those who prefer to approach nature in a calmer way there are plenty of great trails–ask your leader for a recommendation that matches your fitness level.
Accommodation
Camping with facilities (2 nights)
Included Activities
Optional Activities
Yoho National Park - Kicking Horse rafting (half day) ($86 USD)
Yoho National Park - Kicking Horse rafting (full day) ($125 USD)
Yoho National Park - hiking
Meals
There are no meals included on this day
This morning, travel through the high mountain clearing of Rogers Pass to reach Glacier National Park. Stop at Rogers Pass Discovery Centre for a look around and (depending on time and conditions) take a short hike through an old-growth area of cedar and hemlock. As one of the world's most active avalanche areas, most of the rugged, mountainous area of Glacier National Park is inaccessible for day hikes. Drive through Mount Revelstoke National Park, which contains part of the world's only temperate inland rainforest, and (if time allows) explore the area on a short hike. The destination today is the town of Kamloops. Keep in mind that the drive today will take approximately 6–7 hours, so get those devices and reading materials ready.
Accommodation
Camping with facilities (1 night)
Included Activities
Glacier National Park
Mt. Revelstoke National Park
Rogers Pass Discovery Centre
Meals
There are no meals included on this day
Make the journey back to Vancouver (approximately 4–5 hours). The arrival time depends on a variety of factors such as weather, but you should expect to be back in the city before 3 pm. There are no activities scheduled upon arrival in Vancouver. If you are flying out on this day please don't book a flight before 8 pm, as this will give you enough time to catch a shuttle from the hotel to the airport and be there two hours before departure. Vancouver is the largest city in western Canada and well worth some extra time to explore the city's delights. Should you choose to stay longer in Vancouver we'll be happy to book additional accommodation for you (subject to availability).
Meals
There are no meals included on this day
FAQ
Many of the North American national parks that you'll visit have hiking opportunities where walks up to 4 hours can be an option for you. There are often easier options too. The most likely medical incidents to occur on our trips are dehydration, overexposure to the sun, and twisted ankles from walking on uneven ground. While hiking please ensure you drink enough water to remain hydrated as some hikes don't have refill stations for your water bottles. The sun (especially in desert areas in the West) can be harsh, particularly in the warmer months. Ensure you apply adequate sun protection cream and wear a hat. Traveling with sunburn can be uncomfortable.
You will need a valid passport to travel internationally. As a general rule, most countries require that your passport has a minimum of 6 months validity remaining. Your passport details are required to complete your booking. Please ensure the name on your passport matches the name on your booking and airline tickets exactly and contact us immediately if there are any errors. Intrepid recommends taking copies of the main passport pages and other important documents with you as well as leave copies at home with family or friends. Most nationalities except South Africans do not need a visa for Canada, but will need to apply online for an Electronic Travel Authorization (eTA). See http://www.cic.gc.ca/english/visit/eta.asp for details and to apply. There is a fee of CA$7 for this service. Travelers will need an eTA before they can board a flight to Canada. If you are crossing the border by road, then you do not need to apply for an eTA. Please check your individual requirements with your local embassy/consulate or visa service.
A negative COVID-19 test is NOT required before joining a trip unless it is a requirement of entry for the country. If you are unwell prior to traveling, please stay at home and contact Intrepid to make alternative arrangements. At the group meeting, you will be asked to complete a self-screening health form and report any COVID-19 symptoms as well as any close contact with someone who has suspected or confirmed COVID-19. If you are displaying any symptoms or have any health concerns at this time, the advice of local health authorities will be followed to determine whether medical assistance, isolation or further action is required. All travelers should continue to monitor their health throughout their travels and report any relevant symptoms to their tour leader.
Some campgrounds have WiFi access, as do most hotels, although you may occasionally need to pay extra for it.
While traveling throughout North America it's not uncommon to encounter bears within campsites and national parks. Your group leader has been specifically trained for these situations and, if camping, will inform the group on how to 'bear-proof' the camp in the evenings or when the site is unattended. There's absolutely no reason to be alarmed by this possibility as it is extremely rare for bears to attack humans.
To allow flexibility in showing your appreciation, gratuities are not included. If you're happy with the service you receive, providing a tip–though not compulsory–is appropriate. While it may not be customary to you, it's of great significance to the people who will take care of you during your travels, it inspires excellent service, and it's an entrenched feature of the tourism industry across many Intrepid destinations. Please note they recommend that any tips are given directly to the intended recipient by a member of your group as group leaders are prohibited from collecting cash for tips.
Local Guides:
Throughout your trip, you may at times have a local guide in addition to your leader. We suggest US$5-20 per day for local guides. Ask your leader for suggestions as to what is appropriate for a given activity.
Your Group Leader:
You should also consider tipping your leader for outstanding service throughout your trip. Your leader works long and hard for you. He or she may well become your friend during the trip but they do need to pay their bills. If the leader's performance meets or exceeds your expectation they will gladly accept a tip from you. The amount is entirely a personal preference; however, you should plan to tip your leader US$7-10 per person per day.
All luggage is carried in trailers or inside the vehicle so please don't bring more than one medium-sized bag, backpack or suitcase (20kg or 44lb maximum) per person. Your suitcase/rucksack may get some rough handling, so make sure it's a tough one. A small daypack and camera may also be carried inside the vehicle.
While traveling with Intrepid, you'll experience the vast array of wonderful food available in the world. Your group leader will be able to suggest restaurants to try during your trip. And on the camping trips, they often cook the region's specialties so you don't miss out. To give you the maximum flexibility in deciding where, what and with whom to eat, generally not all meals are included in the trip price. This also gives you more budgeting flexibility. As a rule, their groups tend to eat together to enable you to taste a larger variety of dishes and enjoy each other's company. There's no obligation to do this though.
On their trips in North America, Intrepid operates an optional kitty, where travelers are encouraged to contribute to a central fund that is used to buy groceries which then supplies meals to the entire group. In their experience, all travelers generally participate, however some with special dietary requirements may prefer to opt-out. The kitty is administered by the group and is payable per week of the trip. The cost is:
USA - US$70 per week

Alaska - US$90 per week

Canada - CA$90 per week
While camping, some breakfasts, lunches and dinners are paid from the food kitty. Sometimes you'll go out for dinner and eat at restaurants at everybody's own expense.
Your leader will participate in the food kitty as well. On hotel nights (if included) the food kitty doesn't operate and everybody eats at their own expense.
Chores such as buying and cooking the food, washing up, etc. will be shared by everyone on the trip. Teams of two people will carry out the camp duties on a rotating basis. On camping nights, groups usually cook evening meals together on their own stove, or barbecue food over the campfire. Everyone usually prepares salads, grills meats and cooks pasta, rice and vegetables. For breakfast, they usually buy milk, coffee, tea, cereals, bread, jam, butter etc. Not all personal eating preferences can be catered to, however, they endeavor to provide tasty, basic meals.
Food costs are kept as low as possible by sharing the expenses. The kitty is based on the average cost from past experiences and from passenger feedback about what they are prepared to pay for shared meals. Personal beverages, lunches and snacks are not included in the food kitty. If there's any cash left over it will either be redistributed to the group or put towards paying for a group activity.
Your group leader's role involves organizing the overall operation and smooth-running of the trip, managing trip logistics and camp responsibilities. They will work to make the trip as safe and enjoyable as possible for all travelers. Intrepid's North American trips are built around the co-operation and participation of all the group members under the supervision of the group leader. On their camping trips, your leader will show the group how to set up and use the camp equipment, and form workgroups to take turns cooking, cleaning and shopping. Everyone is expected to participate and carry their share of the workload, making camp chores easier. If the whole group participates it will be quicker, easier and more fun.
Your leader will provide basic information about the sights and cities you'll be visiting but please note that leaders are not 'tour guides' in the traditional sense. They are adventure travel specialists and are there to organize your trip, arrange activities and help with questions or problems you may have while on your tour. Your leader will provide you with all the important information you need to embark on your own explorations.
They are also responsible for driving the van and navigating across the country. The allowable driving times for drivers is strictly controlled in North America. This ensures every driver is well-rested and not over-tired from too many hours on the road.
While your group will have a minivan for all included activities on the trip, please note that the services of the van and the driver may not be available for your use during free time, or after you have arrived for the day. If you need a special trip into town you may need to arrange transport or a taxi.
They aim to provide the services of an experienced leader however, situations may arise where your leader is new to a particular region or training other group leaders.
It's strictly forbidden for non-qualified rangers to present any information about some National Parks in North America, therefore we adopt a system (as requested by the park rangers) where our leader will encourage travelers to visit the information centers in the National Parks for details about the site.
Essential:
Sleeping bag. Please bring one from home or purchase one before your trip starts–you may not have time once you're on the road. Sleeping bags can easily be bought in the US and Canada at big stores like Walmart, Kmart, Target or at sports and camping supply stores. Renting sleeping bags isn't possible on Intrepid trips. As they offer trips throughout the year and travel in diverse climate zones, they recommend that you carefully consider the weather and choose an appropriate sleeping bag. Please bear in mind that nights can be very cold even in the warmer months. You can experience temperatures as low as -5C and even snow.
Towel
Travel pillow
Reusable water bottle. They recommend at least a 1.5-liter capacity. The sale of bottled water contributes to an enormous environmental problem around the world. Tap water in the US and Canada is safe to drink and there are many places to fill up along the way, so please save plastic by bringing your own water bottle.
Sun protection: Hat, sunscreen, sunglasses
Clothing you can layer. You may encounter a wide variety of temperatures en route due to altitude and unforeseen weather conditions–so be prepared! Make sure to pack a warm fleece and a waterproof jacket. They suggest you check the expected temperatures en route and bring clothing that you can layer.
Closed-in shoes. As this trip includes camping and/or bushwalking, they highly recommend that you take a pair of comfortable, closed-in walking shoes. Closed-in shoes will help to protect your feet from cuts and scratches when walking through bush/grass-lands, and will also act as a barrier protection in rare cases against bites or stings from dangerous animals in this environment.
Recommended:
Power adaptor
Insect repellent
Spare camera battery. You should have access to electricity to charge your battery most nights, but as some of the places you'll stay are a little isolated, it is always a good idea to carry a spare.
Swimwear
Head torch
A simple plastic bag/waterproof toiletry bag (that can hang on a nail on the back of a door) will be useful to keep your clothes dry inside basic camp shower structures.
Personal medical kit. Your guide will carry a large kit but they recommend you carry items such as mild pain killers, electrolytes, anti-diarrhoeal, antibacterial gel, wet wipes, bandaids/plasters etc.
Optional:
Sleep sheet. If you are traveling during the hot season you may wish to also pack a sleep sheet so you will be comfortable no matter what the weather.
Thermarest. While Intrepid provides a basic camping mattress for each client, some travelers find they like the extra comfort of a double layer.
Earplugs to guard against a snoring tent-mate.
A good book, a journal or an iPod for the long drives.
Airfare
Meals: No meals are included on this tour
Airport transfers, taxes and excess baggage charges
Travel insurance (mandatory and must be taken out at the time of booking)
Optional activities and all personal expenses
As Canada is a huge country, this trip covers a lot of ground. Please be prepared for some long days of driving. You'll be traveling in a van with a group, so conditions may feel a little cramped. Most feel that this is all part of the adventure of road travel, and friendships form fast in tight quarters.
As you're traveling through the mountains, the weather can be unpredictable. Wearing layers is advised in all seasons in case conditions change during the day. They really can't stress this enough–even in the warmer months, the temperature can be very low in the mountains.
While this trip doesn't require a high level of fitness, for you to get the most out of the included and optional activities they do recommend that you are moderately fit. The hikes are a real highlight of this trip and give you access to some fantastic scenery as well as the chance to see native flora and fauna.
This is a participatory trip. That's a fancy way of saying you're not just along for the ride–you are part of a team! You know the phrase 'the more you put in, the more you get out'? Well, that's extra true on this trip. Be prepared to roll up your sleeves and help with camp activities like food prep and washing up.
That teamwork also extends to your optional food kitty of approximately CAD 90 per week to cover the cost of meals. This kitty saves you worrying about stuff like where to get food or what exactly sales tax is and helps keep your costs down. Instead of paying individually as you go, it means your group can bulk purchase items and cook for the team–though there's always the chance to use it for the occasional pizza night! The kitty is optional and for your convenience, so if you've got specific dietary requirements you can opt out and purchase (and cook) your own food.
Terms
This trip is provided by Lonely Planet and Intrepid Travel. Minimum age requirement is 15 years old. Minimum of four people total must book this trip for it to happen. Maximum 12 people allowed on the trip in total.
Deposit:
Lock in your trip with a deposit and then pay the rest in installments whenever you like, with no interest or fees. Just make sure you've paid in full by 21 days before your trip is scheduled to depart. If you cancel your trip up to 21 days before departure, you can transfer your deposit to another available trip or hold your deposit on file indefinitely.
Single Supplement:
A Single Supplement to have your own room is available on this trip, but excludes nights 7 & 8 (Jasper National Park) and nights 9, 10 & 11 (Banff National Park) where you will be in shared accommodation. This is due to the availability of campsites and campsite space in these locations where Canadian National Parks are very strict about the number of tents per site. PLEASE NOTE: A Single Supplement on nights 2 & 3 (Whistler) may mean you are accommodated at a separate campsite a short walk from the group's campsite, depending on the available space.
Insurance:
Travel insurance is compulsory on all Intrepid trips for those traveling internationally. They require that at a minimum you are covered for medical expenses including emergency repatriation. If you are traveling within your home country or region please confirm before travel that you are entitled to access the public medical system easily should an accident occur. Intrepid strongly recommends all travelers have a policy that also covers personal liability, cancellation, curtailment and loss of luggage or personal effects. For international trips, you will not be permitted to join the group until evidence of travel insurance and the insurance company's 24-hour emergency contact number has been sighted by your leader. If you have credit card insurance your group leader will require details of the participating insurer/underwriter, the level of coverage, policy number, and emergency contact number rather than the bank's name and your credit card details. Please contact your bank for these details prior to arriving in-country. Travelers who reside within the European Union or Switzerland receive basic international health insurance, so travel insurance is not mandatory under European Union Law. However, as this does not cover situations such as emergency rescues, private health care, or repatriation to their home country, comprehensive travel insurance is strongly recommended. European Union or Swiss travelers who decline travel insurance when traveling outside of their home region must sign a Travel Insurance Waiver Form at the Group Meeting.
Authority on Tour:
Trips are run by a group leader. The decision of the group leader is final on all matters likely to affect the safety or well-being of any traveler or staff member participating in the trip. If you fail to comply with a decision made by a group leader or interfere with the well-being or mobility of the group, the group leader may direct you to leave the trip immediately, with no right of refund.  Intrepid may also elect not to carry you on any future trips booked. You must at all times comply with the laws, customs, foreign exchange and drug regulations of all countries visited
Health:
All travelers need to be in good physical health in order to participate fully on this trip. When selecting your trip please make sure you have read through the itinerary carefully and assess your ability to manage and enjoy our style of travel. Please note that if in the opinion of Intrepid's group leader or local guide any traveler is unable to complete the itinerary without undue risk to themselves and/or the rest of the group, they reserve the right to exclude them from all or part of a trip without refund. You should consult your doctor for up-to-date medical travel information or for any necessary vaccinations before departure. Intrepid recommends that you carry a first aid kit as well as any personal medical requirements as they may not easily be obtained while traveling.
Any form of violence (verbal or physical) or sexual harassment, either between customers or involving the leaders, partners or local people, will not be tolerated. Use or possession of illegal drugs will not be tolerated. If you choose to consume alcohol while traveling, drink responsibly and abide by the local laws regarding alcohol consumption.