Sold Out
CMH Summer Adventures: Bugaboos
Guided Summer Heli-Hiking in Canada's Back Country

or talk to Vacayou travel concierge
CMH is your all-access pass to classic mountain adventures. Liftoff to the deep bliss of British Columbia's towering peaks and pristine wilderness, with heli-access that puts you right in the heart of it all. Nestled at the base of the iconic spires Bugaboo Mountain at a commanding 1,500m / 4921ft, CMH Bugaboos provides everything you need in the middle of nowhere.
Heli-Assisted Guided Adventure
Professionally accredited guides will accompany you on your adventure, featuring heli-flights up and down the mountains plus return flights to your lodge. Hike beside the stunning Vowell Glacier before winding your way through alpine meadows, or walk along a rolling crest overlooking the vivid blue Cobalt Lake. Your guide will set a pace that's comfortable for everyone, quick or relaxed. Any way you experience the Bugaboos, they'll stay with you forever.
Skyladder Via Ferrata
Whet your via ferrata feet, or liven up your trip, with this half-day, Skyladder Via Ferrata route. Rise above the scenery with your guide as you scale the iron rungs to the best vantage point in the mountains. You'll cap off your day with either a stunning hike or a flight back to the lodge for a cold drink on a sunny deck.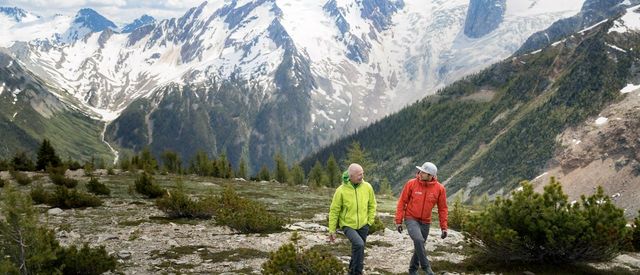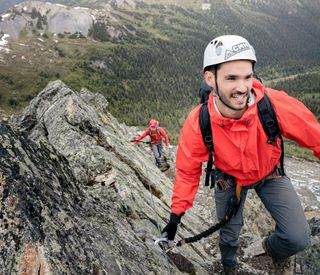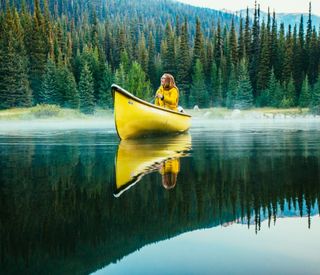 Experience
Safe, accessible and entirely unforgettable, CMH excursions are designed for your ability and to satiate your thirst for adventure. Every day promises amazing new adventures you won't find anywhere else but CMH. 
Only wilderness lodge on the edge of Bugaboo Provincial Park

A place of pilgrimage for more than a century

Hike among swirling glaciers and theatrical spires or raise your adrenaline on a thrilling via Ferrata

Your guides will plan each day's excursions according to your preferred activity types and ability

A network of mindblowing high route trails matched to all generations and fitness levels

Surrounded by iconic towering granite spires. It's Yosemite without the people. The Yukon without the travel time
Itinerary
6:45 a.m.
Depart Banff to the helipad
9:30 a.m.
Arrive at the helipad for heli-transfer to CMH Bugaboos Lodge
10:30-11:00 a.m.
Upon arrival, you'll get acquainted with the lodge
11:30 a.m.
Lunch
1:00 p.m.
After a helicopter safety briefing, enjoy your first hike exploring the mountains
4:00-5:00 p.m.
Return back to the lodge where you can enjoy après-adventure refreshments, a soak in the hot tub or a massage
7:00 p.m.
Enjoy your first CMH gourmet family-style dinner – staff will join you for the meal each evening
*Please note: Hiking schedule and lunch times may vary
7:30 a.m.
Wake up with a dynamic warm-up class
8:00 a.m.
Fuel up with a hearty breakfast to start your day right. Pack your lunch for the day and get ready for your day of adventure.
9:00 a.m.
First hiking group will fly up into the mountains
12:00 p.m.
Lunch in the field
4:00-5:00 p.m.
Return to the lodge, where you can enjoy après-adventure refreshments, a soak in the hot tub, or a massage
7:00 p.m.
Swap stories of your incredible adventures in the mountains as you savor a family-style dinner with your guides and lodge staff
*Please note: Hiking schedule and lunch times may vary
8:00 a.m.
Enjoy a hearty lodge breakfast before departing the lodge with your final heli-transfer
10:45 a.m.
Private coach transfer from helipad to Banff, Lake Louise and Calgary International Airport
1:00 p.m.
Estimated arrival time in Banff
3:30 pm
Anticipated arrival at Calgary International Airport (YYC). CMH recommend guests do not book flights until after 6pm MT.
*Please note: Hiking schedule and lunchtimes may vary
CMH Summer Adventures: Bugaboos
Read more about CMH Summer Adventures: Bugaboos
Are you looking to step out of your comfort zone and drop out of a helicopter into the high country of the Canadian Rockies? Discover where the magic of heli-skiing began at the remote fly-in CMH Bugaboos Lodge, located among the world-famous Bugaboo spires in eastern British Columbia.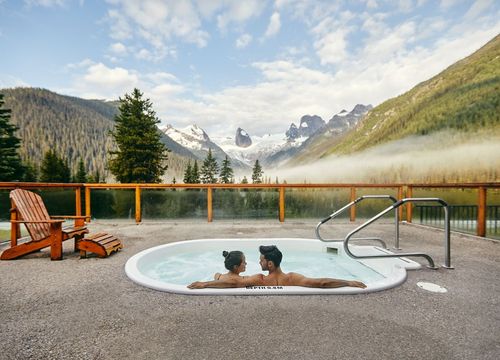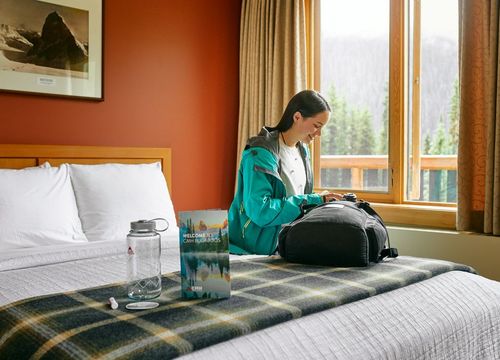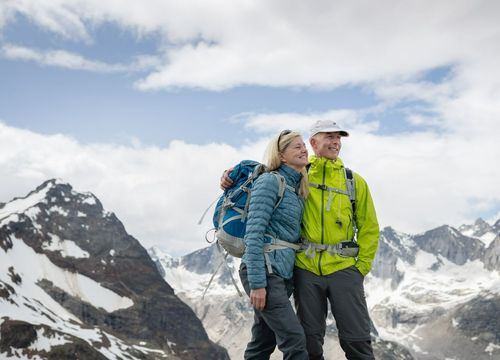 Accommodations
The 32-room lodge blends contemporary stylings with rustic materials to create a warm and comfortable home base to admire the jagged Bugaboo spires clad in glacial ice. The lodge boasts private guest rooms with heated bathroom floors, toiletries, bathrobe, and hairdryer, a four-story climbing wall, roof-top hot tub, steam room, sauna and Wi-Fi to keep everyone connected. Guests can relax in the library or browse the mountaineering artifacts in museum cases.
Features & Amenities
Rooftop hot tub
Stunning mountain views
CMH museum
Gear & gift shop
Games room
Music room
Steam room and sauna
Massage
Indoor climbing wall
Swimming pond
Chef-prepared meals & snacks
Pastry chef
Full-service bar with extensive wine cellar
Wi-Fi
Complimentary laundry facilities
FAQ
Italian for 'iron way', a via Ferrata is a series of iron rungs and wire cables that are affixed to a mountainside, providing a secure climbable route for those with little to no experience. It allows a person to navigate their way through otherwise impassable terrain.
CMH wants you to enjoy your trip. So whether you want to step-it-out and conquer a peak or amble at a gentle speed, they split groups based on fitness, experience and age. This means you can enjoy a pace that best suits you.
Lightweight sweater/fleece/vest
2 long- and short-sleeved shirts or technical shirts
Comfortable pants for hiking (jeans are not recommended)
2-3 pairs of socks (wool or synthetic; thick and thin pairs)
Shorts (or zip-off combination long pants/shorts)
Good-quality sunglasses
Hat or ball cap
Warm gloves (be prepared for all types of weather)
Camera
Water bottle
Thin leather (or similar) gloves if you are participating in a Via Ferrata or Glacier Trek (you can also purchase these gloves in our lodge shop)
Optional items: alarm clock, flashlight, trekking poles, binoculars, lunch container
Due to the high mountain environment, expect to experience various conditions. The weather can be sunny and warm, but be prepared for cooler temperatures, rain, wind and possibly snow. Mountain weather can change with very little warning. Temperatures range from highs of 10 to 35 degrees C (50 - 95F) to lows of -1 to 15 degrees C (30 - 50F)
Alcoholic beverages and retail goods available for purchase, massages, airfare to and from your city of origin and travel from airports to coach pick-up locations.
Terms
Prices quoted in USD are an estimation and the actual price will be different based on normal exchange rate fluctuations. Prices are subject to change. Subject to applicable taxes.
Deposit & Refund Policy
Book with peace of mind. In order to give additional assurance, CMH has an adjusted Deposit refund policy and booking/cancellation policies for 2022 Summer Adventure Trips: 
Deposits are fully refundable up to ninety (90) days prior to your trip start date 
Final payment will not be collected ninety (90) days prior to your trip if one or more of the following conditions remain in place due to COVID-19:
Canadian borders remain closed to non-essential travel 
Travelers coming into Canada are required to quarantine (self-isolate) for 14 days
The government imposed travel restrictions that do not allow you to leave your country of residence
2022 Final Payment Policy
For Summer 2022 season only, If the above restrictions are still in place, CMH will make these changes to the Final Payment Policy: 
Your remaining trip cost will be due sixty (60) days prior to your trip's start date
Sixty (60) days prior to your trip start date, if travel restrictions remain in place, your final payment due date will change to thirty (30) days prior to your trip's start date
Thirty (30) days prior to your trip date, if COVID-19 travel restrictions remain in place, CMH will contact you to cancel your trip and discuss the following options:

Move your full funds to a trip in the 2023 season, with no change fee
Put your funds on account to be used towards a new trip within 2 years

Provide a full refund if the above options are not suitable for you
Yes, ground transportation from Banff, Lake Louise or Golden to the CMH Bugaboos helipad, and return to Golden, Lake Louise, Banff or the Calgary International Airport (YYC) is included.