Sold Out
Back to Our Roots Retreat in Mexico

Cancun, Mexico

6 nights
---
or talk to Vacayou travel concierge
Are you ready for the jungle? Spend one week at an eco-resort along the Quintana Roo coast with Monika Harczuk from Harmonized New York exploring Pilates, yoga, meditation, breathing techniques, dance and a Mayan ceremony with a local shaman. This Back To Our Roots Retreat is designed to awaken the clarity and wisdom within you! Treat yourself to a heart-centered adventure and wellness experience that will send you home revived on every level—mind, body and soul. Participants will explore simple tools and techniques to help manage stress and create new, healthy imprints and habits to carry home with them. The retreat is like a week-long camp for adults—full of health, wellness, fun and nature in an intimate group setting (max. 14 people). 
About the Host
After receiving her Classical Pilates Instructor Certification in the Netherlands in the early 2000s, life brought Monika Harczuk to New York City in 2006 where she continues to live, teach and learn. The Big Apple is where she started her meditation practice and also discovered Iyengar yoga. She is very grateful for all that she has experienced along the way and is more than happy to share this knowledge with you! 
About the Venue
Retreat attendees will stay in exclusive accommodations or cozy houses ("casas") with private rooms and ensuite bathrooms, air conditioning and a shared living room area that's practically outdoors where you can read, relax and connect with others. Guests have access to a private cenote (a natural freshwater pool carved out of limestone rock) as well as the on-site swimming pool. The jungle eco-resort is located near the beachfront village of Chemuyil, just 75 minutes south from Cancun International Airport (CUN).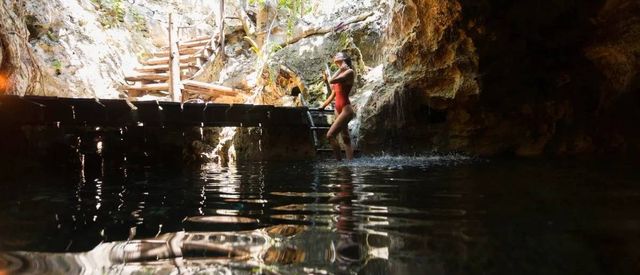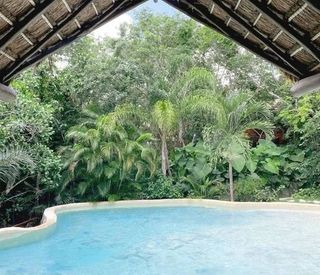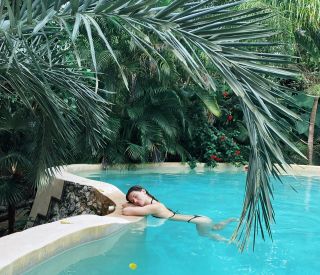 Experience
When life takes over, you can forget who you really are: what makes you tick, what makes you laugh and what makes you feel present. The Back to Our Roots Retreat provides the space to slow down and take a step back—to help you get in touch with what you love. You'll have the opportunity to experience a schedule filled with holistic experiences that will help you recharge and enable you to create new, healthy habits for the future.
Take a wholesome break surrounded by the healing power of nature
Improve your physical and mental health by being away from the sounds of civilization
Slow down and take a step back, to help you get back into touch with what you love
Learn different modalities so you can move your body in a balanced & healing way
Become more aware of our body through mindful movement 
Slow down your mind with daily meditation and breathwork practice
Awaken your physical power, mental clarity and wisdom with ancestral Mayan practices
Calm down your nervous system
Itinerary
Silent meditation (voluntarily each morning before movement class): 7:30 - 8:15 am
Movement class (Pilates/Yoga Slow Flow sequence 75 min + 15 min Buteyko breathwork practice): 8:30 am
Breakfast: 10 am
Dance party after breakfast
Free time each day between 11:30 am - 5 pm for participants to relax or go on own excursions to beaches, snorkeling with turtles, other cenotes or nearby towns
Lunch at the eco-resort: 11:30 am - 2 pm
Late afternoons/early evenings are filled with different modalities: 1. Kundalini active meditation, 2. Fire circle/ story time 3. Cacao ceremony 4. Sound healing in a cave
Dinner is coordinated with afternoon activities and can be eaten at the outdoor kitchen or inside the casa (mosquito net dividers)
One late morning we will have a temazcal ceremony—both temazcal and cacao are Mayan ancestral ceremonies. 
Two x add-on group activities which can be booked 1. Beach excursion + lunch  2. Trip to Tulum + dinner
FAQ
Monika has over 17 years of in-depth teaching experience and movement practice across multiple modalities (yoga, Pilates and meditation).
The retreat offers more than just the typical Pilates and yoga programming. Through the Back to our Roots Retreat, Monika provides a mix or, as they say in India, a "masala" of different holistic healing techniques and ancestral Mayan practices to empower you and awaken your senses and inner clarity.
The retreat includes scientific proven methods for stress reduction and sleep improvement. Participants will not only have the chance to explore and try all of the tools and techniques offered, but they will also create new habits to take home with them.
The retreat provides a week to take a break not only from your daily routines but from the hustle-bustle of the city and from any air and sound pollution. A total break from all around you to calm down your nervous system, to quieten your mind, sharpen your senses and awaken your inner guiding light and clarity. 
The retreat is designed for anyone looking for a nourishing vacation to enjoy, explore and refresh in a beautiful environment surrounded by like-minded people! People who enjoy yoga, meditation, breathwork, dancing and Pilates! All levels welcome. The retreat program is designed to uplift your energy levels, empower your body, and quiet your active mind so you can tap into your full strength, clarity and potential—all while experiencing the beauty of the tropical jungle. It's the perfect place for those seeking peace, meditation and a healing environment. The program is based on four core values: mindful movement, meditation, laughter and learning.
Terms
The Back to our Roots Retreat is hosted by Harmonized-NY. Inc. / Monika Harczuk
Deposit Policy
NO deposit. Full payment only. 
Cancellation Policy
Cancellation before January 1, 2023:
If "You" cancel  before January 1st, 30% of your payment will be refunded (*minus a 5% processing fee).
Cancellation from January 1, 2023:
If "You" cancel  from January 1, no refunds will be issued regardless of circumstances (including flight cancellations, travel delays, COVID-related illness or travel bans or restrictions or other illness or injury).
*The 5% processing fee will be calculated based on the total amount you paid for the retreat.
"We" ( as in Company and Retreat Leader) reserve the right to cancel the Retreat at our discretion for reasons that may include but are not limited to: insufficient registration (e.g. minimum participants not being met), the COVID-19 pandemic, or any other pandemic, epidemic or disease, travel bans or travel restrictions, other governmental laws, regulations, or orders, strike, natural disaster, act of war or terrorism, civil commotion, withdrawal or unavailability of retreat center or any of its facilities, and/or Retreat Leader's illness or injury.
Disclaimer
Harmonized-NY. Inc. is not responsible for any of your costs and expenses associated with the retreat except those explicitly included in the cost of your package. For example, Harmonized-NY. Inc. is not responsible for the costs of your airline tickets or other transportation such as rental cars, costs arising from changes you make to your itinerary, or any damage you may cause to the retreat facility including your own accommodations there. Harmonized-NY. Inc. shall not issue you any refund or credit (whether partial or full) if you fail to attend or complete the retreat or arrive late to it or depart early from it.