La Selva Ecolodge & Spa
5-Day Amazon Rainforest Adventure in Ecuador

or talk to Vacayou travel concierge
Every day is an adventure at La Selva Ecolodge & Spa—as you never know what you might find along the way! Experience the extraordinary on a deep dive through the Ecuadorian Amazon. Let the guides accompany you on activities that are designed to showcase the best of the rainforest. Off-site adventures include both day and night canoe rides on the lagoon where you discover a great diversity of plants and animals in two different landscapes and ecosystems, hikes on half-a-dozen trails that wind their way through the surrounding rainforest and connect with the lake, community visits to several indigenous communities and a turtle adoption program. On-site wellness programs are designed to create a heightened sense of relaxation and connection with the unique wonders of the forest. Private yoga sessions are also available on the jetty overlooking the lake. Get excited for an incredible journey to the Amazon rainforest and stay in a luxury suite by the river. It's time to bring out the curious adventurer within and prepare for an amazing stay in Ecuador.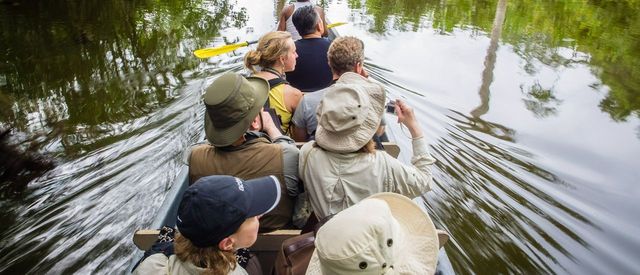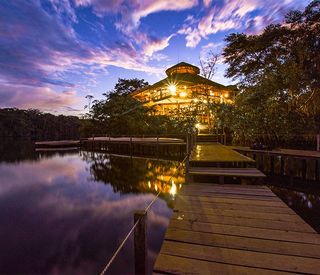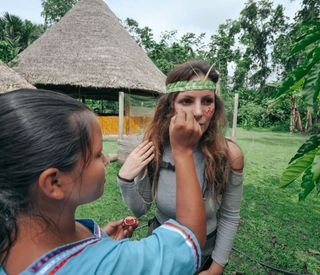 Experience
An adventure of a lifetime awaits as you journey through Ecuador's rainforest. Located just outside the Yasuní National Park and within the Yasuní Biosphere Reserve, La Selva EcoLodge & Spa is perfect for those seeking an authentic Amazon experience.
Disconnect from big city life and connect to nature 
Learn about the local culture and people through personal experiences
Embark on daily adventures as you swim in rainforest lagoons and hike with professional guides
Paddle along the river through a tropical forest 
Experience the Amazon at night on various nocturnal tours 
Upon request, book yoga sessions and spa treatments 
Itinerary
Welcome to Quito! You will be met by a La Selva representative at the Quito International Airport with a short briefing on your journey and assisted in your check-in for your flight to Puerto Francisco de Orellana "El Coca" which will take approximately 30 minutes. Upon arrival, you will be transferred by private transportation to the city's main dock at the Napo River.
You'll spend the next two hours on a motorized canoe heading downriver on what will be the beginning of an unforgettable experience in the tropical rainforest of the Amazon. At the end of your canoe ride, you will be dropped off at La Selva's main dock and this is where your first close encounter with the rainforest begins. You will complete the final leg of the trip to the lodge in a paddle canoe. 
Once at the La Selva Ecolodge, the manager will personally greet you with a refreshing juice, snacks and a short briefing with general information about your stay.
4:30 pm – Intro to the rainforest
One of the naturalist guides will provide basic info about the tropical rainforest, the Amazon and how La Selva operates. The idea is to begin your activities with background knowledge of the amazing place you have just arrived at.
5:00 pm – Matapalo Trail
This trail was given the Spanish name of the famous Strangler fig (Ficus sp), one of many remarkable trees that you can find on this short walk. Mahogany trees over 400 years old can be seen and your guides will share their knowledge of the flora and fauna. Due to the time of day, there is great natural light and the diurnal and nocturnal animals are beginning their daily transitional activities.
7:00 pm – Snack time
At the bar, you can find snacks and order cocktails from the bartender. Or, feel free to help yourself to limitless tea and coffee.
7:30 pm –  Dinner
Enjoy a nice dinner as the day comes to an end. 
6:00 am - Rise and shine
6:30 am - Breakfast 
7:00 am - Observation tower & Tucaneta Trail
Today, you'll visit the observation tower. This amazing construction will allow you to climb 120 ft above the forest. Your naturalist and native guides will help you spot the colorful birds of the Amazon, maybe even certain primates. On the way back from the tower you can take the Tucaneta Trail where your native guide will show you some of the medicinal plants still used today and your Naturalist Guide will provide you with interesting info on the ecology and natural history of the Amazon.
1:00 pm - Lunch
4:30 pm - Charapa Trail
The Charapa trail is about an hour long beginning at the lodge and ending by the edge of the lagoon. It is a great loop where you can see different mammals, monkeys and birds as they come to the lagoon looking for food. It is also perfect for witnessing an Amazonian sunset from the canoe.
6:40 pm  - Night canoe ride
With the help of a spotlight, your guides will take you around the lagoon via canoe looking for nighttime wildlife. This is a great opportunity for stargazing!
7:30 pm - Dinner
6:30 am - Breakfast
7:00 am – Parrot Clay Lick and Mandi Wasi
Today you will make your way back to the Napo River and take a motorized canoe ride to the clay licks, one of the most fascinating displays of the wild world. Hundreds of parrots and parakeets gather here to eat the mineral-rich soil, an important part of their diet. Binoculars are essential to really capture the moment.
After the clay licks, you will be taken on a cultural activity. An Amazonian Kichwa woman will welcome you to their community center to share the life of the Kichwa. This is special because it is part of the Amazon you do not find on the maps and provides the special and unique opportunity to really get to learn more about the people.
1:00 pm – Lunch
4:30 pm – Coto Trail
This is a fantastic walk that takes off from the lodge to the edge of the Garzacocha Lagoon. In the afternoon the light from the sun will come from behind most of the time, making this walk an amazing experience and the perfect opportunity to enjoy the beauty of this amazing forest. Groups of black-mantled tamarin monkeys can be spotted on this walk and some of our groups have even seen tapirs too.
Your naturalist guide will explain all the different creatures that can be found and your Native Guide will show you some of the medical plants that they have been using for thousands of years. A canoe ride back to the lodge makes a great ending for this activity.
7:30 pm – Dinner
6:30 am - Breakfast
7:00 am – Mandi Forest adventure
Not all lodges can offer an exotic trip into the deep wilderness like you are about to embark on today! You will walk through an amazing primary forest for around 3-4 hours, starting at the main dock back at the Napo River. With the incredible ecosystem, there is a great chance for you to find some of the biggest mammals of the rainforest, like peccaries or wild pigs, deer and tapir. Eventually, you will reach the lagoon of Mandi Cocha. Here, you'll get into a fiberglass canoe and paddle through the amazing Igapo Forest. This is a temporarily flooded blackwater forest. You might see different species of birds and if you're extra lucky, you might encounter the elusive giant otter!
12:30 pm - Lunch
4:30 pm – Garzacocha Lagoon and Ceiba Trail
This lagoon is one of the most beautiful lagoons in all of the Ecuadorian Amazon. During this trip, you'll have a higher chance of spotting different species of monkeys and birds. Sometimes huge groups of squirrel monkeys join families of capuchin monkeys to look for food. Howler monkeys also like to spend the late afternoon around the lagoon and you can hear their tremendous calls echoing on the lake.
You might even see the famous and super curious Pygmy Marmoset which is the smallest monkey in the world. At La Selva, there are 7 primate species that can be seen. More wildlife that you can see includes the Hoatzin, a famous bird with a very strange appearance and adaptations, toucans, macaws and many other species of birds.
6:30 pm – Nocturnal walk
On a night walk, you have the chance to enjoy the creatures and sounds of the Amazon jungle. Sometimes you will witness absolutely amazing things during this activity. Make sure that you bring a flashlight for this fantastic experience.
7:15 pm – Departure briefing
The La Selva manager will provide you with all the necessary information about your departure procedure for tomorrow.
7:30 pm – Dinner
6:30 am – Breakfast
7:00 am – Departure for Coca
You'll have an early wake-up call, breakfast and then departure from the lodge. The lodge staff will assist you with your checked luggage and the motorized canoe ride will head upstream back to Coca, where your representatives will take you to the airport to help you with your checked luggage and boarding passes.
During your free time in between activities you can use our kayaks, swim in the lagoon, have a massage or just relax in your room and have a nap!
Have a safe trip back! 
Important note: Keep in mind that this is a sample itinerary subject to change due to weather conditions, your physical condition and safety.
Offers
4-Night Amazon Rainforest Adventure in Ecuador
The price displayed is per person based on double occupancy for the entire stay. You can add extra nights for an additional cost. A single supplement is also available.
Package Includes:
4-night accommodation in a riverside suite
All-inclusive meals 
Daily walks and hikes in the Amazon rainforest 
Visit to the observation tower
Canoe rides, including one evening 
Parrot Clay Lick
Kichwa cultural experience with people of the Amazon
Swimming in incredible lagoons
A nocturnal walk 
Wildlife experience each day 
Guided excursions with bilingual English/Spanish speaking naturalist guide + native assistant guide
Rain poncho and rubber boots during your stay (boots available up to men's size 10½ US)
Assistance at the airport: Quito and Coca
Transfers in the city of Coca
Canoe transportation from Coca to the lodge
Not included:
Gratuity
Alcoholic beverages & soft drinks
Airfare Quito-Coca-Quito
La Selva Ecolodge & Spa
Read more about La Selva Ecolodge & Spa
An Ecuador Amazon lodge like no other. La Selva Ecolodge & Spa is perfect for those seeking an ideal Amazon wellness experience—a luxury resort in the heart of the rainforest where everyone will find something to love.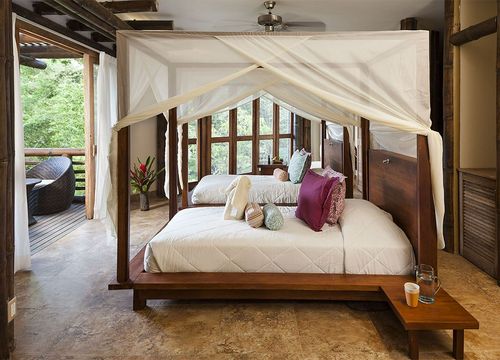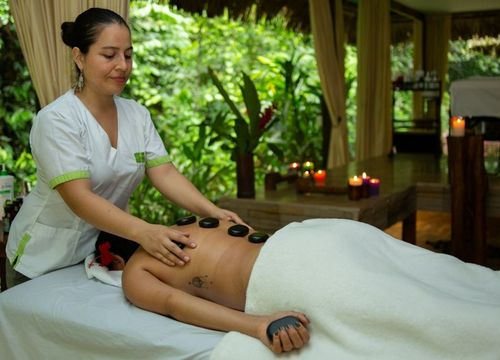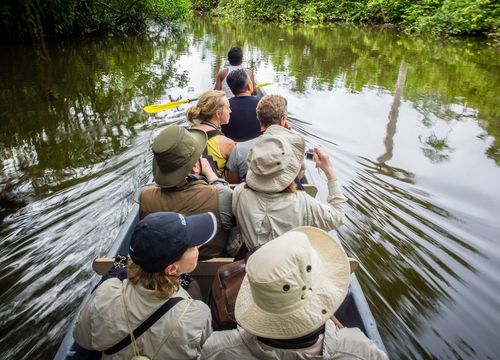 Accommodations
La Selva comprises 19 spacious guest suites, including three Scenic Suites with views of Lake Garzacocha. Designed for today's adventurer-traveler, the Superior Suites bring together traditional architecture with modern conveniences. Tastefully decorated, you'll find a large bed draped with a mosquito net, a living area for kicking back, a private balcony perfect for taking in the beauty of the rainforest and an ample bathroom fitted with a refreshing rainforest shower. The Scenic Suites are located high up on the banks of the lake and define the rainforest experience. At dawn or at dusk, you can enjoy the incredible colors of the skies and surrounding jungle world from your own private balcony, drink in hand. The suite is completed by comfortable sleeping arrangements, sofas, and a spacious bathroom fitted with a tantalizing rainforest shower. The design of the guest suites is inspired by the architecture of the native people's homes—and the airy, shady layout keeps things cool even in the hottest hours of the day.
Features & Amenities
Luxury bed linens
Turndown service
L'Occitane amenities
Towels & robe
Hot water shower
110v electricity
Ceiling fans
Safety deposit box
Wi-Fi
Mosquito nets
Carafe of water
La Selva is deeply committed to sustainable ecotourism and keeping their impact on the environment to a minimum. Therefore, there are no air conditioners in the rooms. There are, however, large windows and a ceiling fan which keeps the air in the suites circulating. If you need a hairdryer, ask for one at the front desk.
Terms
Payment and Deposit 
Reservation must be paid in full. To confirm a reservation a $100 down payment per person is required. Contact us if you wish to visit us on a non-scheduled departure day. Our bilingual naturalist guides and native guides are divided into specially organized groups that will offer the best opportunities possible during excursions. Private guides are also available upon request during the initial booking process. Specialized bird-watching guides are available upon request during the booking process for an extra fee.
Cancellation Policy
For cancellations of 91 days or more: no penalty fee needs to be paid. For cancellations between 90 and 61 days prior to arrival, your deposit will not be refunded. For cancellations between 60 and 30 days prior to arrival, 50% of the stay will be charged.
For cancellations between 29 and 8 days prior to arrival, guests will have the option of rescheduling their trip up to one year from the previous departing date, plus pay a cancellation fee of 200 USD per person.
No refund or rescheduling option will be given if you cancel between 7-0 days before the departure date.
Price Policy
Single supplement 30%. Children under 12 years old receive 50% off. Prices are subject to change without prior notice. For Sunday operations, please contact us in order to arrange special transportation.