Amazing Adventure & Wellness Through Jordan

Jordan

12 nights

from $374 Per Night

Based on rate for one guest
---
or talk to Vacayou travel concierge
Discover the treasures of Jordan. From floating at the Dead Sea, the lowest point on Earth, to hiking through historical wonders and nature reserves, this Why Jordan Tours package brings together wellness, history, fun and adventure. Spend your days exploring some of the most vividly colorful places in the world and give yourself this gift of relaxation while also learning about a new culture. Experience Jordan more deeply with everything taken care of for you including English-speaking guides, private transfers and tickets to museums and theaters.
The Basics
Start and Finish: Amman, Jordan
Tour Length: 11 nights
Group Size: Minimum 4 persons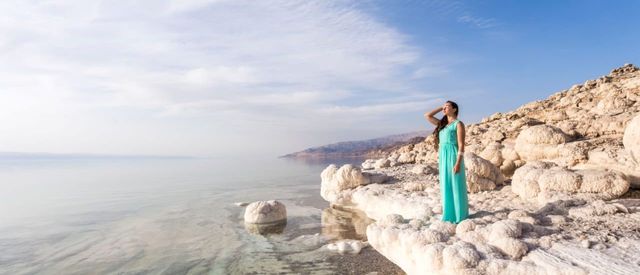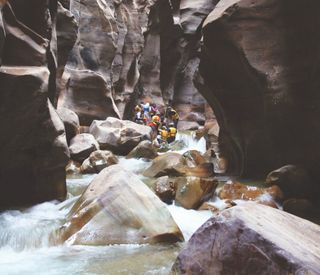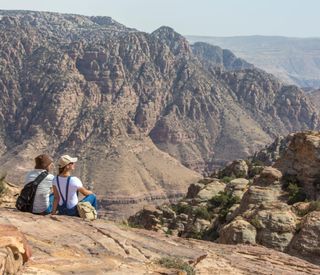 Experience
An incredibly luxurious and adventurous experience in Jordan. Feel the natural healing properties of minerals from the Dead Sea, indulge in luxury spa treatments and explore one excitement after another on guided tours through some of the most interesting, breathtaking places on earth.
Daily sightseeing, hiking and wellness experiences 
Visits to some of the most picturesque places in Jordan
Off the beaten track and exclusive experiences
Exclusive local cooking and cultural experience with class/course
Visits to UNESCO World Heritage Sites
English-speaking guide and private car Wi-Fi
Itinerary
Today you arrive at the Amman Queen Alia International Airport and will be greeted by your airport representative who will be waiting for you with a name sign and organize your visa-free visa. You will be well taken care of and able to relax in the evening after a long flight.
Overnight stay in Amman hotel. Breakfast is included. 
Visit to the Royal Automobile Museum with the car collection of the late King Hussein. Drive to downtown to see The Citadel with the Archaeological Museum, the Roman Theater, the Souq markets and pass by the Husseini Mosque. Spend time in Jabal Weibdeh, one of the oldest areas in the city, and Jabal Amman with the famous Rainbow Street where you find small shops and cafés as well as the birth house of the late King Hussein. In the afternoon you will have time to relax at your hotel until dinner at the Tawaheen Al Hawa Restaurant with a wonderful and nice typical Bedouin decoration with an oriental atmosphere. The restaurant is famous for its Arabic starters mezza. You can also try the Hubbly Bubbly water pipe!
Overnight stay in Amman hotel. Breakfast and dinner included. 
Your driver will take you first thing in the morning to Ajloun for a hike starting at the Reserve's Visitor Center and ending at the Soap House in the neighboring village of Orjan. Once you have reached Mar Elias, you can continue hiking, making the trail more challenging but also rewarding. You will pass by a small farmhouse and its adjacent orchards on your way to the Ajloun Castle, built between AD 1184-1188. Enjoy views of the West Bank and Syria, before you descend into a wooded valley. After walking the final uphill (higher difficulty level), you will be rewarded with an incredible castle and marvelous views that accompany it. Along the way, you get to enjoy a nice picnic lunch.
Overnight stay in Ajloun Nature Reserve Lodge. Breakfast, lunch and dinner included. 
Guided Ajloun Castle Trail (donkey assisted) information:
Grade: Difficult with steep inclines
Distance: 11 miles (18 km) or 6 miles (9.5 km) from Mar Elias
Time: Full day or 4 hours from Mar Elias
Today, you will visit Madaba and head to the St. George's Church where you'll bike the scenic back roads to Mount Nebo where Moses viewed the Promised Land. During the 2-hour bike ride, you'll have breathtaking views across the Jordan Valley and down to the Dead Sea. Continue to the Dead Sea Panoramic Complex perched atop the edge of mountain cliffs, offering spectacular views overlooking the Dead Sea and holy land.
Visit the Ma'in Hot Springs and enjoy the mineral-rich waters of these hyperthermal waterfalls. The springs are located 866 feet (264 m) below sea level in one of the most breathtaking desert oases in the world. You will also get to enjoy a full-body oriental fusion massage with the combination of Swedish massage, Thai stretching and massage of acupressure points. The massage helps to enhance your vitality!
Overnight stay in Ma'in Hot Springs Hotel. Breakfast and dinner included. 
Optional spa treatments include:
Mud wraps |hydro-jet baths and showers |underwater massages |mud facials |electrotherapy |cosmetology treatments
Free morning to relax at the Ma'in resort and then transfer to Dana Nature Reserve—a world of natural treasures. Enjoy the beauty of the powerful Rummana Mountain, tranquility in the Dana Village and the grandeur of the red and white sandstone cliffs of Wadi Dana. The Dana Village area, overlooking the scenic Wadi Dana, has been occupied since 4000 BC. Continue hiking the 5-mile (8 km) White Dome Trail, taking around 3-4 hours. The trail contours the huge escarpments of Wadi Dana between Rummana Camp and Dana Village. It offers breathtaking views of the canyon-like Wadi and passes through the village terraced gardens. A spectacular day, indeed!
Overnight stay in Dana Guest House. Breakfast, lunch and dinner included.
After breakfast, you will head to Shubak to visit the Crusader Castle. Once called "Mont Real," Shubak dates back to the 12th century AD. It is perched on the side of a mountain, with a grand sweep of fruit trees below. Transfer to Siq al Barid ("Little Petra") where the caravans used to rest on the fertile plains before entering Petra or heading away on one of the trade routes. See rare examples of Nabataean paintings on the ceilings. If time allows, walk to the Neolithic Village—a short distance away—to see life as it was in 9,000-5,500 BC. In the evening, relax with a Turkish bath where you will be pampered like a Sultan in the olden days. 
Overnight at the 5* Hayat Zaman village & Resort in Petra. Breakfast and dinner included. 
Optional:
Start your Petra experience with the Petra Night Show from 8:30 pm to 10:30 pm, which is a magical way to see part of the rock city by candlelight. Explore the old city by walking the entire Siq to the Treasury, which is lit by over 1,500 candles, take a cooking course with a local family or at Petra Kitchen.
Today, your guide will take you inside the wonders of Petra. You get to visit Siq, the Treasury, Street of Facades, the Theater and Colonnaded Street. Then, you get to hike via Wadi Farasa to the High Place of Sacrifice! A lot of climbing and excitement is on the agenda today with some of the best views Petra has to offer! In the evening you will be hosted by a local family and learn to cook a Jordanian dish while getting to know more about Jordanian culture and learning the basics of greetings and blessings in Arabic culture.
Overnight at the 5* Hayat Zaman village & Resort in Petra. Breakfast and dinner included. 
After breakfast, your transfer will take you from Petra to Wadi Rum—Jordan's extraordinary Red Desert, famous for Lawrence of Arabia and more recently, the Star Wars, Aladdin and Martian films. You will have a half-day jeep tour (4 hours) including a freshly prepared barbeque lunch. The jeep tour is the best way to discover many of the sites in Wadi Rum. The jeep will stop at each site giving you time to walk/scramble around and maybe even climb some of the beautiful natural formed bridges in Wadi Rum. This is as close as you will come to visiting Mars! At sunset, you will be guided to the highest accessible point so that you can watch a spectacular natural occurrence. You will get to see the nightly stars in a whole new light.
Overnight at a luxurious campsite in Wadi Rum with breakfast and dinner included.
This morning you have the unique experience of seeing the sunrise at Wadi Rum. Just before sunrise, a 1-hour camel ride is awaiting you. Afterward, you'll continue to the campsite for breakfast and to Aqaba on the Red Sea, where later you will check-in at your hotel. You will have a chance to enjoy the rest of the day at Jordan's premier resort, where you can choose fun activities or treatments, such as water activities, a signature 60-minute full-body massage and a visit to the Aqaba Bird Observatory.
Overnight in Aqaba. Breakfast and dinner included. 
Free morning before 11 am when your boat will be ready to take you on a lunch cruise through the Red Sea where you will enjoy some snorkeling! After the cruise, you will continue to Bernice Beach where you will have the opportunity to bring out your inner child and play! Fun water sports activities including diving, swimming, jet ski, Banana Boats, windsurfing and kite surfing for the more adventurous await! At night you will have your own time to discover Aqaba by night and enjoy some shopping. 
Overnight Aqaba hotel. Breakfast and dinner included. 
Today, you will drive through the Wadi Araba desert to the Dead Sea. Enjoy the rest of the day at the hotel. Float in the salty waters and try out the famous healing mud. (Note: mudding at the beach is free). At 1,312 feet below sea level, the Dead Sea is the lowest point on earth, where ever since the days of Herod the Great, people have flocked to in search of its curative secrets. The air is extremely oxygen-rich with the highest content of minerals and salts in the world. The water possesses anti-inflammatory properties, and the dark mud found on its shores has been used for more than 2,000 years for therapeutic purposes. 
Overnight at the Dead Sea Spa Hotel with breakfast and dinner included.
This is the end of your Jordan adventure with Why Jordan Tours and your transfer will take you to the Amman Queen Alia International Airport.
Have a safe trip!
Offers
11-Night Amazing Adventure & Wellness Tour in Jordan
from
$374
Per Night

Based on rate for one guest
Vacayou Exclusive
Only available on Vacayou!
Unique to this Package
Personal service 24/7 & Car Wi-Fi
The package price displayed is per night for one guest in 4* star accommodation during low season for booking of a minimum of four people. 5* star accommodation is available for an additional cost, as well as a single supplement. (Prices fluctuate depending on season—low season, high season, peak season)
Package Includes:
Minimum of 2 meals per day
Airport representative upon arrival at the airport in Amman to assist with the visa procedures, including visa cost
All transfers as mentioned in the program with English-speaking driver by car or minivan
Liability insurance
Overnights at the Dead Sea
Hiking the Aljoun Caste Trail, including English-speaking guide and lunch box
A visit to Petra including local English-speaking guide 
Turkish hammam bath at Hayat Zaman Hotel & Resort

Oriental fusion massage Ma'in Hot Springs Hotel

4-hour jeep tour in Wadi Rum
1-hour camel ride in Wadi Rum
Overnight at luxury campsite in Wadi Rum
Overnights at Ma'in Hot Springs
Dinner at Tawaheen Al Hawa restaurant in Amman
All entry/user fee tickets for the sights mentioned throughout the program such as: 
St. George in Madaba |Crusade Castle |Mount Nebo, As-Salt |The Citadel, Roman Theater |The Royal Automobile
Museum |Jerash |Dana Nature Reserve |RSCN Ajloun |Ajloun Castle |St. George in Madaba |Little Petra |Wadi Rum
FAQ
Any applicable foreign departure, security, port charges, park fees, customs, immigration, agricultural, passenger facility charges and international transportation tax. In addition, tips/gratuities to tour directors, drivers, and local guides; passports and visa fees; baggage and personal insurance; beverages and food not listed under inclusions in the travel product and all other items of a personal nature are also not included. You should retain sufficient local currency to pay for all of the above items if necessary.
Extra Charges
Certain products may involve charges like car parking, fuel surcharge and airport taxes or security deposit that are over and above the stated price on Why Jordan Tours website. You will have to pay these directly to the relevant service providers in order to consume the service. Adequate explanation and information will be provided to you. Please review the terms of conditions of the relevant service provider before making any security deposits or payments for additional charges. Why Jordan Tours has no involvement in such financial transactions and hence carries no associated liability.
Special Requests: Please inform us at time of booking of any special requests for any service or facility that is not included as part of your booking. We will enquire with the relevant service provider and where possible will try to accommodate your request, but please note such requests cannot be guaranteed.
Changes you request after booking but before consumption: Please note that it will not be possible to make any changes to a booking once confirmed unless the original booking is cancelled and a new booking made. Cancellation charges will apply as per paragraph 8 below.
Prices applying to all new bookings made following a cancellation will be those prices applicable on the day the new booking is made.
Why Jordan Tours on behalf of its service providers reserves the right to cancel, change or substitute any service and to decline to accept or retain any tour members at any time for any reason including, without limitation, an insufficient number of participants.
Please check your booking details carefully to ensure that any other independent flight and/or travel arrangements coincide with the dates you have booked with us as we will not be liable for any costs incurred as a result of any mistakes by you.
Terms
Cancellation Policy 
If for any reason, you decide to cancel your confirmed bookings, your CREDIT CARD will be credited with the appropriate amount as per the cancellation policy applicable. Please refer to the details and applicable cancellation charges on the product details page of our website. When cancelling the booking please notify Vacayou by email. You will then receive email confirmation of the total cancellation fees where applicable.
Cancellation charges are as follows:
Until 45 days prior to arrival: no charges;
Until 30  days prior to arrival: 25% of the total tour costs;
Until 14 -7  days prior to arrival: 50% of the total tour costs;
Until 6 -2  days prior to arrival: 75% of the total tour costs;
1 Day - Upon arrival or no show: 100 % of the total tour costs.
No refund will be made for any accommodation, transportation, sightseeing, meals or service not utilized by any person after the tour has begun.
For bookings awaiting confirmation and no immediate confirmation can be provided, please note: While your request is being processed, we cannot take a cancellation request during this period (up to 2 working days). Some of our tours require us to re-confirm availability, for this reason we put the charge on hold on your card. The amount on hold is not charged until the tour is confirmed. This confirmation process can take up to 2 working days and we cannot accept another request until we receive a confirmation. You may cancel or amend your booking after confirmation as per the applicable cancellation policy.
Unless otherwise stated in the product detail, these policies apply to all products sold by Why Jordan Tours.
Spa Treatment Conditions
Treatments are available daily from 10:00 AM to 6:00 PM daily. Please allow sufficient time before your treatment to complete a spa consultation with your therapist. We recommend that you arrive at the spa reception 15 minutes prior to your appointment. Kindly advise us of any health conditions that could potentially alter your chosen treatment. The therapist will make sure to recommend the treatment that suits your needs.  
Passports/Visas and Health Requirements
It is the responsibility of all passengers, regardless of their nationality, to check with the appropriate authorities about any visa and immigration requirements. We will not accept any responsibility if you or any passenger will travel without the correct passport, visa, health insurance or any other immigration requirement.
Information Accuracy
We and our suppliers regularly review all details about the travel product offered to ensure accuracy. Please note all duration times given are approximate. Please review the check-in time for the accommodation as these vary from property to property and normally range from 12:00 to 14:00.
Why Jordan's Liability
We act only as a booking agent for any accommodation, transport, guide service, attraction and/or any other event or service on the booking and we have no liability of any kind whatsoever to you or your party or dependents for any death, personal injury, loss, consequential loss or damage of any kind you or your party or your dependents may suffer unless caused by our own negligence. Why Jordan Tours, our employees or agents are acting either as agents for the relevant supplier or as agents for you and your party.
Why Jordan Tours, its agents and suppliers also accept no responsibility or liability whatsoever for any government restraints, acts of war and terrorism, weather conditions, or for any misadventure or casualty or any other force majeure or causes beyond their control as set out in clause 6 above. Subject to the terms and conditions on this site, Why Jordan Tours liability shall be limited to up to the price paid for the booked arrangements.
Supplier's Conditions
You are bound by the booking conditions of the relevant service provider and conditions of carriage where relevant and these conditions apply to your contract with us. In the event of any conflict between the conditions of the relevant service provider and our own, the relevant service provider's conditions will prevail provided they are valid and enforceable, otherwise, our conditions will prevail. The relevant service provider's conditions may limit or exclude their and our liability to you and they may be subject to international conventions. Copies of the relevant parts of these terms and conditions are available on request from Why Jordan Tours or the relevant service provider.
Travel Insurance
It is a condition of our contract with you that you and all members of your party have suitable and sufficient travel insurance to cover your journey as neither Why Jordan Tours nor our suppliers can be held responsible for any liability, expenses or losses you incur as a result of being inadequately insured. We strongly recommend that at the time of booking a comprehensive travel insurance policy is purchased.
Your Responsibility
Please note you are responsible for your and your party's actions. If we or our suppliers believe your actions or those of your party could cause danger, upset or annoyance to other customers, guests or staff, we or our suppliers may end your booked arrangements immediately. In this event neither Why Jordan Tours nor the relevant service provider(s) will pay compensation, make refunds nor pay any expenses you suffer as a result.
It is also your responsibility to respect the local culture, customs, and dress codes. You are responsible for your personal safety and for the safety of the accompanying people dependent on you. Please take time to understand and then conform to the health and safety rules stipulated by the relevant service provider or the facility or by the appropriate government authorities.
You agree to defend and indemnify Why Jordan Tours, its affiliates, and/or their respective suppliers and any of their officers, directors, employees and agents from and against any claims, causes of action, demands, recoveries, losses, damages, fines, penalties or other costs or expenses of any kind or nature including but not limited to reasonable legal and accounting fees, brought by:
You or on your behalf in excess of the liability described above; or by third parties as a result of your breach of this agreement or the documents referenced herein; your violation of any law or the rights of a third party; or your use of this website.
Hotel Reservations
The star ratings may be different from official ratings as they vary significantly by country, and often within countries. Hence it is your responsibility to review the description of hotel facilities, rooms, meals and other amenities to make the best decision for yourselves.
It is your responsibility when making a reservation to ensure you have booked the correct room type for your needs. All details of the room types and the number of people that can be accommodated in the room are available on the website and should be double-checked on your email confirmation.
You acknowledge that the availability of the facilities and features listed for each hotel are under the direct control of the hotel and as such Why Jordan Tours or its affiliates cannot be held responsible if those facilities or features are not made available to you during the period of your stay. If a facility or feature is of particular importance to you, then you should check with Why Jordan Tours customer service or the hotel that this facility or feature will be available during your dates of stay. Please note that, in particular, swimming pools and air conditioning are only available seasonally and it is your responsibility to check whether these facilities will be available during your stay. You acknowledge that the inclusion in the hotel's facilities of car parking means that a provision is made by the HOTEL FOR car parking. You acknowledge that the availability and cost of the car parking are determined by the individual hotel. It is your responsibility to check the availability and cost of the car parking provided by each hotel.
Airport and Port Transfers
You are responsible for providing precise arrival time and pick-up location information (like airport, flight number, cruise docking port, hotel address) at least 72 hours before the travel date to the contact email. Failure to do so can lead to loss of service and Why Jordan Tours, or the relevant service provider will not be liable for any refunds or penalties.