Active Wellness & Dead Sea Miracles Tour Through Jordan

This is one of those wellness trips that has the perfect combo of luxury, relaxation, active wellness and sightseeing. You will be amazed just how much Jordan has to offer to those seeking wellness. None of your senses will be left out as you float in the Dead Sea, get pampered with spa mineral treatments, eat authentic foods, walk through historical sights and experience one of the New Seven Wonders of The World. Walk across canyons, go on hikes through deserts and towns and see the magic of Aladdin's lamp at the Red Desert where the movie was filmed. Take a deep breath and then jump high with the brightest smile you can get because this might just be one of your most memorable trips yet. 
The Basics
Start and Finish: Amman, Jordan
Tour Length: 10 Nights
Group Size: Minimum 4 persons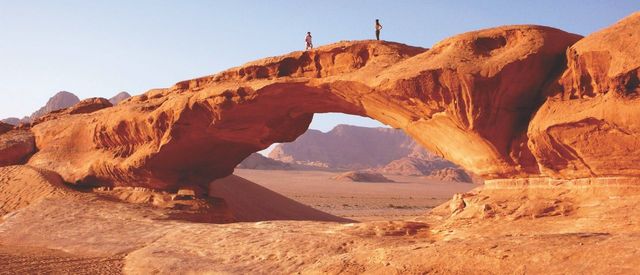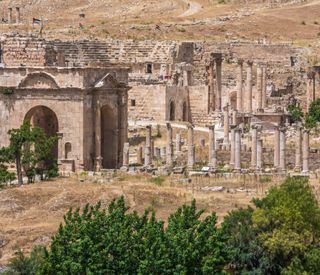 Experience
An incredibly luxurious and adventurous experience in Jordan. Feel the natural healing properties of minerals from the Dead Sea, indulge in luxury spa treatments and explore one excitement after another on guided tours through some of the most interesting, breathtaking places on earth.
Daily sightseeing, hiking and wellness experiences 
Visits to some of the most picturesque places in Jordan
Off the beaten track and exclusive experiences
Exclusive local cooking and cultural experience with class/course
Visits to UNESCO World Heritage Sites
English-speaking guide and private car Wi-Fi
Itinerary
Today you arrive at the Amman Queen Alia International Airport and transfer to the luxurious Dead Sea Hotel. You will be greeted by your airport representative who will be waiting for you with a name sign and organize your visa-free visa. You will be well taken care of and be able to relax in the evening after a long flight. Breakfast is included the following morning. 
Today you will be relaxing at the Dead Sea, floating in the salty waters and trying out the famous natural healing mud full of minerals. You will enjoy two treatments today: one in the morning and one in the afternoon. The first is a 70-minute hot stone massage with a combination of essential oils with heat therapy from smooth volcanic basalt stones. The second one is a 15-minute back, neck and shoulder massage that helps you improve blood circulation and relieve muscle tension, promoting deep relaxation and rejuvenation. Relax at the swimming pool, the beach and the spa. Explore the sauna, take a steam bath, enjoy the jacuzzi or take a salt bath.
Overnight at the Dead Sea Spa Hotel with breakfast and dinner included. 
Today you have the day to either relax at the Dead Sea or explore the area and hike the exciting Siq Canyoning trail (available April 1–Oct 30). A mix of both is highly recommended! If you decide to hike the trail, you will drive to Wadi Mujib after breakfast. Embark on 2-3 hours of hiking that starts at the Visitor Center near the impressive Mujib Bridge. Here, you will take the cantilevered walkway over the dam and follow the course of the river between towering sandstone cliffs to the base of a large waterfall. Depending on availability, you will either have a guide with you or hike the trail on your own.
Overnight at the Dead Sea Resort with breakfast and dinner included. 
Requirements: You must be 18 years old, know how to swim and have a basic level of fitness.
Drive to Wadi Ibn Hamad where your next hike is planned. At Hammamat Ibn Hamad you will find palms, oleanders and lots of other vegetation. Before you start with the hike you could enjoy an hour in the warm swimming pools from the hot springs. Then start hiking with your private English-speaking guide through beautiful Wadi Rum—known as "The Valley of the Moon." You will come through an open area and then go through an amazing canyon with beautiful small waterfalls where you can have a lot of fun! Continue hiking until you reach the Dead Sea road where there will be a car waiting for you to transfer directly to Petra.
Overnight at 5* Hayat Zaman Hotel & Resort in Petra with dinner at the hotel and boxed lunches throughout the day included.
Today, you have a full day to explore the UNESCO World Heritage Site Petra and one of the New Seven Wonders of the World! Your private local English-speaking guide will show you around the city center. Sightseeing around the Siq, Treasury and Street of Facades are on the agenda, as well visits to the Theater and Colonnaded Street. After this, you get to see the Monastery and/or the High Place of Sacrifice. There will be a lot of climbing with spectacular views as the cherry on the top! In the evening, you will spend time at the local Turkish hammam which will be welcomed after all the sightseeing and walking! 
Dinner and overnight at the 5* Hayat Zaman Hotel & Resort.
Today, your Jordan tour continues with hiking the Wadi Gwair Trail. Your guide will be waiting for you in the lobby of your hotel and drive you to Mansoura to start your hike. Walk through water streams and the gorgeous canyon, with a tranquil walk under the sun to end your hike. The hike takes around 5-7 hours, at the end of the hike there will be jeeps waiting for you to take you back to your hotel in Petra.
Overnight at the 5* Hayat Zaman Resorts and hotel. Breakfast, lunch and dinner included.
After breakfast, your transfer will take you from Petra to Wadi Rum—Jordan's extraordinary red desert, famous for Lawrence of Arabia and more recently, the Star Wars, Aladdin and Martian films. You will have a half-day jeep tour (4 hours) including a freshly prepared barbeque lunch. The jeep tour is the best way to discover many of the sites in Wadi Rum. The jeep will stop at each site giving you time to walk/scramble around and maybe even climb some of the beautiful natural formed bridges in Wadi Rum. This is as close as you will come to visiting Mars! At sunset, you will be guided to the highest accessible point so that you can watch a spectacular natural occurrence. You will get to see the nightly stars in a whole new light.
Overnight at a luxurious Campsite in Wadi Rum with breakfast and dinner included. 
From the desert of Wadi Rum to Evason Ma'in Hot Springs. Today you will visit the Ma'in Hot Springs to enjoy the mineral-rich waters of these hyperthermal waterfalls. The springs are located 866 feet (264 m) below sea level in one of the most breathtaking desert oases in the world. These falls originate from winter rainfalls in the highland plains of Jordan and eventually feed the 109 hot and cold springs in the valley. You will also get to enjoy a full body oriental fusion massage with the combination of Swedish massage, Thai stretching and massage of acupressure points. The massage helps to enhance your vitality!
OptionalsSpa treatments include:
Mud wraps |hydro-jet baths and showers |underwater massages |mud facials |electrotherapy |cosmetology treatments.
Overnight stay in Ma'in Hot Springs Hotel. Breakfast and dinner included.
Free day at the beautiful Evason Ma'in Hot Springs Resort where you can relax, swim and indulge in relaxation. Option for additional spa treatments. 
Overnight at the 4* Ma'In Hot Spring Resort & Hotel. Breakfast and dinner included. 
Today, you will drive on to Jerash to visit the world's best-preserved Roman provincial city! After the visit, your transfer will take you to Amman for a visit to The Citadel in Amman and some gorgeous views of the city. You'll continue your trip with a visit to the Roman Theater, located in the heart of Amman. The driver will then pick you up in the evening to discover the magic of Amman by night and enjoy some shopping. An evening treat with dinner at Tawaheen AlHawa also awaits, with a delicious Jordanian cuisine BBQ dinner and hot & cold mazza.
Overnight at a 4*star hotel. Breakfast and dinner included. 
This is the end of your Jordan adventure with Why Jordan Tours and your transfer will take you to the Amman Queen Alia International Airport.
Have a safe trip!
Offers
10-Day Active Wellness Tour in Jordan
from
$392
Per Night

Based on rate for one guest
The package price displayed is per night for one guest in a 4* star accommodation during low season for booking of minimum four people. 5* star accommodation is available for an additional cost, as well as single supplement. (Prices fluctuate depending on season—low season, high season, peak season)
Package Includes:
Minimum of 2 meals per day
Airport representative upon arrival at the airport in Amman to assist with the visa procedures, including visa cost
All transfers as mentioned in the program with English-speaking driver by car or minivan
Liability insurance
Overnights at the Dead Sea including two massage treatments
Overnights at the 5* Hayat Zaman Hotel & Resort in Petra
Hiking Wadi Ibn Hamad including English-speaking guide and lunch box
Turkish hammam bath in Petra at Hayat Zaman Hotel & Resort
Hiking Wadi Gwair including English-speaking guide and lunch box
4-hour jeep tour in Wadi Rum
Overnight at luxury campsite in Wadi Rum
Overnights at Ma'in Hot Springs
Oriental 60-minute massage at Ma'in Hot Springs Hotel
Dinner at Tawaheen Al Hawa restaurant in Amman
All entry/user fee tickets for the sights mentioned throughout the program such as: 
St. George in Madaba |Crusade Castle |Mount Nebo, As-Salt |The Citadel, Roman Theater |The Royal Automobile
Museum |Jerash |Dana Nature Reserve |RSCN Ajloun |Ajloun Castle |St. George in Madaba |Little Petra |Wadi Rum
FAQ
Any applicable foreign departure, security, port charges, park fees, customs, immigration, agricultural, passenger facility charges and international transportation tax. In addition, tips/gratuities to tour directors, drivers, and local guides; passports and visa fees; baggage and personal insurance; beverages and food not listed under inclusions in the travel product and all other items of a personal nature are also not included. You should retain sufficient local currency to pay for all of the above items if necessary.
Extra Charges
Certain products may involve charges like car parking, fuel surcharge and airport taxes or security deposit that are over and above the stated price on Why Jordan Tours website. You will have to pay these directly to the relevant service providers in order to consume the service. Adequate explanation and information will be provided to you. Please review the terms of conditions of the relevant service provider before making any security deposits or payments for additional charges. Why Jordan Tours has no involvement in such financial transactions and hence carries no associated liability.
Special Requests: Please inform us at time of booking of any special requests for any service or facility that is not included as part of your booking. We will enquire with the relevant service provider and where possible will try to accommodate your request, but please note such requests cannot be guaranteed.
Changes you request after booking but before consumption: Please note that it will not be possible to make any changes to a booking once confirmed unless the original booking is cancelled and a new booking made. Cancellation charges will apply as per paragraph 8 below.
Prices applying to all new bookings made following a cancellation will be those prices applicable on the day the new booking is made.
Why Jordan Tours on behalf of its service providers reserves the right to cancel, change or substitute any service and to decline to accept or retain any tour members at any time for any reason including, without limitation, an insufficient number of participants.
Please check your booking details carefully to ensure that any other independent flight and/or travel arrangements coincide with the dates you have booked with us as we will not be liable for any costs incurred as a result of any mistakes by you.
Terms
Cancellation Policy 
If for any reason, you decide to cancel your confirmed bookings, your CREDIT CARD will be credited with the appropriate amount as per the cancellation policy applicable. Please refer to the details and applicable cancellation charges on the product details page of our website. When cancelling the booking please notify Vacayou by email. You will then receive email confirmation of the total cancellation fees where applicable.
Cancellation charges are as follows:
Until 45 days prior to arrival: no charges;
Until 30  days prior to arrival: 25% of the total tour costs;
Until 14 -7  days prior to arrival: 50% of the total tour costs;
Until 6 -2  days prior to arrival: 75% of the total tour costs;
1 Day - Upon arrival or no show: 100 % of the total tour costs.
No refund will be made for any accommodation, transportation, sightseeing, meals or service not utilized by any person after the tour has begun.
For bookings awaiting confirmation and no immediate confirmation can be provided, please note: While your request is being processed, we cannot take a cancellation request during this period (up to 2 working days). Some of our tours require us to re-confirm availability, for this reason we put the charge on hold on your card. The amount on hold is not charged until the tour is confirmed. This confirmation process can take up to 2 working days and we cannot accept another request until we receive a confirmation. You may cancel or amend your booking after confirmation as per the applicable cancellation policy.
Unless otherwise stated in the product detail, these policies apply to all products sold by Why Jordan Tours.
Spa Treatment Conditions
Treatments are available daily from 10:00 AM to 6:00 PM daily. Please allow sufficient time before your treatment to complete a spa consultation with your therapist. We recommend that you arrive at the spa reception 15 minutes prior to your appointment. Kindly advise us of any health conditions that could potentially alter your chosen treatment. The therapist will make sure to recommend the treatment that suits your needs.  
Passports/Visas and Health Requirements
It is the responsibility of all passengers, regardless of their nationality, to check with the appropriate authorities about any visa and immigration requirements. We will not accept any responsibility if you or any passenger will travel without the correct passport, visa, health insurance or any other immigration requirement.
Information Accuracy
We and our suppliers regularly review all details about the travel product offered to ensure accuracy. Please note all duration times given are approximate. Please review the check-in time for the accommodation as these vary from property to property and normally range from 12:00 to 14:00.
Why Jordan's Liability
We act only as a booking agent for any accommodation, transport, guide service, attraction and/or any other event or service on the booking and we have no liability of any kind whatsoever to you or your party or dependents for any death, personal injury, loss, consequential loss or damage of any kind you or your party or your dependents may suffer unless caused by our own negligence. Why Jordan Tours, our employees or agents are acting either as agents for the relevant supplier or as agents for you and your party.
Why Jordan Tours, its agents and suppliers also accept no responsibility or liability whatsoever for any government restraints, acts of war and terrorism, weather conditions, or for any misadventure or casualty or any other force majeure or causes beyond their control as set out in clause 6 above. Subject to the terms and conditions on this site, Why Jordan Tours liability shall be limited to up to the price paid for the booked arrangements.
Supplier's Conditions
You are bound by the booking conditions of the relevant service provider and conditions of carriage where relevant and these conditions apply to your contract with us. In the event of any conflict between the conditions of the relevant service provider and our own, the relevant service provider's conditions will prevail provided they are valid and enforceable, otherwise, our conditions will prevail. The relevant service provider's conditions may limit or exclude their and our liability to you and they may be subject to international conventions. Copies of the relevant parts of these terms and conditions are available on request from Why Jordan Tours or the relevant service provider.
Travel Insurance
It is a condition of our contract with you that you and all members of your party have suitable and sufficient travel insurance to cover your journey as neither Why Jordan Tours nor our suppliers can be held responsible for any liability, expenses or losses you incur as a result of being inadequately insured. We strongly recommend that at the time of booking a comprehensive travel insurance policy is purchased.
Your Responsibility
Please note you are responsible for your and your party's actions. If we or our suppliers believe your actions or those of your party could cause danger, upset or annoyance to other customers, guests or staff, we or our suppliers may end your booked arrangements immediately. In this event neither Why Jordan Tours nor the relevant service provider(s) will pay compensation, make refunds nor pay any expenses you suffer as a result.
It is also your responsibility to respect the local culture, customs, and dress codes. You are responsible for your personal safety and for the safety of the accompanying people dependent on you. Please take time to understand and then conform to the health and safety rules stipulated by the relevant service provider or the facility or by the appropriate government authorities.
You agree to defend and indemnify Why Jordan Tours, its affiliates, and/or their respective suppliers and any of their officers, directors, employees and agents from and against any claims, causes of action, demands, recoveries, losses, damages, fines, penalties or other costs or expenses of any kind or nature including but not limited to reasonable legal and accounting fees, brought by:
You or on your behalf in excess of the liability described above; or by third parties as a result of your breach of this agreement or the documents referenced herein; your violation of any law or the rights of a third party; or your use of this website.
Hotel Reservations
The star ratings may be different from official ratings as they vary significantly by country, and often within countries. Hence it is your responsibility to review the description of hotel facilities, rooms, meals and other amenities to make the best decision for yourselves.
It is your responsibility when making a reservation to ensure you have booked the correct room type for your needs. All details of the room types and the number of people that can be accommodated in the room are available on the website and should be double-checked on your email confirmation.
You acknowledge that the availability of the facilities and features listed for each hotel are under the direct control of the hotel and as such Why Jordan Tours or its affiliates cannot be held responsible if those facilities or features are not made available to you during the period of your stay. If a facility or feature is of particular importance to you, then you should check with Why Jordan Tours customer service or the hotel that this facility or feature will be available during your dates of stay. Please note that, in particular, swimming pools and air conditioning are only available seasonally and it is your responsibility to check whether these facilities will be available during your stay. You acknowledge that the inclusion in the hotel's facilities of car parking means that a provision is made by the HOTEL FOR car parking. You acknowledge that the availability and cost of the car parking are determined by the individual hotel. It is your responsibility to check the availability and cost of the car parking provided by each hotel.
Airport and Port Transfers
You are responsible for providing precise arrival time and pick-up location information (like airport, flight number, cruise docking port, hotel address) at least 72 hours before the travel date to the contact email. Failure to do so can lead to loss of service and Why Jordan Tours, or the relevant service provider will not be liable for any refunds or penalties.