Sold Out
Active Slovenia Getaway for Two

Ljubljana, Slovenia

7 nights
---
or talk to Vacayou travel concierge
Everything an active traveler and explorer could want. Steeped with adventure, history as well as fun, this getaway takes you through caves, fairytale-like cities, vineyards and idyllic landscapes. Discover traditional Slovenian food, visit Bled island and explore the sights of Ljubljana on two wheels. From adrenaline-fuelled experiences such as sliding down waterfalls and mysterious cave rafting to more zen experiences such as riverside yoga and spa treatments, this Slovenian getaway hosted by Roundabout Travel will be one wellness vacation to remember.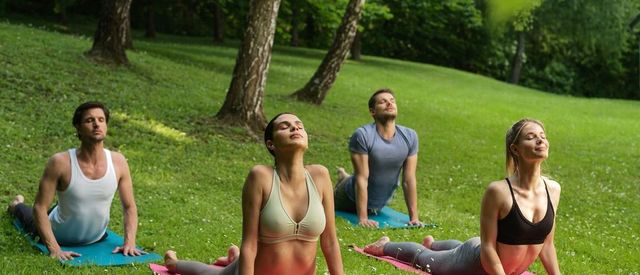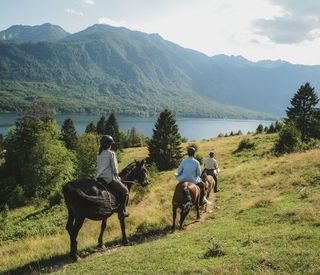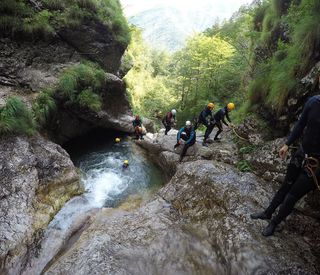 Experience
Let each day bring you something different. From bike rides through the historic center of Ljubljana to water adventures, horseback riding and yoga, spend an active holiday in Slovenia.
Embark on a scenic boat ride to Bled Island and visit the well-known castle "Blejski grad"
Explore Slovenia's largest glacial lake and drink water from the Trenta Valley springs
Bike through the lively capital Ljubljana and wander the paths that only locals know 
Enjoy historical and cultural tours, go wine tasting and eat traditional Slovenian food
Play a round of golf at one of Europe's most famous courses 
Pamper yourself with an evening of wellness and spa treatments
Canoe in Soča Valley and raft through caves and impressive waterways
Enjoy mindfulness and holistic practices, including riverside yoga, sound healing and meditation in nature
Stay at charming hotels and cabins with different experiences each day
Itinerary
Welcome to Ljubljana! Upon arrival, your driver will take you from the airport to your hotel. Once you've checked in and freshened up, you can expect a fun bike ride in the city with a picnic and a local guide. Ljubljana is incredible to explore on wheels! The main advantage of exploring the lively capital on two wheels is the ability to see interesting places outside of the pedestrian city center, such as the beautiful Ljubljanica River embankments, abandoned military objects and beautifully arranged lush green park areas. You'll access the main attractions and it's a unique opportunity to discover a wider area with all the cozy local stops. 
Cruise through the city's hidden narrow streets, stop to see the major attractions and explore the Roman remains and architectural wonders scattered all over the city. Visit some of the most interesting districts of Ljubljana and have fun discovering different vibes as you wander the paths that only locals know about. And the cherry on top? A relaxing and well-deserved picnic under the trees just a few steps from the vibrant streets of the old town!
Duration: 3h
Optional: SUP in the capital - Ljubljanica River - later afternoon (2h)
Overnight at Hotel Cubo (or choose Zlata Ladjica Hotel upon request)
Today, you'll check out early and after breakfast, hop into a private transfer to Bled. Here, you'll enjoy a scenic boat ride to Bled Island and visit the well-known castle perched on the top of the cliff. You'll also visit the famous 17th-century church built on the small iconic island in the middle of the lake—a traditional pletna. Of course, there will also be a tasting of the delicious traditional local dessert "kremšnita" to make the experience complete. 
In the afternoon, you'll have several activities to choose from. You can enjoy a relaxing walk around the impressive natural canyon Vintgar Gorge, try fly-fishing or enjoy Slovenia's largest glacial lake Bohinj with horseback riding. (Activities are not included and are upon request).
In the evening, you'll check-in at the Sunrose 7, an adults only boutique heritage hotel. You can end the evening with a relaxing evening in the wellness area. The hotel spa offers seven elements of relaxation and can accommodate up to six people to offer superb privacy. Treatments need to be chosen in advance and are adjustable to your wishes.
This morning, you'll enjoy great fun while golfing away at the famous Royal Bled golf course! Play a round at this magnificent course that is classified among the top 25 golf courses in Europe. Surrounded by the dramatic mountains and sweeping valleys of the Alps, it offers perfectly manicured surfaces, a strategic layout and a rare opportunity to play golf in complete tranquility. Choose between the 18-hole King's course and the 9-hole Lake Course. (H.I. recommendation for play on King`s Course: Men 28,0 and Ladies 36,0. HCP certificate is required)
Duration: 4 hours
In the early afternoon, relaxation for two at the local spa Wellness Živa in Bled awaits. Treat yourself to Rikli-style holistic relaxation at the Rikli Balance Hotel with thermal water and a rich selection of wellness programs with an Alpine character!
How about a relaxing Alpine program for two? This program includes:
A bath with essential pine oils (40 min) that relaxes the body and mind and softens the skin
2 classic massages with oils made from mountain herbs (50 min) that promote a cheerful mood
3-hour visit to saunas with swimming pools, including a towel, a bedsheet, tea, and water 
Afternoon optional: lunch or dinner in a local restaurant
Indulge in a great lunch or dinner and  tantalize your taste buds in one of the local restaurants, such as the recommended Bled Castle Restaurant, Garden Restaurant in Garden Village Bled or the Restaurant Kavarna pod Kostanji (part of your accommodation Sunrose 7 hotel).
Today, you'll check out around 8 am and then head to Soča Valley and to the highest Slovenian mountain pass, Mt. Vrsic, with incredible views of the Julian Alps.
On the way, you'll experience what it's like to drink refreshing, crystal-clear water from the spring and then land in the beautiful Trenta valley. You'll continue on to Bovec which is a melting pot of superb natural attractions. The village is famous for the emerald green alpine Soča River scenery and has grown into a highly appreciated Slovenian extreme sports center. 
The sites on the way crossing the mountain pass Vrsic offer unique views of a ropeway conveyor, pitfalls, the Russian Chapel, the Kluze Fortress, various military via Ferrata, and many other unspoiled features of great natural and historical value.
Stop at the mysterious Kozjak Waterfall — one of the most charming, hidden and stunning waterfalls in Slovenia located not far from Kobarid. Or, walk around Tolmin Gorges (optional) which is a magnificent natural attraction and the lowest entry point into the Triglav National Park.
Afternoon & evening schedule
5 pm Relaxing Riverside Yoga
In the afternoon, you'll indulge in an unforgettable experience of riverside yoga while surrounded by the most pristine nature. Alternatively, you can choose a special SUP yoga or sunset yoga which can be done on the top of the hill enjoying spectacular views combined with a glass of wine.
7 pm Check-in at Hotel Soča
In the evening, you'll check in to Hotel Soča, located in the heart of Bovec. The carefully chosen location impresses with its attractive views of the peaks that surround the valley and offers you a relaxing retreat from everyday life. 
Today, an adventurous day and soul-nourishing day awaits! 
The morning adventure is the most popular and least physically demanding canyoning in the Soča Valley, suitable for everyone, including families! With diversity and playfulness, you'll get a chance to jump into crystal clear pools and slide down natural slides in the heart of the unspoiled nature of the Sušec stream. 
As you go along, the difficulty increases: from short jumps and easy slides to longer ones, including a 20-feet (6-meter) jump and an adrenaline-filled descent down a 33-feet (10-meter) waterfall with the help of ropes. You can decide just how much or how little adrenaline is enough for you!
*exact start time will be confirmed later.
Afternoon & evening schedule
3 pm Forest Selfness—Relaxation under the treetops
In the afternoon, a unique relaxation under the treetops, based on an organized hike on an easy hiking trail, awaits. Here, you get to stop at different theme-based areas and experience and learn about the healing effects of nature. You will invite deep relaxation as you will be led by experts in the fields of meditation, personal and spiritual growth, and reflexology, as well as tasting Cerkno culinary delights.
This experience brings efficient stress management, guided sound therapy, delicious culinary delight and much more!
7 pm Check-in at Hotel Kendov Dvorec
In the evening, you'll check into the unique 5* countryside manor and a member of Relais & Chateâux. The magnificent building of the former Kenda homestead has been renovated and revived in the spirit of times past. The rooms are furnished with antique furniture and the hotel offers a unique dining experience with authentic dishes, prepared by Kendov Dvorec's chefs. 
Today, you'll start your day by experiencing a true place of hospitality, warmth and local charm in the Narrow Vipava Valley. Set out on a tour in one of the most prominent wine regions in Slovenia with more wine cellars than family houses located in the Slovenian Littoral, close to the Italian border. 
The valley is known for its crisp and aromatic fresh white wines and progressive and bold winemakers. The picturesque green valley with breath-taking nature is dotted with stone-built villages located on the hilltops, where narrow streets and squares are often swept by the violent "burja" wind.
Hike to the top of the hill (or take a ride), fly like a bird above the beautiful nature with a well-experienced paragliding instructor and taste some delicious wines after landing in a local vineyard. 
Evening schedule
7 pm Theodosius Forest Glamping Village
Spend the night in a luxurious cabin with some of them offering a sauna and an outdoor hot tub, and pamper your taste buds in a Theodosius restaurant. Hidden in a centennial pine forest overlooking the majestic Vipava Valley, experience authentic nature and modern comfort. These cozy homes provide the opportunity to relax and recharge your batteries in between the excursions.  
Welcome to the land of the bora, sweeping across the landscape, unique natural phenomena above the Earth's surface as well as underneath, the intermittent lakes and disappearing rivers. Properly equipped with cave rafting equipment, embrace the feeling of a true explorer while taking a rubber raft down the underground lakes, famous for the extinct cave bear bones. 
After breakfast, your transfer will take you to the Križna cave where you'll set sail for cave rafting at one of the least explored but astonishing Karst caves in Slovenia.
*Start time will be confirmed later. The order of sightseeing stops on this day may change. In the event of extreme drought or floods, the tours might be canceled and replaced with other activities. 
Afternoon schedule
3 pm Exploring around Rakov Skocjan and Lake Cerknica with surroundings
From the Križna cave, you'll head to the Rakov Škocjan valley, also known as the first Slovenian regional park stretching 1,55 miles. (2,5 km). The valley was formed by the sinking and collapsing of the Karst cave ceiling and is well known for its natural bridges (Little & Big bridge) and gorges. This valley of the Rak stream has its own educational trail which you can walk around while admiring the beautiful nature creation.
This is followed by the secrets of the mysterious Lake Cerknica, the biggest intermittent lake caught between the Javorniki hills, Bloke plateau, and Mt. Slivnica. Walk around the lake, rent a rowing boat, spend moments of romance with your loved one on the lake or simply enjoy and photograph the beautiful surroundings.
6.30 pm  Private transfer to Hotel in Ljubljana or optional: back to St Daniel hotel in Štanjel
Overnight at Hotel Cubo or similar. Alternative hotel suggestions are Zlata Ladjica Hotel Ljubljana or optional alternative: stay in Štanjel - St Daniel Hotel.
Today, a private transfer will take you from Ljubljana to the Ljubljana airport. Until the next adventure!
FAQ
Not included in the package:
Flight to Slovenia
SUP along Ljubljanica River (on request)
Vintgar Gorge (on request)
Fly-fishing activity (on request)
Horseback riding at Bohinj (on request)
Tolmin and Vintgar Gorge (on request)
Drinks based on consumption and additional meals
Additional tours and entrance fees
Personal expenses & gratuities
Terms
This tour is hosted by Roundabout Travel.
Deposit Policy
A deposit of 30% is required to confirm your reservation and the remaining amount is to be paid 30 days prior to your arrival.
Cancellation Policy
The client is entitled to cancel or change the agreed travel arrangement directly with the operator where the booking was made. Please note there is an administration fee of 25€ (EUR) for any amendment of the confirmed travel arrangement.
Cancellation policy for Roundabout Travel private multi-day package tours:
59-45 days before departure, cancelation fee is 15% of the total price
44-30 days before departure, cancelation fee is 30% of the total price
30-15 days before departure, cancelation fee is 50% of the total price
14-8 days before departure, cancelation fee is 75% of the total price
7-0 days before departure, cancelation fee is 100% of the total price
For no-shows, the cancellation fee is 100% of total price.