Zion Mountain Ranch
Zion Mountain Ranch Stay with Active Jeep Tour

Mount Carmel, Utah, USA

2 nights

from $349 Per Night

Based on rate for two guests
---
or talk to Vacayou travel concierge
Where the red rocks meet an endless sea of green, Zion Mountain Ranch greets guests with Western hospitality, a mellow pace and flair for adventure. Get your adrenaline pumping on a rugged jeep tour of some of the lesser-known areas around Zion National Park. Hold on tight while your vehicle descends from a perch overlooking Zion's East Rim Trail, down through a pine forest to the edge of the national park.
Take in staggering views and explore the towering red rock formations that decorate Southern Utah's colorful canyons. There's no place quite like the ranch's backyard with so many national parks and wonders in such close proximity. And you'll feel right at home on the range in your luxurious, lodge-style accommodations after each action-packed day.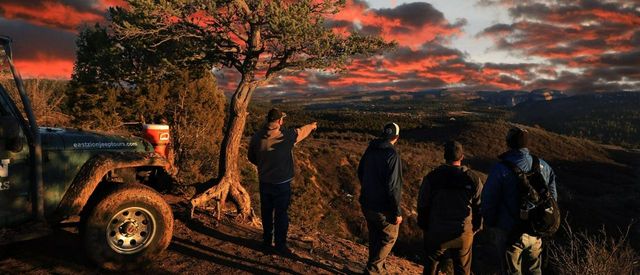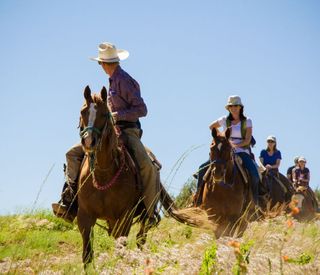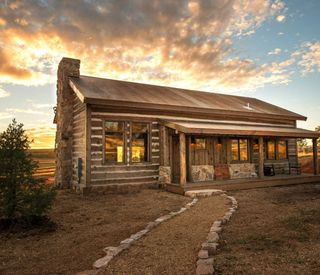 Experience
Adventure meets easygoing at this luxurious, authentic destination—Zion Mountain Ranch. With jeep tours, guided hikes, canyoneering excursions and horseback rides through the mountains, there's no shortage of thrills to be had just a stone's throw from Zion National Park.
Take a scenic jeep tour to a few of Zion's most spectacular rock formations including Checkerboard Mesa and Jolley Gulch
Hike to stunning overlooks of breathtaking peaks, impossibly vast canyons and lush greenery that stretches on for miles
Rappel into remote slot canyons on an unforgettable canyoneering tour
Unwind in the luxurious accommodations of your lodge-style suite
Dine on exceptionally prepared farm-to-table cuisine
Offers
2-Night Minimum
from
$349
Per Night

Based on rate for two guests
Package Includes:
2-night (minimum) stay in luxurious lodge-style private accommodations
1 Checkerboard Overlook Jeep Tour for two people (1 hour, mild/rugged)
Additional Jeep Tour excursions for an additional price. See options below:
Top of the World Jeep Tour | 1.5 hours | mild
Brushy Cove Jeep Tour | 1.5 hours | technical/rugged
Zion Sunset Jeep Tour | 1.5 hours | rugged
Red Canyon Jeep Tour | 2 hours | mild/rugged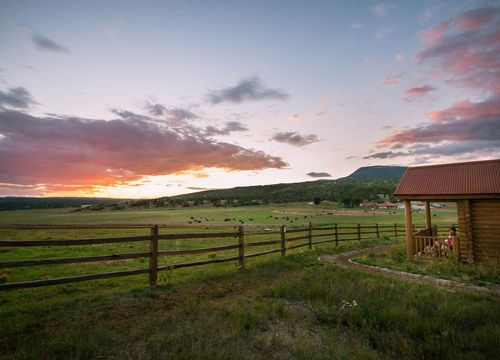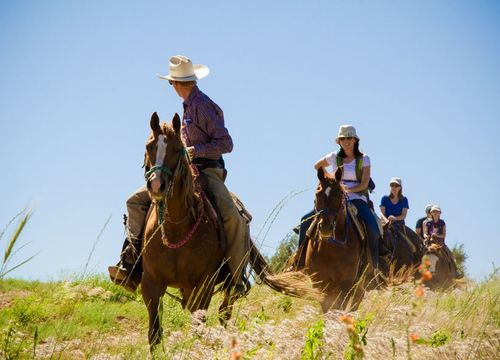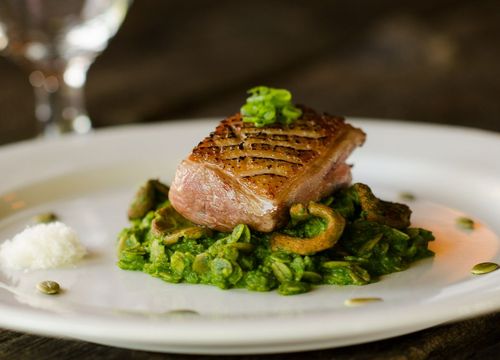 Accommodations
Zion Mountain Ranch has a selection of spacious private cabins that blend rustic charm with updated amenities. No two cabins are alike, varying in size and theme. Most feature fireplaces, jetted tubs and small kitchenettes. Private balconies or porches ensure breathtaking views of the meadows, canyon or grazing buffalo.
THE MEADOW CABIN
The Meadow Cabin is located across the street from the main lodge and restaurant, this cabin has everything you'll need on your adventure to Zion. Available with 1 or 2 king beds.
THE RIM CABIN
The Rim Cabin is the most secluded and private cabin suite featuring giant picture windows with breathtaking views of the canyon and a large deck that sits on the rim of Meadow Creek Canyon.
THE PRESERVE CABIN
The Preserve Cabin features a cozy rustic decor, fireplace, private patio, king-size beds and plenty of space—making this private mountain cabin a very comfortable stay. Available with 1 or 2 king beds. The Preserve Cabin 1 Bedroom is perfect for couples or small families who want a little more space. The Preserve Cabin 2 Bedroom has two master suites with jetted tubs on separate floors, a queen-size couch hideaway bed, three fireplaces, a large lower deck and an upper balcony with amazing views.
THE PRESERVE CABIN SUITE
The Preserve Cabin Suite is the most popular cabin style with all the comforts of home. In addition to the standard amenities, this cabin suite also features a large champagne-style jetted tub.
Features & Amenities
Air conditioning
Complimentary coffee
Fireplace in rooms available
Guest laundry available in select cabins 
Wi-Fi
Jetted tub rooms available
Kitchenettes with microwave and refrigerator available in select cabins
Television 
Pets Allowed (in Meadow and Preserve cabins only)
FAQ
Bring a camera! You do not want to miss the tour so please arrive 15 minutes early. This tour may not operate during severe weather conditions. Dress warmly during fall, winter and spring tours.
Terms
Guarantee Policy
Credit card guarantee required at time of booking.
Deposit & Cancellation
One night room plus tax charged at booking. Deposit is non-refundable if canceled within 30 days of arrival.
For the Jeep Tour: Cancellations made within 24 hours of trip departure are non-refundable. Cancellations made outside 24 hours of trip departure time may receive an 80% refund.