About Zion Mountain Ranch
Located just minutes from the east entrance to Zion National Park, Zion Mountain Ranch is a premier lodging property with views that stretch miles upon miles and a meadow of roaming horses, bison and other farm animals. The combination of upscale cabins and lodges with national park adventures at your doorstep makes this home on the range an authentic western destination.
What We Love
Adventure meets laid-back at this authentic western destination—just a stone's throw from Zion National Park. While staying here you can be sure to have a very unique experience complete with awe-inspiring views, a buffalo herd right on property and Zion National Park as your backyard.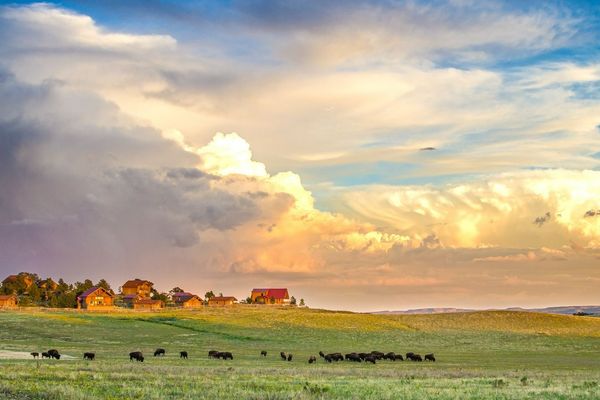 Experience
Zion Mountain Ranch is located right in the center of many national parks and acts as the perfect basecamp for many exciting day trips. Adjacent to the ranch is Zion National Park, a glorious canyon with towering sandstone formations. If you find yourself within the park at sunrise or sunset, be prepared for a truly awestruck experience. While Zion surely makes an impression, about an hour away is Bryce Canyon, a land of contrasts with towering green ponderosa pines against vibrant red and orange sandstone spires known as "hoodoos." And you've probably seen pictures of this place—the Grand Canyon is a spectacle of unmatched proportion that you have to see at least once. Yeah, it's two hours away but the ranch can pack a lunch!
Activities
From horseback riding, canyoneering, mountain biking, hiking and fly fishing, there's no shortage of fun things to do on the ranch. Zion offers guided horseback tours for guests of any riding ability. Choose from 1, 2 or 4 hour rides through the mountain surrounding Zion National Park. Experience incredible rock formations and sweeping views from some of the lesser-known areas around Zion National Park with a scenic jeep tour. Learn the ropes and rappel into some of Utah's most dramatic and remote slot canyons on a canyoneering tour. Or hike to stunning overlooks of massive canyons and breathtaking peaks. There's a guided hike for explorers of all experience levels.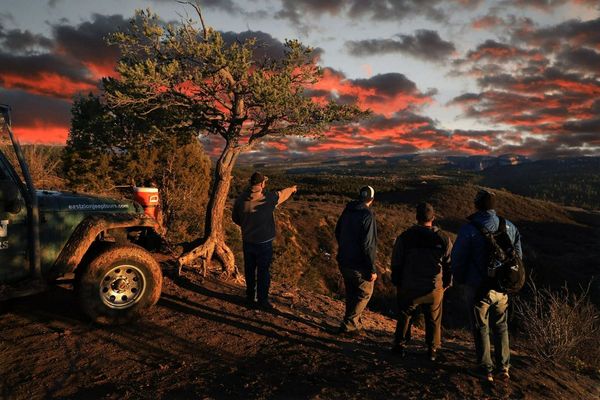 Culinary Highlights
While the menu at Cordwood is always changing based on the harvest, the approach is constant—to honor the ingredients through cuisine that is both simple and elevated. Whether it is breakfast, lunch or dinner the culinary team is always innovating to provide the freshest farm-to-table dining experience. Above all else, the hotel is a ranch. Careful management of the land and healthy sustainable food production is at the heart of the operation. What isn't grown here, the kitchen carefully sources ingredient by ingredient. True satisfaction comes in sharing it with the guests.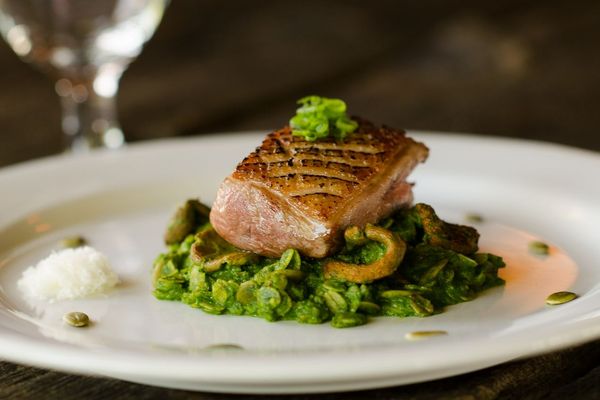 Zion Mountain Ranch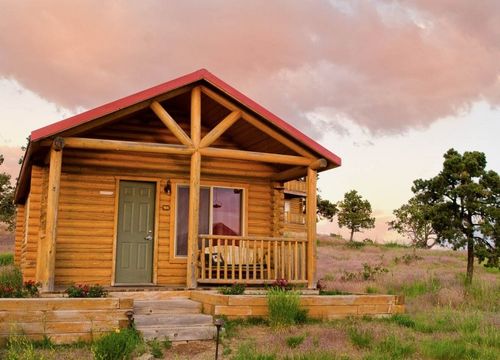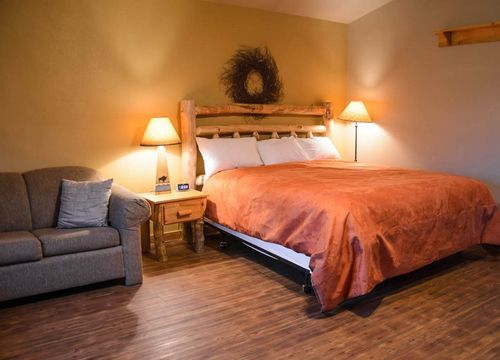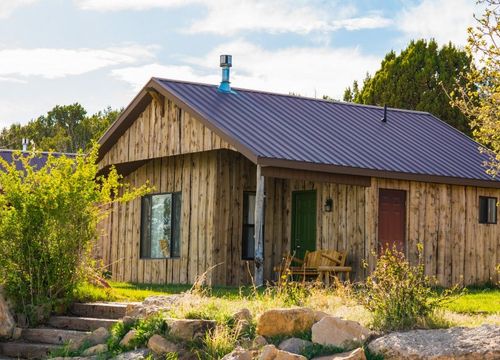 Accommodations
Zion Mountain Ranch has a selection of spacious private cabins that blend rustic charm with updated amenities. No two cabins are alike, varying in size and theme. Most feature fireplaces, jetted tubs and small kitchenettes. Private balconies or porches ensure breathtaking views of the meadows, canyon or grazing buffalo.
THE MEADOW CABIN
The Meadow Cabin is located across the street from the main lodge and restaurant, this cabin has everything you'll need on your adventure to Zion. Available with 1 or 2 king beds.
THE RIM CABIN
The Rim Cabin is the most secluded and private cabin suite featuring giant picture windows with breathtaking views of the canyon and a large deck that sits on the rim of Meadow Creek Canyon.
THE PRESERVE CABIN
The Preserve Cabin features a cozy rustic decor, fireplace, private patio, king-size beds and plenty of space—making this private mountain cabin a very comfortable stay. Available with 1 or 2 king beds. The Preserve Cabin 1 Bedroom is perfect for couples or small families who want a little more space. The Preserve Cabin 2 Bedroom has two master suites with jetted tubs on separate floors, a queen-size couch hideaway bed, three fireplaces, a large lower deck and an upper balcony with amazing views.
THE PRESERVE CABIN SUITE
The Preserve Cabin Suite is the most popular cabin style with all the comforts of home. In addition to the standard amenities, this cabin suite also features a large champagne-style jetted tub.
Features & Amenities
Air conditioning
Complimentary coffee
Fireplace in rooms available
Guest laundry available in select cabins 
Wi-Fi
Jetted tub rooms available
Kitchenettes with microwave and refrigerator available in select cabins
Television 
Pets Allowed (in Meadow and Preserve cabins only)
Location
Zion Mountain Ranch is located in Mount Carmel, Utah, in East Zion National Park.