About Vilnius Grand Resort
A room key unlocks more than a door at the Vilnius Grand Resort. It opens thoughts to new experiences, impressions, emotions, subtle sensations to the surrounding environment and culinary art. The spa resort is a complex of leisure, recreation, entertainment and events that delight guests with exceptional service. Just 20 minutes from the city center, the sprawling modern resort is surrounded by lakes and forests with rolling hills that blend harmoniously into the landscape, inviting you to discover nature, delicious food and some of the best spa treatments in the Baltics. 
What We Love
A spa vacation is not the first thing that comes to mind when thinking about Lithuania, but it really is all about the spa at Vilnius Grand Resort. You can spend an entire day in the V Spa & Wellness Center and never leave, especially if you choose a deluxe room located in the building. The comprehensive spa program covers everything that you could ever dream of in terms of treatments and therapies—all tailored specifically to your wellness needs. After a bit of pampering, head to the pool areas for your own private pool party. Our favorite is the vitality zone complete with water treatment facilities including two Jacuzzis, three different saunas, a steam bath and a grotto pool. Did we mention there's also an 18-hole championship golf course, three lakes and a private sandy beach?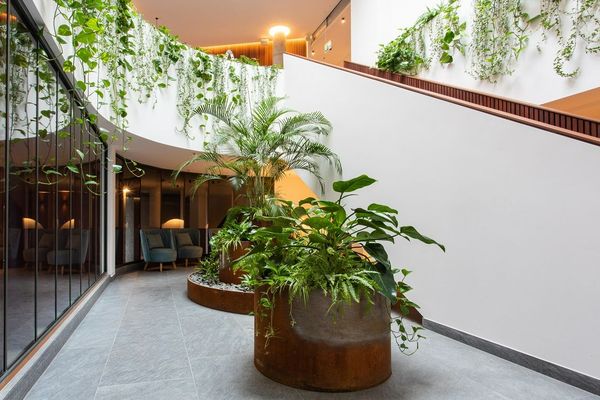 Spa
Inspired by ancient Eastern healing rituals and Western medical practices, the V Spa & Wellness Center offers a range of wellness programs for detoxification, weight control and rejuvenation. Using the most advanced equipment and state-of-the-art technology, treatments are tailored to the individual needs of each guest and are designed to promote emotional, physical and mental well-being. Treatments vary from holistic aesthetics, expert massage therapies and therapeutic baths to signature rituals and Indian balancing massages. Pamper yourself with a re-mineralizing and rejuvenating pink garnet body wrap or try a holistic Ayurvedic body and Indian head massage. The facility boasts two separate pool zones, six saunas, twenty-four treatment rooms, a yoga studio, two fitness centers and a restaurant serving healthy Japanese cuisine.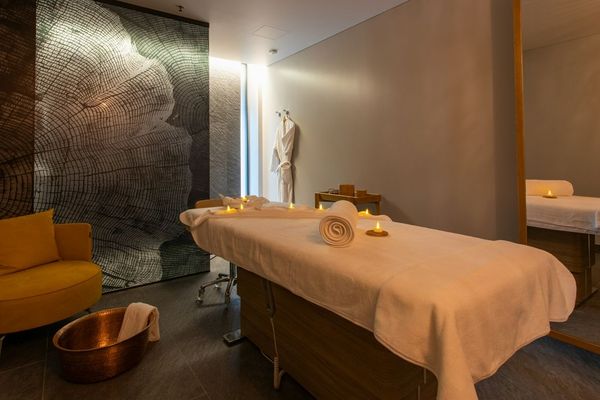 Experiences
If you're looking for that little bit more, escape to the recreation area for innovative physical well-being therapies. The floatation tank is a lightless, soundless soothing pod filled with highly concentrated Epsom saltwater heated to the skin temperature. Floatation therapy is also known as sensory deprivation - the simple act of floating to aid relaxation with all sights and sounds removed, allowing you to drift into a meditative state that rejuvenates the mind and body. The Himalayan salt room, saturated with natural Himalayan salt essence, helps create a reciprocal connection between thoughts and emotions. While activating the body's energy flow, it achieves body-and-mind balance. Thanks to natural essential oils, the aromatherapy room creates a healing spa environment with its unique selection of seasonal and authentic aromatherapy scents that infuse the air with a light and pleasant stress-reliever mist.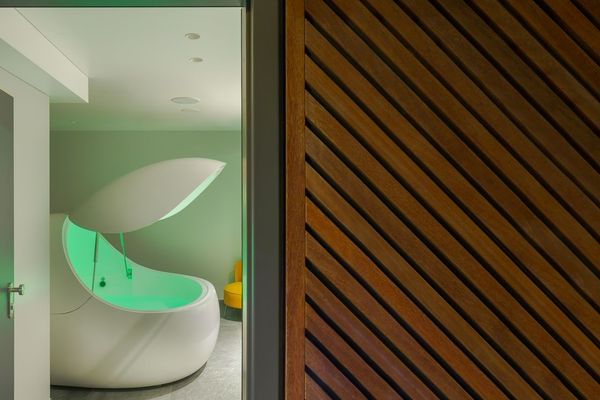 Culinary Highlights
Are you looking for Polynesian-inspired, Japanese, French or Italian cuisine? Whichever restaurant you choose, you are rewarded with a gastronomic experience built around the ambiance of the restaurant. Bora Bora is the resort's exotic waterfront summer restaurant that serves up Asian BBQ with a spectacular view. The SPA Restaurant serves healthy and organic Japanese fare in a relaxed setting. Overlooking the picturesque lake, Le Paysage is renowned for its French cuisine and large outdoor terrace. For those who prefer Italian gourmet, the concept restaurant Trattoria Verde is located in the V Golf clubhouse. The welcoming Sunset Lounge & Bar serves up snacks, desserts and signature cocktails from morning until late evening.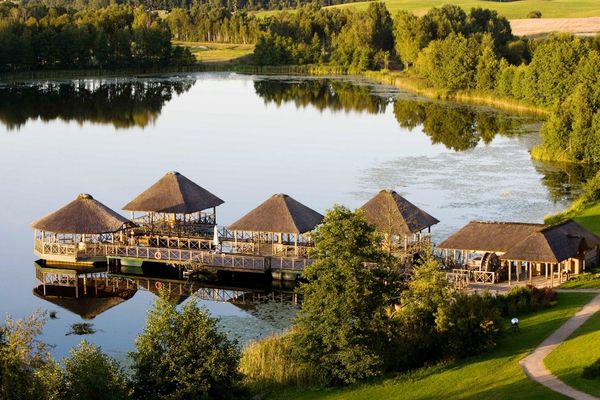 Vilnius Grand Resort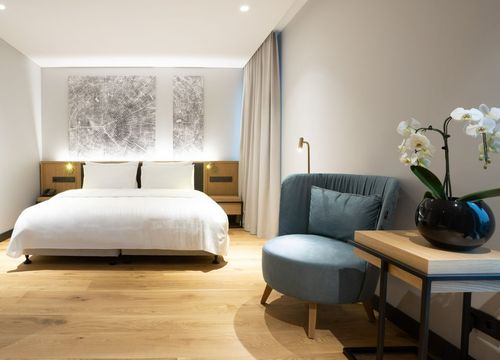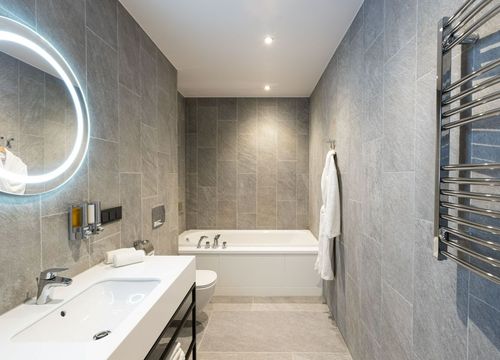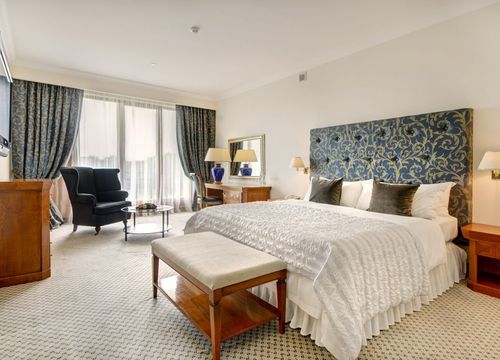 Accommodations
The spacious, inviting rooms and suites provide the perfect stay where you can unwind in comfort and style.
Deluxe guest room
Offering plush comfort and modern style in equal measure, the deluxe guest rooms are in the V SPA & Wellness Center building. All deluxe rooms feature a bathtub, air-conditioning, flat-screen TV and in-room safe. Rooms come with a king-size bed or twin beds.
Superior guest room
These spacious and air-conditioned rooms with balconies overlook the picturesque lake. Rooms are furnished with queen-size beds or twin beds. Each superior guest room has a writing desk, seating area, flat-screen TV, in-room safe and bathtub.
Features & Amenities
Medical consultations and diagnostics
Holistic consultations and diagnostics
Swimming pool with grotto
Indoor and outdoor Jacuzzi
Finnish sauna, steam room, Russian sauna
Fitness center and yoga studio
18-hole championship golf course
Tennis, volleyball and basketball courts, boating dock, sandy beach
Complimentary shuttle bus to/from city center
Complimentary Wi-Fi
Location
Vilnius Grand Resort is located in Vilnius, Lithuania.