The Sanctuary Beach Resort

About The Sanctuary Beach Resort
A rare Monterey Bay hotel on the beach, The Sanctuary invites guests to fall asleep to the soothing surf from their private waterfront cottage. The Sanctuary Beach Resort enchants with 60 contemporary cottage guest rooms and suites that offer more than just uninterrupted, panoramic views from private decks or patios. Guests can enjoy upscale en-suite amenities as well as roaring gas fireplaces on the terrace on breezy nights. Nearby wineries, the sights along the coast and excursions onto Monterey Bay all await guests who can end their day with an oceanside sunset bonfire or at the nightly wine and cheese tasting.
Monterey Bay, California

Boutique Hotel
Experience
You can't get any closer to sleeping on the beach than here. With resort activities like sunset bonfires and coastal hikes, this Monterey luxury resort is perfect for a coastal escape. In addition to the warm waves of the Pacific, The Sanctuary also has a swimming pool that is heated to 82 degrees year-round. Guests are just a short drive away from attractions in Monterey and Carmel (think: marine sanctuaries and national parks, trattorias facing the marina and secret wine cellars). And the pet-friendly policy makes visiting fun and easy for everyone—including the four-legged members of your family. Repeat guests know The Sanctuary is where to stay in the area for full-service resort offerings like nightly wine and cheese tastings and private beach access. The guest experience team can make arrangements for whale watching excursions, Moss Landing foodie tours and Big Sur hikes.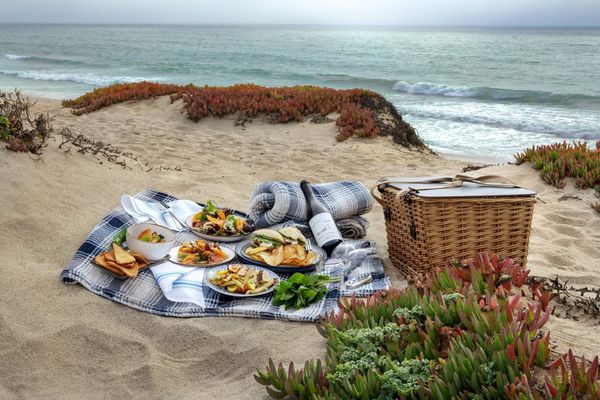 Activities
The Sanctuary Beach Resort Cruisers are perfect for getting a little exercise while discovering the chic streets of Monterey. Take a quick ride along the coast to enjoy the salt-scented sea breeze and breathtaking views of the Pacific Ocean. The retro-style Cruisers have a charming vintage finish, including a basket for toting picnic supplies, towels or anything else you might need. Bikes are available for guests on a first-come, first-serve basis every day from dawn until dusk. Each bike comes with a bike lock and helmet for your ride around town. Every Saturday and  Sunday, you can reinvigorate your mind and body with yoga on the beach. This complimentary wellness experience is designed to allow you to flow and strengthen among your natural surroundings. The hour-long practice concludes with mindful meditation. Also on the weekends, hike the easy two-mile loop through the picturesque trails of the Marina Dunes Preserve. After taking in the beauty of the dunes while learning about the lush plants and protected wildlife, the hour-long walk will culminate on the beach where guests are invited to beach comb and observe the adorable seabirds playing along the wave line.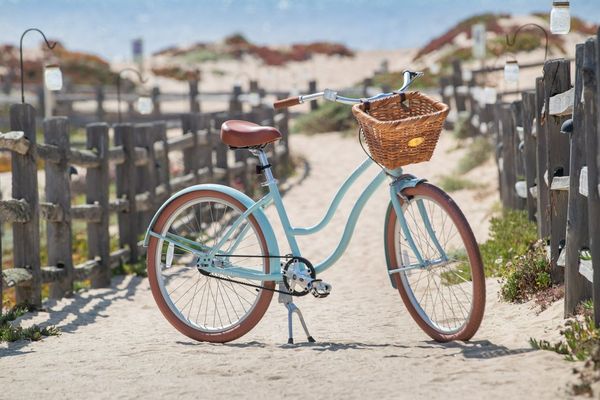 Culinary Highlights
Indulge your senses at Salt Wood Kitchen & Oysterette Restaurant, where the chef's utilize the bounty of California's Central Coast to create seasonal, ingredient-driven New American cuisine. The new culinary destination of the Monterey Bay area offers an oyster bar and central live-fire open kitchen, allowing diners to watch chefs transform locally sourced produce, fish and meats into wood-grilled delicacies. With the ocean as its backyard, Salt Wood features three distinct areas for dining—a full-service dining room, lively bar and outdoor patio. Enjoy signature cocktails and local wines in our laid-back, coastal-chic restaurant.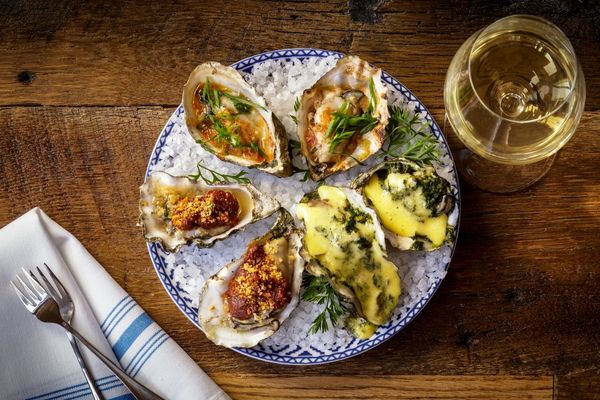 The Sanctuary Beach Resort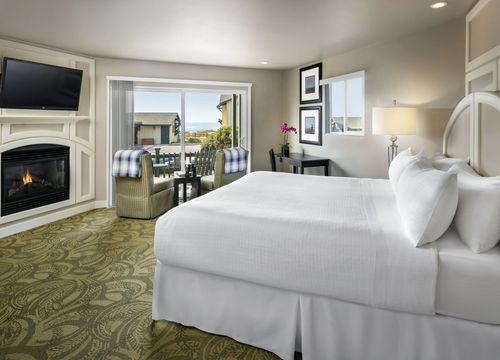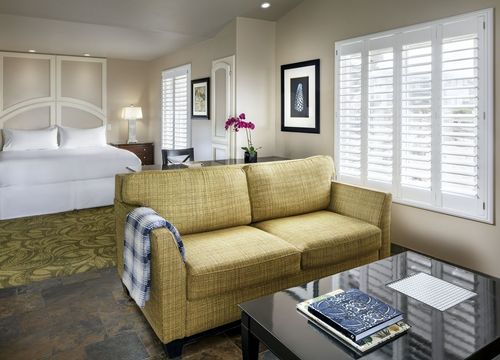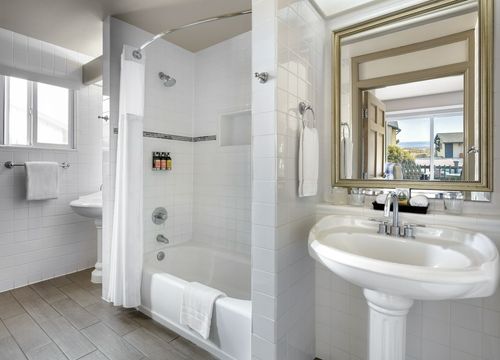 Accommodations
Clustered in luxury bungalows that hug the beach, the rooms invite guests to experience California's Central Coast from an undisturbed stretch of shoreline. Fall asleep under fine linens as gentle waves lap the sand, and begin each day with breakfast on a private patio or terrace with views of the wildlife-rich waters from one of 60 rooms and suites. Each room features Pacific views and windows overlooking the cascading sand dunes.
Deluxe Room
The 380-square-foot oceanfront deluxe guest room provides views of the bay, the Pacific Ocean and the Marina Sand Dunes. Guests can step onto their private patio or deck and watch the tide roll in or kick back in a king bed fitted with luxury bed sheets while a gas fireplace burns on brisk evenings. The oceanfront view deluxe rooms are also stocked with a number of upscale amenities, including flat-screen TVs, a Keurig coffee maker and L'Occitane bath products.
Junior Suite
Staying in one of the oceanfront suites allows guests to experience quintessential beach luxury. The oceanfront junior suites look out over Monterey Bay and the protected Marina Sand Dunes surrounding the resort. Perfect for a family, this suite boasts a private patio and a living room furnished with a sleeper sofa and wet bar. These oceanfront suites offer all of the resort's upscale amenities, including luxury linens, a flat-screen TV, a Keurig coffee maker and a gas fireplace for breezy evenings on the beach.
Features & Amenities
Private beach access
Nightly bonfires
Beach yoga on the weekend
Guided nature walks on the weekend
Sanctuary bicycles for complimentary loan
Outdoor heated pool
Concierge services
Same-day laundry and dry-cleaning ($)
Bocce ball court
Volleyball court
Croquet 
Wi-Fi
Complimentary use of binoculars
Pet-friendly ($)
Location
The Sanctuary Beach Resort is located in Monterey Bay, California.