The French Manor Inn and Spa

Luxury in the Heart of the Poconos Mountains
Known as one of the finest bed and breakfasts in the Poconos, The French Manor Inn and Spa in Pennsylvania is an enchanting stone chateau, offering smaller, intimate rooms, a luxurious spa with hot tub and indoor saltwater pool, and several indoor and outdoor dining options on-site. Built in the 1930s, the inn sits atop secluded Huckleberry Mountain in the heart of the Poconos and rests within the serenity of nature. Find relaxation during your journey to The French Manor with beautiful lawns and gardens and complimentary afternoon tea at your side. Enjoy breathtaking hiking opportunities, great shopping and more during your stay. 
Newfoundland, Pennsylvania

Boutique Hotel
Spa
At The French Manor, let Le Spa Forêt indulge your senses and your body with a wide range of spa services.
From massage therapy and facials to body treatments, there is an experience specially created for each traveler to help unwind. The Green Spa provides the ultimate relaxation retreat complete with Salt Water Pool, Hot Tub, Dry Sauna, relaxing chaises and couches, poolside refreshments and beverages, and more. 
Come sit by the indoor heated pool and watch the beauty of the Pocono Mountains behind the expansive atrium wall, or relax on a chaise outdoors while the warmth of the sun soothes your mind and soul. Experience ultimate relaxation and healing with a soothing body treatment, using all-natural, organic products to revitalize the skin, tone sensitive areas, meant to leave you glowing. Cleanse your most significant accent when by soaking up a new, radiant glow while exfoliating your skin with the Huckleberry Mountain Signature Facial. The Spa at Le Spa Forêt is a wellness sanctuary, ready for you to experience.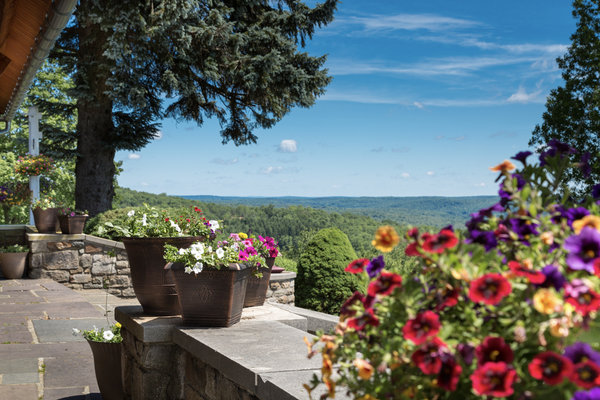 Activities
The centralized location at The French Manor Inn allows you to explore various sights and attractions during your stay at the Poconos.
Experience picturesque Poconos by hiking atop Huckleberry Mountain and witness nature's natural beauty, surrounding yourself with three State Parks: Promised Land, Tobyhanna, and Gouldsboro. During the warmer seasons, dock your boat by the nearby Lighthouse Harbor Marina to enjoy water-based activities like tubing or rafting. For winter adventurers, The French Manor Inn and Spa is conveniently located in the middle of ski mountains. 
Known as a favorite destination for amateur and professional golfers, enjoy championship courses, varied landscapes and spectacular scenery during your time at The French Manor. Just 10 minutes away from the site, Buck Hill Golf Course is a prestigious golf course with over 27 holes of classic golf. 
From horseback riding, raceway entertainments, museums to wineries, your stay at The French Manor Inn and Spa will provide you with a holistic experience of relaxation, adventure and time with nature.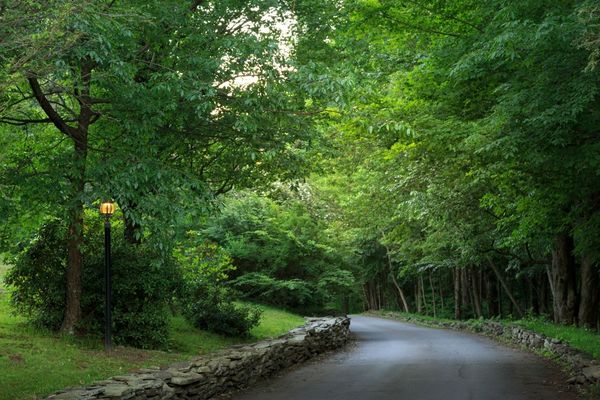 Culinary Highlights
Discover some of the best food in the area at The French Manor Inn and Spa, from hearty breakfasts to casual fare to classic French dinners and more. 
The gourmet dinner menu rivals other local Pocono restaurants with both a Classical and Nouvelle French Cuisine. Experience your meals in an elegant dining room which features a 40-foot vaulted ceiling and two massive fireplaces. Request a table on the terrace for a breath-taking view of the Pocono Mountains, or a table by the fireplace for the most romantic dining experience. 
Unlike other bed and breakfasts or hotels in the Poconos, a full gourmet breakfast is served in the dining room each morning. When the weather is nice, you may choose to take your breakfast on the Stone Veranda to enjoy the view. Breakfast in Bed can also be arranged with advanced notice (additional service charges apply).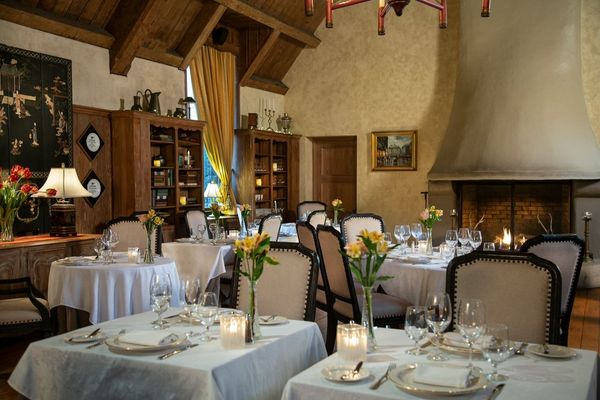 The French Manor Inn and Spa
During your stay at The French Manor Inn and Spa, experience an accommodation like no other. From the Spa Suites to the Manor Rooms, your comfort and relaxation is the utmost priority. Find tranquility in the accommodations and let this journey be a sanctuary away from home and work.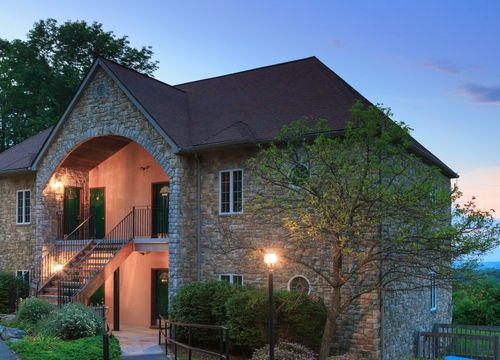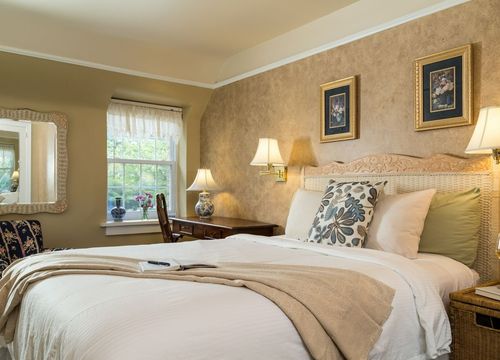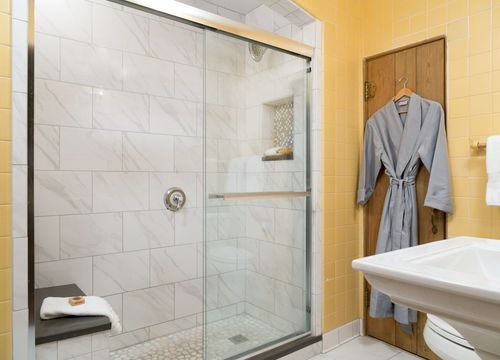 Accommodations
The luxury Poconos hotel features 19 premium rooms, all complete with the very best amenities and accommodations. Choose from rooms in the Carriage House with a comfortable country feel, or reside in any of the three Victorian style Manor rooms. Each room is steps away from the outdoors and one step closer to relaxation. 
No matter which of the rooms you choose, your stay at The French Manor Inn and Spa will be filled with endless relaxation and luxury. 
Features & Amenities
During your time at The French Manor Inn and Spa, rejuvenate with a plethora of on-site amenities and activities. 
Indoor salt water pool and hot tub

—

pool is equipped with a lift for handicap accessibility (please inform our office staff prior to arrival)

Steam sauna

Personal pre-arrival concierge

Le spa 

Forêt

: our green spa facility

Yoga with a view is offered in the summer and fall, most Saturday mornings (poolside if inclement weather)

Self-guided hikes

—

available on either our own trails or take an excursion to nearby state parks to explore the Pocono mountains with your own private guide (additional fees may apply for state parks–available with advanced notice). Please call our office for details.

Wintertime complimentary snowshoeing

Library of books and magazines

4-diamond restaurant with a pianist on the weekends (open for dinner and breakfast daily)

Casual cafe for dining and cocktails (open nightly)

Turn-down service in the evening with Godiva chocolates

Full-service bar and cocktails are available on request.
Each room offers unique amenities such as fireplaces, whirlpool tubs for two, private balconies, and more. Enjoy modern elegance during your stay with these in-room amenities. 
King or queen pillow-top beds

Triple sheeting

Private bath

Fireplace (suites only)

Whirlpool tubs for two (suites only)

Refrigerator and coffee maker (suites only)

Cable tv

DVD player

iPod docking stations

Hair dryer

Robes

Iron and ironing board

Complimentary decanter of sherry

Toiletries include l'occitane soap, verbena shea, shampoo, conditioner, body lotion, refreshing cloth, shower cap, an amenity kit with cotton balls, emory board, and q-tips.

Balcony (La Maisonneuve Suites and spa suites only)

Air conditioning
Location
The French Manor is located in Newfoundland, Pennsylvania.