About The Eddy Taproom & Hotel
An inviting atmosphere bustling with activity and booming with conversation, The Eddy Taproom & Hotel is a place for coming together with friends, old and new, and a space to unwind after a day spent exploring. Just as eddies provide refuge for river enthusiasts, The Eddy offers respite from the hustle-bustle of everyday life, allowing guests to relax and recharge before embarking on what's next, whether that's a big ride or a big hike. The guest rooms pay homage to the rich industrial history of the Gold Rush era and are built for adventure—yet outfitted with all of the modern items that today's explorer needs including Wi-Fi for scouting your next great excursion. If nature is at the center of your to-do list then this is your base camp. Situated at the foot of the Rockies, this boutique hotel is the ultimate springboard for those who love adventure. Whether you prefer outdoor activities like mile-high hiking and biking to kayaking and fly fishing the local rivers and lakes or just want to take in the jaw-dropping views while enjoying a locally crafted brew—The Eddy is your hub for all things in Golden.
Golden, Colorado

Boutique Hotel
What We Love
Because, hey, mountains! Embracing its awe-inspiring natural surroundings, the colorful history of its hometown and a welcoming community atmosphere, The Eddy is a place for coming together as well as a base camp for those who love an adventure. Warm, welcoming and where everyone feels at home—harmoniously layering industrial style with modern design and the spirit of the bygone Gold Rush era. And it's this fine attention to detail that presents guests with so much more with mile-high hiking, biking, skiing or splashing around the crystal clear waters that run through town. And after a day of exploration, there's no better place to après-adventure. Dine on mountain casual cuisine paired with local seasonal drafts and craft cocktails or head down to the resident food truck for all-day bites.
For a true mountain getaway without the trek up the mountains, The Eddy is for urban escape artists seeking a bit of outdoor adventure. Your Vacayou option includes:
Rooms that will leave you thinking how can I make my bedroom at home more like this
Jaw-dropping sunset mountain views
Access to rooftop patios with fire pits
A resident food truck offering all-day bites 
Food & beverage credit per day to use at the Taproom or Truck Eddy
24-miles of hiking and biking trails outside your front door
Yoga on the Rocks, film nights and live music at the Red Rocks Amphitheater
1/2 day rock climbing or ice climbing trip (based on the season), followed by a recovery amenity delivered to your room when you return
Late check-out to savor the adventure a bit longer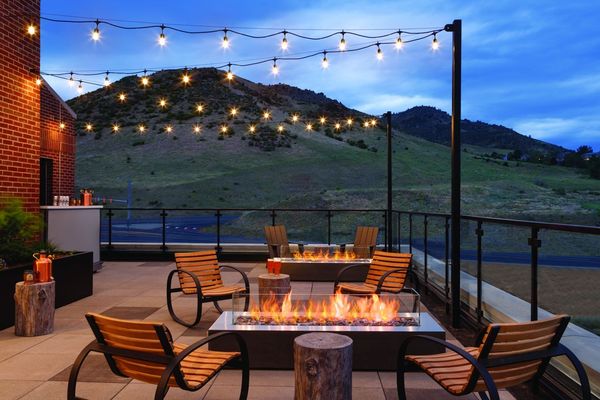 Activities
Just outside Denver, Golden is where the Rockies meet the Great Plains. A true mountain getaway without the trek up the mountains, Golden is for urban escape artists seeking a bit of outdoor adventure. The Eddy is minutes away from the iconic Red Rocks Amphitheater where you can enjoy fantastic outdoor concerts under the stars with acoustics only Mother Nature can supply. For a healthy experience check out Yoga on the Rocks. Raise the stakes with an intense afternoon fat tire biking or hiking some of the most popular trails in the area. But Colorado is also a winter wonderland so head into the backcountry for snowshoeing, cross-country skiing, ice climbing or a snowmobile experience.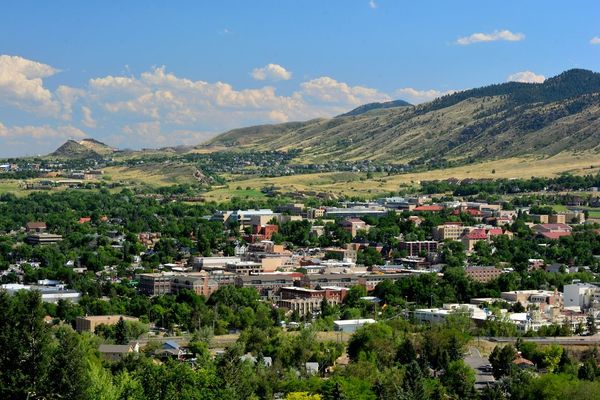 Culinary Highlights
The vibe at the Taproom is inclusive, open and always up for discovery—offering classic mountain cuisine boasting a hearty menu focused on seasonality and the use of local Rocky Mountain ingredients including farm-fresh produce, cattle and game all harvested by Colorado farmers. The Taproom also offers an ever-rotating assortment of craft beer on tap, including an acclaimed signature beer; while Truck Eddy brings mouth-watering authentic BBQ and creamy milkshakes straight to the guests (and the locals of Golden). The perfect aprés-adventure treat or indulgence, the resident food truck makes its rounds around the city becoming a staple of the neighborhood.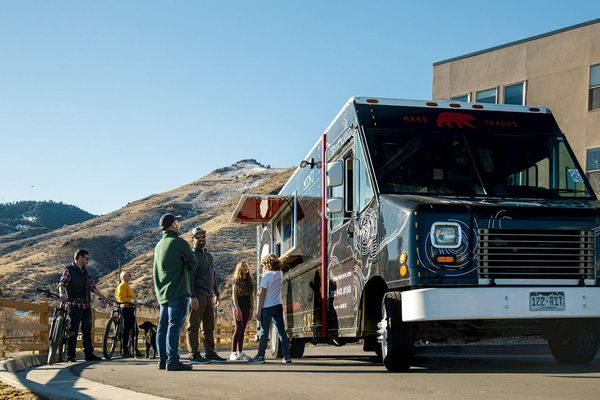 The Eddy Taproom & Hotel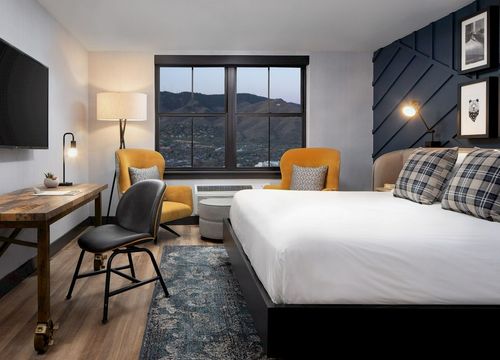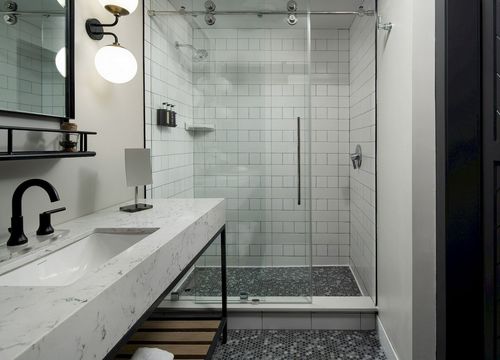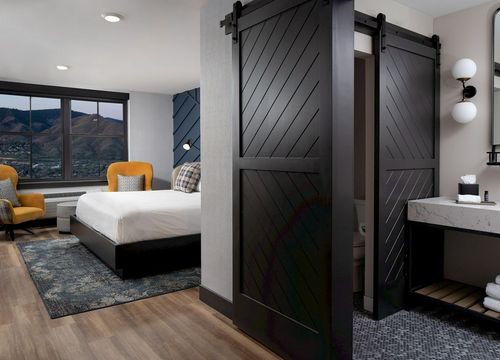 Accommodations
A nod to the original building that preceded it, The Eddy pays homage to its craftsman roots, layering every design feature with purposeful intention, mirroring the art of the craft of brick foundations of the Gold Rush era. Within the industrial-style architecture, every element is considered, a thoughtful convergence of Golden's past and present. Bold swathes of color meet tactile textures for a rugged yet refined sentiment. The art that flocks the walls honors the rich materiality and industrial roots of Golden, while touches of creature comforts and necessary tech (think Wi-Fi and HDTV) are there to make life easy. Get the R&R you need for a day of thrilling outdoor fun. More than just a place to lay your head, the rooms are stylish and fit for true adventurers.
Features & Amenities
Remote check-in
Mobile guest room key
Luxury bath and hand products
Personal device app for in-room service communication with housekeeping and front desk
On-site 24/7 fitness center
Access to rooftop patios with fire pits
High-speed Wi-Fi
Taproom serving craft beers & cocktails
Truck Eddy serving BBQ & shakes
On-demand food and beverage orders from your personal device
Guest floor pantry
House bikes
Furry friends welcome
Why Book With Us
Upgrade at time of check-in (subject to availability)
Complimentary continental breakfast for two daily 
100 USD food & beverage credit 
Early check-in/late check-out, upon availability 
Complimentary Wi-Fi
Location
The Eddy Taproom & Hotel is located in Golden, Colorado.