About Secret Bay
Sleepy coastal villages, a quaint island capital, and rural farming hamlets lie along the fringe of a densely forested and mountainous interior where hundreds of rivers flow, creating beautiful cascades, hidden canyons and magnificent waterfalls. Concealed within this pristine wilderness is Secret Bay, an award-winning Relais & Chateaux property. Enjoy an over-the-top rainforest resort experience, featuring secluded clifftop residential-style villas with private plunge pools, dedicated villa hosts, on-call concierge, chefs, secret beaches and transformative experiences curated just for you. Designed in harmony with nature, the luxurious residential-style villas feature open-plan living, outdoor showers, floor-to-ceiling windows and breathtaking views. What sets Secret Bay apart from other boutique resorts are their dedicated villa hosts and concierge who tend to the guest's needs throughout your stay, from crafting breakfast daily to your specifications to curating a customized itinerary for each guest—from massage and spa treatments to restaurant reservations and excursions. You even get a smartphone for exclusive use on- and off-property. There is so much to discover: wade through the magical cave, stretch your mind and body with a yoga class or bask on one of the most beautiful and secluded beaches in Dominica (but shhh it's secret). Immerse yourself in six-star service and amenities.
Portsmouth, Dominica

Luxury Boutique Hotel

Award-Winning
What We Love
Paradise found. The island of Dominica abounds with wild terrain, including 365 rivers, 12 waterfalls and countless hiking trails, which inspires an active lifestyle, while the many natural sulfur hot pools and locally sourced foods inspire a holistic way of life. But Secret Bay believes the most life-enriching places on the planet are set off the beaten track, where immersion in nature results in soul-nourishing reconnection with oneself and one another. Designed as freestanding sanctuaries, the luxurious eco-villas are meant to be enjoyed far more than just a place to sleep. Take a dip (bathing suit or not) in your own private plunge pool or lounge on the hammock beneath the warm sun. Days start with yoga in the wellness pavilion and end with a stroll along the beach by moonlight. When it comes to dining, have your villa host secure a table at the open-air restaurant Zing Zing where the chef's innovative "no-menu" concept allows for experiential cuisine based on the ingredients he and his team gather each morning.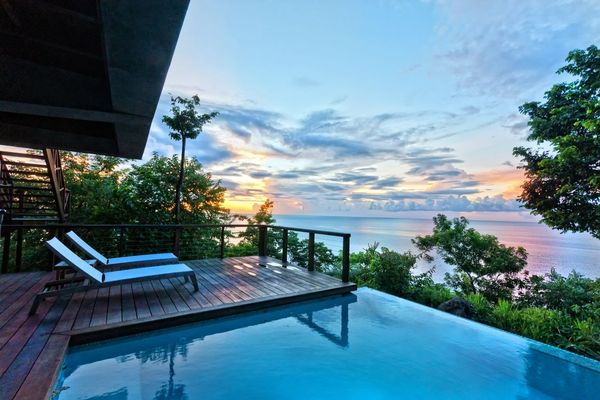 Spa
In this treehouse-style serene space overlooking the beach, guests can choose an array of solo and couple treatments curated by expert therapists, including relaxation, deep tissue, hot stone and four-hand massages. During your blissful session, you will be soothed by the natural soundtrack of ocean waves and songbirds while your spa therapist uses locally custom-blended oils. Whether you book a treatment to relax tense muscles after hiking, unravel the effects of travel or indulge in self-care, the Gommier Spa is worth leaving your villa for.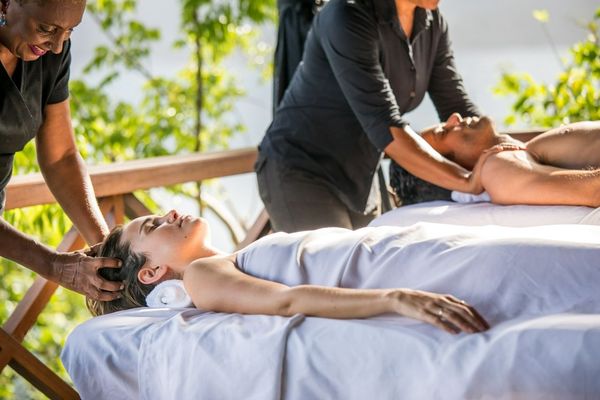 Activities
The brand new Bwa Mang Wellness Pavilion is the ideal spot to recharge, refresh and rejuvenate with yoga and wellness classes. The pavilion is suspended over the magical Cario River with Tibay Beach just beyond, providing the ultimate shala for your a memorable wellness experience. Tucked into the lush cliffside alongside the beach, the Zamann Watersports Hut is your go-to for all things nautical. Here, guests can access any adventure gear of their choosing—kayaks, paddleboards or snorkeling equipment—and arrange beach pickups for water-based activities so as to experience the best of the Caribbean just moments from your villa doorstep. Land adventures include hikes to the island's many waterfalls, a guided nature walk with a leading bird expert and canyoning through an ever-changing landscape of gorges, rivers, waterfalls and pools hidden deep in the rainforest.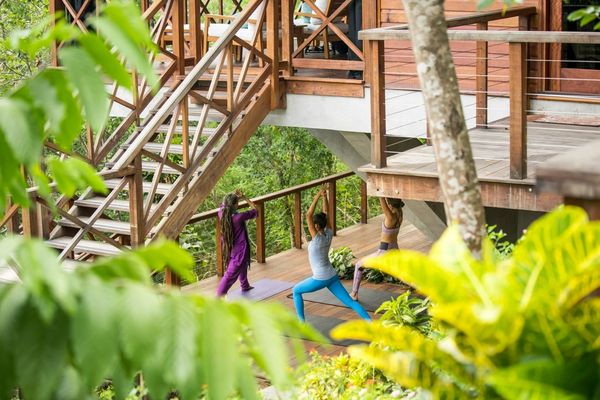 Culinary Highlights
Whether you choose to dine in-villa or at the open-air Zing Zing restaurant, each meal is ethically prepared by the executive chef who reimagines the fresh, vibrant ingredients that are foraged on the property or sourced from nearby fishers and farmers markets. Zing Zing offers locally sourced fare set to jaw-dropping views of the beach, setting a romantic scene with a canopy-style roof, display kitchen and private dining room. The restaurant features island-to-table plates for lunch and a four-course dinner following an innovative "no menu" concept, which allows for more experiential dining.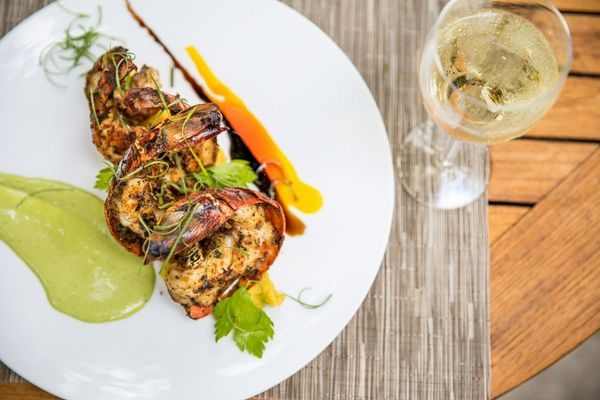 Secret Bay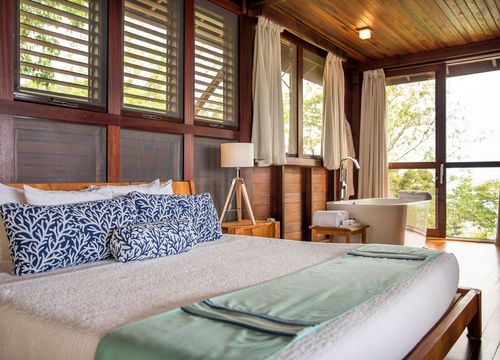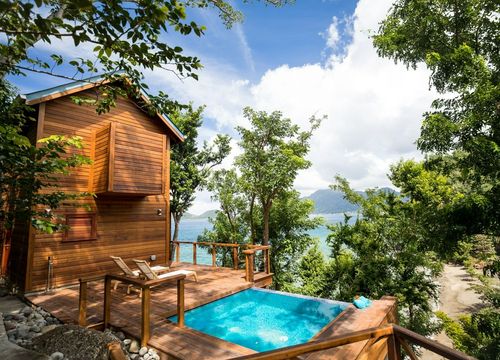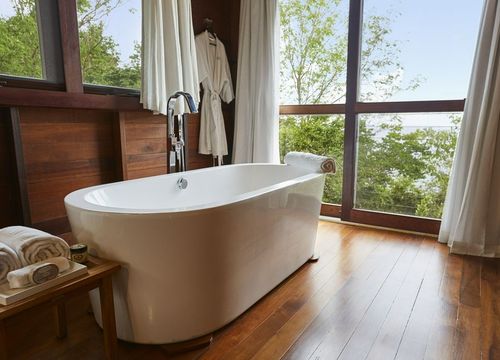 Accommodations
The award-winning villas are renowned for their artful fusion of high design and local craftsmanship, forming open-air luxury residences enveloped in nature's lush embrace. Composed entirely of sustainably sourced tropical hardwoods, the freestanding retreats feature expansive indoor and outdoor living spaces—inclusive of private plunge pools, contemporary gourmet kitchens, covered terraces and breathtaking ocean views—offering a secluded sanctuary. From honeymoon villas facing the sea to the Ti-Fèy villa created like a fashionable treehouse, the twelve villas offer you an experience like no other. 
Features & Amenities
SleptAway program featuring a mattress and pillow menu plus soothing accompaniments to ensure a good night's sleep
Personal smartphone pre-loaded with concierge contacts and local apps 
Private plunge pool with spacious deck area, directly accessible from the bedroom
Shaded hammock suspended from beneath the villa
Barbeque area and backyard garden
Modern fully-equipped open-plan kitchen with granite countertops
State-of-the-art Sonos Bluetooth speakers
Air-conditioning available in the bedrooms
Apple TV with Netflix access
Location
Secret Bay is located on the island of Dominica in the West Indies.