Happy Trails
Your starting point is RS Ranch, a small family farm where the surrounding countryside is home to flora and fauna, rolling hills and interesting stops that include wineries, cave tours and antique shops. But this is not the main attraction. The fox trotters are—a special breed of horse with a smooth gait. If you've never ridden a gaited horse, you're in for a treat. These beauties take you under huge stands of oak and maple and through pastures of cattle, up and down bluffs and along river frontage. A stay here is rich in cowboy traditions, horsemanship and horse husbandry. Take a true horseback trail rides vacation in the Missouri Ozarks. You'll enjoy a wealth of other activities like roping, horse-drawn hayrides, sleigh rides in the winter, hiking, bird watching or swimming in the nearby stream. Spend your time doing as much or as little as you prefer. Trust us, you'll stick with the horses. Your ride begins at your cabin door!
What We Love
If you've never ridden a gaited horse, you're in for a treat. The fox trotter horses are smooth, quick and sure-footed to handle the hilly, rocky outlaw trails of the Ozarks in style. Guests get to stay in a spacious cabin and don't have to walk far to saddle up—because your ride begins at your cabin door. So once you know where you're goin' just climb in the saddle and stay on the trail 'til you get there. There's a wide variety of other activities available like a horse-drawn hayride, stagecoach rides, a float trip, a cave tour or a tour of a local winery. And when you want more excitement than the calm of the ranch, you can always head into the nearby towns for movie theaters, music halls (bluegrass and country music) and local watering-hole pubs. 
Your Vacayou option includes: 
Accommodations in a 2-bedroom log cabin equipped with full kitchen and views of the lake from your porch
5 guided horseback riding days
1 night of Blue Grass live music
1 horse-drawn hayride
Loads of trail riding options plus roping lessons, horse-drawn hayrides or sleigh rides in the winter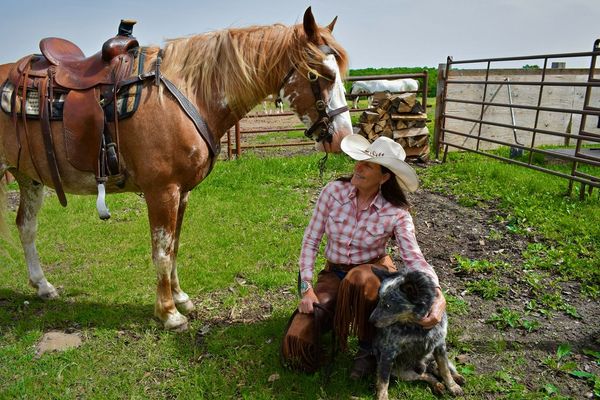 Experience
Upon your arrival, your hosts will help you design a riding holiday that is right for you. You have many trail riding options, roping, horse-drawn hayrides or sleigh rides in the winter. Your mount is selected with your own riding abilities in mind, and rides are adjusted to each individual's riding abilities for the riders, as well as the horses! "Fox Trotting at its finest" is what we like to call the gaited rides on the Missouri Foxtrotting horses. They are smooth, quick and sure-footed to handle the hilly, rocky outlaw trails in style. From hour-long trail tides to multi-day cross-country rides to a day as a working cowboy, the ranch offers a true Western experience.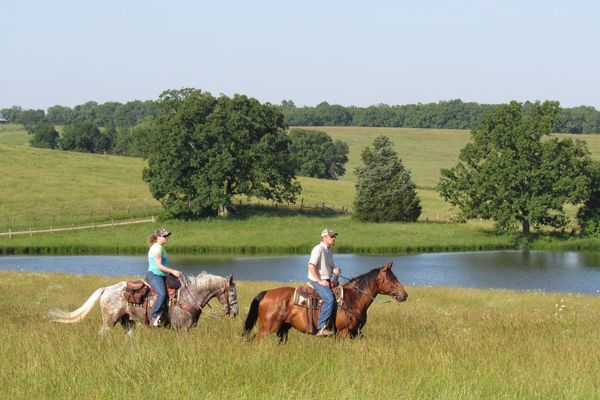 Non-riding activities
When you aren't riding, you can choose to just sit back and relax in the hot tub or a rocking chair on the front porch with a beverage, or keep active and go fishing, hiking or bird watching. Nearby in the summer, the cool and refreshing waters of the Upper Meramec River provide great swimming holes and cool serenity among the scenic background of gravel bars, sand bars and towering bluffs. Canoeing, kayaking or rafting down the river is easily available. If you like star gazing or moonlight activities by campfire, there's a BBQ grill, fire pit and wood to make a marshmallow roasting fire. There's also stagecoach rides, a tour of the cattle pastures and a tour of a local historic cemetery dating back to 1869. Onondaga Cave in Leasburg is also just a 20-minute drive from the ranch.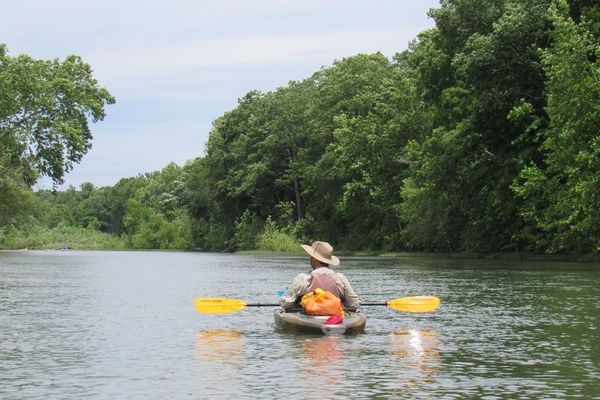 RS Ranch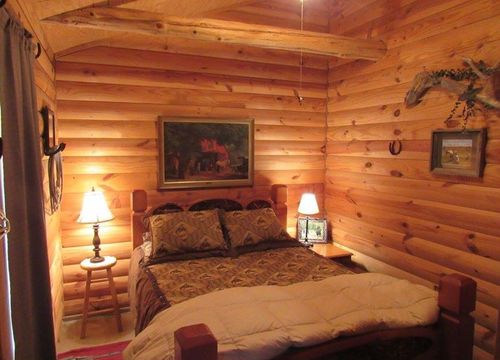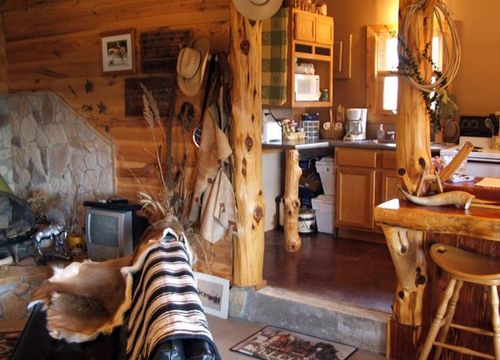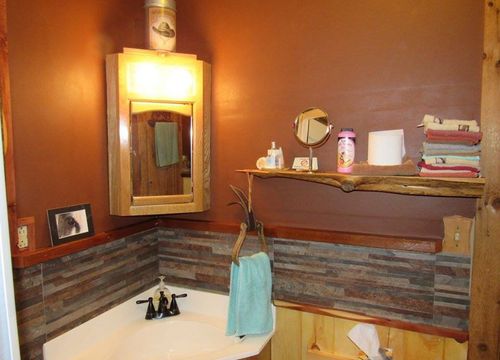 Accommodations
Come enjoy the Missouri Ozark scenery and peaceful surroundings from the spacious 2 bedroom cabin equipped with a full kitchen and stove, refrigerator, microwave oven, dishes, tableware, pans and cooking utensils. The Cabin-Bunkhouse was built in 2005 from cedar logs hauled in by a team of Percheron draft horses and constructed and decorated with a cowboy theme. Your surroundings will transform you to out west! There is a 6 person hot tub/spa pool to relax in when not riding. On cool evenings gather around the stone hearth, by the fireplace, made from local river rocks. Enjoy the view of our large lake from your porch, a very romantic setting for special occasions. 
Location
RS Ranch Missouri Fox Trot Ride is located in Bourbon, Missouri.