Round Hill Hotel & Villas

About Round Hill Hotel & Villas
Wiggle your toes in the golden sand and experience Jamaica's luxurious slice of paradise at Round Hill Hotel & Villas. This phenomenal property is more than an upscale boutique hotel. It's a sensory journey that pulls you in with the rhythmic murmur of turquoise waters, the fragrance of tropical greens and the distinctive flavors of locally sourced Caribbean cuisine. Whether you dream of wading through a pristine tropical river on a bamboo raft, ziplining through lush island foliage or dancing the night away on a private sunset cruise, there are so many things to do. Round Hill offers an idyllic home base from which to explore the great sights and adventures the island of Jamaica has to offer. Be captivated, be pampered and let the magic of Round Hill create memories that will last a lifetime.
Montego Bay, Jamaica

Luxury Boutique Hotel
What We Love
A haven of tranquility nestled within a lush tropical hillside, the Round Hill Spa is a rejuvenating escape like no other. Housed in a meticulously restored 18th-century home, the spa offers a suite of wellness treatments that fuse natural and indigenous influences with luxury Elemis brand aromatherapy products. Fancy a yoga session with a view? The open-air pavilion is your stage, the gentle sea breeze your backdrop. Find strength in their state-of-the-art fitness center, then cool off with a dip in the relaxation pool. For those in need of a little extra pampering, the full-service salon awaits. At Round Hill Spa, they bring rejuvenation to your doorstep, transforming your holiday into a symphony of wellness.
Round Hill Hotel & Villas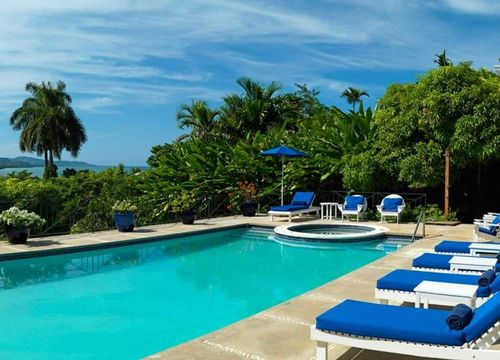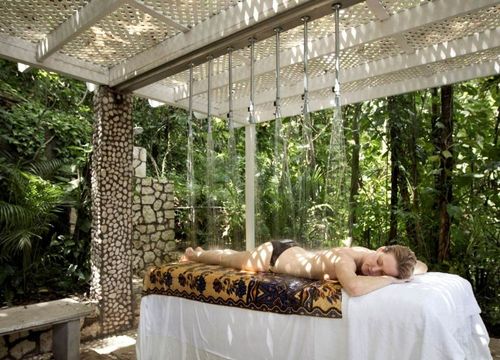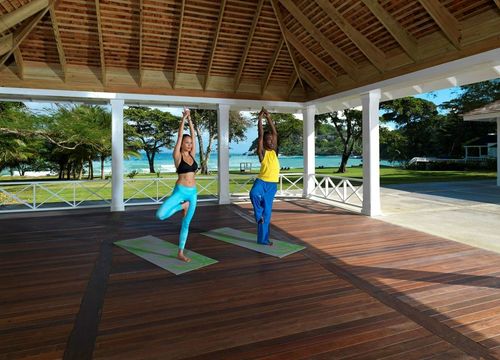 Accommodations
At Round Hill, your comfort is their canvas, and they've painted a masterpiece. The quarters range from chic oceanfront guest rooms to private luxury villas, each adorned with modern amenities designed to complement the exotic aura of the surroundings. Enjoy free Wi-Fi, iPod docks, safes and en suite bathrooms complete with refreshing rainfall showers. Sip on a warm cup of Jamaican Blue Mountain coffee as you soak in the breathtaking views, some from private balconies or personal outdoor pools. The rooms elegantly balance comfort with opulence, featuring plush 4-poster beds and inviting living areas. At Round Hill, your stay isn't just an accommodation—it's an experience.
Features & Amenities
Ralph Lauren Home Collection furnishings
Deep soaking bathtubs
Freestanding rain showers
Elemis bath products
Bartley's All in Wood bath salts
In-room safe
Reusable Round Hill water bottles
French Press coffee maker
Stocked refrigerator on arrival (by request)


Location
Round Hill Hotel & Villas is located in Montego Bay, Jamaica.