About REVĪVŌ Wellness Resort
With a focus on holistic treatments and mindful practices, REVĪVŌ Wellness Resort encourages self-reflection while you embark on a transformational journey to lasting health and happiness. Blending harmoniously with the centennial teak forest surroundings of Nusa Dua, REVĪVŌ's lush enclave in the breezy hills of South Bali is comprised of 16 Balinese-style luxury suites and villas, a nutritious gourmet restaurant, bar and pool lounge, as well as best-in-class fitness and spa facilities. Explore the range of wellness offerings inspired by ancient local healing traditions that are designed to maintain or improve specific emotional, physical and mental health by combining elements of spa, movement, nutrition and sleep. 
Bali, Indonesia

Boutique Resort

Vacayou Top Pick
Spa
REMISSIŌ brings together authentic ancient Balinese healing traditions, aroma, hydro and chromo therapies, and facilities to nurture the body and achieve overall well-being and balance. The holistic spa is a quiet haven of relaxation, comprised of five spacious double treatment rooms, each with its own outdoor bath. For a quintessential taste of the REVĪVŌ philosophy, the signature spa circuits are a wonderful place to start. There are two circuits to choose from, half or full-day, and both are inspired by the healing traditions of Bali, India, Thailand and China. Other treatments include massages, body treatments and wraps, facials and finishing touches such as manicures and pedicures.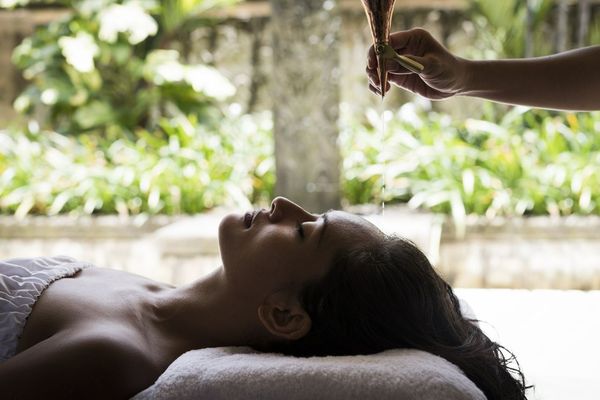 Activities
MOVEŌ's active programs blend numerous training techniques and therapeutic practices, with both private and small group classes, to cultivate physical, mental and spiritual well-being. The hybrid fitness center encompasses a yoga barn, aerial yoga outdoor studio, meditation room, Pilates studio with Reformers, fitness room with TRX and boxing, a 25-meter lap pool for agua workouts, Jacuzzis, a steam room, FIR sauna, hot and cold plunge pools and a landscaped park for outdoor exercises.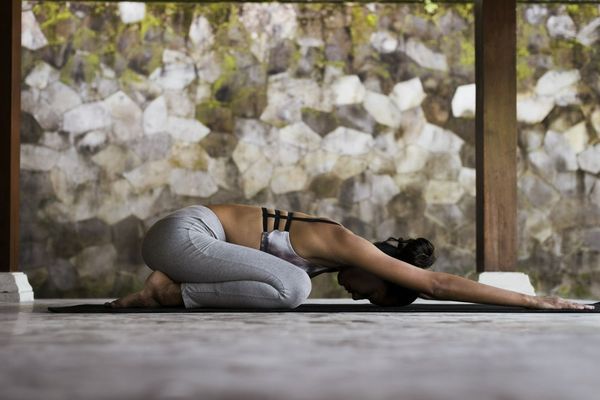 Culinary Highlights
The healthy, local, western and Ayurvedic kitchen—which is colorful, tasty and flavorsome—is one of the wellness resort's greatest assets. And the dishes prepared will surprise and delight your sense of taste every day of your stay. With recipes based on ancient wisdom and experiences, the meals are mainly made of organic, seasonal food from the region. The integrative philosophy means everything in moderation, as the body loves balance. Let REVĪVŌ show you how to turn your everyday food and drink into something that will nourish and support your body and mind. As part of any wellness retreat, an expert nutritionist and chef will create a tailored eating plan for each guest, aligned with the body's needs and goals. Traditional fasting items like juices, elixirs, vitamin boosts and organic teas can all be included. Many of the fresh herbs and vegetables are grown on the property in the sustainable hydroponic garden.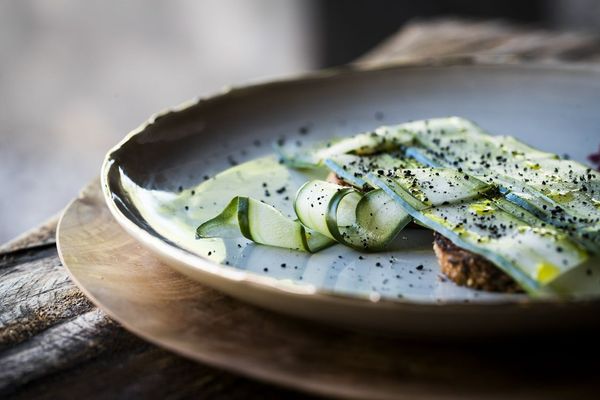 REVĪVŌ Wellness Resort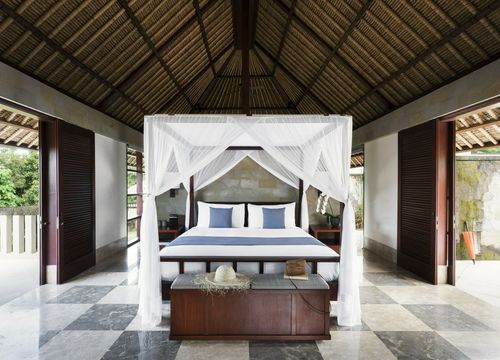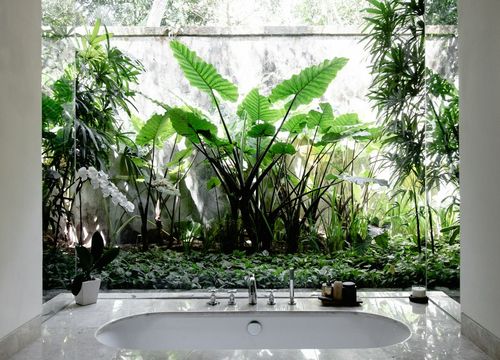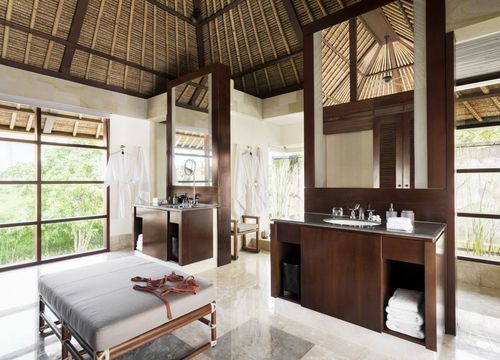 Accommodations
At REVĪVŌ, sleep is taken very seriously and that's why it's one of the significant foundations of your stay. From sleep butlers and foods conducive to sleep to in-room sleep amenities and spa treatments, they leave no stone unturned when it comes to ensuring that you find the best night's sleep possible.
Each of the 16 Balinese-style Garden Suites features a voile-draped four-poster bed, desk and day bed lounge area, a sunken bathtub and shower with garden views as well as outdoor dining facilities within a private verdant garden.
In-room options include carefully selected music, books and podcasts chosen to help guests feel more relaxed and drift naturally off to sleep. Each room has a Breath Lux Light with different modes of lighting—soft amber light at night and stimulating blue light in the morning—to encourage a better sleep routine and guide you through relaxing breathing exercises.
Location
REVĪVŌ Wellness Resort is located in Nusa Dua in South Bali.