About Red Mountain Resort
Blended naturally into a landscape of vivid red rock cliffs and canyons, Red Mountain Resort has everything you need to relax, renew and rediscover your passion for adventure. As one of the most ideally located resorts in Utah, a world of outdoor activities awaits with Snow Canyon State Park, Zion National Park and Bryce Canyon National Park at your doorstep. Be as active or relaxed, social or private, as you wish. In addition to everything you would expect from a world-class destination, Red Mountain Resort offers a unique diversity of health, fitness, nutrition, cooking, stress management, anti-aging, and wellness classes and programs designed for life-enhancing changes that last much longer than your stay.
St. George, Utah

Resort & Spa
What We Love
At Sagestone Spa & Salon, the body is a gateway to healing where each treatment is as stimulating and blissful as the surrounding red rock cliffs and canyons. Whether you're looking to unknot muscles after a vigorous hike, detoxify the body or surrender to a state of pure bliss, the skilled massage therapists will leave you feeling nothing short of fantastic. Inspired by ancient health and beauty rituals practiced throughout the world, the therapists custom-blend indigenous desert botanicals, local honey and mineral-rich muds, clays and salts to create tangible, restorative effects.
Red Mountain Resort is a great place to launch a Mighty Five Utah National Parks Adventure. Red and white Navajo sandstone capped by an overlay of black lava rock makes hiking, biking and photography in the local State and National parks an experience for the senses. The parks are an amazing display of desert animal life, unique botanicals and dynamic rock formations. Snow Canyon State Park is home to 7,000 acres of red rock canyons and cliffs, lava caves and two volcanic cones. And the moderate winter climate of Southern Utah creates an ideal environment to enjoy outdoor activities in Utah year-round.
Red Mountain Resort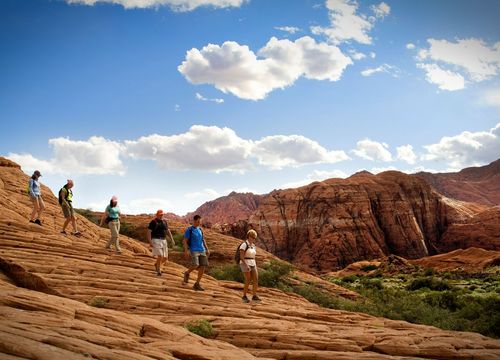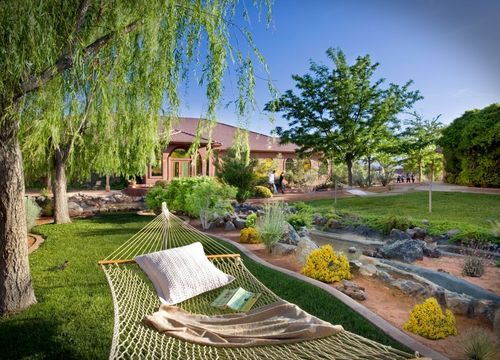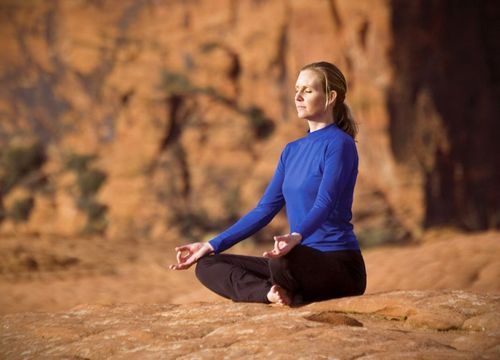 Accommodations
Wherever your Red Mountain adventure takes you, all the comforts and amenities you need to relax and recharge await you at the end of the day. Desert Oasis King and Double guest rooms, perfect for one or two guests, are conveniently located to near all the resort amenities. The spacious one and two-bedroom Villas offer flexibility for one to six guests, all situated around a private negative-edge pool and whirlpool. Each of the accommodations feature earth tones and eco-friendly materials that complement the astonishing red rock mountains surrounding the resort, and all rooms are non-smoking.
As a dog friendly hotels, Red Mountain Resort has specific Desert Oasis guest rooms designated for guests who travel with their pets. The resort welcomes you furry friends with organic treats, as well as food and water dishes. Pets should be kenneled when left alone in guest rooms and are not allowed during activities, in the spa or in the dining room. A $35 per night, per pet fee will be applied. Pets must also be leashed while at the resort. 
Features & Amenities
Complimentary Wi-Fi
55" flat screen high-definition televisions
Three healthy meals per day—inclusive retreats available
Canyon Counter—espresso, smoothies and snacks
Adventure concierge
Guided hiking and biking 
Healthy life classes and events
Full-menu spa and salon
Indoor and seasonal outdoor swimming pools
Three whirlpools
State-of-the-art Cybex equipment and cardiovascular fitness center
Spa boutique and Red Mountain Outfitters clothing and gift store 
Pet-friendly policy
Wellness testing and nutritional guidance
Personal Discovery Providers, Shamans and Spiritual Guides‍
Spiral labyrinth, Medicine Wheel, Meditation Grotto and walking trails
Location
Red Mountain Resort is located in Ivins, a bedroom community of St. George, Utah.