Palmaïa, The House of AïA

About Palmaïa, The House of AïA
Cocooned between undisturbed jungle and the white-sand beaches of the Caribbean Sea, The House of AïA introduces Palmaïa, a luxury all-inclusive property featuring oceanfront rooms, first-class service and plant-based dining. Designed with sustainability in mind, Palmaïa strives to become one of the first carbon-neutral properties in the world. Additionally, there are no plastic water bottles on the property and all bathroom amenities are refillable and made with 100% biodegradable ingredients and essential oils. Whether you're a couple wanting to rediscover each other or a family seeking a truly unique vacation or a solo traveler in search of a life-changing experience, Palmaïa offers it all in an eco-conscious, planet-friendly package.
Playa del Carmen, Mexico

Destination Spa

Award-Winning
Spa
The Atlantis Spa is where jungle-inspired design blends seamlessly with natural cool-water cenotes, offering guests an extra dose of pampering and well-being. Each treatment casita features floor-to-ceiling windows with mesmerizing views that look out onto foliage. Alongside holistic journeys such as sound healing, guests can also indulge in ancient Mayan practices like the storied Temazcal ceremony.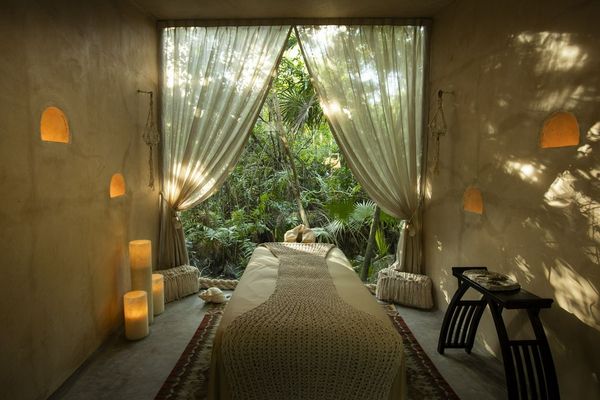 Activities
As part of the resort's complimentary programming, guests can step out of their comfort zone through immersive rituals and deep connecting ceremonies.
The Architects of Life program is led by an in-house shaman and the experience encompasses an array of rituals and personal growth practices.
The resort also features the Rituals of Sound program that pays homage to the ancient tribal beats. The daily program features experimental musicians who transport guests through a curated collection of deep beats infused with the latest in electronica and acoustic overlays.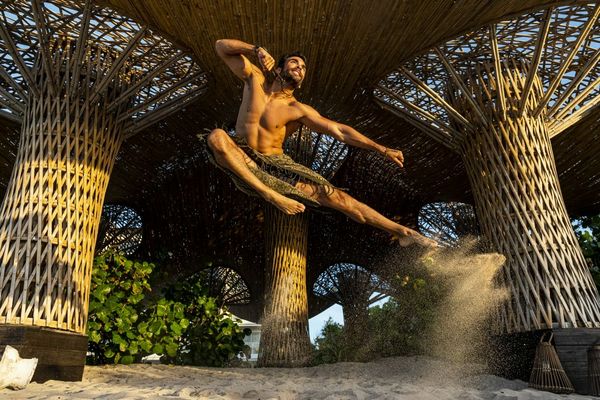 Culinary Highlights
Traveling while eating a plant-based diet has never been easier. Palmaïa is the first resort of its kind to prepare all menus with plant-based ingredients while offering fresh, non-vegan items as optional add-ons—not that you'll notice the difference. Guests have the option to dine from four restaurants, order from 24-hour room service or pop into the health café.
Whether you prefer plant-based cuisine or not, you'll see how great it tastes to feel good in body, mind and soul with the freshest ingredients available. The chefs take extra care to deliver culinary experiences that will surprise and delight your palate like never before.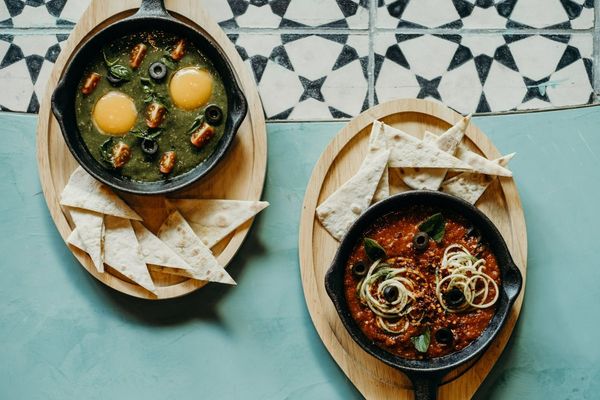 Palmaïa, The House of AïA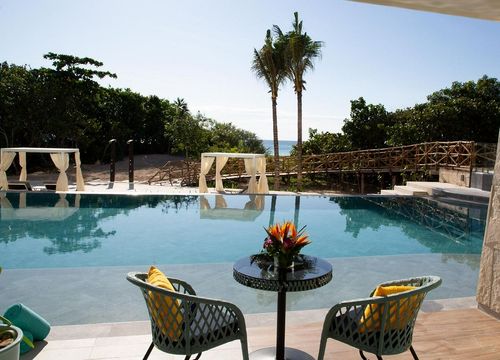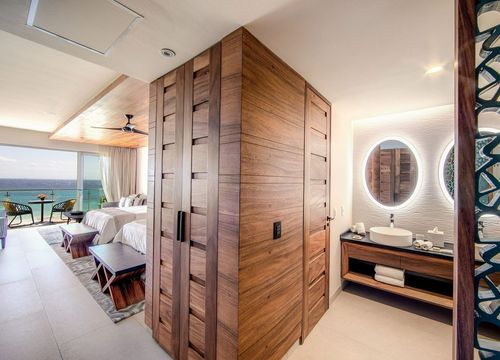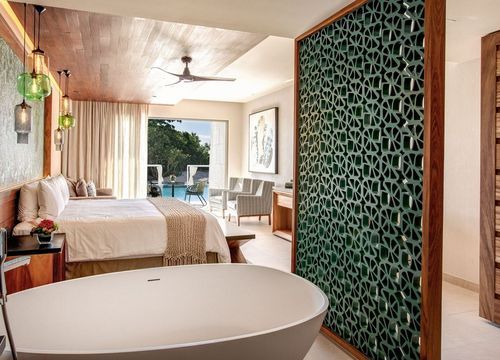 Accommodations
Palmaïa offers guests oceanfront suites in seven categories, each with its own private terrace for sweeping views of the Caribbean Sea. The layouts include a variety of luxurious suites—family-style with bunk-beds, open floor plan, swim-out access to infinity pools, views of the ocean-side jungle—all designed without sacrificing environmentally-friendly practices. Each guest is assigned a Nomadic Guide to attend to their needs throughout the stay. And, for children, Palmaïa operates a holistic activities program run by certified educators.
Features & Amenities
Palmaïa is a gifting community so guests can enjoy unrestricted access without the hassle of exchanging currency. 
Architects of Life personal growth program
Rituals of Sound live presentations
Rites of Passage ceremonies
Waldorf-inspired activities for children
Private beach and pools with service
Valet parking
Fiber optic Wi-Fi
Gym & fitness center
Bike share service
Health trail
Butler and concierge service
Kayak and snorkel equipment
Chill-out lounge
Personal Growth
Guests have access to more than ten personal growth practices and classes from the Architects of Life program, including:
Yoga
Meditation
Sound healing
Tai Chi
Transpersonal astrology
Chi kung
Gong bath
Cacao ceremony
Drums connection
Location
Palmaïa, The House of AïA is located in Playa del Carmen, Mexico.