About Oxygen Jungle Villas
More than just a hotel, a stay at Oxygen Jungle Villas is an immersive experience defined by tranquility, privacy and luxury. From lounging in the sun-dappled infinity pool to basking in the quiet seclusion of your private terrace, you won't want to leave the boutique hotel. Luckily, between the award-winning restaurant, signature river spa and ocean view cocktail bar, you don't have to. That said, a veritable playground awaits right outside your villa door—think world-class cuisine in nearby towns and big-time thrills filled with countless rainforest and ocean adventures. There's absolutely no shortage of things to do here.
Uvita, Costa Rica

Luxury Boutique Hotel
What We Love
Take rejuvenation to new heights at the Diⱽ Shum Spa. Set alongside a misty river nestled within a private jungle reserve, the signature river spa treatments are unlike anything you've experienced before. Your spa journey begins with a sip of their signature potion that will awaken your senses. You'll then follow your therapist into the heart of the rainforest to a secluded spot near a crystal-clear creek, where the soothing sound of flowing water will serve as the perfect background music to your massage. Aromatherapy will guide you into a deeper state of relaxation as your therapist provides a personalized deep-tissue massage tailored to your body's unique needs. After the massage, you'll be wrapped in homemade spiced organic Aloe Vera cream and native Bijagua leaves. And the pampering doesn't stop there! You'll have the opportunity to take a dip in your own private natural pool and waterfall, and spend as much time as you need basking in the crisp water before emerging, feeling refreshed and ready for the rest of your stress-free vacation at this Costa Rica luxury boutique hotel!
Oxygen Jungle Villas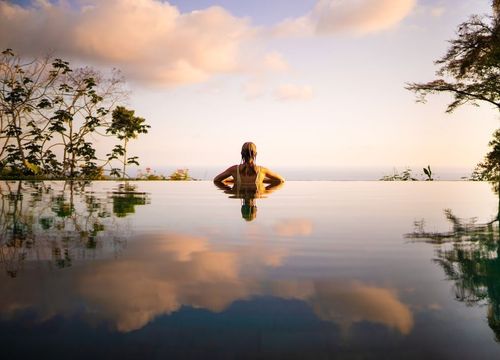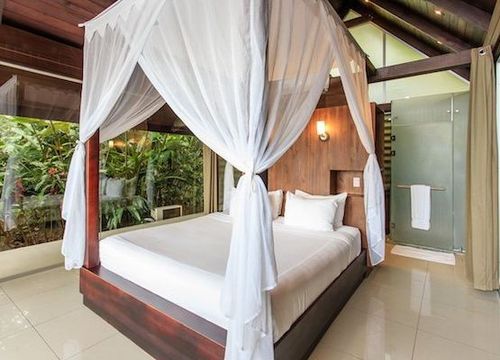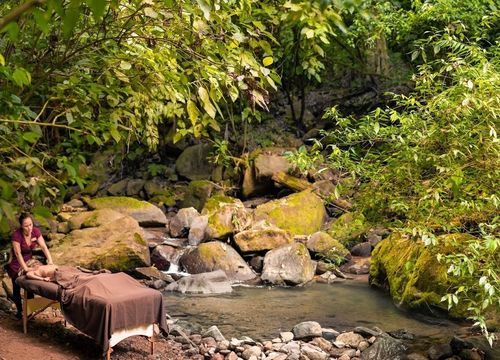 Accommodations
Experience a touch of Bali in the heart of Costa Rica. The eight ocean view villas and four jungle view villas boast stately floor-to-ceiling glass walls on all sides that promise panoramic ocean and jungle views. Each design-forward villa is also equipped with a private terrace, perfect for spotting brightly colored toucans and hummingbirds as they flit through the tree-shrouded gardens. Contemporary, minimalist furnishings exude elegance without distracting from the spectacular natural setting. All villas are equipped with climate control, a canopy bed, outdoor living space and a bathroom with a rainfall shower. Wake up to stunning views of the jungle, ocean or national park from your room. And if you need anything else, just take advantage of the room service.
Features & Amenities
Dramatic rainforest & ocean views
Panoramic glass villa enclosure
Private terrace & lounge area
Luxurious king-sized 4-poster bed
Air conditioning 
Ceiling fans
Minibar
Coffee Maker
Rain Shower
Organic toiletries
Plush cotton robes
Fiber optic internet & Wi-Fi
In-room safe
Twice daily housekeeping
Evening turn-down service
Location
Oxygen Jungle Villas is located in Uvita, Costa Rica.