Omni Scottsdale Resort & Spa at Montelucia

About Omni Scottsdale Resort & Spa at Montelucia
Reminiscent of a Mediterranean villa with lofty architecture, Moorish arches, tiled fountains and leafy walkways, Omni Scottsdale Resort & Spa at Montelucia is paradise. Literally—as this luxury Scottsdale wellness resort boasts a wealth of activities and top-notch amenities. Hike Camelback Mountain, relax at Joya Spa, kick back at the pool or tempt your tastebuds with culinary delights inspired by Spain and Mexico.
Scottsdale, Arizona

Resort & Spa
What We Love
Dreaming of a desert escape? Whether you're interested in activities and sightseeing in Scottsdale or beyond, or you prefer to stay put at Omni Scottsdale Resort & Spa, there is something for everyone. From the vibrant Old Town Scottsdale to the stunning trails of the McDowell Sonoran Conservancy, choose from many exciting excursions under the shining Arizona sun.
A day at the spa can be one of two things: ordinary or extraordinary. Joya Spa takes the word extraordinary and elevates it to the highest standard. From the moment you walk in, you are immersed in sights and smells that open the mind and body. A spa day here isn't just simply a spa day, but an experience and a feeling. The feeling of absolute tranquility and serenity; an experience where stress and burdens are washed away leaving you refreshed and revived. Pamper yourself in this full-service spa inspired by the Moroccan deserts and Andalusia in southern Spain. From soothing massages to refreshing facials to nourishing naturopathic services, Joya Spa will make sure you look and feel your best.
The state-of-the-art fitness center offers Pilates and yoga classes, as well as personal trainers and group fitness classes. Transport your senses to paradise in one of our three sparkling pools, each offering stunning views of Camelback Mountain and surrounded by towering palms and citrus trees. With unparalleled poolside dining, cocktail service and private cabanas, all you need to do is kick back and unwind for the entire day.
Omni Scottsdale Resort & Spa at Montelucia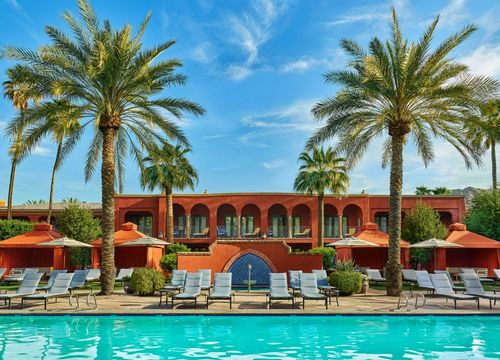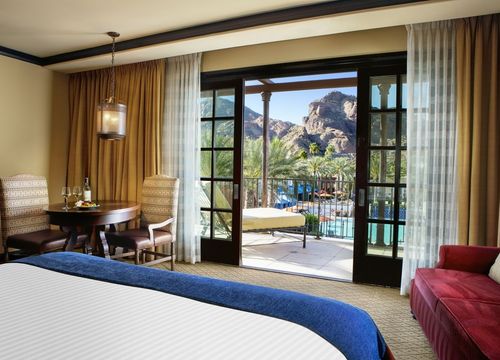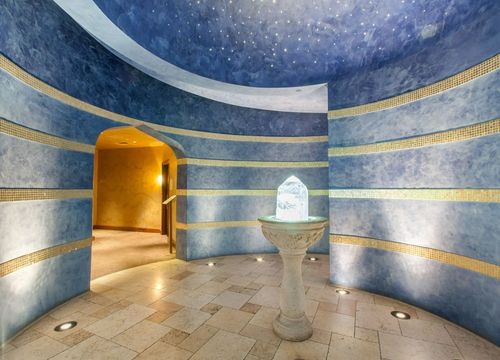 Accommodations
Old-world touches complement modern technologies and amenities in all guest rooms at Omni Scottsdale Resort & Spa at Montelucia. The beautiful accommodations are inspired by the Andalusia region of Spain and boast dark woods and rich-hued colors for a comfortable, relaxing stay. Custom-designed, ultra-luxurious Devine Beds are complemented by Egyptian cotton 300-thread-count sheets for a sound night's sleep. The luxury Scottsdale accommodations feature bathrooms that are a haven for escape with sunken tubs and walk-in, dual-head showers.
Features & Amenities
Private patio or balcony with chaise lounge
Bathroom retreat with sunken tub and walk-in dual head shower
In-room refrigerators
Digital scale
Keurig coffee maker
Ice bucket
Hair dryer
Outdoor ceiling fan
On-site laundry service
Location
Omni Scottsdale Resort & Spa at Montelucia is located in Scottsdale, Arizona.