About Nimmo Bay Resort
The scent of cedar in the air. The taste of sea salt on your tongue. The thrill of observing animals in the wild. The rush of discovery. The stillness of the forest. Awaken your senses at Nimmo Bay Wilderness Resort, an intimate family-owned retreat destination in the heart of British Columbia's wild Great Bear Rainforest, on the rugged shores of the Pacific Ocean, far from the every day. Nimmo Bay invites you to leave it all behind and connect with the wild, with each other and with yourself.
PS: Getting to Nimmo Bay is half the fun. The remote location is accessible by seaplane or helicopter and the only way into this magical wilderness resort.
British Columbia, Great Bear Rainforest

Mountain Resort

Vacayou Top Pick
What We Love
A trip to Nimmo Bay is as much a journey inward as it is a chance to explore remote coastal wilderness. Observe the local wildlife pawing the shoreline for their breakfast. Sink into a soothing massage before paddling out to the floating sauna. Awaken your palate with locally foraged culinary delights, expertly prepared under the open sky. Walk among ancient cedar giants. Cast a line into breathtaking mountainside rivers, accessed only by helicopter. Shower in sea spray from a breaching whale as it surfaces to greet you. Settle in around the outdoor fire for connection, storytelling and nightcaps. Sleep soundly in the luxury of stillness, surrounded by nature's calls.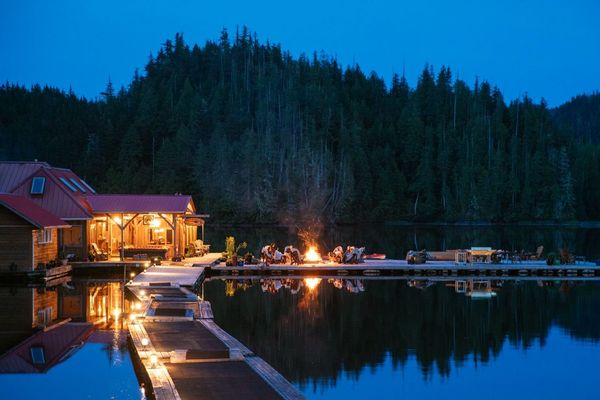 Spa
Immerse yourself in the healing tranquility of the Great Bear Rainforest. Treat your whole self to the rush of invigorating mountain air and icy cool ocean water with world-class wellness services to rejuvenate the mind, body and spirit. Indulge in a customized massage treatment, surrounded by birdsong and the rush of a nearby waterfall. Prepare to be pampered by 100% natural products, applied by Nimmo Bay's expert holistic wellness team, whose goal is to fortify your spirit and personally help to reconnect you with the wild within.  Enjoy endless opportunities for transformative treatments to soothe the senses, as wellness is woven into every aspect of your stay.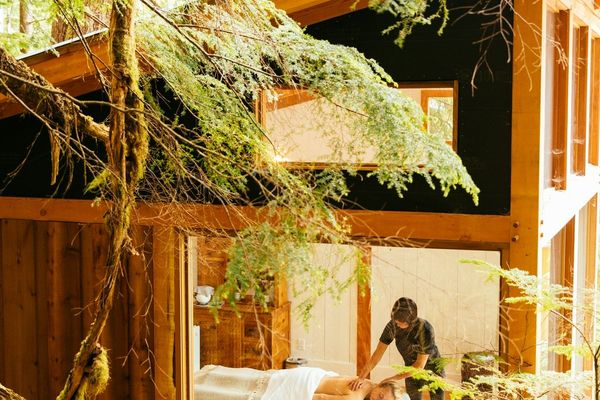 Activities
Explore Nimmo Bay's vast backyard via guided hike, boat trip, kayak, stand-up paddle or helicopter. Ethically and safely observe the local bears, birds and varied marine life as they enjoy their natural habitat. Deepen your renewed inner stillness with a group or private yoga session, held both indoor and in the wild. Connect with nature and the healing effects of water therapy with an invigorating plunge in the Pacific Ocean, followed by a soak in the cedar hot tubs, nestled at the base of a cascading waterfall. And after a long day of adventure, paddle out to the floating sauna for a deeply refreshing, meditative steam.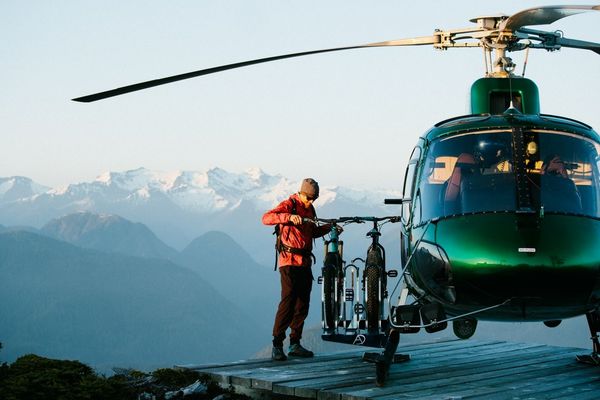 Culinary Highlights
Dining at Nimmo Bay is an unforgettable culinary experience that tells the story of the land and sea through a modern Pacific menu rooted in local, consciously-sourced ingredients, and an inventive instinct to go wild. Foraging and preparing feasts under the open sky is a fact of life at the resort. The dishes emphasize clean, fresh flavors based on locally caught seafood, foraged plants, pasture-raised British Columbia meats and produce carefully sourced from select sustainable farms, most of which are located on nearby Vancouver Island.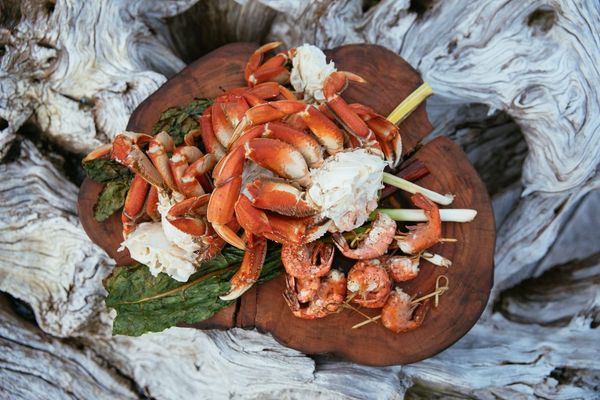 Nimmo Bay Resort
Feel at home in the wild and retreat to the comfort of modern, picturesque cabins for a restorative and pampered home-away-from-home luxury resort experience at Nimmo Bay.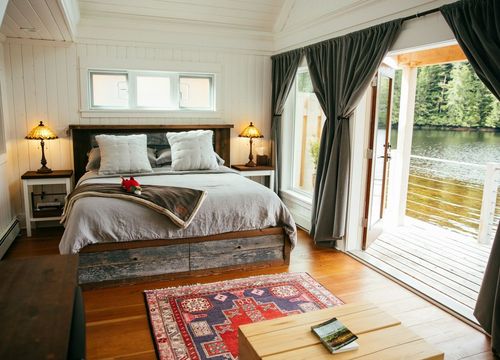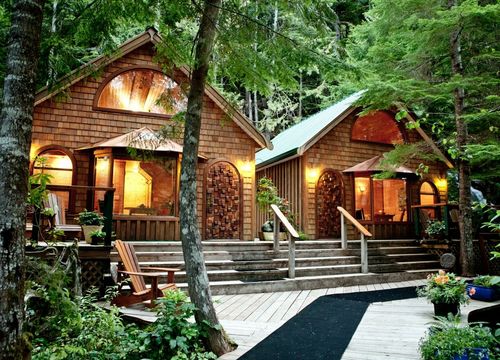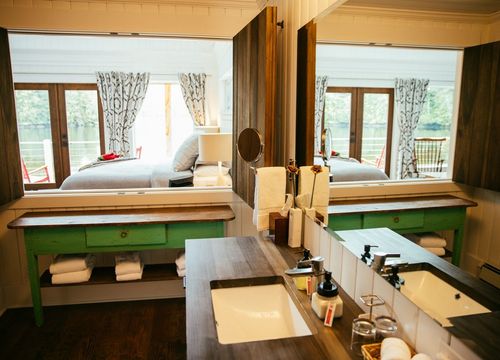 Accommodations
Whether you stay in an ocean-facing intertidal cabin, or in one of the forest cabins located alongside a natural stream and waterfall, each comes equipped with two bedrooms, one bathroom, a lounge area, sumptuous special touches and unprecedented housekeeping service. Sleep soundly in natural surroundings as every cabin offers breathtaking views of the wilderness in equally tranquil settings. 
Features & Amenities
Non-allergenic pillows, pillow-top mattresses and luxurious Belgian linen cotton bedding
House-made cookies and savory snacks
Local red and white wine with glasses in-room
Complimentary mini-bar
Selection of specialty teas and a kettle
Coffee
Linen robes handmade in Victoria, B.C.
Comfy slippers
Bose iPod dock and stereo
Above and beyond daily housekeeping and turn down service
Umbrellas, hairdryers, mugs and towels
Reusable Nimmo Bay stainless steel water bottle (for each guest to take home)
Local, organic bath and beauty products
Outdoor seating area
Day-pack for use at the lodge and on adventures
Hot tub
Floating sauna
Fire deck
Outdoor rain shower
Fitness room
Yoga studio
Gift shop
Location
Nimmo Bay Wilderness Resort is located in the heart of the Great Bear Rainforest in British Columbia, Canada.