Mykonos Riviera Hotel & Spa

About Mykonos Riviera Hotel & Spa
Breathe in a sea-phony of blue and emerald green as you step into Mykonos Riviera Hotel & Spa. Tucked against the rocky backdrop of centuries-old Aegean cliffs, the hotel's tiered iconic white buildings are designed to make you look outwards from the moment you arrive. The twinkling marina, the turquoise ocean and the fiery sunsets. Take it all in while you can. Each room, with its sleek nautical style, offers panoramic ocean views from private terraces. For indulgence beyond your room, head to the spa or the dramatic infinity pool with unstoppable views spilling into the bright blue horizon. But it isn't only the views (and waters) that delight here. You'll find inspiring idyllic beaches and historical sites infused with captivating Greek mythology just a short walk away.
What We Love
Dazzling white-washed houses and red-roofed churches. Turquoise waters and blue skies. A sparkling Mediterranean sun. Golden sandy beaches. Strong winds blowing from the north, liberating mind and soul. Welcome to Mykonos. This sun-polished Aegean gem is not going to put Mykonos on the map (because it already is) but it will surely turn heads. Hugging the cliff, ascending from the main road across from the island's marina, the Mykonos Riviera Hotel & Spa bedazzles guests with its island-chic vibes, refreshing nautical theme, minimalistic luxury, stunning spa and starlight infinity pool that graciously cascades into the horizon. When in Greece do as the Greek (history lesson: Greece was under Ottoman rule 1458-1833) and visit the spa's hammam, a multi-sensory escape through a host of time-honored rituals and practices—employing traditional massage, exfoliation and cleansing techniques and the transformative power of hot water and steam to restore aching muscles, revitalize tired skin and renew your weary mind. A sublime, immersive experience that you should try at least once in your lifetime. For unforgettable and Instagrammable panoramic vistas, complete indulgence and personalized service, Mykonos Riviera awaits.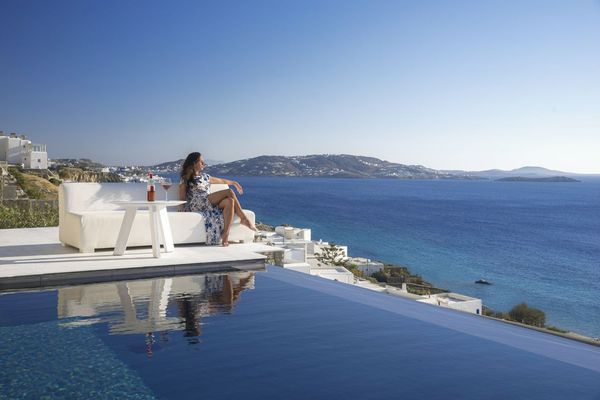 Spa
As soon as you enter this sanctuary of bliss and calm, time stands still—where a pampering atmosphere awakens the senses and provides a serene journey for the mind and soul. The Oqua Spa offers a wide selection of health and wellness services including restorative and healing massages, nourishing facials and detoxifying body treatments aimed to stimulate and re-invigorate. Choose from an extensive menu of signature therapies and custom packages such as the Thalasso Detox, Aegean Shimmer Satin or Inspiration of Romance spa ritual for couples. Inspired by the character and lifestyle of Mykonos, the Oqua Spa brings together a mix of sophisticated luxury and carefree pleasures. Facilities include a naturally lit heated thalassotherapy pool, a traditional hammam, a sauna and six treatment rooms.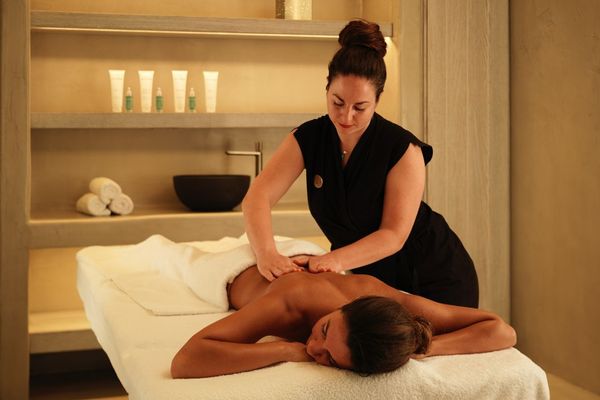 Activities
Located right above the reception area the infinity pool is nothing short of an architectural masterpiece. Boasting pioneering lighting that creates the illusion of a thousand twinkling stars, the rectangular pool cascades over the edge creating a magical no-boundaries visual effect. Lined with designer day beds and umbrellas, this seawater heated pool is the preferred stomping grounds of the smart set. And staying fit while spa-ing has never been more rewarding. Tackle the treadmill, stationary bicycles and elliptical cross trainers or sweat it off with free weights, TRX and other training equipment or stretching machines. Mykonos Riviera is a few minutes away from the beautiful beach of Agios Stefanos and a lovely short stroll from the scenic, yet stunning city center of Mykonos Town, the island's world-famous capital. Discover a world of archaeology, wine tasting, cheese making, scuba diving, snorkeling, horseback riding and sailing right at your doorstep.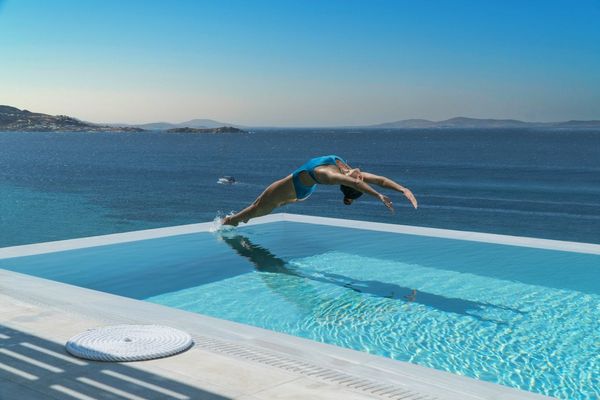 Culinary Highlights
Start your day with a hearty, healthy breakfast served at your leisure until 11:30 am. Choose from a variety of fresh fruit platters, local cheeses, fresh bread, smoothies and an a la carte menu with local specialties. Located in the fanciest nook of the hotel overlooking the marina and the turquoise waters of the Aegean, LAFS restaurant fuses Greek culinary tradition with contemporary style for some of the best haute-cuisine on the island. Long a favorite of energetic early birds and glamorous night owls alike, the Pool Club is the ideal spot to relax and unwind all day, every day. Choose from an extensive menu filled with Greek-Mediterranean-inspired bites. Sophisticated ambiance meets elevated vibes at the revamped Pool Sunset Bar. Sporting a picture-perfect setting and panoramic views over the trademark starlight infinity pool, the bar is the new place to be, socialize and play from early until late.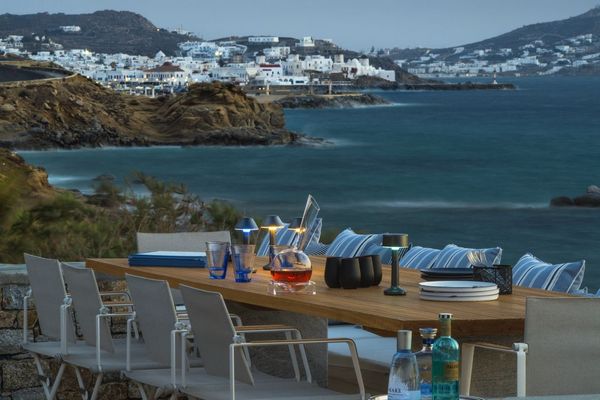 Mykonos Riviera Hotel & Spa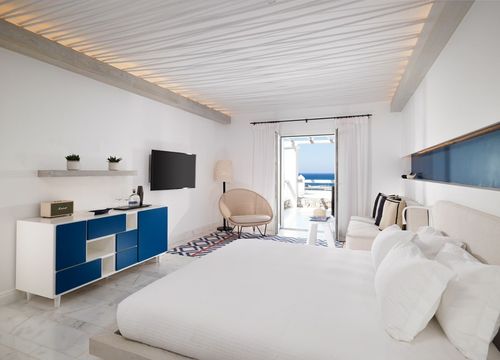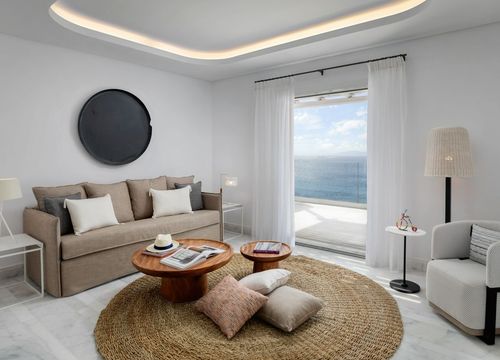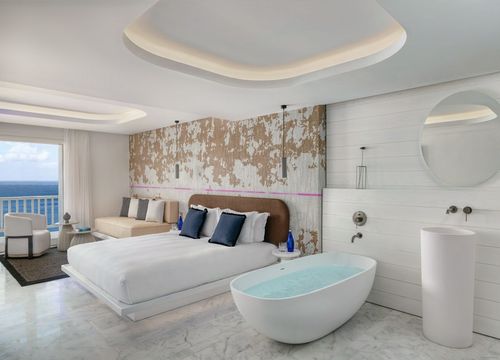 Accommodations
With an ultra-chic nautical-themed style, the superbly appointed and spacious rooms and suites promise nothing less than an unforgettable stay. Find endless peace on the soft handmade mattresses, in a designer bathtub or on your very own private terrace with a panoramic view of the Aegean.
The elegant Riviera Retreat guest rooms are located on the first floor and have an open-plan bathroom, private furnished terrace and, of course, stunning sea views.
The sun-bathed Ambio Outdoor Hot Tub Retreat guest rooms feature an outdoor tub on the private terrace for unique moments under the sun or with the star-studded sky as a backdrop. The view from the private terrace is nothing short of breathtaking, offering stunning vistas of the Aegean Sea.
Play hide and seek with the sun's sizzling rays peeping through the silky curtains that dance to the rhythm of the famous Mykonian breeze. Overlooking the Aegean's infinite blue, the Elixir Pool Retreat guest rooms charm with a private infinity pool, outstanding architectural layout and soothing shades of white and blue. Minimalism meets luxury in this open-plan hideaway that can accommodate up to 3 guests. This retreat is split into two levels with a panoramic view from the bedroom and sea views from the pool area. Enjoy unique moments of pleasure under the star-studded skies at night or in the arms of the much-needed shade created by the terrace pergola on a hot afternoon.
The spacious Anchor Courtyard Pool Suites feature white contemporary marble floors, minimalistic luxury and numerous amenities. The suite enjoys a spectacular sea view of the marina and the Aegean from the private furnished terrace that comes complete with daybeds and an umbrella, while the private pool is a haven of coolness, promising an upscale outdoor experience.
Features & Amenities
Handmade mattresses with natural filling
Individually adjusted air conditioning
Ambiance lighting
Free-standing designer bathtub
Walk-in rain shower
Fully stocked mini-bar
Nespresso coffee machine & tea facilities
Safe-deposit box (laptop size)
Walk-in closet
49'' Smart TV
Bathrobes and slippers
L'Occitane bath products
Iron/Ironing board
Hairdryer
Complimentary Wi-Fi
Complimentary 500 ml bottle of water per person daily
Marshall Bluetooth speaker
Twice daily housekeeping service
Operating season for the Hotel & Spa is early May through mid-October.
Location
Mykonos Riviera Resort & Spa is located in Tourlos on the island of Mykonos, Greece.