Miraval Arizona Resort & Spa

About Miraval Arizona
Enter a Miraval state of mind where you boost and balance your mental and physical health. Miraval Arizona Resort & Spa is an inclusive destination resort and spa at the foothills of the Santa Catalina Mountains outside of Tucson. With innovative life-enhancing programs, unique spa treatments, nourishing gourmet cuisine and nurturing wellness specialists, Miraval helps you craft a life in balance through mindfulness and living in the present moment. Their amazing roster of healers, masters and pioneers guide you on a personalized journey that breaks down barriers and invites your best self to shine. For a more intimate approach, consider meeting privately with one of their specialists. These private sessions are for anyone who wants to go beyond a class or workshop for a one-on-one tailored experience with world-renowned experts. Let Miraval be your guide as you explore a multitude of possibilities. 
Unplug and be present is a key mantra at Miraval. The intention in establishing a digital device-free environment is to support you in having the most rewarding and inspiring Miraval experience—and to give yourself permission to disconnect. Rooms come with sleeping bags for cell phones and the use of electronic devices is prohibited except in designated areas.
Tucson, Arizona

Destination Spa

Award-Winning
What We Love
When you choose this Sonoran Desert sanctuary, you truly embark on a transformative wellness journey of exclusive experiences and inclusive amenities. Where no two journeys are alike. Miraval Arizona is located north of Tucson in the remote foothills of the Santa Catalina Mountains—amidst cacti, meandering pathways, ponds with fountains and desert rockscapes. Feel Himalayan gongs resonate or tour the stars with an astrologer. Meditate to mind your body and mend your mind or find creative flow through art. The possibilities are in the hundreds. And if you've ever wanted to experience the power of equine therapy, your opportunity is waiting in the stables. With hoof in hand and skilled equine therapists, the gentle and highly intuitive horses help unleash creativity, improve communication, heal fear and trauma, and take you on an unforgettable ride.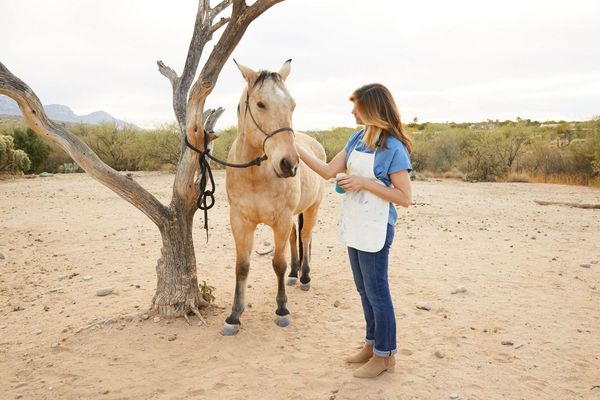 Spa
Surrounded by the serene nature of the Sonoran Desert and the majestic Santa Catalina Mountains, you'll find healing and comfort at the award-winning Life in Balance Spa. From the moment you enter the restorative sanctuary, feel the cleansing energy of purposefully placed crystals, cairns and mandalas that grace the entrance. The healing aroma of jasmine hovers. Citrine and amethyst crystals radiate energy. Enter a portal to bliss where innovation meets tradition to honor nature, nurture the body and refresh the soul. Pamper and indulge in signature healing experiences that fuse ancient and modern traditions and techniques.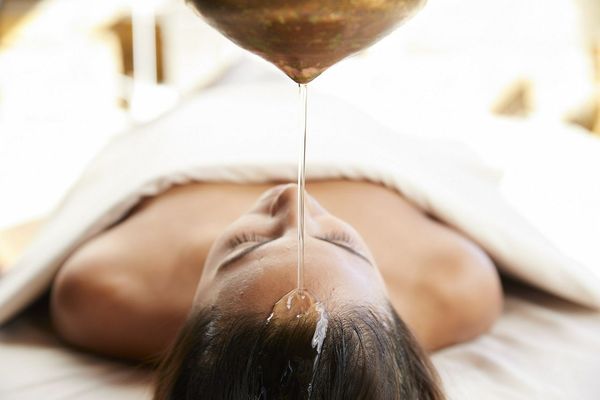 Experiences
Indulge, challenge, improve and renew. Journeys with Intentions put you in the center of your wellness experience. Miraval recognizes you as a unique individual and curates personalized experiences that align with what matters most—your connection with yourself and the world around you. With hundreds of engaging possibilities, boredom is not an option. Choose from fitness and outdoor adventures, wellness and nutrition counseling, yoga and meditation, equine therapy and a plethora of other life-enriching programs.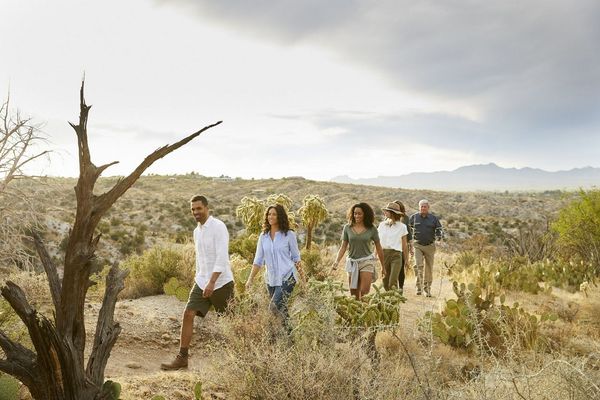 Culinary Highlights
Living well isn't just about eating the right food, it is also about community and conviviality—sharing the joy of the experience with people you care about. Miraval encourages you to learn how to make conscious decisions about creating and consuming food that will support you in living a life in balance. Menus are ever-changing to utilize locally grown and thoughtfully sourced ingredients at the peak of freshness—celebrating the diverse textures and flavors of wholesome food, organic cocktails and a curated list of fine wines. Memorable culinary experiences are not limited to restaurant dining, though: afternoon appetizers, fresh smoothies, and other treats, along with classes and hands-on demonstrations, combine healthy living, eating and learning.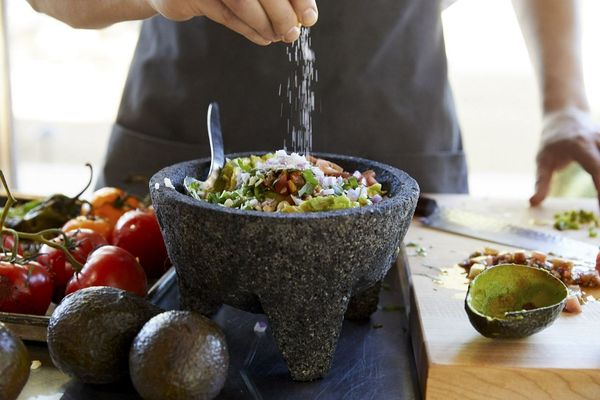 Miraval Arizona Resort & Spa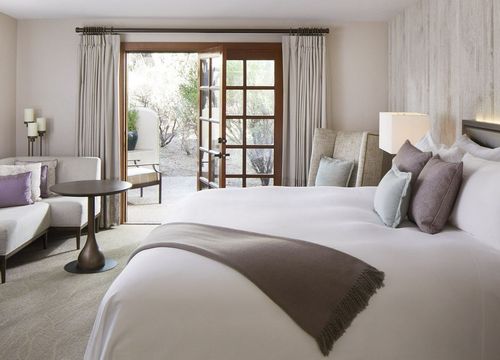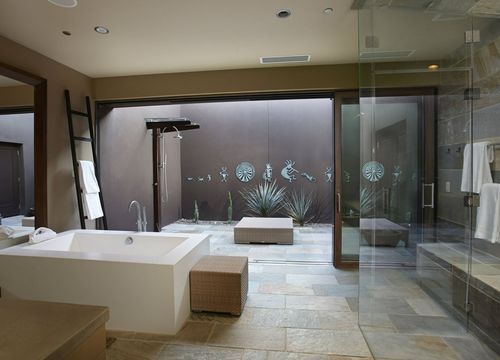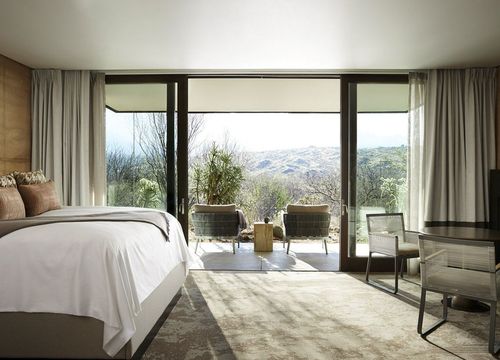 Accommodations
Rest your head and raise your consciousness. The Sonoran Desert enclave provides a wide range of casita-style rooms, suites, villas and retreats that offer comfort within a healing desert environment. Each guest room features a Tibetan singing bowl, meditation cushion, guided meditation channels and cloud-like bedding for the ultimate restful respite.
Guest Rooms
Situated throughout a cluster of casita-style buildings and connected by outdoor pathways throughout the desert landscape, the standard guest rooms prove a sanctuary for reflection between activities and at the day's end. Each room is designed with the natural environment in mind and accented with elements that promote personal reflection and a direct connection to the local culture. 
Suites
Delight in the modern amenities of the luxury suites, offering accommodations with private patios and elegant décor against a backdrop of the Santa Catalina Mountains. The peaceful suites are quiet sanctuaries for you to pause and reflect before, between and after activities. Each feels more like a residence with fireplaces, expansive terraces and unobstructed landscape views.
Villas
Engage with the desert from the comforts of your thoughtfully designed Miraval home. Each luxury villa is artfully cocooned within its own slope of earth, blurring the lines between indoor and outdoor living. Expansive terraces and unobstructed views of the Santa Catalina Mountains invite you to relax while feeling a true connection with nature. This inspired residence is the perfect home for friend and family gatherings, a solo retreat or relaxing escape with your loved one.
Retreat
The newest accommodation transcends the traditional suite, with 22 modular residences from studios to expansive three-bedroom houses—most featuring a gourmet kitchen, large patios with reflection pools and fire pits, an expansive living room with floor to ceiling retractable glass doors and the best views of the Santa Catalina Mountains.
Features & Amenities
Miraval's signature cloud-like bedding
Tibetan singing bowl & meditation cushion
In-room meditation channels
Dry Bar hairdryer
Zentz bath collection
Plush cotton robes
Single-cup coffee maker
Iron and ironing board
Mini-refrigerator
37" LCD TV
Complimentary Wi-Fi
In-room safe
Location
Miraval Arizona Resort & Spa is located in Tucson, Arizona.