About Malibu Popoyo
Malibu Popoyo in southern Nicaragua isn't just a boutique hotel, surf haven, retreat center, restaurant or yoga studio. It's all of these and so much more. The hotel offers something for everyone—for explorers, adrenaline junkies, seasoned yogis and first-timers. Along with twelve suites, a swimming pool, an on-site spa and a restaurant serving organic and healthy meals three times a day, you are immersed in a curated experience that inspires revival and transformation. Each of the individually designed rooms combines modern raw materials and traditional Latin American style with indoor gardens and handpicked antique furniture. Disconnect from your usual routine and technologies to reconnect with nature, adventure and yourself. Malibu Popoyo provides everything you need to push your physical limits, stimulate your mind and stir your adventurous soul. Your wild side is calling. Let Malibu Popoyo bring it to life!
What We Love
Not all surf trips are created equal. Malibu Popoyo is an all-inclusive Nicaraguan surf haven finely curated to individual passions and wanderlust desires. The unique blend of luxury surf retreat, adventure escape and soulful sanctuary challenges you to break away from your comfort zone. Imagine waking at the crack of dawn to the sound of the Pacific Ocean crashing against the shoreline just outside your window. You crawl out of bed and make your way to La Cantina for a cup of coffee, before climbing into one of the surf explorer vehicles on the hunt for waves. You surf until your arms are too weary to paddle another stroke, so you head back to the resort for a healthy breakfast. After breakfast, you make your way to the open-sided, wooden floor palapa for a guided yoga and meditation session amidst a luscious layer of tropical trees. After yoga, relax poolside and lounge in a hammock with a gentle breeze blowing through the palm trees. Afternoons are what you make them. For those looking for a more adventurous afternoon excursion, head to one of Nicaragua's many volcanos. Cap off your day with post-dinner drinks on the beach around a bonfire, then head to bed, rest and do it all again the next day.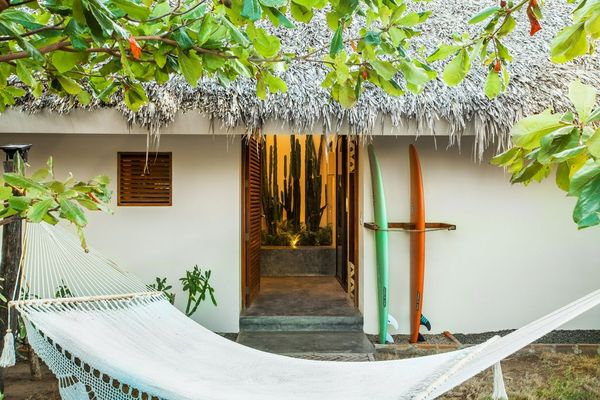 Spa
Sometimes all you need is deep rest and relaxation to propel you into a higher state of adventure-seeking. Whether you opt for a full-body massage, reflexology, a detox scrub, energy healing treatment, cranial-sacral therapy or a herbal face mask facial, you'll enjoy being pampered without thinking about anything other than bliss. Even though your spa visit may only last a few hours, you'll feel the benefits for weeks to come!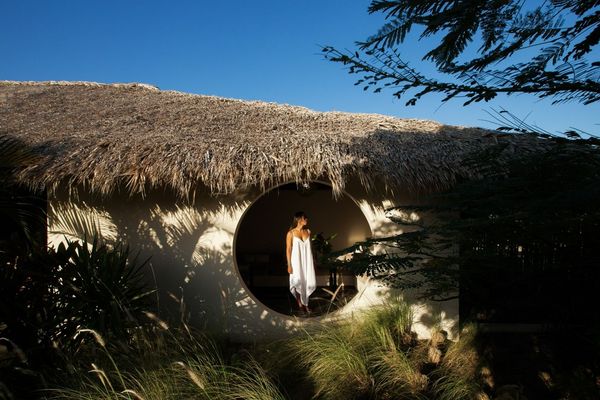 Activities
With more than ten untapped, world-class surf breaks within 30 minutes, the surf is the number one priority here. There is something for everyone with waves ranging from longboard peelers and beach breaks to deep and hollow reef breaks. Beyond surfing, find balance with daily yoga and meditation sessions on the open-sided, wooden-floor palapa nestled amidst lush Nicaraguan gardens and neighboring ocean waves. Take a post-surf or post-yoga dip in the outdoor pool and lounge while listening to live music or a mellow playlist. You can also immerse yourself in the Nicaraguan lifestyle and explore adventure year-round with activities such as hiking an organic coffee farm, sunset horseback riding and local excursions to a volcano.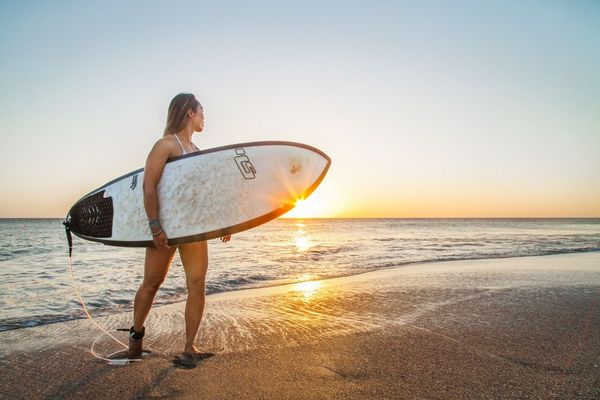 Culinary Highlights
La Cantina serves healthy and tasty eats inspired by a fusion of authentic Central American and Western cuisines. Each dish is prepared using only the freshest ingredients from La Quinta, the neighboring organic farm. The kitchen is open for all three meals, cold-pressed juices and fresh smoothies. Highlights include chia pudding, pancakes, ceviche, fish tacos and vegan burgers. Beer and craft cocktails are available for an extra charge.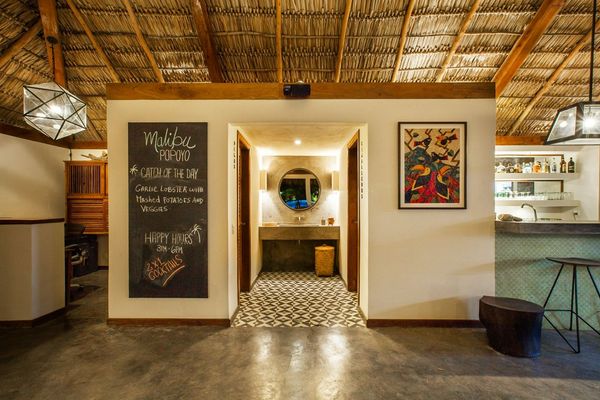 Malibu Popoyo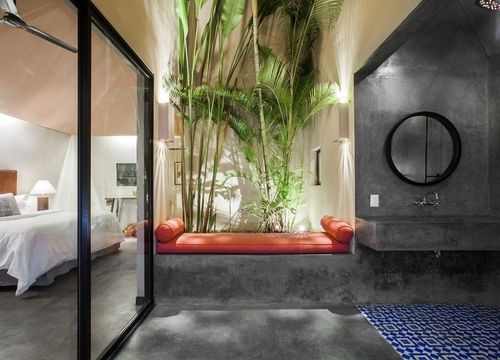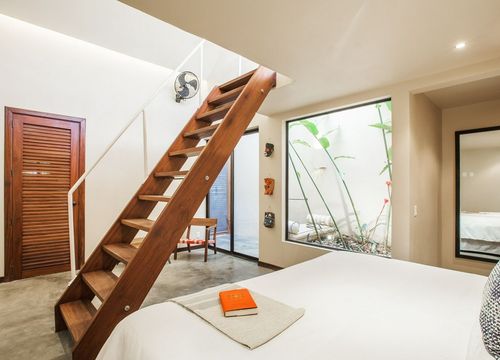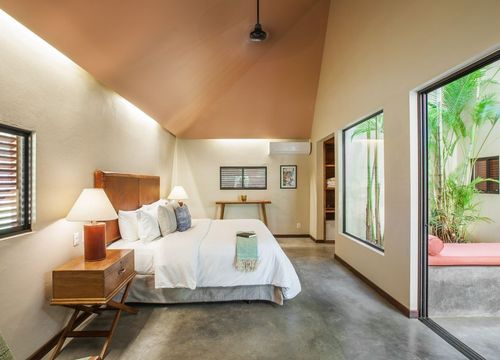 Accommodations
Each room on the property features unique art, plants, artisan tiles, organic cotton linens and hand-selected room amenities to create distinct, one-of-a-kind environments.
Garden
Located in a private corner of the hotel, the garden room offers a semi-outdoor Moroccan-style seating area and glass wall with botanic garden views from every angle of the spacious room. The lavish bathroom features eclectic handmade concrete tiles, a walk-in rain shower and natural local products. This accommodation offers a spacious room with a king-size bed. 
Loft
The expansive loft space is set on two levels and features high ceilings and sliding windows with ocean views. Fall asleep to the sound of the ocean and wake up with the first rays of the sun. High ceilings and sliding windows face pure nature, allowing maximum light and connection to nature. Each unit has a unique semi-outdoor Moroccan-style seating area with a rain shower and handmade concrete tiles. The loft can house up to four people, with both a king bed and a queen bed.
Master
Once you step through the heavy wood door, you are greeted by a lush tropical garden that is the majestic centerpiece of the largest, most exquisite room on the property. The master room features a personal, curated collection of art and customized furniture. The semi-outdoor Moroccan-style seating area offers a lavish walk-in rain shower under the open sky and eclectic handmade concrete tiles. 
Location
Malibu Popoyo is located in Popoyo, Nicaragua.