About Lotte New York Palace
With a nod to its celebrated history, Lotte New York Palace in Midtown Manhattan stakes its claim as the city's most quintessential hotel. A Madison Avenue jewel that's forever woven into the fabric of the Big Apple, this grande dame is both a landmark and a luxury retreat, beloved by New Yorkers and cherished by visitors. A stay here opens the door to unlimited experiences. Surrender to an all-new level of indulgence, relaxation and rejuvenation at the full-service spa. Take your taste buds on a journey through majestic dining rooms. It's also no coincidence that Lotte rhymes with stay, and play, and getaway. Today and every day, Lotte defines the art of heartfelt hospitality.
New York City, New York

Urban Spa Hotel
What We Love
Experience the wonder of total wellness at Lotte New York Palace. The hotel offers everything you need to escape New York City's lightning-fast pace and focus on you. From a Technogym-equipped fitness center to the award-winning ila Only Spa, working out and winding down has never been so serene. Like its sister spa in the English countryside, ila Spa offers a range of stress-relieving treatments crafted using farm-grown organic ingredients. Highlights of this extraordinary space include a private yoga studio and seven treatment rooms featuring state-of-the-art "sound healing" experiences. The state-of-the-art fitness center is equipped with everything you need to maintain your workout routine while you're away from home. In addition to the top-of-the-line Technogym cardio and strength-training gear, the center features a Peloton bike with on-demand programming and an intimate movement studio. Yoga and personal training sessions are also available upon request.
Lotte New York Palace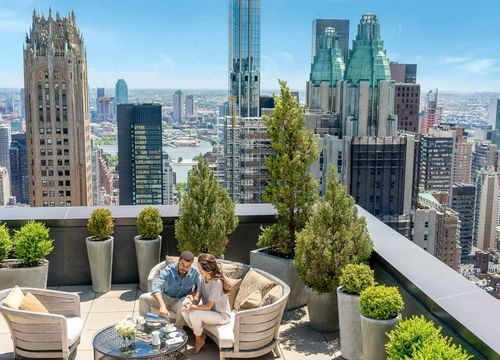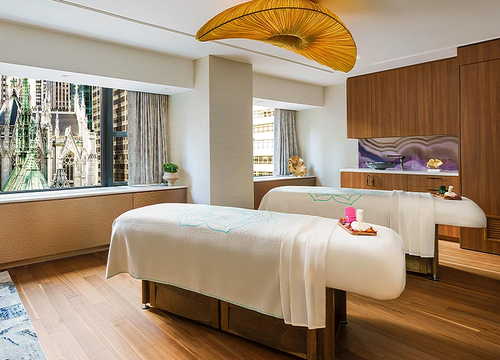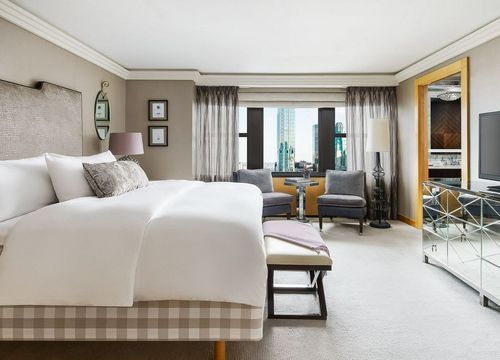 Accommodations
Lotte New York Palace's accommodations blend modern comforts and conveniences with the timeless luxury for which the hotel is known. Impeccably furnished bedrooms and marble bathrooms offer updated amenities, stylish décor and acclaimed in-room dining. For an even more exclusive experience, visit the Towers, featuring the best rooms and suites in Manhattan.
Features & Amenities
Plush mattresses
Crisp cotton bedding
Upholstered headboards
Ultra-soft wall-to-wall carpeting
Allergy-free room
Bathrobes
Air conditioning
Desk
Housekeeping
Room service
Flatscreen TV
In-room safe
Iron & ironing board
Location
Lotte New York Palace is located in New York City, New York. The closest airport is Laguardia International Airport (LGA).