About Long Beach Lodge Resort
It's all about location. The Tofino area is a paradise for those who love the sea. Whether you like to be in or on the water or prefer beachcombing and storm watching, you won't find a better place to escape everyday life than at Long Beach Lodge Resort. Surfers come from all over the world to ride huge breakers onto miles of empty beach. Canoers and kayakers have a choice of exploring the sheltered bays or open coastline and islands beyond. Sea lions sun themselves on the rocks. Seek out wildlife or adventure on your own or with one of the many experienced guides in the area. There is so much to do, so many ways to enjoy this paradise—walk along endless stretches of deserted beach, hike rainforest trails, view wildlife up-close, fish, surf, sea kayak or simply wonder from your front row center seat to the surf.
Tofino, British Columbia

Lodge

Award-Winning
What We Love
This is not your average surf getaway. Taking full advantage of the rugged coastline and sandy beach, the oceanfront resort has 41 luxury rooms offering spectacular ocean views and 20 cottages nestled in tranquil forest vistas with private hot tubs. Just steps from the beach, it's easy to start your day with a dip in the Pacific before brekkie or brunch. The interior design concept evokes feelings of warmth and familiarity, as though you have just arrived at a friend's home. You immediately relax as you enter the Great Room with its massive granite fireplace and overstuffed chairs—the perfect space to put your feet up and gaze out at the sandy beach with the crashing surf and lighthouse beyond. And the staff think of everything here—they have a stash of raincoats and umbrellas for guests who forget to pack these items! 
Whether this is your first time, or you've been here many times before, that first feeling of standing outside, and just taking in everything—the ocean, the forest, the air. It's a feeling that's unlike anything else! Your Vacayou option includes: 
Accommodations in a beachfront room with a front row center seat to the surf 
Guest rooms include luxurious bathroom amenities, bathrobes and waterproof rain jackets
Surf lesson and board rentals for 2 people
Daily breakfast
PS: Your furry friends are more than welcome, too—there are even VIP (very important pet) accommodations at beach-level to allow convenient outside access for easy ins and outs. A one-time $50 pet fee includes pet blanket, pet dishes, scratching post for cats, pet towels (for wiping off all that sand after your play on the beach!) and treats. There is no size limit on your pet, however, there is a limit to two pets per unit. Should you require pet-sitting during your stay, please let the staff know prior to arrival.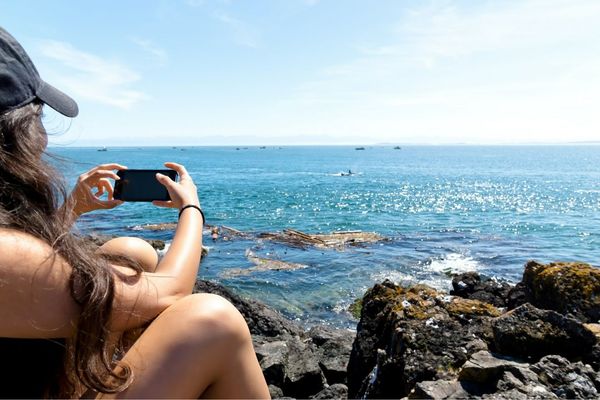 Surfing
Tofino is well known for its world-class surfing. It's easy to get on the water with the convenient on-site rentals and lessons. At the resort's adventure hub, the Surf Club, you'll feel like a pro. The knowledgeable and supportive crew members will ease you through the rental process, hook you up with tips and make you feel comfortable on the waves. The Surf Club is your place to chat with locals, grab a snack and beverage, and enjoy your personal pre or post-surf routine. The spa-like facilities are the perfect complement to your salty dip. Bliss out in the luxury change rooms and shower, or hot pool and cedar sauna then head to the lounge to unwind. The breezeway board lockers keep your gear secure while you enjoy an aprés surf experience.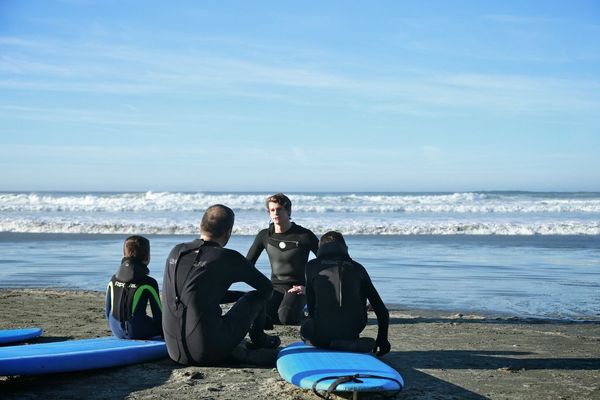 Activities
The resort features a fully-equipped fitness room that includes a treadmill, stationary bike, elliptical trainer, universal machine, free weights and a large screen, wall-mounted television. You can follow your workout with a warm post-workout soak or sauna. For that mind-body connection, a yoga studio is located down the road. There's also a new way to play during your stay. The Multi-Use Path (MUP) Extension Project connects the walking/cycling path from downtown to the shores of Long Beach. The newest addition of the trail starts right at the entrance to the lodge. Turn left and you'll find the shops, eateries and galleries. Turn right land you'll embark on a 2.8-kilometer bike cruise through groves of giant trees, past various ecosystems and to the northern boundary of the Pacific Rim National Park Reserve.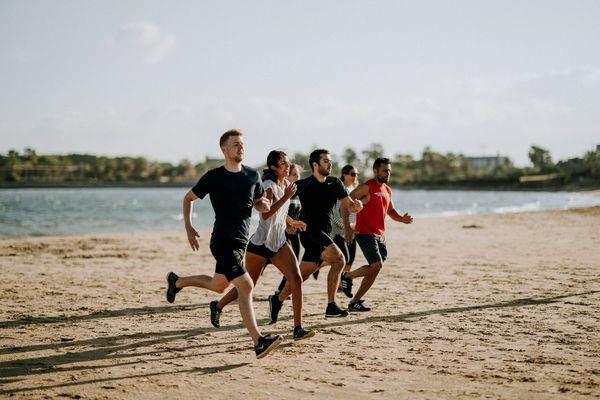 Culinary Highlights
Embracing the rich west coast surroundings, the award-winning cuisine tastefully brings together farm-fresh ingredients and seafood bought daily, direct from the fisherman. With emphasis placed on local and sustainable products, the chef forages the forest for mushrooms and visits the area farms, taking great care in bringing a truly distinctive experience to your plate. The open concept of the Great Room enables an uninterrupted panorama of nature while the modern furnishings, wood accents and fireplace features provide the warmth and feeling of a living room setting. Arguably one of the best "rooms" on North America's Pacific coastline, the Great Room offers a place to escape, sit and taste the delectable flavors of the chef's innovative cuisine while watching a magnificent sunset. From post-surfing refreshments to sunset cocktails, the SandBar Bistro is designed to be an extension of the lodge's Great Room—creating a perfect al fresco gathering place for surfers, lodge guests and beachcombers alike.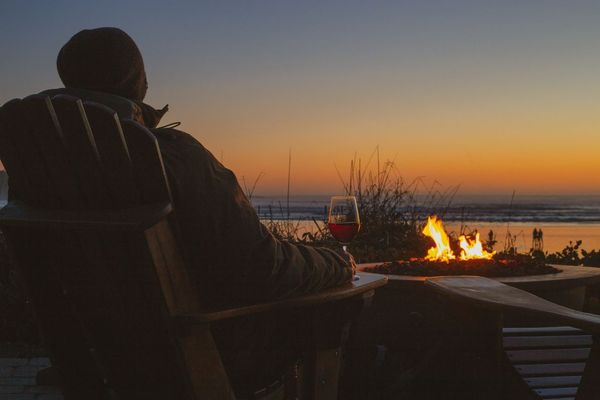 Long Beach Lodge Resort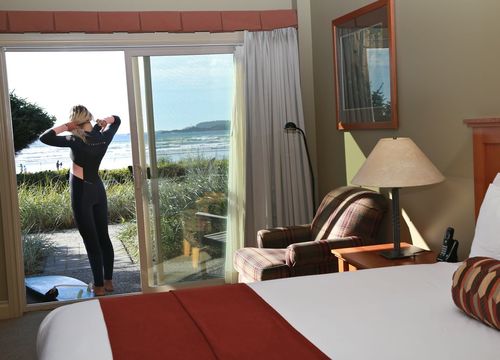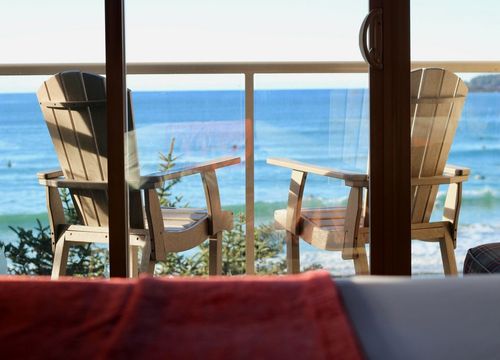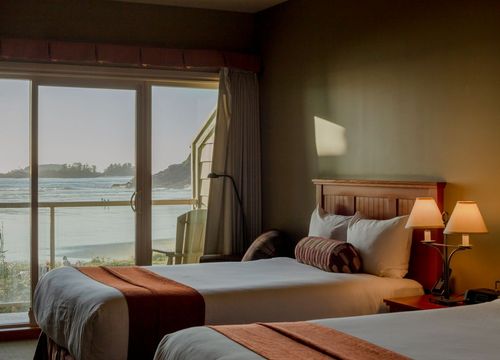 Accommodations
Long Beach Lodge Resort offers two styles of accommodation; luxury rooms in the beachfront lodge and self-contained two-bedroom Rainforest Cottages. Choose the room style that best suits your travel needs. Aptly named, the Deluxe Beachfront room showcases the spectacular oceanfront location with stunning Pacific vistas of Cox Bay. Take in the scenery from your private ocean view patio or from the comfort of your king-size bed. Features include a fireplace and double soaker tub.
Your furry pets are very much welcome, too. VIP (very important pet) accommodations are beach-level to allow convenient outside access for easy ins and outs. Choose a pet-friendly Lodge room or a Rainforest Cottage that features laminate flooring, cozy yet durable furniture fabrics, scratch proofing on doors, extra matting and water-resistant curtain hems. Due to the limited number of pet-specialized rooms, you do need to confirm that you are traveling with a pet at the time of booking. Upon reservation, all pets must be pre-registered to ensure a proper hello.
Features & Amenities
Handcrafted douglas fir furniture
Cast iron gas fireplace
Double soaker tub & separate shower
Balconies with seating or patios with direct beach access on ground level
High-speed internet access
Flat-screen television
Fridge, coffee-maker, tea kettle, tea & coffee
Waterproof raincoats & umbrellas
Natural amenity package
Luxurious bathrobes & towels
Local artwork
In-room safe
Iron & ironing board
Full-service dining room and lounge
Surf Club Adventure Center
Riptide Center fitness room
Outdoor covered BBQ facility
Location
Long Beach Lodge Resort is located in Tofino, British Columbia, Canada.