Little Palm Island Resort & Spa

About Little Palm Island Resort & Spa
Looking for a luxurious, adults-only getaway? Look no further than Little Palm Island Resort & Spa! Indulge in island isolation where champagne is poured by mid-morning, the sea sparkles in the sun and the only decision is whether to wake up for an early morning snorkel or to lounge in a hammock on the beach. It's just you, four acres of beach, no phones, no TVs and no distractions.The thatched roof bungalows are inspired by British West Indies design and offer all the charm and amenities you could ask for, including an indoor/outdoor spa and world-class dining. Surrounded by the natural beauty of a tropical island, Little Palm Island is the perfect place to escape the ordinary and delight in exceptional luxury.
Florida Keys, Florida

Luxury Boutique Hotel
What We Love
There is a Florida Keys spa that exists solely to promote health and well-being for mind, body and soul. Welcome to SpaTerre. Here, exotic services such as the four hands massage, CBD treatments with luxurious macadamia nut oil and organic vanilla, and body rituals using sustainably sourced seaweed are designed to help you forget your troubles and relax completely. Therapists use the healing properties of flowers and spices liberally to enhance each spa experience, and facials use advanced techniques to give you the best experience possible with real results. And be sure to keep your mind clear and your heart rate pumping in the brand new fitness area. With state of the art equipment, you'll be able to stay healthy and fit while enjoying yourself!
If you decide to tear yourself away from the on-island options, there's more than enough activities to do. No matter how you choose to spend your days, you're certain to discover your personal paradise on Little Palm Island. Explore the crystal blue waters surrounding the island in a kayak or on a paddleboard. Discover the backcountry of the Florida Keys on a sport-fishing excursion. Looe Key Reef, which is consistently rated as one of the best places to snorkel or scuba dive in the U.S., is located just a short boat ride from the resort.
Little Palm Island Resort & Spa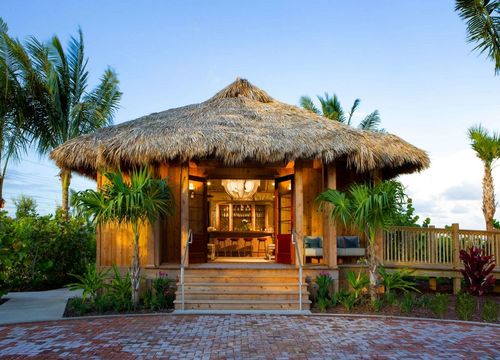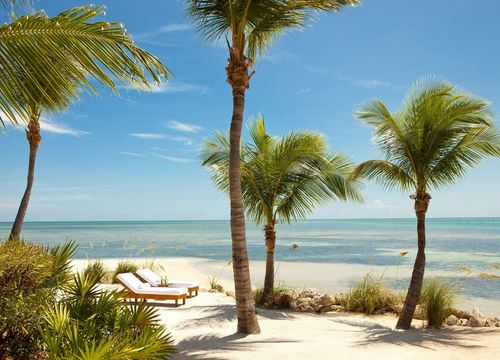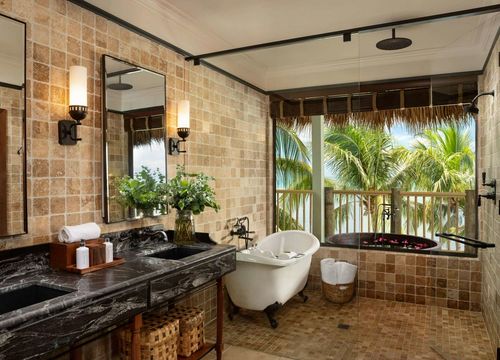 Accommodations
The chic TV-free bungalows at the resort feature thatched roofs, vaulted ceilings and island-inspired furnishings. Each bungalow has a furnished private deck with ocean views, outdoor shower and separate living room. Some bungalows also have whirlpool tubs.
Features & Amenities
Parking
Complimentary Wi-Fi
Beach
Boating
Yoga classes
Sauna
Diving
Snorkeling
Concierge
Butler service
Private check-in / check-out
Dry cleaning
Bathrobes
Air conditioning
Housekeeping
Room service
Safe
Minibar
Location
Little Palm Island Resort & Spa is located in Little Torch Key, Florida.