About La Tourelle Hotel & Spa
No longer a '60s hippie hangout, Ithaca has rightly come of age. Sandwiched between two gorges, this laid-back college town is a wonderland of cascading waterfalls, magical lakes, forests, farms and vineyards. Set on 70 lush acres of landscaped lawns, ponds and gardens, including a trail that connects with the Buttermilk Falls State Park trail system, La Tourelle Hotel & Spa offers guests sweeping views of the Finger Lakes region. A short drive in any direction, historic villages with timeless town squares dot the hills and valleys. And with four distinct seasons, this family-owned three-story inn attracts summer vacationers, avid boaters, fall foliage seekers and winter sports enthusiasts alike. From hiking and biking to kayaking, fishing and sailing, there's something for everyone year-round—even for your four-legged family members because La Tourelle is a pet-friendly hotel!
Ithaca, New York

Boutique Hotel
What We Love
The beds are comfy, the spa services are outstanding, the grounds are beautiful and the hike to Buttermilk Falls right out back is inspiring. The inn is just minutes from Cornell University and Ithaca College, as well as exquisite wineries, fascinating museums, great music and theater venues, and mouth-watering restaurants. There's even a daily wine hour where you raise a glass to the local wine growers. Most noteworthy, though, is the August Moon Spa where a massage is more than a massage, especially the hot stone massage that uses locally made body butter. Pro tip: you can even purchase the body butter to take home!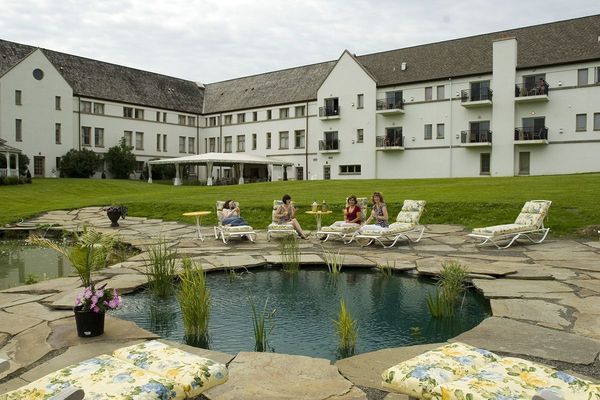 Spa
A massage is more than just a massage here. Break free from stress and distractions as you rediscover inner peace in a setting inspired by the natural beauty of the Finger Lakes region. A haven for the senses, where ancient Eastern healing traditions meet the wellness innovations of the West, the spa provides an array of health and wellness regimens. Services include facials, massages, body treatments and the signature Waterfall Vichy Experience, a massage in a wet room where warm water from six showerheads rains down on you. You'll definitely be in sublime post-massage bliss by the end of your treatment (and secretly wanting to book another appointment).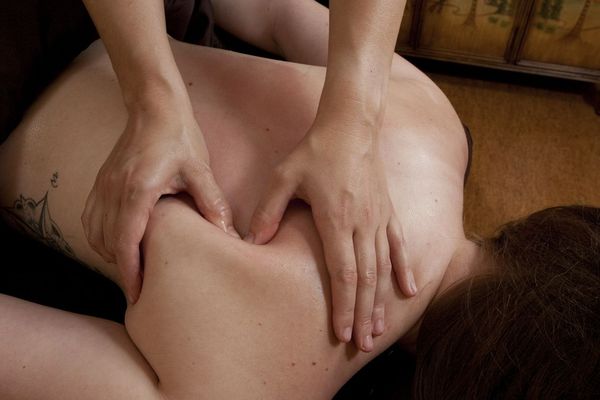 Activities
When you're not blissing out at the spa or exercising at the fitness center, there's plenty of other activities in the area to keep you busy. In addition to the 70 acres of lawns, ponds, gardens, fields and forest, the adjacent Buttermilk Trail connects with the Buttermilk Falls State Park trail system. If you are looking for waterfalls, there's nowhere better to start than Ithaca Falls (just a 10-minute drive from the hotel). Ithaca is also well-known for its bucolic wine region. Swirl, sip and savor your way through the 16 wineries nestled along the shores of Cayuga Lake. Speaking of Cayuga Lake, at 40 miles it's the longest of the Finger Lakes and is a great spot for swimming, boating, kayaking, fishing and sailing.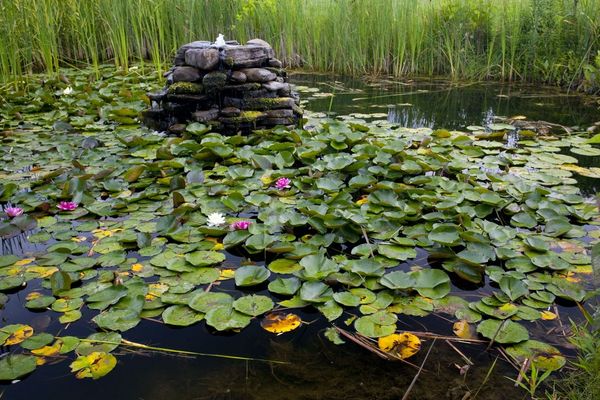 Culinary Highlights
Dining plays an important role in the guest experience at La Tourelle. The Bistro menu features regionally inspired, farm-to-table cuisine created with locally grown and raised meats, dairy and produce. Plus, when seasons allow, fresh herbs and produce from the hotel's very own gardens add pizazz to every dish. The Bistro offers a warm, relaxing crossroad where the good life meets good food. And with views of the hotel's herb and flower gardens, and outdoor dining when the weather permits, The Bistro is a perfect spot to start the day with a hearty breakfast, relax over a casual lunch or indulge in a delicious weekend brunch.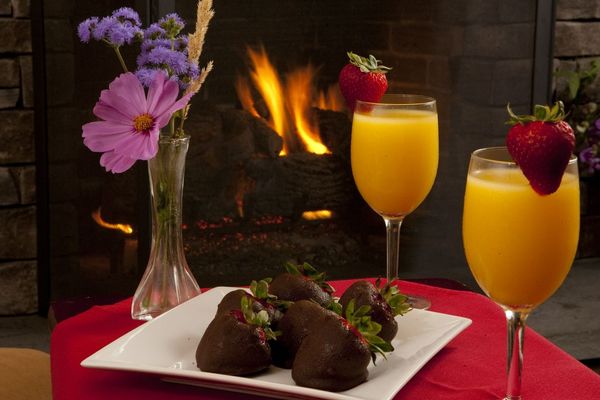 La Tourelle Hotel & Spa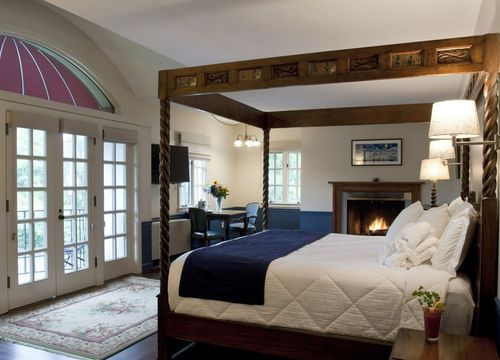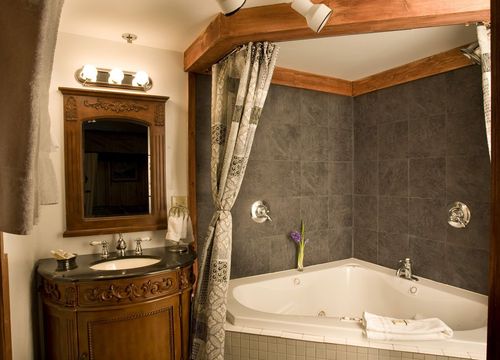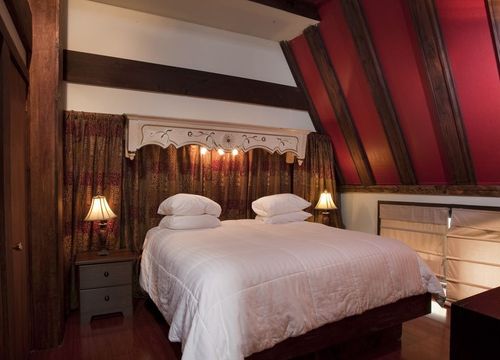 Accommodations
Framed by French Chateau-style architecture, the warmth and comfort of a country manor nestled on 70 lush acres of lawn, fields and forests, dotted with gazebos, gardens and ponds the 54 guest rooms and suites inspire every sense and are some of the coziest accommodations in the Finger Lakes region. Each guest room and suite has been thoughtfully decorated with unique furnishings, soothing fabrics and color palettes as well as local artwork and lots of books.
Yellow Barn Suite
The vintage three-story yellow barn suite is located in the historic yellow barn just steps away from the main hotel. The suite features three bedrooms, two with king beds and one with a queen bed, and all with pillow-top mattresses. The three-story atrium living room includes comfortable seating for ten, a gas fireplace, a private bar, a dining table for eight, a small fully equipped kitchenette with a microwave, toaster, coffee maker and mini-refrigerator. There are two full bathrooms downstairs and one half-bathroom upstairs.​ 
Traditional King Room
The well-appointed traditional king rooms are decorated in creams and blues with unique design touches including local artwork, a small two-person dining table and an armchair. The ensuite bathrooms are spacious with bathtubs, double-headed showers and granite countertops. These rooms boast views of the ponds and gazebos or of the fruit trees.
 Deluxe Fireplace Room
The well-appointed deluxe fireplace rooms feature hardwood floors, a gas fireplace, a king bed with pillow-top mattress, a small dining/work table, an armchair and a bookshelf. The ensuite bathrooms have single-jetted bathtubs and double vanity with granite countertops. These rooms also boast a balcony for drinking coffee in the morning or admiring sunsets in the evening. 
Features & Amenities
Nightly wine tasting
Wi-Fi
Fitness center equipped with treadmill, elliptical bike and stationary bike
Complimentary coffee, tea and water available during lobby hours
Tesla and universal charging stations
Free parking
Complimentary shuttle from 8:00 a.m. to 6:00 p.m runs to and from the airport, bus terminal, Cornell, Ithaca College and Downtown Commons. 24-hour advance notice requested.
Location
La Tourelle Hotel is located in Ithaca, New York.