About L'Auberge de Sedona
Calling Sedona the most beautiful place on earth is not a stretch of the imagination. The vast scenery steals your breath, feeds the soul and says far more than words ever could. It's where one can get back to what's real and meaningful. And that's the magic of L'Auberge de Sedona—captured by breathtaking Red Rock vistas and creekside tranquility, magical dining experiences, a cozy lodge and intimate cottages, and a very exclusive, private spa. Everything is done with intention, each amenity fine-tuned to create unforgettable moments. When you journey here, the possibilities are endless.
Sedona, Arizona

Destination Spa

Vacayou Top Pick
What We Love
Life moves forward, seasons pass, yet time stops along the banks of Oak Creek. L'Auberge de Sedona is a perfect companion to its idyllic creekside setting in the most beautiful place in America. For a weekend or a week, reconnect with that which is truly meaningful. Share quiet talks and slow strolls under the changing colors of the towering sycamore and cottonwood trees. Take time to appreciate the splendor of life and indulge those you love most with the precious gift of wonderful memories. Let the truly attentive staff handle every detail of your stay with gracious and attentive service that is never intrusive.
Nature's healing power is yours to experience at L'Apothecary Spa and gently erase the last remnants of stress with a myriad of indulgent therapies, calming touches and fragrant aromas. Set amidst the idyllic scene of a lush forest and the sound of rolling waters, L'Apothecary is truly nature's spa. Out-of-the-ordinary offerings take place within the stunning natural surroundings—while more traditional services, like deep tissue massages, reflect nature by using organic products. Massages may be enjoyed in outdoor cabanas with the sounds of the creek and the skilled hands of the therapists easing away the tension. Inspired by apothecary traditions of old, the spa's Blending Station honors the past while offering a distinct, modern spa experience. Choose your own personal selection of herbs, oils, botanicals and essential oils to create your own apothecary concoction for use here or at home. Experiment and explore while building a scent profile nourishing for your nature.
L'Auberge de Sedona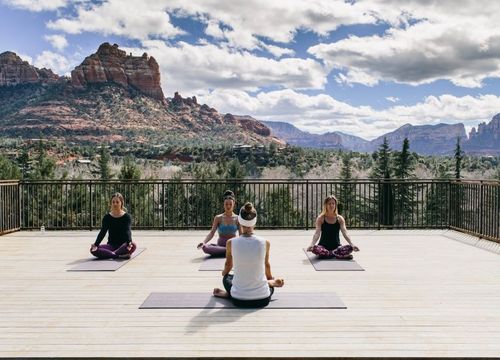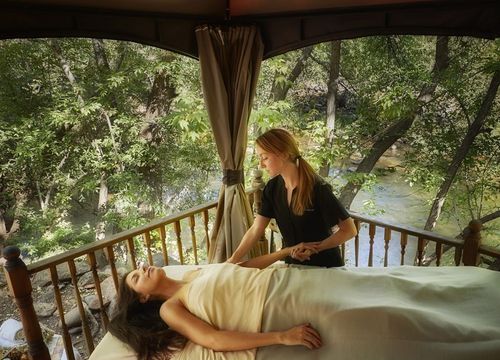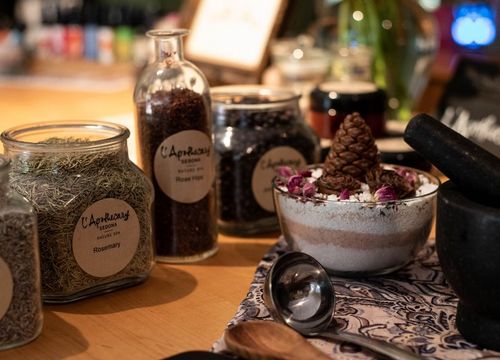 Accommodations
The accommodations at L'Auberge de Sedona are as distinct as they are serene. Every cottage, suite and guest room accentuates different aspects of the property—such as the views, the spa or creek—and takes inspiration from the resort's location. 
Features & Amenities
ILLY coffee machines with complimentary coffee/espresso
L'Occitane hair & skin products
Deluxe bathrobes & slippers
Down bedding & pillows
In-room safe
Location
L'Auberge de Sedona is located in Sedona, Arizona.