Fond Doux Plantation & Resort

About Fond Doux Plantation & Resort
Framed by rainforest and majestic volcanic spires, Fond Doux Plantation & Resort is more than a day at the beach on the beautiful Caribbean island of St. Lucia. Best known for its romantic, intimate and authentic experience, the eco-luxury resort is home to a 19th-century working cocoa plantation and features tropical gardens, charming cottages, two restaurants, a triple-cascading swimming pool and an organic spa. While a stay at Fond Doux isn't chocolate-themed per se, guests can taste their way through the cocoa estate by joining a chocolate-making tour. Guests can also take a guided walking tour to learn about the captivating history of the property. 
Fond Doux is 100% Saint Lucian-owned, managed and staffed and considered among St. Lucia's leading sustainable resorts with Green Globe certification.
Soufriere, Saint Lucia

Boutique Resort
Spa
The intimate Mama La Terre spa is surrounded by sun-dappled cocoa groves and a lush tropical "Garden of Eden" with colorful and fragrant flowers and fruit trees that provide not only a glorious backdrop but a soothing scent as well. The passionate staff believes in offering a one-of-a-kind spa experience by focusing on the restorative powers of nature. All products used in the spa treatments are made from all-natural, organically grown ingredients.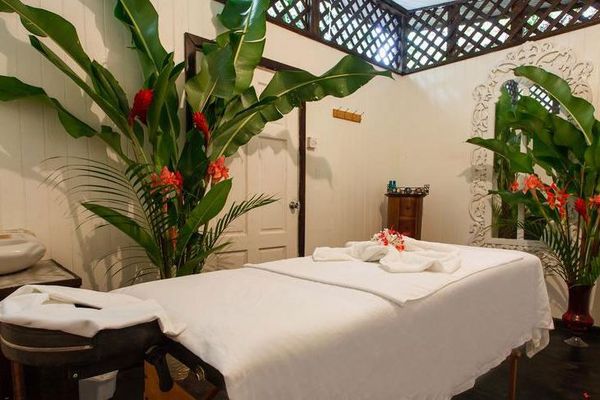 Activities
All the resort's activities are right outside your doorstep. In addition to guided nature walks, bird watching, tree planting, cooking and cocktail making classes, you can take advantage of the poolside library and borrow a book or board game to while away the hours. Beach lovers can take the free shuttle to Sugar Beach for sunbathing, snorkeling and water sports. Adrenaline seekers can combine the thrill of zip-lining with a visit to Sulphur Springs to witness the world's only drive-in volcano.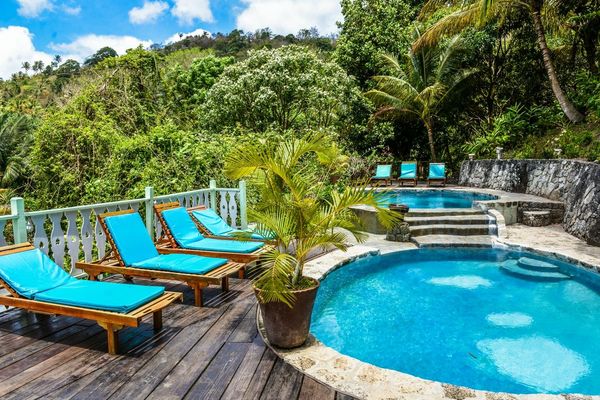 Culinary Highlights
Despite its small size, Fond Doux has two on-site restaurants serving guests a fusion of international, Caribbean and St. Lucian cuisine. The Bamboo restaurant offers a la carte lunch and dinner farm-to-table style made with fresh, organic ingredients harvested on the plantation. The Creole Pot restaurant offers diners authentic Saint Lucian Creole cuisine.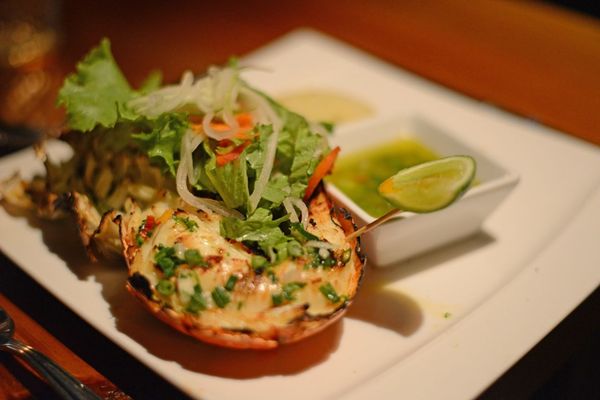 Fond Doux Plantation & Resort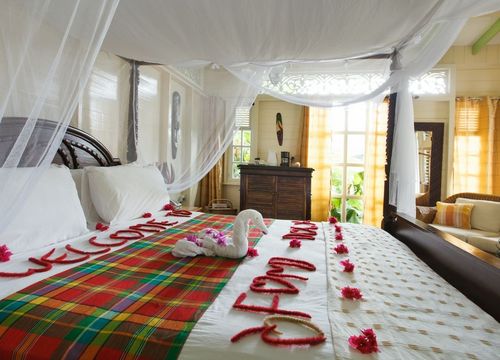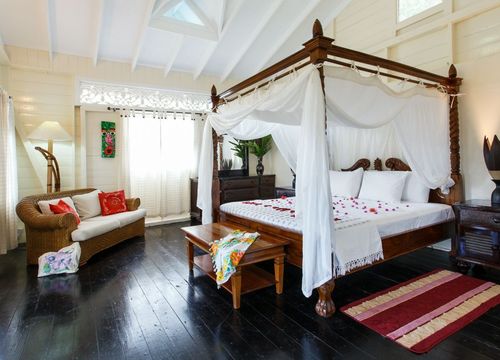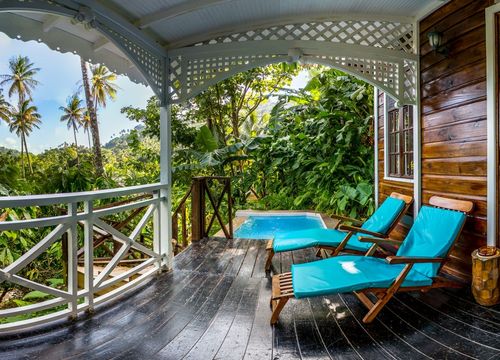 Accommodations
The bright and airy 16 eco-luxury cottages are available in one- and two-bedroom options. All are designed in charming plantation-style and are beautifully accented with French colonial touches such as wooden floors, handmade four-poster beds and vaulted ceilings. Off-white walls feature works by local artists. The cottages open to balconies and terraces with lovely garden views. 
The one-bedroom accommodations are perfectly suited for couples looking to enjoy peace and quiet in a romantic and secluded setting; while the two-bedroom accommodations are ideal for families or friends traveling together.
Features & Amenities
Private plunge pool
Outdoor swimming pools
Traditional cocoa fermentary house
Wi-Fi
Phone
In-room safe
Refrigerator
Coffee/tea maker
Separate sitting area
Kitchenette
Minibar
Sofa bed
Toiletries
Hairdryer
Location
Fond Doux Plantation & Resort is located in Soufriere, Saint Lucia.