About Finca Luna Nueva Lodge
Finca Luna Nueva is a rainforest lodge and educational center that offers guests a mix of peace, adventure and a little bit of luxury. Featuring countless activities onsite and offsite, you'll discover the perfect expedition and adventure that meets your adrenaline requirements. Enjoy miles of hiking trails through the forest, farm and fields. Birders or herbalists will be thrilled to take in the biodiversity surrounding the resort. Only 25 minutes by car from La Fortuna, the adventure capital of Costa Rica, you can take photo safaris up lazy jungle rivers, white-water raft with expert guides, bird watching in the cloud forest, take strenuous hikes up volcanos and swim in crater lakes. Lounge by the resort's glorious pool and drift off in hammocks. It's all here, in a setting that is called "rustic but majestic."
San Isidro Peñas Blancas, Costa Rica

Lodge
Rain Forest Spa
Bring balance and harmony to your spirit in Luna Nueva's Rain Forest Spa. Relax your body and rejuvenate your mind with luxury spa treatments using only the highest quality organic oils and extracts derived from fruits, herbs, flowers, and botanicals. Select from a variety of massages, therapeutic body treatments, skincare services, and aromatherapy sessions. Experience ancient healing method working with body, mind, and spirit such as acupuncture, cupping style massage, Korean massage, Reiki, Craniosacral Therapy, and more.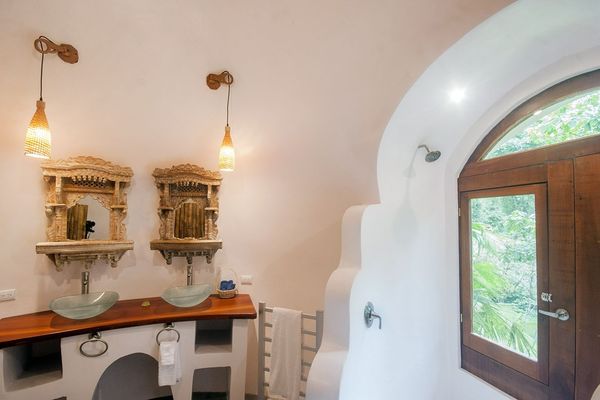 Activities
Finca Luna Nueva boasts an intimate experience with primary rainforests where regenerative agriculture practices are cultivated and people convene with nature. A birder's paradise, guests can also enjoy chocolate-making workshops, night walks, medicinal plant tours and more. Visit the nearby hotsprings or Arenal Volcano National Park. Adventure tours such as ziplines, canyoneering, rafting, safari floats, waterfall excursions, horseback riding, montain biking, atv's and many more. Enjoy meditation, yoga, and other activities in the bamboo yoga pavilion set in the lush rainforest and well equipped with mats, blocks, yoga blankets and straps.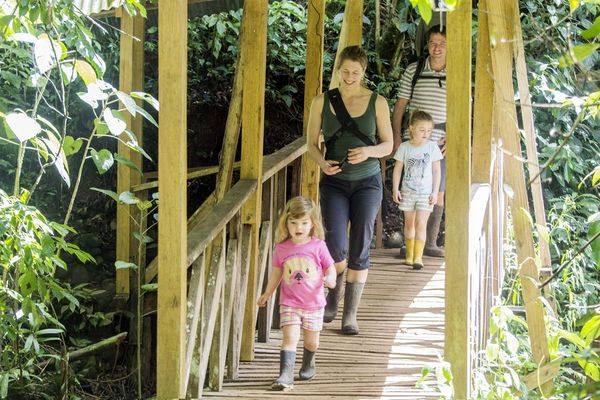 Cusine
Dine in Finca Luna Nueva's open-air dining area next to their beautiful swimming pool. The kitchen prepares delicious and healthy foods with organic produce and dairy from their Demeter-certified biodynamic farm. Their menu varies depending on the weekly harvest. Finca Luna Nueva also caters to vegetarians, vegans, gluten-free and any other food restriction.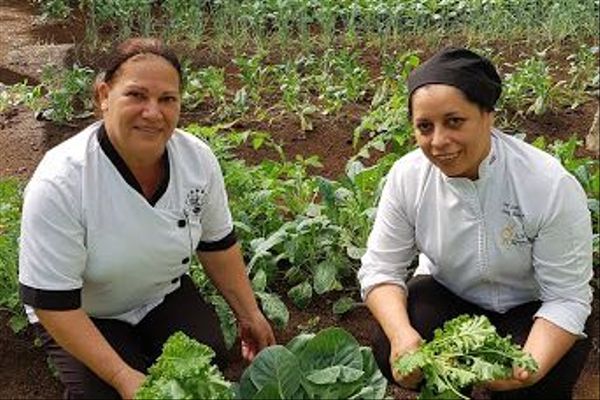 Finca Luna Nueva Lodge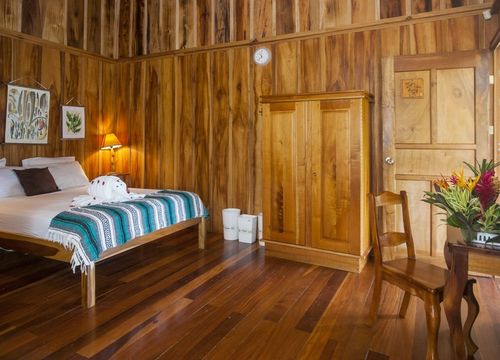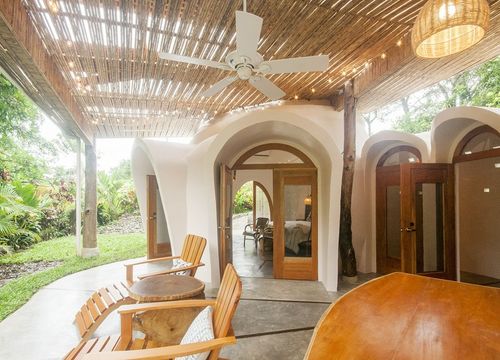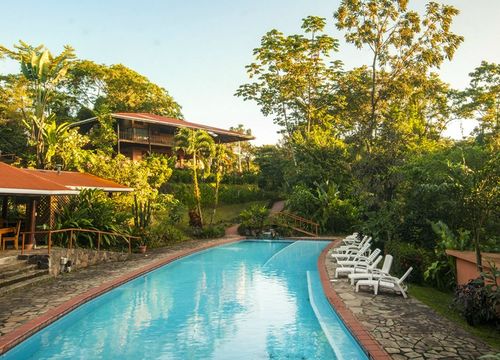 Accommodations
With a combination of individual rooms and family cabins, totaling 40 beds, accommodations can be made for both the traveler looking for an intimate getaway as well as housing for large groups and conferences. Enjoy private decks or wraparound porches, all with wonderful views of the farm or rainforest, when you step outside of your room. 
Casa Luna
When you step outside of a spacious Casa Luna room, you can enjoy a second-floor wrap-around porch with hammocks and stunning views of the surrounding hills and mountains. Downstairs you will find an open-air lounge area, with comfortable couches and chairs plus a coffee and tea setup.
Family Bungalows
Family Bungalows are located near the swimming pool and solar-heated Jacuzzi, and overlook lovely fields. These spacious bungalows are ideal for families or groups traveling on a budget and offer tea and coffee setup is available every morning to enjoy while taking in the sights and sounds of the rainforest.
Individual Bungalows
Three private individual bungalows are available featuring an outdoor sitting area or an outdoor balcony overlooking the rainforest. There is a coffee and tea set up in all three bungalows. These bungalows are perfect for couples looking for a private and relaxing getaway.
Casa de Barro
Casa de Barro is an adobe "earth-bag"house made from the deep red clay found on Finca Luna Nueva's farm by the farm team with local participation. Casa de Barro features a lovely private setting, but it is conveniently located to Finca Luna Nueva's facilities.
Dome Suite
The Dome was handmade by master artisans to give you a unique experience of the rainforest. The bedroom opens to an arched connection to a separate domed bathroom, where the shower opens fully to the glories of the rainforest. Located just steps away from the pool and lounge, the Dome combines total "honeymoon" privacy with easy access to all Finca Luna Nueva's facilities.
Amenities
Ozonated swimming pool and solar-heated jacuzzi
Yoga pavilion
Rain Forest Spa
Facilities for classrooms and meetings
Full-service restaurant
Small gift shop
On- and off-site tours
Wi-Fi in selected areas
Miles of trails, a yoga pavilion, a bird-watching platform
Many of the leading adventure tour companies will pick you up at the lodge for an extra charge.
Location
Finca Luna Nueva is located in San Isidro Peñas Blancas, La Fortuna Arenal Area, Costa Rica.