The Fittest Hotel on Earth
Welcome to the "fittest hotel on Earth." Equinox Hotels' holistic approach to hospitality is engineered to ensure you are at your peak, physically and mentally, throughout your stay in New York's healthiest hotel.
The design of Equinox in New York City's Hudson Yards transcends hospitality and elevates the art and science of fitness. From the moment you arrive, and throughout your stay, you'll be immersed in a world of infinite possibilities, including access to a membership-based coworking community space located within the building. 
Extraordinary environments and thoughtfully chosen elements come together at Equinox Hotels, reimagining how you move, eat, sleep, work, and live.
Spa
The Spa by Equinox Hotels redefines the art and science of regeneration. During your stay, wind down and refresh with regenerating Spa rituals. The immersive Spa features a menu of always-evolving treatments – from the indulgent and pampering massages and facials to techno-therapies designed to enhance your health and performance. 
At the Equinox Spa, accelerate your recovery with tailored treatments in an award-winning environment. Select from a menu of always-evolving treatments – from the indulgent and pampering to techno-therapies designed to enhance your health and performance.
Indulge in Equinox Spa's immersive massage, bodywork and skin therapies. Innovative treatments and benefit-boosting amplifiers have been designed by a team of experts renowned for their mastery of healing techniques.
Equinox Spa goes beyond the traditional treatment menu, offering a suite of services powered by the latest technology in health and wellness. From relaxing in the cryotherapy chamber to sitting by the infrared sauna, each therapy offers restorative experience.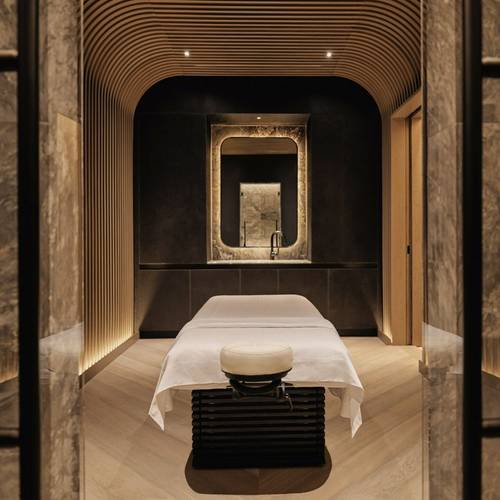 Activities
As part of your stay you'll have complimentary access to the 60,000 square foot flagship Equinox Fitness Club which features expansive strength and cardio floors overlooking the Hudson River as well as Personal Training and Private Pilates sessions, upon request.
Challenge yourself with The Equinox Vessel Run, one of the world's most epic fitness experiences which covers more than 2,500 steps
Then, take a dive in the indoor pool, plunge pools, and outdoor terrace pool. Known as a true urban oasis, Equinox's outdoor pool terrace features views of the Hudson River and city skyline—the perfect place to refresh and relax.
SoulCycle in a dim, candlelit room led by inspiring instructors. Equinox's personalized services and signature programming comes together for an unparalleled fitness experience, from renowned personal training to innovative group fitness classes led by the industry's most beloved talent and rising stars.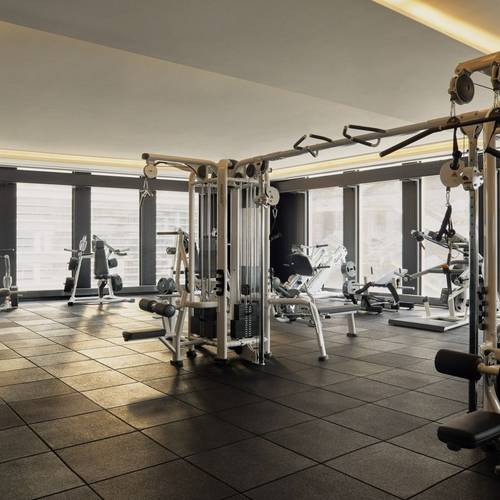 Culinary Highlights
Working closely with passionate farmers, growers, and food artisans across the Mid-Atlantic region, the team elegantly makes the most of their vibrant, naturally nutritious produce with conscious, ever-evolving daily dishes complemented by comforting offerings for those looking to indulge.
Perched on the 24th floor of the Equinox Hotel, Electric Lemon's sleek, expansive dining room and serene al fresco terrace offer unmatched views of the new Hudson Yards and the city at large. Shifting throughout the day to suit the needs of guests and locals alike, the restaurant is a multi-use, constantly re-energized space.
The lounge at Electric Lemon serves up the restaurant's full menu alongside expansive views from the space's dramatic windows. Relax in the diverse and spacious seating arrangements and pair any of the inspired seasonal dishes with offerings from the bar. Try a cutting-edge elixir, stick with cocktail classics, or take your pick from an international wine list.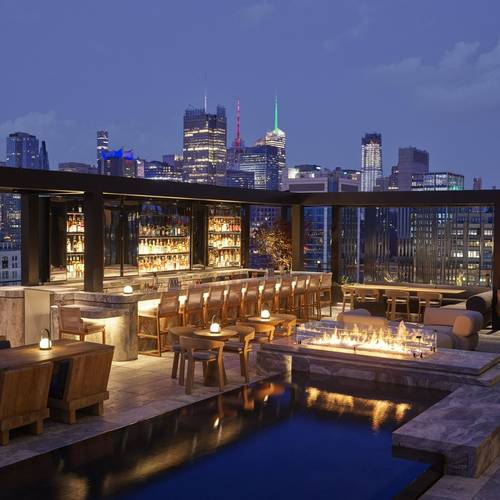 Equinox Hotel New York
Equinox Hotel's rooms are designed with your performance and regeneration in mind. The difference is in the details, inspired from residential living to include total soundproofing, next-generation blackout blinds, and integrated technology for effortless personalization.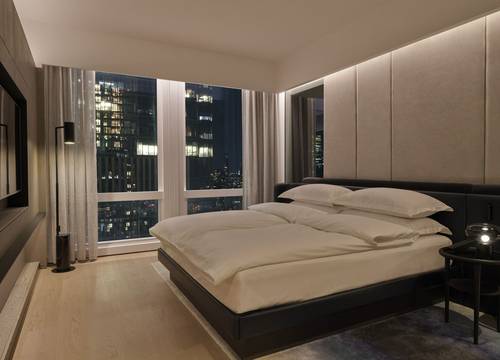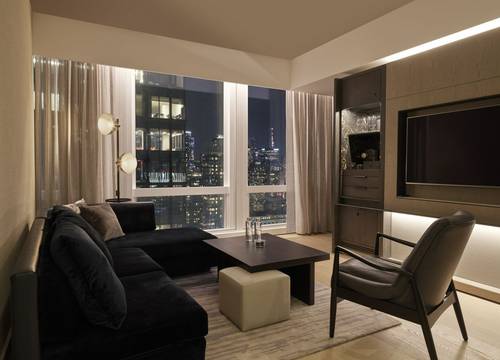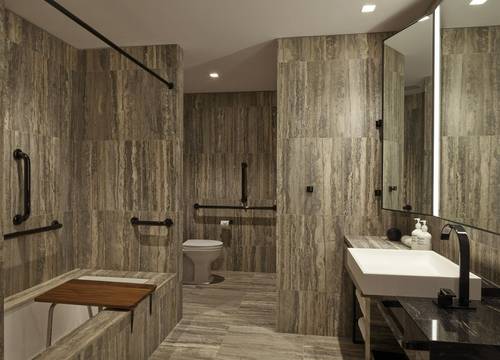 Accommodations
Optimize restoration in a king-sized bed layered with temperature-regulating natural fibers, and make the most of every resting moment with the help of an Equinox Sleep Coach. Or carve out your own space to rest in a generously-sized Deluxe Double Double room, featuring two beds made with meticulously designed natural fiber mattresses for restorative individual sleep, perfect for traveling with friends or family.
Choose from an array of products including artfully-designed showers and a re-envisioned minibar, known as the Room Bar. Your stay at Equinox Hotel is meant to help you relax and unwind with astounding views of the city in the distance.
Features & Amenities
Equinox Hotel creates an environment for people to maximize the potential within themselves. From the array of products and custom content available in your room to the workouts and regenerative experiences, engage in the amenities meant to keep you at your peak and boost your immunity. 
Equinox Fitness Club
Morning and evening rituals
In-Room skincare kit inspired by the city
Digital press reader
Training services
Spa
Indoor salt water pool
Hot and cold plunge pools
SoulCycle 
Restaurants and terrace