Castle Hot Springs
Imagine a place where your wellness is not an afterthought, but a priority. A place centered around all the best parts of being where you can disconnect from the busy outside world and reconnect to yourself and nature. This rugged, remote location—about an hour northwest of the Phoenix/Scottsdale metro area—makes Castle Hot Springs unique among luxury wellness resorts in Arizona. Traverse an unpaved road as you pass beneath palm trees and alongside Saguaro cacti until you reach this desert oasis where luxurious accommodations and exceptional culinary offerings are all designed to provide guests an opportunity to emerge as their best selves. The focal point of this secluded resort is the natural therapeutic spring waters that cascade into three soaking pools of varying temperatures. A central pool near the Lodge is also heated from the same source. Whether you're looking to unwind in the hot springs or go on an adventure in the Sonoran Desert, revel in the grounding effect of this one-of-a-kind property. Come yearning. Emerge revived.
Morristown, Arizona

Luxury Resort
What We Love
Old West meets modern luxury with three farm-to-table meals daily plus a curated selection of activities including yoga, meditation, farm tours, guided hikes, archery and e-bikes. Feast upon a menu crafted with flavors from the on-site farm that provides a wide variety of vegetables, herbs, and fruits for the culinary program. Guest rooms are well-appointed. The Spring Bungalows have indoor and outdoor fireplaces plus a private outdoor lounge area with a Sonoma stone soaking tub, which can be filled with the beneficial hot springs water. Sky View cabins also have outdoor soaking tubs plus decks equipped with telescopes to view the night sky.
Spa services are available in spa cabanas, and seasonal horseback riding is also offered. Thrill-seekers will enjoy miles of hiking trails, mountain biking and a Ferrata adventure course, including cable-assisted climbing routes and a narrow suspension bridge to cross—always with a trained guide. Additional events include wine tasting, farm craft cocktail classes, paddleboard yoga and intentional wellness offerings. So go ahead, explore all day or choose to do nothing at all. Leave time each day, though, to experience a desert soak in mineral hot springs that cascade into three pools of varying warm temperatures.
Wellness
Romance
Adventure
Castle Hot Springs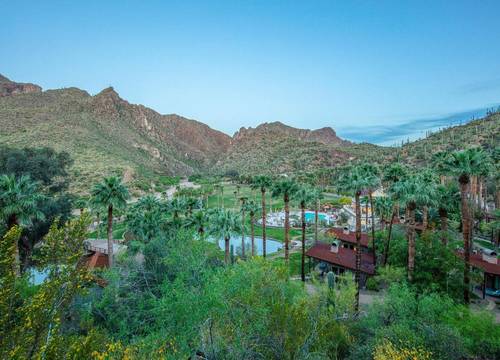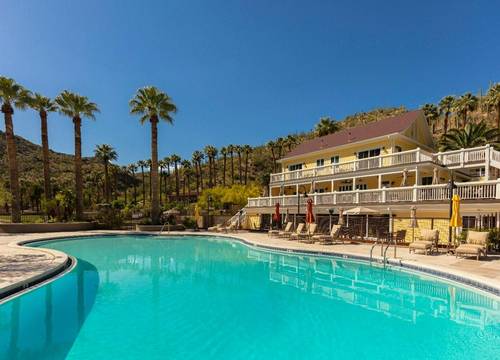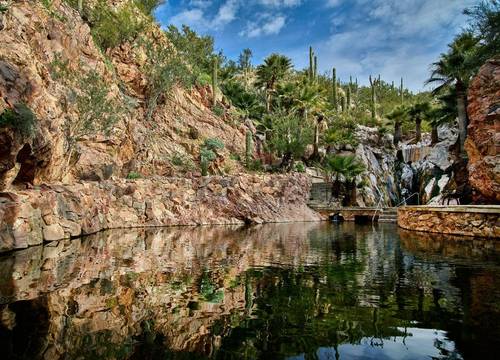 Why Book With Us
100 USD food & beverage or spa credit
Early check-in and late check-out upon availability
Property will offer upgrade at time of check-in (subject to availability)
Complimentary Wi-Fi
Hotel Goodies
Adults-only
All-inclusive
Exceptional service
Hot springs
Spa treatments
Yoga & meditation
Mindfulness
Hiking
Mountain biking
Ferrata adventure course
Wine tasting
Farm craft cocktail classes
Paddleboard yoga
Horseback riding
Location
Castle Hot Springs is located in Morristown, Arizona.