Casa Chameleon at Mal País

About Casa Chameleon at Mal País
Welcoming both adventurous explorers and those looking to unwind, Casa Chameleon at Mal País is an adults-only slice of paradise perched upon the Nicoya Peninsula and surrounded by lush, tropical wilderness. The boutique hotel embodies privacy and individuality, and each of the 10 private villas has its own unique character. Access requires an adventurous 4×4 drive, but once you're in Mal País, you'll find a quirky little beach town with just the right blend of locals, surfers, yoginis and barefoot wanderers. Casa Chameleon is not just about having a roof over your head. It's about being immersed in a culture so unique that it draws people back year after year. It's about the endless sense of play, full-hearted laughs and adventurous thrills that are only possible in one of the most beautiful and healthiest places in the world. Guests are encouraged to enjoy the simple pleasures of this magical location, whether it's discovering hidden paths or unwinding during a spa treatment. Come for a secluded getaway and stay for the never-ending possibilities waiting to be discovered deep within the jungles and sandy shores of Mal País.
Mal Pais, Puntarenas

Boutique Hotel

Award-Winning
What We Love
With its enchanting waves, vibrant wildlife and bohemian charm, Casa Chameleon offers a collection of unforgettable experiences set to satisfy adventurous spirits. Only accessible by 4×4 road, the boutique hotel is an off-the-radar getaway nestled between surf-destination Santa Teresa to the north and the Cabo Blanca Nature Preserve to the south. Your villa is your home away from home and its vibe is inspired by the heart of a natural explorer looking for a one-of-a-kind experience. Each of the 10 private pool villas is seamlessly in balance with the lush ecosystem that surrounds it—from the open architecture to the private plunge pool. Once you leave your villa, adventure awaits within the jungle and under the glistening water. Mal País caters to those seeking countless adventures and cultural experiences and the staff could not be more excited to share local tips and create a fully customized journey for you. The coast of Mal País is rocky in most parts, with some bizarre volcanic formations creating fascinating scenery. Old jungle forest grows down to the shore where rocky outcroppings alternate with pockets of beaches, some made up entirely of tiny seashells. All in all, Casa Chameleon is a great base for guests to come together and share food, drink and embrace Pura Vida. Plus Mal País is located in a Blue Zone, a place where researchers have discovered a veritable fountain of youth. 
Looking for a nature lover's paradise tucked away in a remote part of the jungle? It's surfing rad waves before breakfast, horseback rides on the beach during sunset, meditation and yoga in the open-air shala.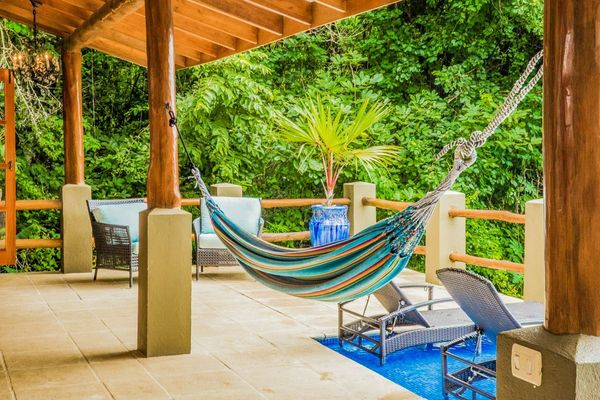 Spa
The Nicoya Peninsula is a mecca of tranquillity and well-being. More than just another tropical paradise, Casa Chameleon invites guests to sink deeper into tropical bliss. But there is no on-site spa so the hotel brings the spa experience to the privacy of your villa with pampering couples massages, deep tissue massages, body wraps and scrubs. Choose your best reset: massages to banish stress, release muscle tension, recover fully or holistic therapy. The body treatments rescue your skin with botanical, aromatic scrubs and masques for maximum exfoliation and hydration. The treatments are sure to transcend and that blissed-out feeling will linger long after, guaranteed.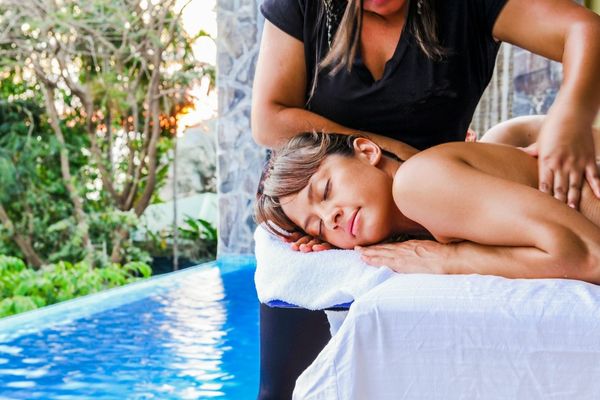 Activities
Remaining pure and true to its core, Mal País caters to those seeking countless adventures and cultural experiences, all in the heart of nature. Discover all that this region of Costa Rica has to offer with canopy tours, ATV journeys and sunset horseback rides. Curated to make every experience an outstanding memory, the handpicked excursions will introduce you to the breathtaking nature surrounding the hotel. In addition to nightly ocean sunsets from your villa's open-air terrace, you can also explore the ocean's surface and depth by day. One of those adventures is surfing: consistent waves and killer surf breaks have put Mal País on every waverider's shortlist. Whether you are a novice or lifer, the miracle miles of shoreline are yours for the taking. For guests wanting to do a mindful deep dive, there's nothing better than yoga, Pilates and weight training in the open-air studio or from the comfort of your villa. Available equipment includes yoga mats, dumbbells and weights. Upon request, you can book a private yoga class, martial arts lessons or personal training session.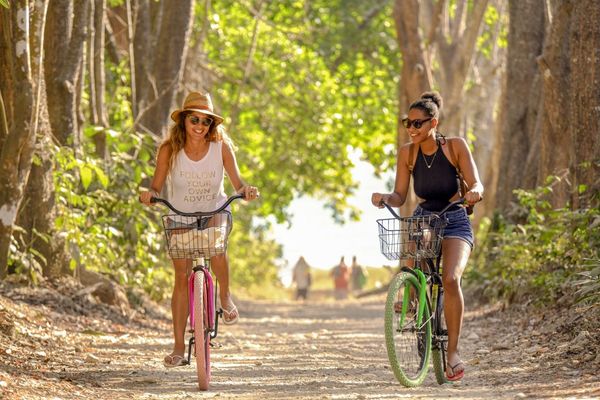 Culinary Highlights
Come discover age-old techniques and taste the flavors of Costa Rica at Brasas del Mar. Only the freshest, most wholesome, locally sourced ingredients are selected daily from the nearby farms and beachside docks and brought back to be prepared and served at your table. Be prepared to explore Costa Rica's culinary wonders—you may even want to sneak a peek at the cooking process throughout the day when you wander by and smell the mouth-watering flavors. Chef José prepares traditional Costa Rican dishes like his ancestors did, over an open fire with unapologetically bold flavors and a true passion for cooking. This is the perfect environment for explorers to dine and indulge in the culinary wonders of wanderlust.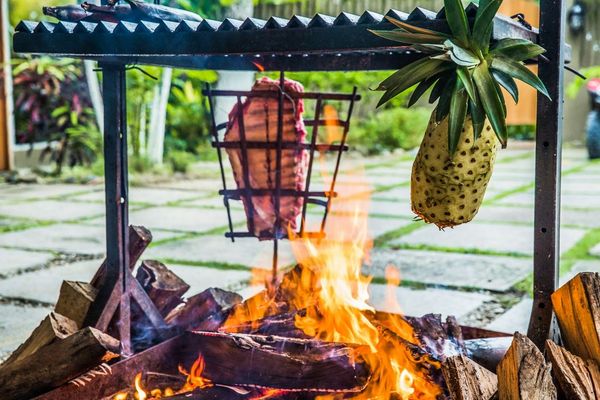 Casa Chameleon at Mal País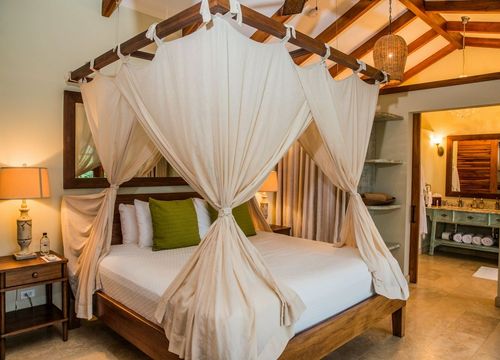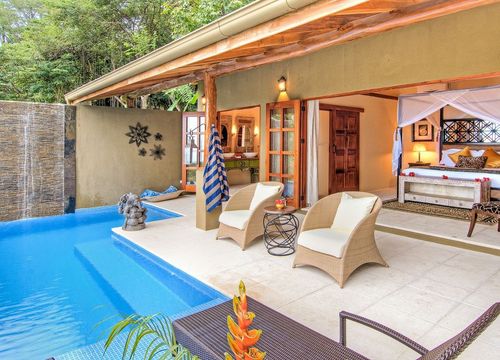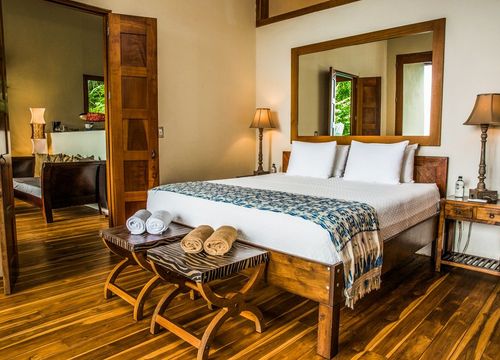 Accommodations
Each of the 10 private pool villas are completely unique in character, sharing a deep respect for the native culture while also promising uninterrupted tranquility. Designed to maximize the breathtaking ocean views, each villa is also seamlessly built into the environment around it blending naturally with the ocean breeze, the panoramic views and the lush calm that makes Costa Rica a true paradise. The beautiful rooms feature light teak-wood furniture, beds draped in mosquito netting, colorful throw rugs, sleek bathrooms with rainfall showerheads and sweeping outdoor terraces with hammocks, chairs and an outdoor dining area. The villa suites are ideal as private honeymoon villas and as a sanctuary for the modern, adventure-seeking explorer. Each villa suite offers a surplus of space and an atmosphere that's fully integrated with nature. This sanctuary is a blissful mixture of rugged wilderness and creature comforts that lets you fully immerse yourself in the Pura Vida lifestyle. 
Features & Amenities
Private plunge pool with ocean view
King-size bed
Wi-Fi, Aux-plug speakers
Air conditioner, ceiling and floor fans
Terrace with hammock, chairs and outdoor dining area
Wide doors that open to the outdoor terrace
Bathroom with spacious rain showers
Two waffle bathrobes
Bath towels, pool towels, hand and face towels
Organic shampoo, conditioner and soap
Hairdryer
Coffee maker
Mini-bar fridge
Room safe
Alarm clock
Location
Casa Chameleon at Mal Pais is located in Mal Pais, Puntarenas, Costa Rica.