About Carlisle Bay Antigua
The beach is just the beginning here. Located on a stunning horseshoe bay on the southwestern shore of Antigua, Carlisle Bay is a luxury resort looking out over tranquil turquoise waters and swathed by a lush emerald green rainforest. The resort is perfectly complemented by a spa and a wide choice of activities including tennis, yoga and watersports. Spacious all-suite accommodation with ocean views and separate family areas allows guests to enjoy one of the island's finest beaches on the south shore. The Caribbean-inspired décor throughout is contemporary yet elegant and the meticulous attention to detail means that every convenience is provided for. Quiet, restful colors and maximum use of light brings the idyllic outside in. The diverse choice of restaurants and bars offers options ranging from casual, on-the-beach dining to more formal settings, all with locally sourced produce and ingredients from the chef's own garden. While Carlisle Bay offers impeccable luxury and service, it manages to combine this with a laid-back, unfussy atmosphere you will want to return to again and again.
Saint Mary

Luxury Resort

Award-Winning
What We Love
For a quintessentially Caribbean experience, Carlisle Bay ticks all the boxes for a serene wellness getaway. The resort is located next to the beach which is a bonus for sun and water worshippers. If sand is not your thing, there are outdoor tennis courts and watersports galore right out front including sailing, kayaking, snorkeling, windsurfing and paddleboarding. For extra special indulgence, you can visit the spa and book a variety of massage and body treatments. Few locations surpass Carlisle Bay for your daily sun salutations with complimentary sunrise and sunset yoga sessions on the jetty. Feel the elements at play, bathing in the soft warmth of the sun for your morning meditation while the cool breeze from the rainforest keeps you refreshed during your flow. The guest suites are rather nifty with floor-to-ceiling windows and open-plan sitting rooms. And you are spoiled for choice when it comes to dining options which range from authentic Caribbean and Italian to Asian and grilled meats and seafood—all in unique settings that treasure their individual tastes. Wherever you are, the sounds, sights and scents of the island and the ocean will surround you. A vacation here is nothing but pure bliss.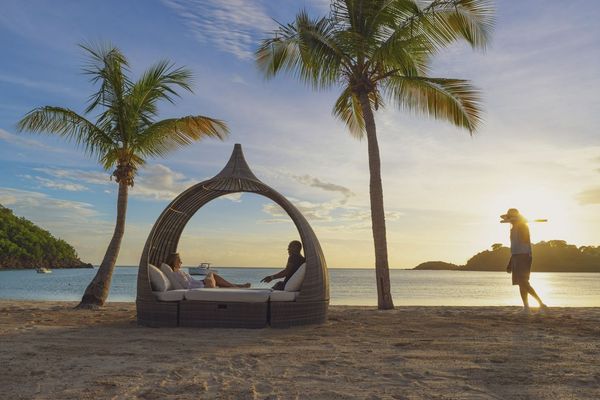 Spa
Health, well-being and feeling fantastic—three fundamentals of the spa's philosophy. Here, genuine care is taken to address your individual needs, with natural formulas and holistic techniques providing a profoundly effective experience for both mind and body. Muscular tensions are released, your soul feels soothed and you emerge energized with renewed focus and lasting positivity. Unique in every sense, the ESPA body treatments make use of nature's most powerful aromatherapeutic oils, coupled with innovative techniques from expert therapists. Your body feels rebalanced and your skin's natural beauty is restored. The ESPA face and body treatments for men are specifically tailored to skin type, each one designed to ensure the best physical and therapeutic benefits.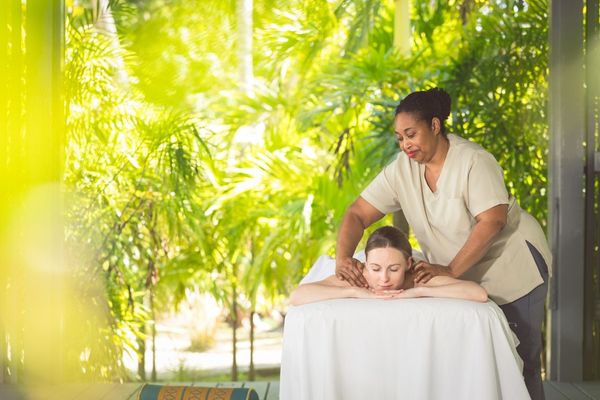 Activities
Nothing has been overlooked when it comes to providing a complete Caribbean resort experience. Should you decide never to leave the resort you will find everything you could possibly want right on the property. From the gentler pursuits of reading, movies and yoga to the thrills of watersports and tennis. The yoga pavilion is a serene space located in a quiet corner of the tropical gardens designed exclusively for unwinding and de-stressing. Adjacent to the spa you will find the fully-equipped fitness center in a spacious, air-conditioned area. For those who do want to venture off-the-beaten-path, there are oodles of excursions both on land and on sea including ziplining, hiking, yachting and scuba diving.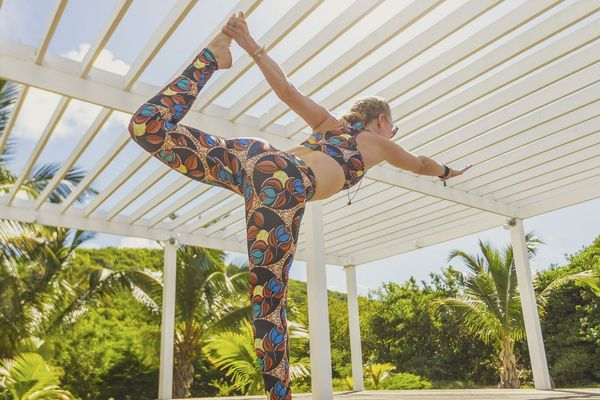 Culinary Highlights
Dining is an intricate and important part of this luxury resort experience. Choosing from an abundance of fresh local produce the culinary team creates menus to entice and delight. The preparation and cooking of food is subtle yet sophisticated. The dishes that are produced are bursting with flavor and taste without being fussy. Choices are numerous and varied from formal, casual, intimate to family dining. Daytime menus are perfectly suited to a Caribbean climate with delicious salads, juicy tropical fruits and chilled gelato. Evenings bring a varied choice with relaxed Italian food, Asian fine dining, authentic Antiguan and the most succulent grilled meats and local seafood to satisfy every longing. If you simply wish to enjoy a fruit punch, a cocktail or an ice-cold beer you can choose from a selection of bars and lounges or order to wherever you are. Sit back and people-watch from the comfort of the Pavilion Bar or opt for privacy and intimacy in the more sophisticated setting of Coconut Grove.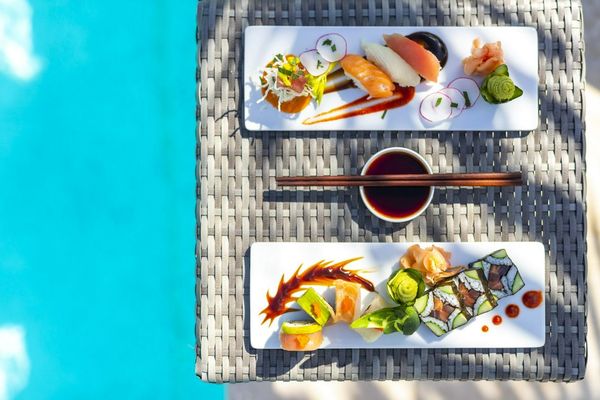 Carlisle Bay Antigua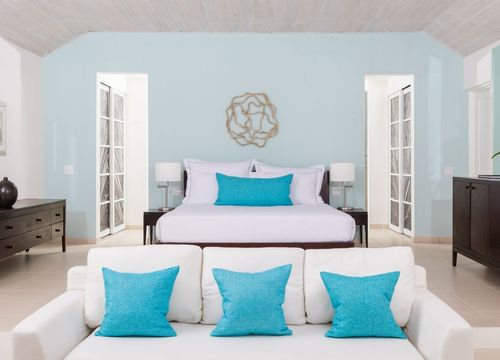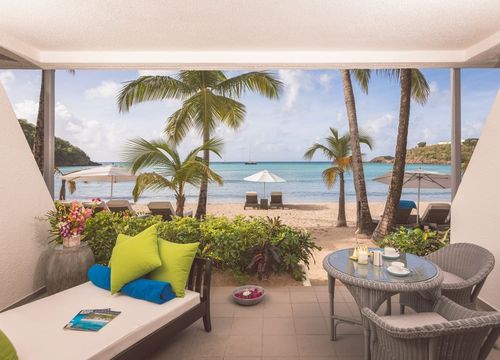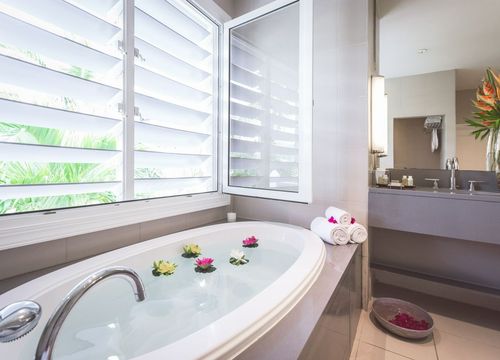 Accommodations
The 87 exquisitely appointed suites offer sweeping ocean views through floor-to-ceiling windows and open-plan sitting rooms. All feature a balcony or covered terrace with comfortable day beds perfect for a leisurely day enjoying the Caribbean sunshine. The décor is contemporary with calming colors and quietly sumptuous furnishings. Spacious, uncluttered and filled with light, the suites perfectly reflect their stunning surroundings. 
Garden Suites
Opening onto the lush tropical foliage of the gardens and with partial views of the ocean, the Garden Suites offer a special island experience. The sweet scent of the gardens mixed with the gentle ocean breeze is a combination that will revive body and mind. Sleeping two adults with a king-size bed, guests will awake to the sounds and views of the ocean and the island. These luxury Caribbean suites are perfect for a romantic Caribbean escape. Alternatively, two pairs of Garden Suites interconnect to suit families or groups of friends. Accommodates a maximum of 3 persons and children of any age.
Ocean Suites
Situated at one end of the beach, the Ocean Suites offer expansive views of the water from their floor-to-ceiling windows. Light-filled with a discreetly elegant décor they are ideal for escaping or re-connecting. Bathrooms are large and feature a bath and walk-in shower as well as gorgeous toiletries, thick soft towels and plush robes.  Four pairs of Ocean Suites can interconnect should you wish to keep friends or family close by for your wedding or celebration. Accommodates a maximum of 3 persons.
Bay Suites
Celebrate romance with an exclusive Bay Suite, a haven of privacy, bespoke luxury and utter indulgence that are perfect for a honeymoon stay, for wedding couples or those celebrating a milestone. They are reserved for adults only and are located at the quieter, more private end of the magnificent crescent-shaped beach. When you awake in the morning, step out into a warm tropical embrace of sand and sea and enjoy spectacular views of the ocean. Each suite has private butler service, a vodka and rum bar and luxuriant Temple Spa toiletries, among many other special touches. Your butler will be happy to organize a dinner for two on the adjacent jetty under the Caribbean moonlight for the ultimate romantic experience. Two adults only.
Beach Balcony Suites
Located on the family-dedicated area of the resort, the upper-level Beach Balcony Suites have the advantage of two separate bedrooms and a balcony off the master bedroom with beach views. This makes them ideal for family holidays in the Caribbean, offering space and privacy as well as proximity to all the activities of the beach. The master bedroom boasts a king-size bed and the second bedroom has twin beds for up to two children to the age of 15. Cribs for babies are also available on request. Comfort and style are reflected in the bright, tasteful décor and furnishings and all the extra touches you would expect are included. You can be assured that your family will be thrilled with their stay here. Accommodates a maximum of 4 persons; 2 adults and 2 children.
Beach Terrace Suites
The Beach Terrace Suites are the same in layout and configuration as the Beach Balcony Suites except that they are on ground level. Emerging from your spacious suite you will be directly on the beach which for children eager to participate in the many water activities will be a huge bonus! The furnishings display the same discreet luxury and easy comfort with all modern conveniences included. The master bedroom boasts a king-size bed and the second bedroom has twin beds for up to two persons to the age of 15. Baby cribs can be provided. Outdoor living is also provided with a terrace, day beds and dining area for the family to get together and still never miss a moment of glorious Caribbean sunshine. Accommodates a maximum of 4 persons; 2 adults and 2 children.
Carlisle Suites
Only four of these exclusive suites have been created ensuring that they are impeccable and unsurpassed in every detail. Spacious, sun-filled and magnificently appointed, they are ideal for sharing with other couples or for small family groups. The oceanfront terraces are large with uninterrupted views which are all your own. There are two types of Carlisle Suite each comprising two king-size bedded rooms and one twin bedded room, all ensuite. Both also feature large sitting room areas extending onto the outdoor terraces, offering expanded living areas for your family or group. Carlisle Suite A also boasts a kitchen making it ideal for entertaining or preparing snacks and drinks. Carlisle Suite B has an L-shaped terrace giving you those uninterrupted views in every direction. Accommodates a maximum of six persons.
Features & Amenities
Complimentary bottled water
Fully stocked minibar
Espresso machine
Hairdryer
Bathrobes
Bathroom products by Voya
Turndown service
Express overnight laundry & dry cleaning
Yoga mat
Day bed on balcony & terrace
Welcome AmenityTea Forté
Location
Carlisle Bay Antigua is located in Saint Mary Parish, Antigua.