Carillon Miami Wellness Resort

About Carillon Miami Wellness Resort
When it comes to perfecting the wellness lifestyle, Miami Beach is hands down a winner. We don't need to tell you how it feels to wiggle your toes in the white sand, bike along the Atlantic boardwalk or gaze at the sunset over the skyline from a rooftop terrace. We do need to tell you, though, that the Carillon Miami Wellness Resort in North Beach has elevated the wellness experience with a new wave of health and healing therapies that weave in pure indulgence onto one extraordinary beachfront setting. Come as you are; leave as you've never been.
Miami Beach, Florida

Resort & Spa

Award-Winning
What We Love
Considered one of the largest spa and wellness facilities on the East Coast, the Carillon sets the bar for well-balanced indulgence. This upscale wellness powerhouse amplifies health and healing with newfangled therapies that will leave you yearning for more. And if you're looking to clear your mind and challenge your body, the state-of-the-art fitness center offers endless opportunities for physical activity in a fun, dynamic and safe setting suited for all ages and abilities. Come for the modern and luxurious accommodations; stay for a nourishing journey for your body and soul.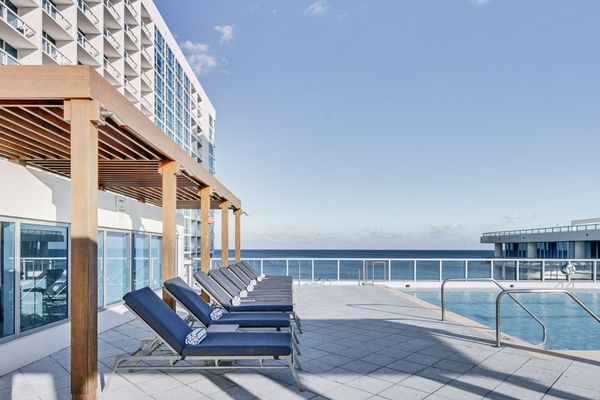 Spa
Spa-ing takes on a whole new meaning—or rather experience—here at the Carillon with the latest innovations in luxury skincare, anti-aging, natural beauty and restorative rituals from around the world. Discover trendy high-tech and touchless wellness treatments that provide a range of health benefits such as rapid recovery, weight loss, relaxation and renewal. Surrender to an elevated state of bliss with a new generation of wellness including state-of-the-art quantum harmonic sound therapy that is matched to your body's energy chakras, whole-body red light therapy, also known as photobiomodulation (PBM) therapy, halotherapy, as well as acupuncture, cupping and more for a holistic, integrative approach to optimum rejuvenation.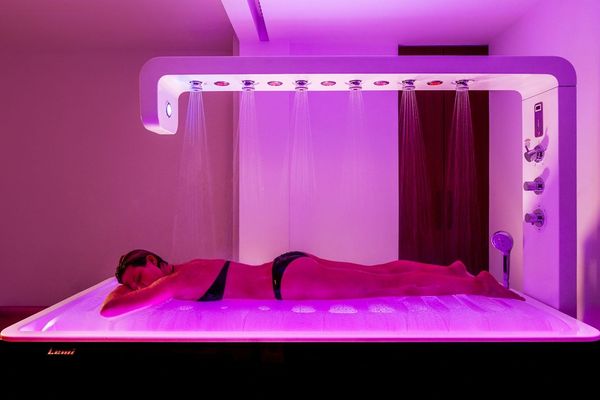 Activities
Wellness may be at the core of the resort but there's actually a number of other exhilarating activities to experience, from deep-sea fishing miles offshore to kayaking through dense mangrove forest to rock climbing a two-story indoor climbing wall. The Carillon also offers an array of fitness classes every day, allowing you to explore the endless opportunities for physical activity in a fun, dynamic and safe group setting. The expansive fitness area features state-of-the-art Technogym cardio and strength training equipment set behind soaring windows that overlook sweeping ocean vistas. Adventure further afield on a cruiser exploration along the shores of Miami Beach or feel the adrenaline rush of kiteboarding the waves.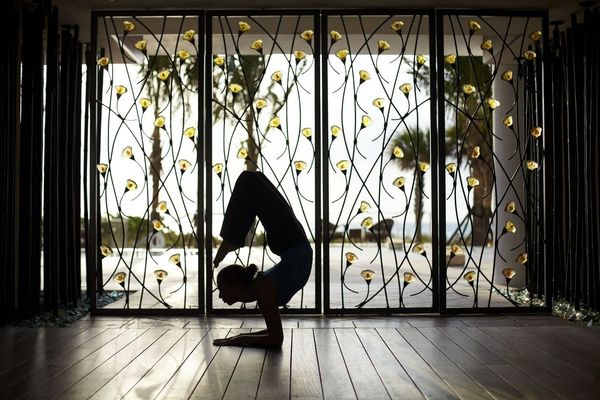 Culinary Highlights
With indoor and outdoor dining options, local ingredients take center stage for healthy, beautifully presented dishes of the highest integrity. Gather, mingle and indulge at the luxurious restaurants. At The Strand, savor a contemporary Mediterranean dining experience with cuisine that's inspired by Executive Chef Simon Apollonio's Italian roots and that shines a spotlight on Florida's community. Snacking and relaxing come together at the Seaglass Café situated steps from the infinity-edge Cabana pool. Poolside or beachside, enjoy freshly prepared salads and sandwiches or sip frozen cocktails, all without leaving the warm Miami sun.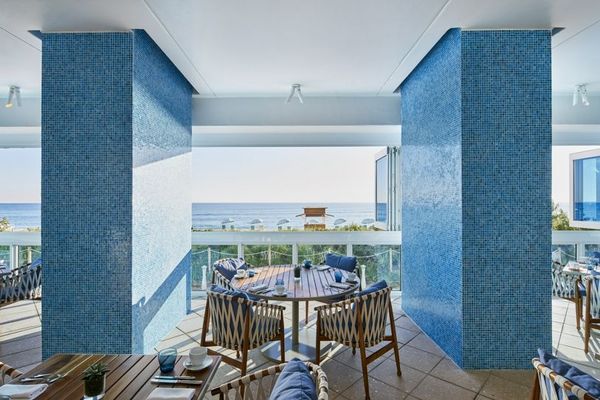 Carillon Miami Wellness Resort
During your stay at Carillon, experience luxury apartments situated on one of the longest beachfront stretches in the city. After a day in the city or on the beach, relax and unwind in the comfort of your living space with a living room area and fully equipped kitchen.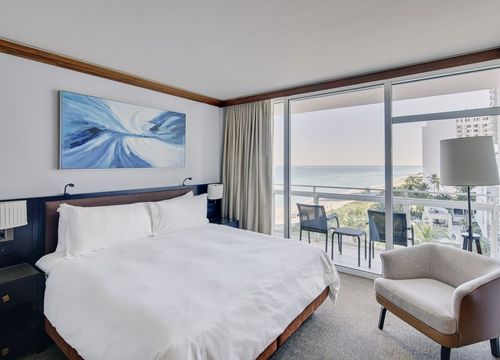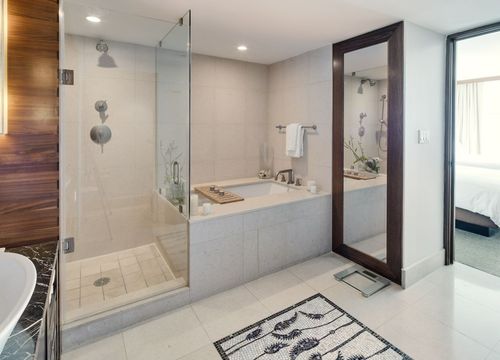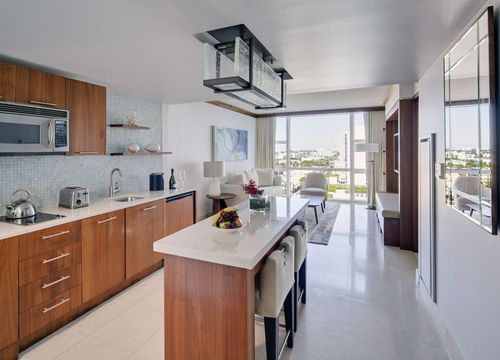 Accommodations
The airy, sophisticated apartments at the Carillon are among the most spacious in Miami Beach and include a fully equipped kitchen and spa-like bathroom with a deep soaking tub and walk-in rain shower, plus a seated make-up vanity. For an additional wow factor, the one- and two-bedroom luxury suites with king and queen-sized comfort beds feature floor-to-ceiling windows for taking in breathtaking views of either the Atlantic Ocean or Miami skyline.
Features & Amenities
Upgraded spa-like bathroom 
Plush pillow-top rest and recharge mattress
Frette luxury bed and bath linens
In-room iPads
Plush robes and slippers
Complimentary high-speed Wi-Fi
Full gourmet kitchen with high-end appliances and dishwasher
Nespresso coffee machines
Minibar
Wellness touchless services
Biking/cruiser exploration
Deep-sea fishing
Private fitness class
Craft cocktail class
Rock climbing
Healthy cooking demonstration
Private kiteboard lessons
Golf at  Normandy Shores Golf Club
Close proximity to Oleta River State Park
Private tequila and mezcal tasting
Private wine tasting
Location
Carillon Miami Wellness Resort is located in Miami Beach, Florida.