About Aqua Dome Hotel
Arguably the most iconic wellness hotel in Austria, Aqua Dome unites the alpine charm of the mountains with the whimsical elegance of contemporary architecture. Let yourself be carried away to this futuristic-looking water and sauna world. Whether a thermal bath vacation with the family, a wellness weekend for two, summer-sunshine wellness or a solemn moonshine bath: immerse yourself, revive your health, find inner peace, and revitalize your body and soul with the magic of the water.
Lagenfeld, Austria

Wellness Hotel
What We Love
As a hotel guest, you can enjoy the exclusive pleasure of the SPA 3000 where harmoniously subtle interiors and futuristically designed relaxation areas on two floors embody wellness in a new dimension. Here you can feel the strength of the Alps where the thermal waters beckon you. Float weightlessly in a brine basin with a view of the majestic peaks. Dive into one of the 12 inside and outside basins. Find your inner peace and serenity on the lounge oases. Pause for a moment and feel how the element water inspires your mind. Let your body and soul merge during a soothing massage, beauty pack or treatment. The contrast between the harsh nature outside and the luxurious comfort of the spa releases energy that awakens new spirits and makes you shine. Are you in the mood for yoga, awareness training or a floating experience? Or would you prefer an active break from everyday life? Even beyond the thermal baths, sauna and spa, the activities here make the heart beat faster. How about a bike tour at sunrise, an alpaca hike or an adrenaline rush during a helicopter flight? In chillier temperatures, you can spend the day  cross-country skiing, downhill skiing or snowboarding the immaculate powder. 
Aqua Dome Hotel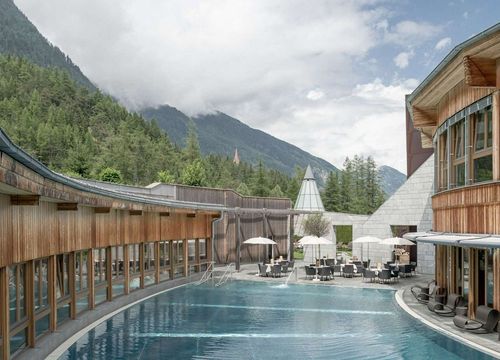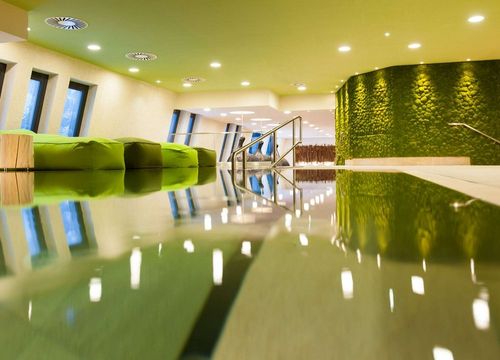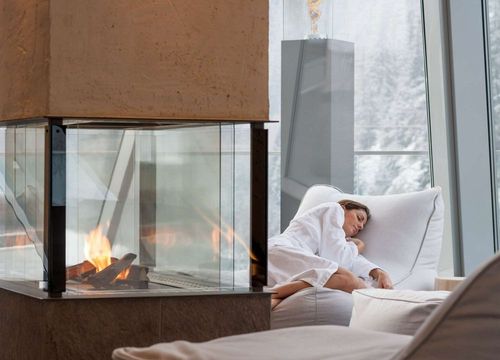 Accommodations
Arrive in an alpine-modern atmosphere with more than 200 spacious guest rooms and suites, natural materials, plenty of wood and warm shades convey the incomparable feeling of coming home. Experience a special "time-out" in the mountains.
Features & Amenities
Complimentary Wi-Fi
Fresh fruit 
Minibar refilled daily with non-alcoholic drinks
Bathrobe
Towels & beach bag
Location
Aqua Dome is located in Lagenfeld, Austria. The closest airport is Innsbruck Kranebitten Airport (INN).