Angsana Corfu Resort & Spa

About Angsana Corfu Resort & Spa
Boasting 360-degree views of picturesque turquoise waters, Angsana Corfu Resort & Spa is a Mediterranean sanctuary juxtaposed against lush green mountains, gardens and olive tree groves dotting the landscape. And amidst all this island beauty is plenty of history. Angsana Corfu is not far from the historic Achilleion Palace, once home to the famed Empress Sissi of Austria, and Corfu Town, a UNESCO World Heritage site with its imposing old fortress. The resort offers a collection of 159 contemporary guest rooms and suites plus 37 luxury villa homes laid out across the hilltop and are built to evoke the feeling of an authentic and private Corfu home with outdoor pavilions, terracotta rooftops and private pools. Among the luxurious amenities are an award-winning spa with indoor heated pool, an outdoor infinity pool with a view that beats them all, a yoga pavilion and a state-of-the-art gym. Gastronomy is also high on the list of pleasures with a range of signature restaurants, bars and outdoor dining lounge terraces overlooking a panorama of expansive sea views and mountains. The chefs serve up culinary delights from Asian fusion and sushi bites to fine-dining Greek cuisine with local delicacies. A dedicated concierge team is available to deliver special guest requests and organize incredible excursions. 
What We Love
There's nothing quite like Greek hospitality and the magic of Angsana Corfu definitely weaves a powerful spell on you with its award-winning spa and beach resort lifestyle. From specially designed spa treatment rituals, strolls through the olive tree groves and dips in the infinity pool to sailing trips to hidden private beaches and mountain hikes to secret Roman baths, there are plenty of options to create that memorable Greek holiday complete with history. The resort is located near a palace and the old town is a UNESCO World Heritage site. Just think about the legends and royalty who walked these hills before you. And although you may be tempted to explore the island, no one is twisting your arm to leave! The guest rooms, suites and villas are well-appointed, the infinity pool beckons with its commanding sea views and the culinary offerings are definitely something to write home about. Besides the blue sky and the blue sea, the spa is the cat's meow—an exotic oasis where East meets West, where traditional Greek warmth is ever-present. Angsana Corfu brings the island of Corfu to life with curated experiences for everyone.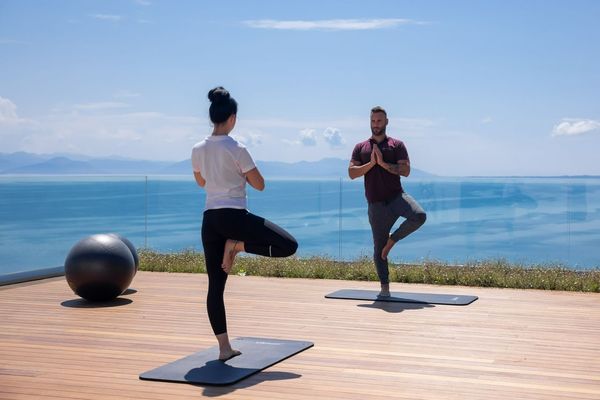 Spa
With 11 treatment rooms overlooking the bay, an expansive indoor pool and a juice bar, the award-winning signature spa features East meets West wellness treatments, fusing organic Greek island ingredients with Asian-inspired practices. Surrender your body and soul in a space of mystique where massage therapists take you on a journey of refreshing bliss with a menu of express treatments and exclusively designed therapeutic treatments that combine several therapies into one juicy package. All spa treatments include 30-minutes of calm time over an herbal drink and refreshments. Experience traditional Greek philoxenia, which translates as "generosity of spirit and kindness to strangers."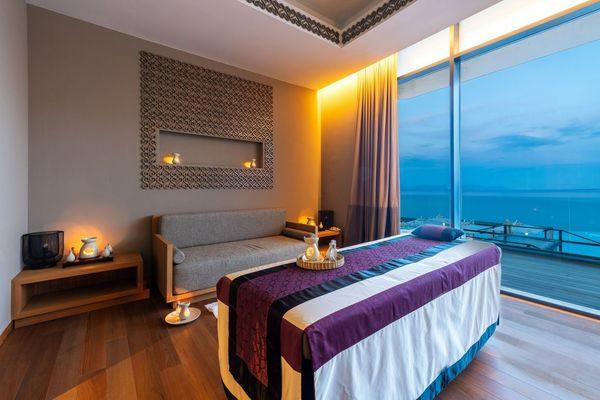 Activities
Angsana Corfu benefits from its seaside location, with an exclusive resort beach, for an authentic Greek beach lifestyle experience. Reaching the sand after a short ride via your own private buggy transfer, guests will find luxury sunbeds on the shallow turquoise waters and a trendy lively beach bar serving exotic refreshments and light lunch. A watersports hut spreads the beach fun with waterskiing, standup paddleboarding, surfing and lots more. On-site amenities include an outdoor infinity pool, an indoor heated pool next to the spa, an outdoor yoga pavilion and a state-of-the-art gym with the option of curated personal fitness programs tailored to each guest.  The outdoor infinity pool is located at the heart of the resort, with far-reaching sea views and blue skies juxtaposed into a landscape of blue. Comfy lounge chairs, sunbeds and umbrellas are scattered around the pool and the Sunrise Pool Bar offers poolside cocktails and healthy snacks, both poolside and waterside on a wooden deck crossing the pool's waters.  
Culinary Highlights
With a number of restaurant and bar concepts on-site, the culinary offerings range from Greek cuisine to exceptional sushi to the seven bars with picturesque outdoor terraces. There's no gastronomic stone left unturned. Foodies will be thrilled to discover Michelin-star chef Ettore Botrini's signature fine-dining restaurant at the heart of the resort and the most awaited new spot on Corfu island, personally curated by Botrini himself. Alternatively, guests may enjoy all-day dining at the signature restaurant Ruen Romsai, awaken their Asian senses at Koh, lie under the twinkling stars for drinks at the charming rooftop bar, Vertigo, or organize a night to remember at a waterfront private dining experience on the beach.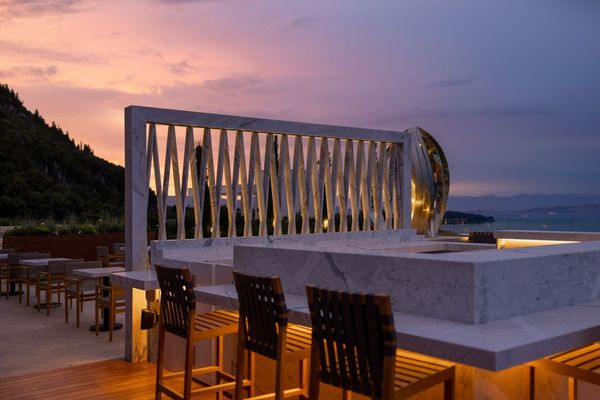 Angsana Corfu Resort & Spa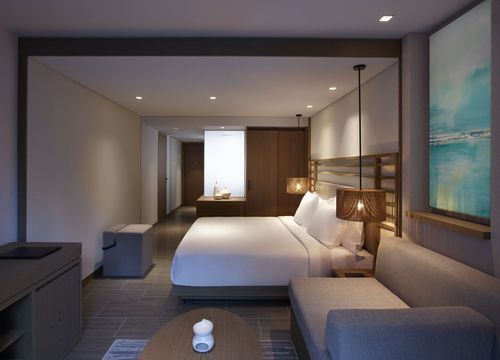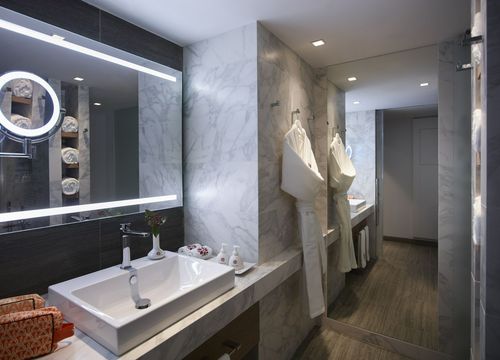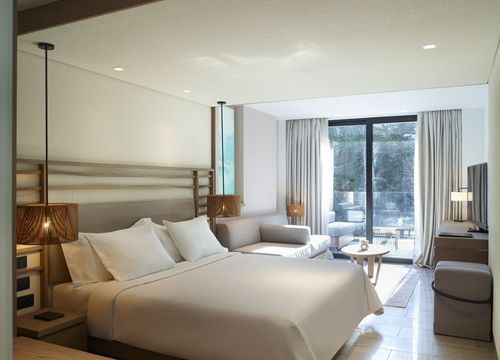 Accommodations
The resort features a collection of 159 contemporary guest rooms, suites and 37 luxury villa homes built to evoke the feeling of an authentic and private Corfu home with outdoor pavilions, terracotta rooftops and private pools. The guest rooms offer contemporary, spacious and elegant interiors inspired by Corfu's sophisticated island lifestyle blended with a touch of Asia. The Achilleion Hill View Grand Room offers a large king-size bed or two twins that define the sleeping area and is complemented by modern lounge furnishings allowing extra comfort. This unique Angsana ambiance creates the perfect space for melting away stress, rejuvenating and enjoying fun moments. Mobility-accessible rooms are available in this category, as well as inter-connecting rooms for families. The Ionian Seaview Grand Room is equipped with stylish futon king-sized beds complemented by modern wooden furnishings and creative deco details. The private furnished outdoor balcony is a place to dream embossed by the beauty of sea views and the stunning Corfu mountainous countryside, presenting the perfect spot for summer living, away from it all.
Features & Amenities
Marble bathroom with power shower
Luxury toiletries
Seating area
Wi-Fi
Furnished balcony or veranda
Oceanview or countryside mountain view
Air conditioning
Location
Angsana Corfu Resort & Spa is located in Akra Punta, Corfu, Greece.