About Andaz Scottsdale Resort
See the Sonoran Desert in a different light. An artful enclave in the heart of the Sonoran Desert, Andaz Scottsdale invites you to explore 23 acres of sprawling lawns, cactus gardens and shaded groves. Here, you can seek the path less traveled, find inspiration in the desert landscape and chase your sense of wonder. Take a mountain-biking tour through the desert and then cool off with a quick kayak around Saguaro Lake. Learn to mix your own signature cocktails before a private dinner in the exhibition kitchen. Play golf at world-renowned courses, then relive your day with your friends around the fire pits at sunset. It's all here, either on the property or just a short drive away. 
Scottsdale, Arizona

Resort & Spa
What We Love
Mid-century modern interiors draw inspiration from the innovative 1950s desert art scene with an eclectic mix of bright colors, folk art and cultural patterns. The Guest House, a central gathering place that invites visitors to inhabit, explore and create, resembles an artist's studio in design and offers board games and coloring books, a stocked library and a live rotating art collection. The Turquoise Pool features 13 private cabanas and a bar offering up seasonal treats such as spiked popsicles and punchbowls. The 185 bungalow-style guest rooms and suites are clustered, reminiscent of an artist's colony connected by meandering pathways and communal courtyards with firepits. 
Every dining experience is infused with the bold flavors of the Southwest and inspired by its surroundings, with small plates perfect for trying, sharing and savoring. Long a place of solace, reflection and healing, the Sonoran Desert is more than an inspiration for well-being. The Palo Verde Spa & Apothecary provides plenty of opportunities for renewal and reconnection—a full suite of spa treatments, steam rooms for men and women, a private outdoor hot tub and secluded pool, as well as an outdoor lounge featuring panoramic views of Camelback Mountain. Each experience is uniquely tailored to you, from the desert-inspired body treatments to salon services. Andaz Scottsdale is a place to expand your perspective and awaken a deeper sense of self.
Andaz Scottsdale Resort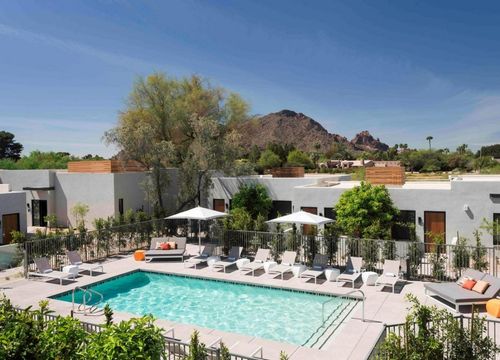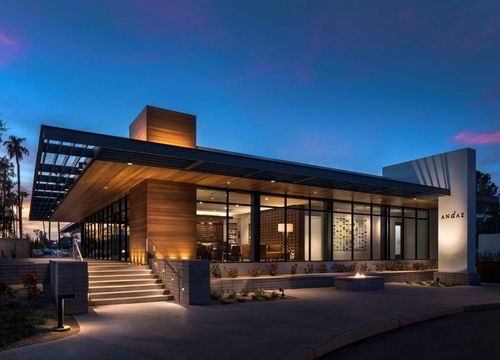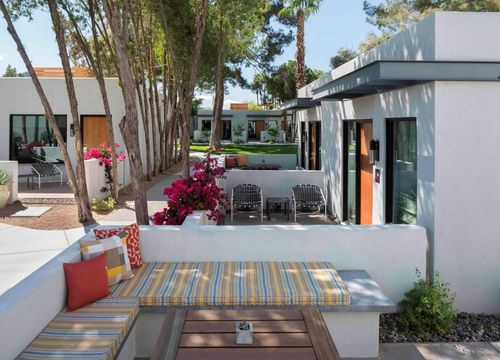 Accommodations
Spacious and full of character, the mid-century modern bungalows and suites are scattered across 23 acres, tucked behind private patios, accessed by meandering pathways that weave in and out of the rocky arroyos and gardens. Distinctive finishes and decadent details delight in art deco styled Scottsdale suites that meet all of your modern needs. Airy and filled with natural light, complemented with pops of color from the local artwork and artisan-crafted furnishings, each of the expansive rooms is a unique respite providing serenity and unparalleled views. Combining convenience with character, the villas provide a one-of-a-kind luxury experience.
Features & Amenities
Full concierge service
Room service
Evening turndown service
Daily housekeeping upon request
Exclusive fitness & well-being classes
Complimentary yoga, meditation and boot camp
Cabana experiences
Andaz Adventures featuring guided outdoor activities such as mountain biking, kayaking and more
Complimentary house car service within a three-mile radius (based upon availability) 
Electric vehicle charging stations, including Tesla charging compatibility
Location
Andaz Scottsdale Resort is located in Scottsdale, Arizona.