About Amangiri Hotel & Resort
Desert luxury, romance, spectacular scenery and adventure—this is Amangiri Hotel & Resort. Boasting some of the country's most dramatic scenery, this ancient landscape of deep canyons and towering plateaus—the last remnants of the Wild West—–is home to the native Navajo tribe. Situated on 243 hectares (600 acres) in Canyon Point, Amangiri's concrete structure appears hewn from the rocks with two accommodation wings spread from the Pavilion toward the desert. Each of the 34 suites enjoys sweeping views from a spacious deck, and many offer private pools and roof terraces. Bathe your soul in the silence and majesty of Utah's canyon country. 
Canyon Point, Utah 

Resort & Spa

Award-Winning
What We Love
Contemporary and minimalist, the bold design of the resort showcases the incredible scenery: windows frame ancient mesas and breathtaking desert skies, and the main swimming pool curves around a dramatic stone escarpment. Thousands of square miles of untouched scenery surround Amangiri, which lies at the gateway to major national parks in the Colorado Plateau. From canyoneering and cultural insights to excursions by air, bike, boat or on horseback, you are invited to discover the region in a fun and unique way.
The Aman Spa, which is a wellness destination in itself is expansive—and features a water pavilion for hydrotherapy treatments, a floatation-therapy pavilion and watsu pool, five treatment rooms, two outdoor treatment terraces, a yoga pavilion, and fitness center. The extensive menu of massages, beauty treatments and restorative therapies is inspired by the holistic well-being traditions of the Navajo, drawing on the elements of earth, wind, fire and water.
Guests are welcome to explore the property at their own pace along the 12 miles of designated trails. Well-suited to thrill seekers, a Via Ferrata and elevated stairway offer fascinating views of the terrain. You are also more than welcome to stay closer to "home" with a short hike to the top of a rock formation for a one-of-a-kind yoga experience high above the valley floor. 
To dine at Amangiri is to take a journey through the culinary heritage of the Navajo and the American Southwest. A number of open-air venues are available for private dining
Amangiri Hotel & Resort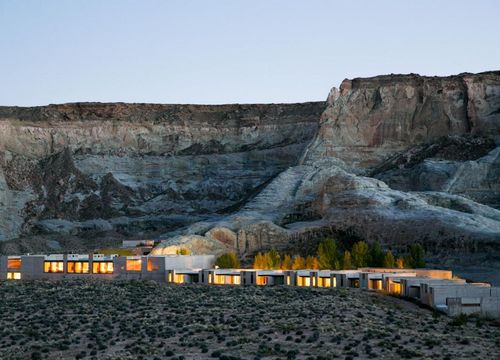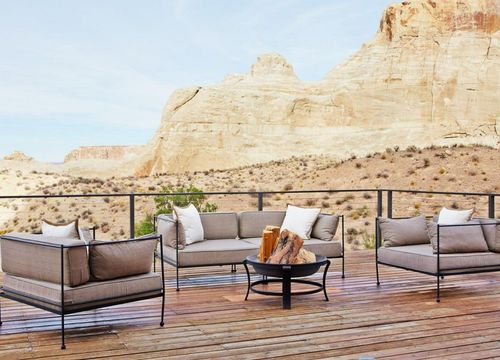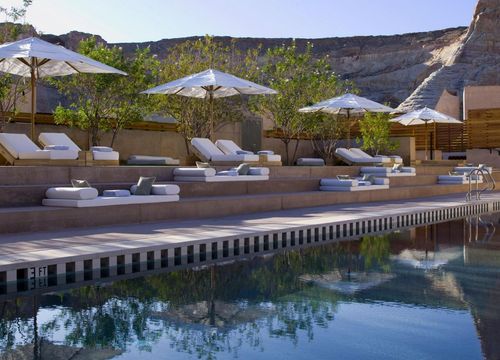 Accommodations
With clean-lined stone Suites, canvas-roofed Pavilions at Camp Sarika and a gloriously isolated four-bedroomed Mesa Home, Amangiri invites guests into the heart of the extraordinary desert landscape, offering space, privacy and uncompromising comfort.
Features & Amenities
Air conditioning 
Complimentary coffee/tea daily
Lounge
Pool
Desert-view spa
Sauna and Steam Room
Yoga pavilion
Fitness Center
Personal bar
Private heated plunge pool
King-size bed
Large terrace and outdoor living area with fire pit
Unrestricted access to all facilities and features of Amangiri
Sunset views from terrace
Watsu pool 
Library
Game room 
Watersports
Horseback riding 
Wheelchair accessible 
Location
Amangiri Hotel & Spa is located in Canyon Point, Utah.