About Alila Napa Valley
Tucked in the heart of Northern California's wine country, Alila Napa Valley is a journey of epicurean discovery in a scenic landscape rich with culture and history. Here, expansive vineyard views and golden sunsets showcase the region's unspoiled beauty. Alila Napa Valley is the perfect place for those who are looking for a rustic yet modern experience, with the added bonus of being close to all the charm that St. Helena has to offer. This hidden gem features 68 beautiful guest rooms, each with their own unique artisan touches and luxurious interiors. At Acacia House, you can enjoy mouth-watering cuisine and at Spa Alila, you can relax and rejuvenate with their transformative holistic healing approach.
St. Helena, California

Luxury Boutique Hotel
What We Love
At Spa Alila, they take a holistic approach that is rooted in the past, yet mindful of the future. Treatments are inspired by ancient healing traditions from East and West, aromatherapy and artisanal creations. They are designed to bestow balance and a sense of deep rest and renewal, culminating in a restorative experience. Let tension melt away with one of their signature massages. Relax in the steam room, or rediscover your center with a soothing meditation. Spa Alila is a surprisingly different wellness journey—one every bit as rewarding as Napa itself.
Located just steps from downtown St. Helena, guests have unparalleled access to all the delights of the local culture with more than 400 wineries and tasting rooms that call this picture-perfect town home. Between tastings, experience downtown's many charms from chic boutiques and contemporary art galleries to artisanal bakeries, cafés and Michelin-starred restaurants for a journey of discovery through the scenic landscape.
Alila Napa Valley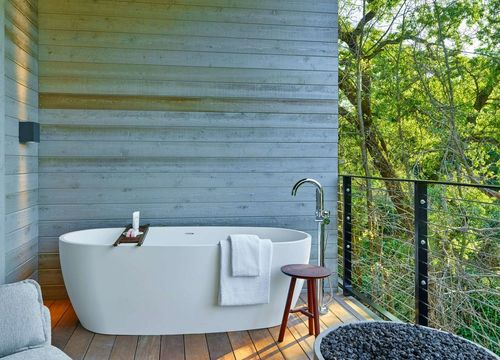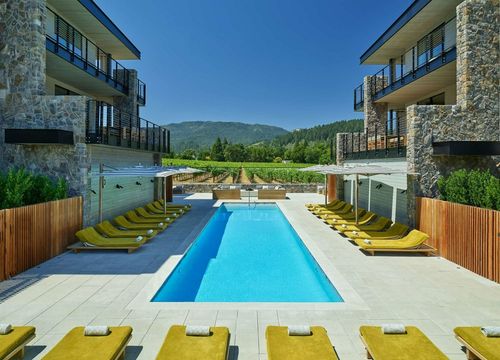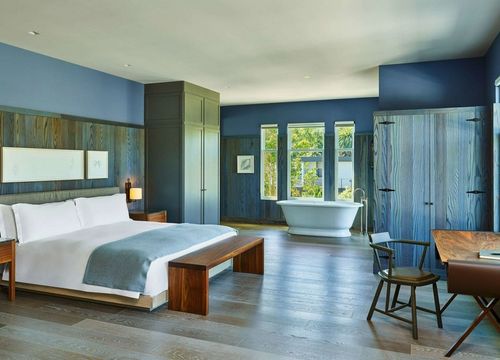 Accommodations
Alila Napa Valley has a one-of-a-kind estate design, creating privacy and serenity in each guest room with beautiful views of Napa's landscape. Most guest rooms feature fire pits and outdoor seating with some offering deep soaking tubs and wrap around decks. State-of-the-art bathroom fixtures, eco-lighting and designer furniture brings an added touch of luxury.
Features & Amenities
Complimentary TREK bike rentals
Fitness center 
Yoga studio
Tesla charging stations
Individually-controlled heating and air conditioning
Blackout curtains
Luxury Italian linens
Hair dryer
Premium bath toiletries
Coffeemaker
Mini-fridge
In-room safe
Daily newspaper
Turndown service upon request
Location
Alila Napa Valley is located in St. Helena, California.